From Syria, with love
Syrian refugee Ruwaida celebrates her homeland and supports her family with cookies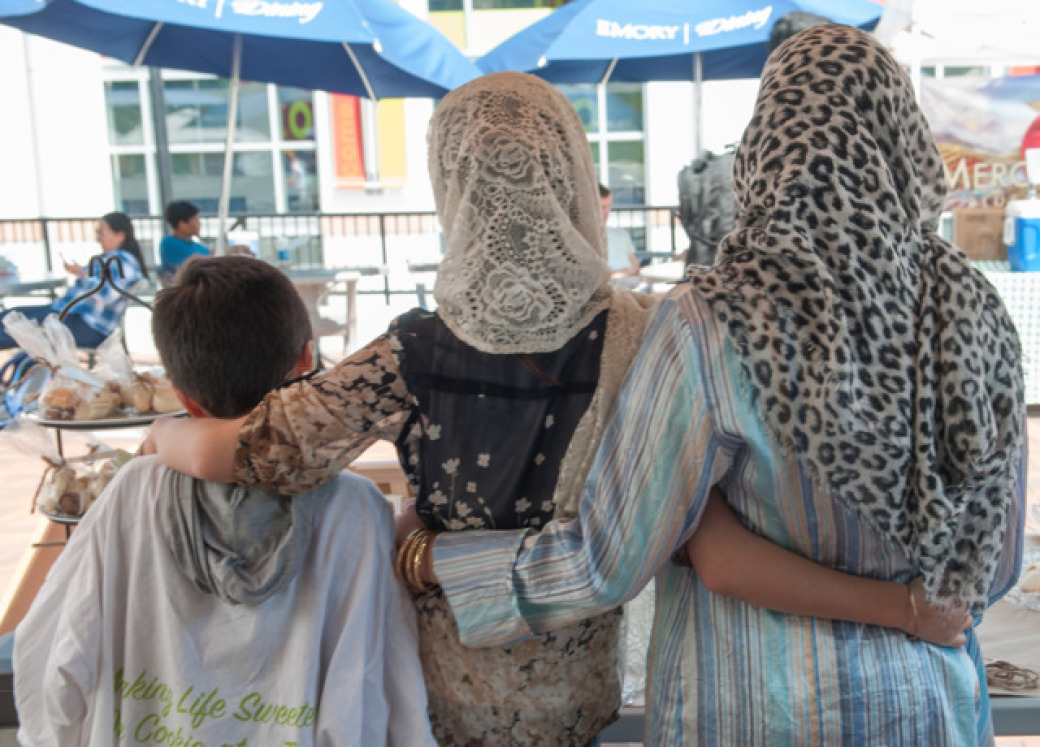 FAMILY TIES: Ruwaida (far right) wraps arms around her children Mohamad and Zainab at their Sweet, Sweet Syria booth at the Emory Farmers Market.
"Refugee cookies!" a 10-year old Syrian boy screamed from the front porch of an Oakhurst home. The shortbread style cookies, known in the Middle East as mamool and flavored with orange blossom, dates and pistachios, were an instant hit. In less than three hours, the entire batch sold: 45 dozen cookies in all. That was last fall.
Khaled and Ruwaida (last names withheld for safety reasons) are refugees from Syria. Along with their two young kids, Mohamad and Zainab, they lived in Jordan for four years, before coming to Georgia in July of 2016, sponsored by New American Pathways and co-sponsored by Holy Trinity Church. Back in Damascus, they owned two apartments and two electronics shops. Now, they live in a small rented apartment in Decatur. Khaled works a minimum wage job and the family scrapes by.
I meet Ruwaida, now 29, at the home of Amanda Avutu, a friend and advisor to the family. When a mutual acquaintance posted on Decatur's Neighborhood Facebook page that he was looking for help to clean up an apartment for an incoming refugee family, Avutu and her kids volunteered. She offered to help stock their kitchen and drop off hot meals. Having no connection to Syria before, she began her job with a Google search: 'What do Syrians eat?' Then she purchased random items she wasn't sure they would use. "I bought pomegranate molasses, orange blossom water, sesame, cooking oil, dried legumes and rice,' she recalls. "Later I discovered, there's no way I can shop rice for [Ruwaida]!' She laughs at how particular Syrians are about their rice.
| Joeff Davis

<!-]}%-->


We sit in Avutu's living room sipping cardamom-spiced black coffee and munching on a plate of homemade mamool cookies. Wearing a head scarf and long dress, Ruwaida mostly smiles, shy to respond in her limited English, but Amanda translates key words to Arabic and encourages Ruwaida to express herself. "Cookies!' she exclaims, making hand gestures when I ask her about her new business, Sweet, Sweet Syria. She tells me she has been making these traditional Middle Eastern cookies at home since childhood and has sweet memories attached to them, hence the name. But until recently, she never thought anyone would actually pay for them.
Sweet, Sweet Syria's humble beginnings took place in a similar setting. When Ruwaida's family moved to Decatur, neighbors and community members came to welcome her, bringing food, toys, books and helping to set up her new apartment. Ruwaida would often offer homemade cookies and coffee to her new friends as a gesture of thanks. Her mother's wooden cookie molds were one of just a small handful of things that she could bring from Syria when she fled, and serve as a bittersweet reminder of home.
"Wow! You need to sell these at the Oakhurst Porchfest,' one of the visitors remarked, encouraging Ruwaida to set up a table at the upcoming neighborhood music festival, where neighbors play music on their porches. As a traditional Syrian woman, Ruwaida has never worked outside her home or earned her own salary before. It was hard at first, she says, to grasp the concept of selling her food for money. But friends and family convinced her to take a chance. And when her cookies sold out before the music even started, she realized she just might have something: an opportunity to make money and help support her family as they acclimate to their new home.
| Joeff Davis

<!-]}%-->

Over the next few months, Avutu played an instrumental role in helping Ruwaida get her business off the ground, along with a team of volunteer advisors. They applied for a 14-week small business training program called Start:Me, run by Emory's Goizueta Business School. Avutu accompanied Ruwaida to every class. They made a business plan, applied for various licenses and studied for the ServSafe exam. In the beginning, they would communicate through Google translator. Now, Avutu takes Arabic classes on Fridays and Ruwaida takes English classes on Tuesdays.
A recent GoFundMe campaign has allowed Ruwaida to rent a commercial kitchen, where she bakes her family recipes and supplies to local coffee shops and farmers markets. Ultimately, she'd like to have her own small restaurant where she and her family can cook together. Until then, she's learning how to take orders, handle money and interact socially. Delicate shortbreads with coconut, chewy sesame rolled dates and strawberry pressed cookies are some of her most popular offerings. Sweet, Sweet Syria trio ($2.50) and half dozen ($5) samplers are available for purchase at Oakhurst's Kavarna, Ebrik Coffee Room and Emory Farmers Market on Tuesdays. Orders by the dozen ($10) are also available at the Emory Farmer's Market and can be placed online.
 
| Joeff Davis

<!-]}%-->

The family also hosts invitation-only gatherings at private homes to share a traditional Syrian meal. Here, they are forced to practice English, meet new people, and further understand the American lifestyle, including seeing how things work in other kitchens. "It is important to make a human connection and understand who they are,' Avutu says. Over the last few months, her kids have become friends with Ruwaida's children as they get together for homework, sports and celebrations.
Near the end of our conversation, I ask Ruwaida what she likes most about being here in Georgia. She giggles and rattles off the names of several people who have come forward to welcome her and her family, and helped her get her business off the ground. Most of them were just strangers a few months ago. Now, they are friends.
For more information or to place a cookie order, visit sweetsweetsyria.com.
---