Todd Richards got soul
The famed Atlanta chef talks about his latest venture, a semi-autobiographical cookbook called 'Soul'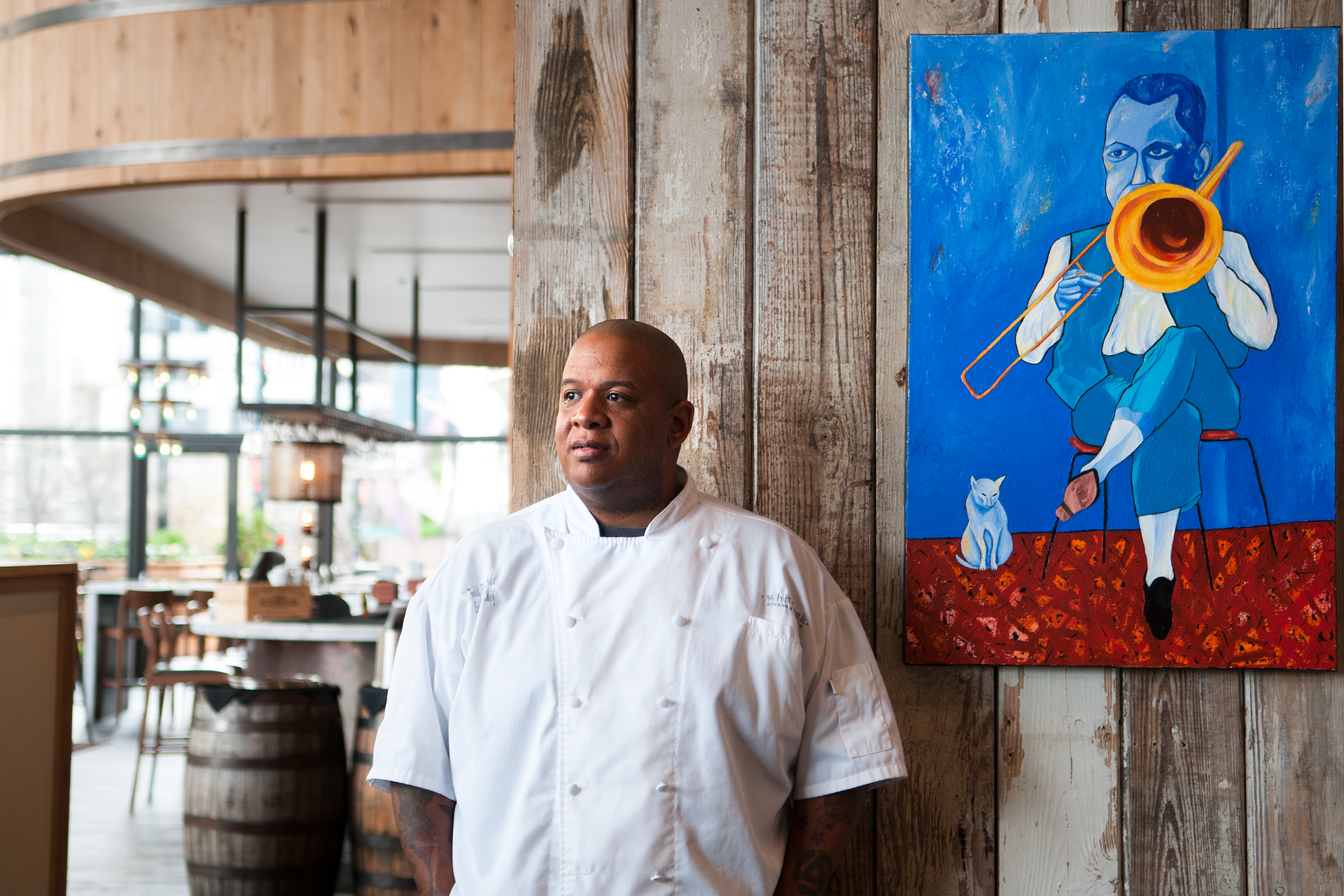 "It's gonna be a crazy year," says Todd Richards, sitting beside a wall of windows at White Oak Kitchen & Cocktails, the upscale Downtown eatery where he is executive chef. His white chef coat is immaculate; his forearms etched with tattoos — radish, collard greens, 45-rpm adaptor, nautical star, the date of his first wife's passing, "and then lots of 'oven tattoos' from years and years in the business."
Richards is no stranger to crazy years. In 2016, while running the kitchen at White Oak, he started Richards' Southern Fried at Krog Street Market and served as a mentor for rapper-turned-entrepreneur Ludacris' long-awaited Chicken+Beer at the airport. Before that, he was executive chef at the Ritz-Carlton Buckhead and the Shed at Glenwood, and co-founder of Atlantic Station's the Pig and the Pearl and One Flew South, the nation's top-rated airport restaurant. Did we mention Iron Chef contestant and James Beard semifinalist? That, too.
"I don't sleep a lot," he says with a shrug. 
Originally from Chicago, Richards came to Atlanta in the early '90s for Freaknik, intending to stick around and study physics at Georgia Tech. Instead, burned out on academics after four years of high school college prep courses and two more at U Illinois, he took a job in the meat department at Kroger. When a position opened at the Blue Ribbon Grill across the street, he started cooking there. "School of hard knocks," he says of the decades that followed, which included no formal culinary training but several five-star kitchens. "I've never really looked back since."
This year, though, as he enters the third quarter of his career, Richards is taking some time to reflect and focus on his most personal venture yet: Soul, a 350-plus-page semi-autobiographical cookbook. Published by Time Inc. in collaboration with local cookbook gurus Shaun Chavis and Angie Mosier, Soul is slated for release in spring of 2018.
"My goal is to take a very introspective look at how I grew up, the dishes I did and didn't eat, and how that fits into not just one way of doing everything," he says. "I'm not trying to prove a point, but to establish the cuisine so that everyone can appreciate where it came from. If you look at what David Chang did with Korean food and what Sean Brock did with Appalachian food, soul food has that same kind of place in the cuisines of America." 
Richards hopes to define what "soul" means for him, while tracing back global foodways and challenging the limiting typecasts that surround black chefs. Though he's won awards for his fried chicken, Richards says growing up his family cooked healthfully, with lots of fresh produce and simple seasonings like onion, black pepper, and vinegar. "We have to talk about our heritage in the grandest light of delicious food and not fall prey to what people think it is: greasy, heavy."
Soul will feature 15 variations on collard greens alone (including Richards' famous collard green "pho," recently added to the menu at Richards' Southern Fried), and act as a jumping-off point for a new restaurant concept five years in the making: a small tasting room featuring seven to 15 courses rooted in varying interpretations of soul food that Richards hopes to open in 2018 or 2019.
"It's so empowering to me to see people open this book and see a tomato salad with lavender flowers and roasted shallot vinaigrette, but in a sense of frugality saving all the tomato scraps and making smoked tomato broth later," he says. "And I think that's the parallel of soul food. You're taking the best ingredients and using them in totality and not wasting and not forgetting the struggles and sacrifices it took to produce this food."
Richards glances out the large plate glass windows to the bustling Downtown streets beyond. "And also helping soul food become a recognizable cuisine," he says. "If you know a cuisine, you can better understand the people."