Anti-Muslim encounter in East Atlanta goes viral
Welcome to Trump's America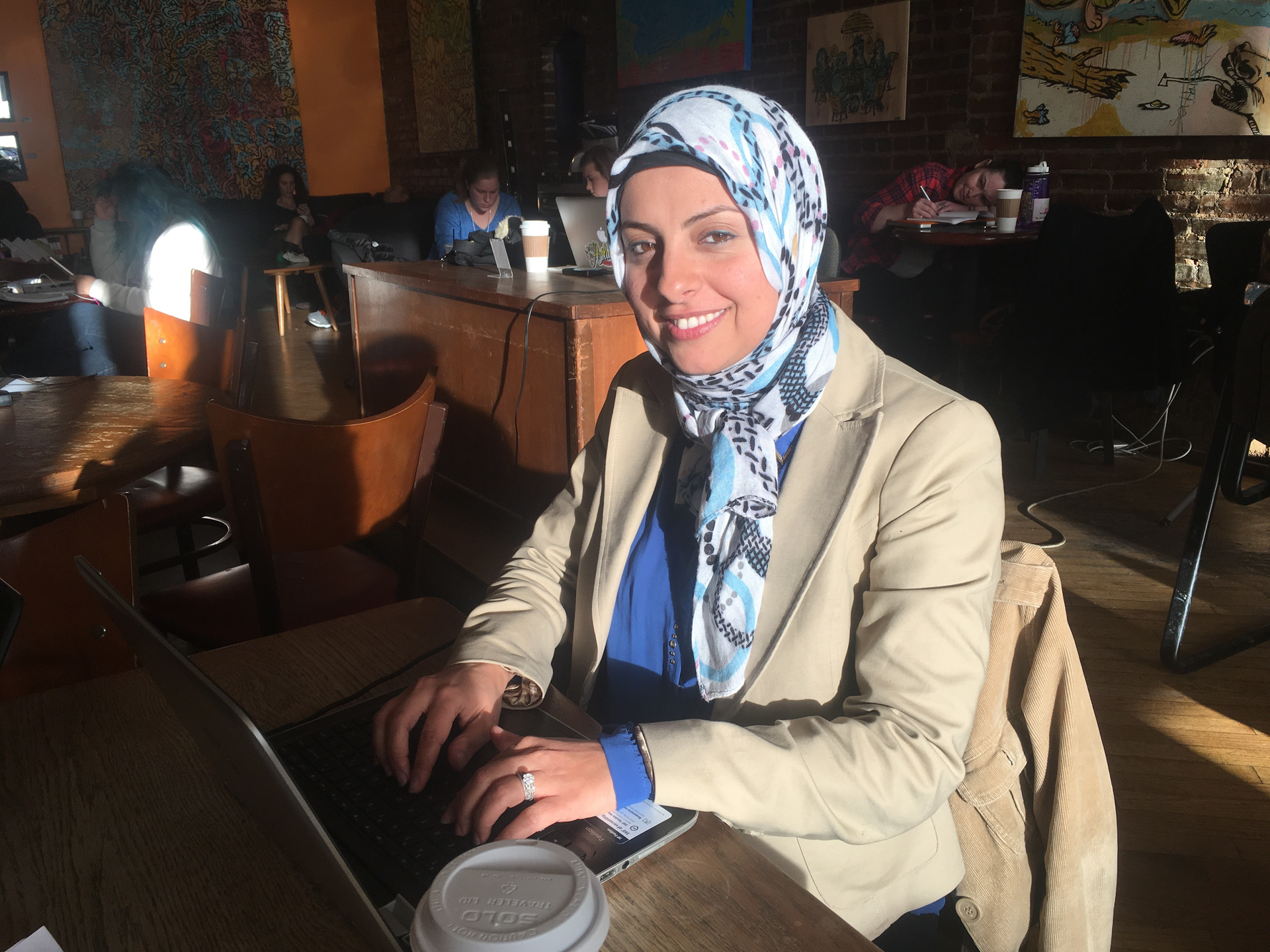 "I was just literally on my computer, minding my business, and I look up and see a guy with a camera pointing at me," says Asma Elhuni.
Elhuni, 39, is an American citizen, a Georgia State University political science graduate student, and a legislative intern for State Rep. Brenda Lopez. She also happens to be Muslim and wears a hijab. Today, fellow Atlantans are rallying around her after a taped encounter with a stranger at Joe's Coffee Shop in East Atlanta Village.
Elhuni says that at first she tried to ignore the man, who witnesses say identified himself as Rob and began photographing her with his phone. "I'm like, are you taking a picture of me? And he goes: 'Yeah.' Just like that!" says Elhuni. "And so I was like: 'OK, I'll take a picture of you.' And he smiled, and I was like, OK, I'm going to videotape him now."
In the resulting video, Elhuni calmly asks the man, who is white and claims to be from Detroit, why he's taking pictures of her. The man sits down close to Elhuni, claims he was taking pictures of the man behind her, and accuses her of being "uptight" and "acting like a bitch." He then asks if she has a green card, before another man who appears to be his friend ushers him away and out of the shop. 
Elhuni posted the video on her Facebook page just hours ago. It has since gone viral, with more than 90,000 views and counting at time of press.
"Really what I wanted to show him was, one, what he did was inappropriate, and two, I'm not afraid of you," says Elhuni. "Because did you see how he sat down and got in my face? I knew my weapon was my camera." 
At the coffee shop, several patrons and employees who witnessed the event firsthand quickly rallied around Elhuni, sitting down next to her, hugging her and buying her tea. "It was hard to tell what was happening from across the room, but it was clear the guy was harassing her," said one witness. "It was impressive how quickly the woman diffused the situation, and it was reassuring to see people coming to her defense once they realized what was going on."
As word spread, strangers who saw the video on Facebook began entering the shop to shake her hand. A middle-aged woman identifying herself as Kristy came in from Flat Iron, a bar down the street, to offer her support, telling Elhuni that news is spreading fast and everyone is furious. "That's not what this neighborhood is about," she said.
Facebook users commenting on Elhuni's post have since identified the social media pages of the man they believe to be Rob. CL attempted to reach out for comment but the Facebook page has since been deleted. (CL will continue attempting to get in touch to confirm his identity and update this story accordingly.)
Elhuni says this isn't her first encounter with overt racism, and notes that white people in particular need to speak out when they see incidents of harassment against people of color. "There are several instances where people have done absolutely nothing at all but watch," she says. "But today people actually came and sat with me."
The harassment comes fast on the heels of President Trump's executive order banning all entry into the U.S. of nationals from seven majority-Muslim countries, including Libya, where Elhuni is originally from. The Southern Poverty Law Center has documented an increase in hateful incidents of harassment against minorities since Trump's election. The American Civil Liberties Union and others filed suit against the president this morning, citing a violation of Fifth Amendment rights.
"People are so emboldened with this climate now, literally they feel like they can just say and do anything," says Elhuni. "But we can fight back with things like technology."
Elhuni reports that she's since received a message through a mutual friend of a friend saying Rob wants to dialogue with her.


"My answer is hell no," she says. "Because I don't think this is about dialogue, I think he's trying to save himself because his name got out, his picture got out. And so I'm not going to dialogue with him, but I'm sure there are other Muslims who are willing to."
UPDATE: An official statement posted on the Joe's East Atlanta Facebook page in response to the incident reads: "There is a video floating around on Facebook of an encounter with one of our dear customers and a man saying horrible things to her. We DO NOT condone such behavior and are, frankly, disgusted by it. Joe's is a welcoming place, a SAFE space for people of all races, colors, and sex, ETC. If you are ever in our store and feel threatened or uncomfortable please tell a staff member. PLEASE remember to love people and show kindness always."