Meatless in the West End
A deeper look at Atlanta's historic haven for healthy, plant-based dining
It's a cold and cloudy afternoon in Atlanta's historic West End, but people are out and about. Driving down Ralph David Abernathy Boulevard, you'll see churches of several denominations, the Wren's Nest house museum and the Shrine of the Black Madonna Cultural Center, featuring one of the nation's largest and oldest black-owned bookstores. There's also a Captain D's, a Wendy's, a Krispy Kreme, a McDonald's.
But tucked between these historic landmarks and artery-clogging emporiums is a rather stunning number of vegan and vegetarian restaurants: Soul Vegetarian, Healthful Essence, Tassili's Raw Reality, KarbonStar Vitality Vegan Café and Juice Bar. Behind the mall sits a Rastafarian egg-free, sugar-free, milk-free, gluten-free doughnut shop called Vegan Dream. Five minutes south down Lee Street is Viva La Vegan, where a brother and sister duo serves up burgers and sammies packed with imaginative meat alternatives like jackfruit, cauliflower and konjac root."
One of the things I've found about the West End is that it's really a state of mind," says Tassili Ma'at, owner of the raw vegan café Tassili's Raw Reality.
She recalls visiting for the first time during the National Black Arts Festival, fresh out of college at UC San Diego. It was 1988, and she had just been accepted to UC Berkeley's prestigious graduate program. But upon discovering Atlanta's West End, she decided to scrap her plans and stay. "Coming here just felt like coming home."
Ma'at relished the forward-thinking mindset of the neighborhood's mostly African-American residents. Since the late '60s, the West End has been a melting pot of black culture and religion: Rastafarians, African Hebrew Israelites, Muslims, Pan African Orthodox Christians and more. "You name it, it's here for African-American culture as far as spiritual expression," Ma'at says. "The West End is rich in cultural, spiritual, African-centered community. For us as African people in America, it provides a nurturing, a healing, a heartbeat that sustains us."
Over the years, artists and scholars have gravitated toward the neighborhood's rich ethos, bolstered by the Atlanta University Center and Shrine of the Black Madonna, which would often bring in speakers and organize community events in what Ma'at calls "a constant effort to educate and uplift."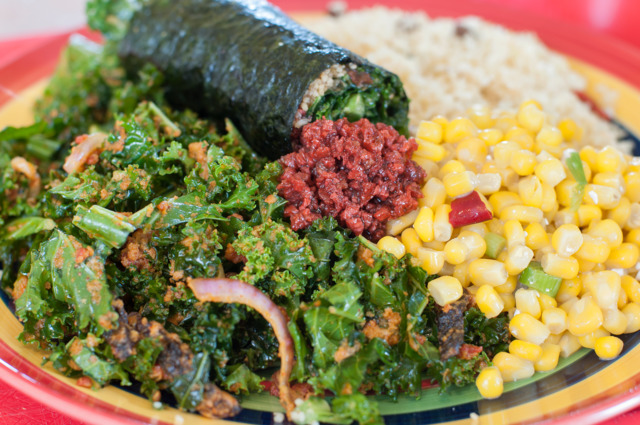 EAT YOUR VEGGIES: Spicy kale salad, sweet coconut corn, karamu couscous and the famous Yoshi roll with raw BBQ at Tassili's Raw Reality
Joeff Davis
With many of the different spiritual groups came a shared demand for healthy, plant-based foods. One of the first restaurants to meet that demand was Soul Vegetarian, led by Yafah Israel, a Baltimore native who came to Atlanta for Army training at Fort McPherson. Under the auspices of the Hebrew Israelite Community of Jerusalem, she developed a deep interest in the vegan diet that the spiritual practice prescribes and opened the first Soul Veg in 1978 to show people that going meat-free didn't have to mean "eating rabbit food." Initially located on Peachtree Street across from the Fox Theatre, the restaurant moved to West End in the early '90s.
"We wanted to offer the community an alternative to what they were used to, like fast food, which didn't serve them well," Israel says. "We wanted to be that light, with food that maintains that down-home soul food taste but is prepared in a healthy manner."
Today, the space has an old-school cafeteria vibe, its half-wood-paneled walls festooned with framed newspaper clippings and photos of spiritual leaders. Locals line up for the daily lunch buffet, kalebone and meatless Garvey burger. An on-site juice bar called Return to Royalty serves up seriously addictive smoothies. 
Soul Vegetarian became a catalyst, inspiring healthful converts from all walks of life to open their own plant-based eateries and helping support a growing network of urban farms and community gardens. Last year, Truly Living Well, a natural urban agriculture center that helps supply some of the local restaurants, celebrated its 10-year anniversary. 
"We were green before it was cool to be green," says Traci Thomas, a former Truly Living Well coordinator and founder of the Black Vegetarian Society of Georgia. Her nonprofit promotes plant-based diets by offering member discounts to participating restaurants and hosting educational events to address the disproportionate levels of chronic and degenerative diseases among African-Americans. 
"It's growing, it's sprouting up all over the city," she says of the plant-based movement. "And I don't think it's a fad. I think it's just going to continue to grow."
Chef Cheri Mbye agrees. The co-owner of KarbonStar Vitality, which opened last November, subscribes to a traditional Ital diet. Free from chemicals, additives and usually meat and dairy, Ital has been a key tenet of Rastafarianism since the 1930s. "The word 'vegan' is new," she says. "We've been living this life since long before 'vegan' came around." 
KarbonStar's hearty soups, salads, wraps and vegan pizzas dubbed "Sizzlas" contain no animal products, yeast or soy, though you wouldn't know it by tasting them. Customers often come to Mbye's shop on the advice of their doctors, who recommend serious lifestyle changes after diagnosing diet-related ailments like high blood pressure or obesity. 
This was the case for Ma'at, who started her raw vegan diet 10 years ago on the advice of a local herbalist after she was diagnosed with arthritis, the result of many years working her hands as a professional hair braider and loctician. She says going raw made her stiffness disappear in a week.
She began making raw food for others on the request of a friend, working out of another since-closed vegan restaurant in the neighborhood. Her way-tastier-than-they-sound beet loafs and kale wraps gained a loyal following, and business snowballed after Thomas gave her a last-minute, front-and-center booth at Meat Out, Atlanta's largest vegetarian food festival. "People were excited that I was reinventing myself," Ma'at says. "The community was so supportive." 
On the very first day of 2011, Tassili's Raw Reality opened its doors.
Today, the buzzing café carries the torch not only for raw vegan cuisine but serves as an epicenter for West End's still-thriving arts and wellness communities. Set inside a ramshackle double-gallery house that dates back to 1878, the café features a yoga and meditation studio upstairs, a local art gallery in the main dining room and a garden out front during spring and summer. Celebs like André 3000 and Erykah Badu have been known to pop by for Ma'at's famous wraps.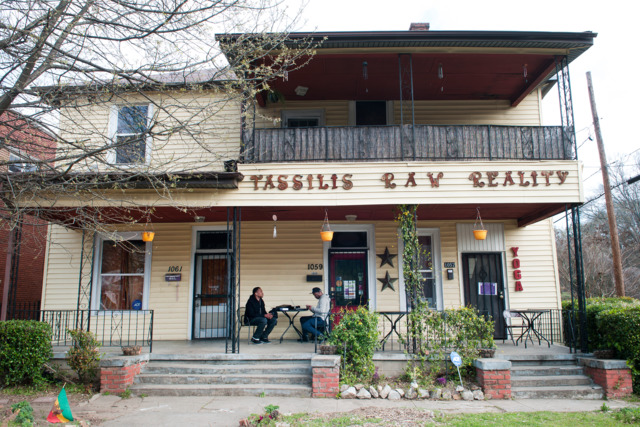 PSYCHEDELIC SHACK: The view outside of Tassili's Raw Reality
Joeff Davis
As a child, Ma'at was obsessed with the Temptations' song "Psychedelic Shack." It seemed like such a magical place, she was always asking her mother if she could go there. "We can't," her mother would say. "That place is make-believe. It doesn't exist." Then one day, a couple summers ago, Ma'at was sitting on big creaky porch of her café. Incense was burning, music was playing, someone was giving someone else an astrology reading. "I looked up and suddenly realized, oh my god, I have manifested the psychedelic shack!"
Ma'at says the building originally belonged to a wealthy white landowner who probably had a plantation, "but the cool thing about it is that he was a leader in the community and used to have town hall meetings here. Quite naturally, we're in the same frequency of people coming together to gather and build." The café regularly hosts neighborhood events, workshops and Ma'at's famous "uncooking" classes.
I ask Ma'at if there's ever been a sense of competition among the West End's many vegan eateries, and she immediately shakes her head. "I see all of the health food places in the area as being allies. All indigenous cultures for the most part foster a communal mindset, recognizing that we have to work together to thrive."
Israel agrees: "We don't concentrate on what divides us. We've been divided too long and against our will. Instead, we begin with what we have in common."
Indeed, many of the West End vegan restaurants are actually rooted in their predecessors. Ma'at herself started Tassili's by subletting a small space from Princess Dixon at Healthful Essence, the vegetarian Caribbean restaurant across the street. Today, she makes a point to encourage entrepreneurship within the café: Several staff members have added their own items to Ma'at's menu, several more sell products onsite as vendors and others have gone on to open their own standalone restaurants. Vegan Dream Doughnuts and KarbonStar Vitality are both examples of the latter.
"It's never a competition," says Mbye, a former employee of Ma'at's. "We want to saturate the world with vegan restaurants, to counteract the 'fleshly' restaurants."
"Our competition is McDonald's. It's Wendy's," Ma'at says. 
Big-budget development and gentrification are also concerns. With the Beltline's Westside Trail and a $30 million warehouse development project — anchored by Monday Night Brewing and Honeysuckle Gelato — set to open this year, West End property values are on the rise. The threat of long-term resident displacement follows close behind. But Ma'at and the other business owners I spoke with have no intention of being victims. "My position is, let's be empowered; let's be a force to be reckoned with; let's be an identity," she says, citing Little Five Points, Midtown and Decatur as proof positive. "I want to help cultivate a sustainable identity for the West End, so that what we have doesn't get lost in the rubble of the cranes as they build and take down."
So far, it seems to be working. Tassili's identity is palpable, the air of the little café thick with love. Ma'at sits at the center of it all, serene as the eye of a cyclone in her tie-dyed dress and head wrap, one long dreadlock hanging almost to her ankles, adorned in rings of silver and gold. Sitting in a corner table by the door, we're interrupted by a constant stream of smiling friends and colleagues: Brittany Love, the "cookie fairy," with her young son and an armful of freshly baked gluten-free goodies; several yoga teachers; an urban forager; a writer; a musician. Ma'at greets each one with a warm hug. That's the policy around here, she tells me; this is a "hugging station" with a 12-hugs-per-person-per-day minimum.

Ma'at tears up recalling the early days, when she'd rely on the kindness of these same friends and colleagues for rides to the grocery store when she didn't have a car or utility payments in exchange for hair braiding services. "I feel truly blessed and highly favored, because I don't really know how all this is happening," she says, raking a palm across her eyes. "I'm just showing up for life, doing the best I can do, trying to help people share knowledge and make the world a better place. And it's happening. It's really happening."


Where to eat:
Soul Vegetarian
879 Ralph David Abernathy Blvd.
404-753-5194 
Tassili's Raw Reality
1059 Ralph David Abernathy Blvd.
404-343-6126
www.tassilisrawreality.com]
Healthful Essence
875 York Ave S.W.
404-806-0830 
Viva La Vegan
1265 Lee St. S.W.
404-951-2737
Vegan Dream Doughnuts
576 Lee St. S.W. E.
404-397-9174
KarbonStar Vitality
1542 Ralph David Abernathy Blvd.
404-474-1276
---