First Look: Food Terminal
Buford Highway's sleek new Malaysian eatery offers 125 dishes to choose from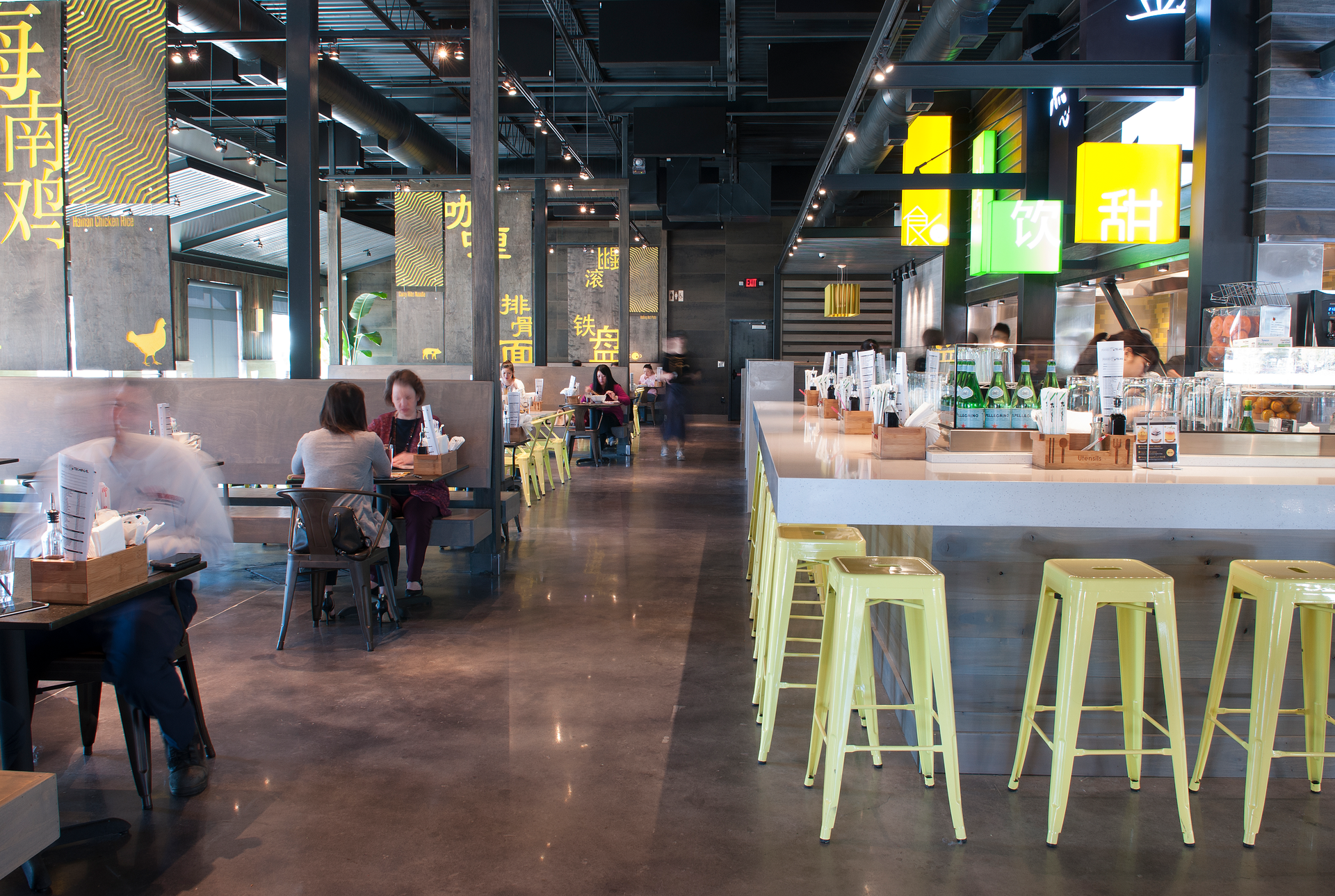 When you sit down to your table at the new Food Terminal, youbre handed what looks like a glossy food magazine. Itbs thick and weighty, with a bold all-caps headline slapped across the top: "CAUTION: DELICIOUS FOOD INSIDE." This is Food Terminalbs menu, 50 pages long, full of Instagram-worthy photos of almost every one of the 125 dishes offered. Like the restaurant itself, the document is vibrant and visually striking, with a decidedly au courant lens on the varied foods of Malaysia and its Asian neighbors. The headline could just as easily read, CAUTION: SENSORY OVERLOAD AHEAD, since what pours forth is a dizzying deluge of tossed noodles, soups of all sorts, delicate roti and teriyaki skewers. Not to mention meat-stuffed bao, Hainanese chicken, Indonesian beef, fried rice concoctions served in sizzling skillets and so much more.
Food Terminal is the latest endeavor from Amy Wong and Howie Ewe, the minds behind Asian bakery mini-chain Sweet Hut. Both concepts share an obvious affinity for bright-hued dC)cor. Open since the beginning of March, Food Terminal occupies a new building adjacent to the City Farmers Market shopping center on Buford Highway. The newness of the space stands out in comparison to most of the other no-frills eateries stretching up and down this hallowed thoroughfare. The large kitchen is open and packed with shiny equipment; the dining room is vast and industrial-chic. This is a fully fleshed-out concept restaurant, ready for its close-up and built to be replicated (and likely imitated).
No value assignedWong says the aim of Food Terminal is to feature authentic street food b both the kind she grew up with in Malaysia and those of surrounding Asian cultures. More importantly, Food Terminal intends to bring a contemporary spin on the feeling of an Asian food court to Buford Highway. bGrowing up in Malaysia,b Wong says, bpeople are always hanging out at food courts for lunch, afternoon snack, dinner, or really just for a cold drink of milk tea or coffee. Itbs a place to socialize. Our hope is that Food Terminal can really become part of the local communitybs everyday life.b
Take your time flipping through the photos in the massive menu, then fly with whatever strikes your fancy. The prices are reasonable enough (ranging from $3 for twoB teriyaki mushroom skewers up to $17 for the sharable YumYum shrimp plate). Your server can help, reassuring you on your choice of grandma wonton BBQ pork noodles perhaps, or cautioning when the volume of food ordered stands to exceed available stomach space. After checking off the dishes you want on a tally sheet and handing it to the server, plates arrive fast and furious, and may quickly cover every inch of your table with a bounty of fragrance and color.
No value assignedAmong 15 different noodle soups spanning the Asian continent, you may want to start your exploration with the very first item on the menu b a garlic bone marrow soup ($11.95) featuring five spice pork belly and a tangle of thin noodles submerged in a creamy broth not unlike tonkotsu ramen. The tossed noodle section offers similar concoctions, without the broth (all $8.25-$9.50). The signature grandma wonton BBQ pork is a perfect capture of Food Terminalbs rich-on-rich flavors b crisp but fatty fried wontons, slices of barbecue pork slicked with sauce, Cantonese noodles and a fried egg on top.
Pages swing back and forth between the highly traditional, like the Malay nasi lemak plates pairing fragrant rice with kari chicken ($9.95), and the kinda crazy, like the sizzling skillet dubbed cheese bn cheese ($10.95). The dish is tossed tableside, first arriving as a stunning tower of tomato-braised rice covered in mozzarella and cheddar. Smaller piles of fresh corn, bell peppers and bacon add color and texture. A garlic noodle section brings a view of Italy by way of Asia, the noodles tossed with fresh roasted garlic mixed with melted butter and parmesan ($10.95-$12.95). And Food Terminalbs take on the bao trend replaces the standard steamed bun with a baked croissant/bun hybrid. I canbt say it improves on the steamed original, but fillings like unagi with avocado and cucumber make this bao-with-a-crunch worth a try ($4.95 each).
No value assignedLike Wong says, you can simply hang out here with a Hong Kong milk tea or some fresh-squeezed juice (or local craft or Asian beers, for that matter), or swing by for one of the fun desserts like the one featuring coconut ice cream swimming in a bright bath of fresh grapefruit, mango purC)e and squishy sago bubbles ($5). Any which way you enter Food Terminal, you'll find yourself transported to the food courts of Malaysia, even if itbs only through the pages of a glossy menu/magazine.
5000 Buford Highway, Suite B201, Chamblee. 678-353-6110. www.foodterminal.com.
---