Quick Bites: Punch Bowl Social to debut at the Battery, Nina and Rafi planned for this summer, Muss and Turner's closes Cobb location and more
Food news roundup
Punch Bowl Social, all 25,000 square feet of it, opens Sat., March 24 at the Battery Atlanta with an open-to-the-public party. Culinary partner Hugh Acheson designed the menu of diner-inspired fare to go along with craft beverages and games like Skee-Ball, shuffleboard, ping-pong, and classic videogames. Tickets for the opening party are available via Xorbia for two hours (7-9 p.m.) of food, drinks, access to games, and live music at the first Punch Bowl Social in the Southeast.
The East Cobb location of Muss & Turner's closed abruptly on Feb. 26 after almost a year of service in the former Common Quarter site. Partner Ryan Turner said in a release, "We feel honored by the amount of support we have received from loyal fans and are grateful to have forged such incredible relationships with these neighbors." The Smyrna location is still going strong.
Southern Souffle's Erika Council and BBQ whisperer Bryan Furman team up again this Saturday at B's Cracklin BBQ for breakfast biscuits. Head to 2061 Main St. in Riverside at 9 a.m.
Grandma Pie returns to Old Fourth Ward this summer when the finally-named Nina + Rafi restaurant and bar opens. Restaurateur Billy Streck (Hampton+Hudson, Cypress St.) and Anthony Spina (O4W Pizza) named the joint after — who else? — their respective grandmas and planned a menu of pizza, pasta, Italian snacks, salads, and sandwiches as well as a "tight bar program." The new location will be in Studioplex at 659 Auburn Ave.
The Castellucci Restaurant Group's (Bar Mercado, Iberian Pig, Cooks and Soldiers, Double Zero) new "healthy-ish" spot Recess is now open at Krog Street Market. Helmed by chef Victoria Shore, Recess has 15 bar seats and is open seven days a week.
Big Green Egg and SweetWater Brewery team up this Sun., March 4 for SweetWater Smokeout, a benefit for the Giving Kitchen. $20 tickets get your first brew and tastes from seven of Atlanta's favorite restaurants, all cooking on Big Green Eggs. Smoke 'em if you got 'em from 1 to 4 p.m.
Peachtree Pint is now open at Lenox Square's Fashion Café Food Court. The new bar offers 40 taps with dozens of local beers available in the newly designated open container area.
Drink a cocktail created in the Netherlands on Thurs., March 8 at Downtown's Red Phone Booth. Eric Van Beek, head bartender at Amsterdam's Hotel TwentySeven is a global finalist for 2018 Bacardi Legacy Cocktail Competition. He'll be serving his Carino at the speakeasy.
This year's Airport District Restaurant Week runs for nine days from Saturday, March 17-25. The fifth annual week allows diners to explore local restaurants in College Park, East Point, Hapeville, and Union City, with  $9, $19 or $29 prix fixe menus or signature dishes at a 20 percent discount. This year's participants include: Apron, Arches Brewing, Corner Tavern, Bole Ethiopian, Chapman Drugs, Duck Club Speakeasy, Grecian Gyro, Hattie Marie's, Kafenio, Kupcakerie, Louisiana Bistreaux, Malone's, Manchester Arms, Nancy's Pizza, The Pig and the Pint, Radial Café, Ronaldo's Resto Bar, Silver's Delight, the Corner Grille, Urban Foodie Feed Store, and Voya Café. 
More By This Writer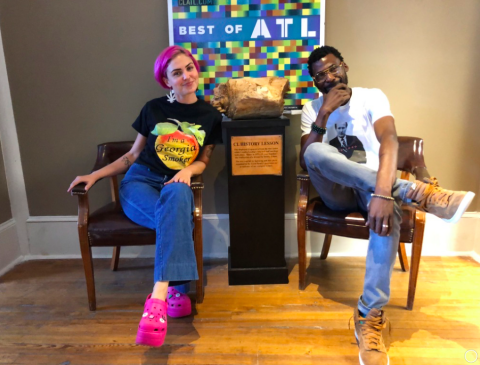 Monday October 28, 2019 10:23 am EDT


Podcaster Mehka King has recorded more than 200 episodes of his podcast series "Cash Color Cannabis." On this episode of "Friends in High Places," King takes the other side of the mic and discusses the start of his show and how it's grown to include several cannabis activists and hip hop recording stars. You can listen and watch "Cash Color Cannabis" on Live Hip Hop Daily, with a live...
|
more...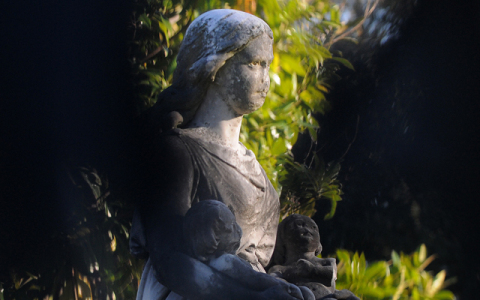 Monday October 21, 2019 03:26 pm EDT
Explore the history and mystery of these cultural landmark cemeteries. |
more...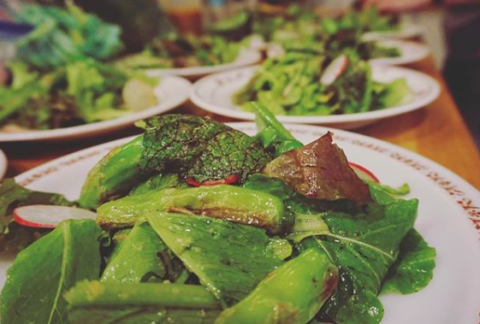 Friday October 4, 2019 12:00 pm EDT
Forget the wine pairings, Hi-Five Supper Club brings the weed pairings.
Ever wonder what it'd be like to eat fine dining, in an intimate setting, with cannabis-infused nourishments? Now you can, Atlanta, but it's still off the record. This episode interviews the duo behind Hi-Five Supper Club, an underground event company thoughtfully curating dinners and events using THC. Think Vice's "Bong...
|
more...
Thursday April 11, 2019 12:46 pm EDT
Atlanta Headlines April 11, 2019 |
more...
Friday December 14, 2018 05:55 pm EST
Search for more by