Zen and the art of Korean temple food
Seung Hee Lee, author of Everyday Korean, teaches how to cook and eat with intention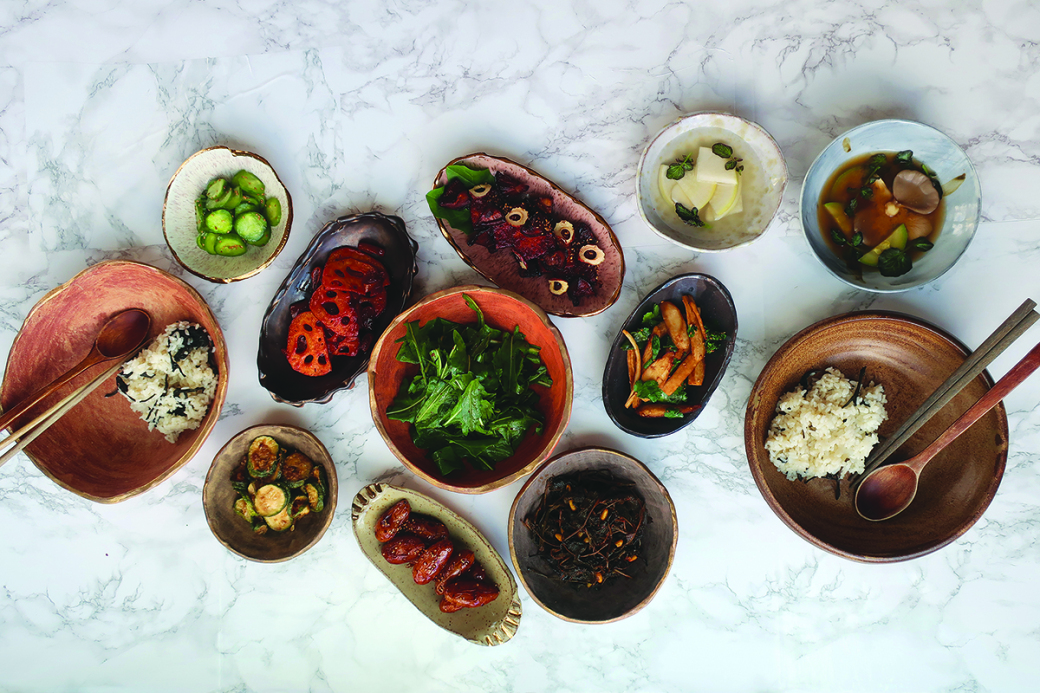 Cookbook author Seung Hee Lee makes traditional monastic Korean dishes like these to reset her body and calm her mind.
"I feel a sense of calm come over me just being here," says Seung Hee Lee as we arrive at the Jun Dung Sa Buddhist temple in Lilburn. It reminds her of foraging with her Buddhist grandmother in mountainous Korea, something she's been doing all her life. "Every neighborhood had a mountain or hill, always with a temple on top," she recalls. "After service, you are fed. Monks really value the sharing experience. You get a piece of Buddhist calm." 
Today, Lee is a prolific home chef and co-author, with Kim Sunée, of the cookbook Everyday Korean, a collection of both traditional and modern takes on Korean recipes, released last November. She's become widely known for her Instagram account @KoreanFusion, which more than 33,000 people follow for beautiful dishes cooked at Lee's home and around Atlanta (and at a heck of a lot of wine tastings). 
Born and raised in Korea, Lee studied Korean royal court cuisine at the Taste of Korea Research Institute and received her PhD in Human Nutrition from Johns Hopkins University. She's currently an epidemiologist at the CDC. 
With a pedigree like this, Lee understands cooking as a way of sustaining one's body and soul. To her, food is a form of illumination. And that's our goal today. The chef has agreed to be my guide on a journey through Korean monastic cuisine here in Atlanta. First stop: Jun Dung Sa.
The temple has been here more than 25 years but its grounds remain impeccably groomed. Fruit trees are budding. A pair of bronze gate guardians at the front doors protects the holy space. On the side of the temple is a sanshin-gak, a shrine of the mountain spirit. The mountains are where heaven and earth connect, according to Buddhist thought, and thus are usually where the temples stand.
A monk tends to a woodpile near an outdoor cooking area. Head nun Venerable Soo-in greets us outside a prep kitchen, wrapped in somber gray robes that belie her welcoming cheer. She helps host weekly English meditations and dharma talks for the public here every Saturday at five. 
In the backyard, clay crocks sit fermenting on the soy jar terrace, or jangdokdae. "Wow," Lee and I say together as we take in the dozens of vessels lined up in precise rows. The porous earthenware pots, called onggi, allow air to flow in and out for better fermentation. Shapes of the vessels vary by region due to environmental conditions. A wider mouth catches more sun.
Traditional sauces, says Lee, are the backbone of Korean cuisine, both in homes and at temples. In soybean paste, soy sauce, fish sauce, and chili paste, fermentation matures and improves taste and nutrition, while also allowing the sauces to be stored for long periods. Like wine, soy sauce has a richer flavor and taste when brewed longer. Time puts good energy into food.
At Korean temples, food is medicine. Living with Buddhism is eating with it; all things become a part of the study. Korea's monastic cuisine has been around for 1,700 years, since the Chinese introduced Buddhism to their neighbors. Its Zen practice encourages reliving the wisdom of the ancestors, which sets the mind free. Nourishment is important too — one needs a lot of energy to meditate and repetitively bow, as Buddhist monks do. Monastic cookery is a careful and laborious process with mindfulness at its core, Lee explains. Food is prepared as an expression of gratitude, with deliberation and care to keep the mind calm and static. 
Back at Lee's home kitchen, we chat about temple food as she prepares 11 traditional monastic dishes for dinner. She cooks this way when she wants to reset her body and calm her mind — a spiritual process. "It's very communal," she says. "The person who goes to pray may cook with the monks too. The food is more a symbol of togetherness, and harmony is very important to growth and happiness."
Temple food, while embodying Buddhist tenets of mindfulness and gratitude, is inherently local and seasonal — in some ways, the essence of every food movement. It's modern food with a foot in the past, similar to veganism but with an extra measure of sagacity. Lightness in all its definitions. 
The first precept of Buddhism forbids the harming of animals.  For this reason, no animal products are allowed in temple food, except dairy. There are no instant ingredients, either. Dishes are flavored with nature — roots, stems, leaves, fruits, and flowers. But the "five pungent spices," or o-shin-chae, are taboo: onions, garlic, chives, leeks, and green onions. These strong flavors are said to hinder spiritual practice and disrupt meditation. Practicing self-control by not including them in food prevents attachment to their intensity. And beyond that, they're a distraction. "They say it is going to interfere with your spirit," says Lee with a laugh. "Basically, it's going to make you horny. No sex drive is good for monks." 
An intentional cooking process takes the place of these forbidden ingredients, and I don't notice their absence in Lee's cooking. Instead, she flavors her dishes with powders made from mushroom, kelp, perilla seed, jae-pi, and bean. The results are surprisingly pungent, funky, tart, and layered. 
In Lee's kitchen, shelves are stacked with clay and stoneware dishes and cooking vessels. She uses only utensils made of wood. "It's kind of like the Amish," she says, "trying to do the most with what they have. It's more nature contacting the food." She uses her hands whenever possible, touching the food directly instead of with tools — a very Korean way to cook, she tells me. There is more philosophy than technique going on here. Lee is deeply present, deeply respectful of each ingredient.
She makes a quick dandelion kimchi, hand-tearing the leaves, adding rice syrup and Korean soy sauce. As she sprinkles in chili flakes from her family's farm in Korea, a soft smile spreads across her face. She talks about the difference between Korean and Japanese soy sauces, noting that the flavor is saltier because of the way the sauce is extracted. I suddenly remember that I'm talking to a certified nutritional scientist.
Kimchi is very important to Korean cuisine. Chapter five in Lee's book calls it "The Heart of the Matter" and includes the dandelion recipe. But since we're cooking monastically today, we'll have to make it without the garlic the recipe calls for. "How are we going to make kimchi without garlic?" asks Lee. "You just make it without. You can have ginger. It still has a very clean flavor." Her winter radish kimchi incorporates Asian pears with salt, ginger, and radish greens in its two-week fermentation. "The broth is where it is at. You can just slurp, slurp it."
She scoops tiny glazed potatoes into an earthenware platter. "The way the dish is cooked — it's all boiled down from the get-go," Lee explains. "In the beginning it looks like a soup. You think it will never get there. But slowly but surely it gets there. This really signifies the level of patience you need for this dish, the level of trust. You can't hurry it. So I make this when I feel like my life is in a hurry and I feel exhausted. It helps me to focus." 
The potatoes simmer for more than an hour in soy kelp broth, rice syrup, and sesame oil until tender, yet candied. The rice syrup is earthy and savory-sweet. "It's cleansing satisfaction," she says. "Root vegetable has that component. If your body needs to connect with the earth, you eat vegetables."
Lotus root is one of Lee's personal favorites. "It's crunchy goodness," she says. Banchan, or Korean side dishes, begin to fill the table — slices of fresh lotus root made gorgeously sticky with a coating of ginger, gochujang, dried persimmon, and maple syrup; slices of Persian cucumbers, salted, rinsed, and tossed with sesame oil and sesame seeds. 
"This you should try," she says, handing me something gooey and sweet. "Dried Korean jujubes, also known as dates, are from a place very close to my hometown." She points out that much of the sweetness in Korean cooking comes from dried fruits, picked at a time of bountiful resources and preserved. While dried leaves, fruits, and herbs add intense flavor to dishes, they also reflect a cooking process meant to steady the mind. Dehydrating, rehydrating, blanching, sautéing, and seasoning represent steps on the path of enlightenment. 
A dish of bellflower root (doraji) is next. It has the texture and flavor of ginger, is valued for its medicinal properties, and grows wild in Korea, covering mountains with purple blooms in spring. Lee slices it into strips, soaks, and sautées it before tossing with cilantro and sesame seeds, explaining how the dried root can be stored for long periods of times, then soaked and cooked, boiled and cooked again. "It's going to give a really interesting texture," Lee says. "That's the thing about temple cuisine — that you incorporate all the resources when you have them. Then you dry it and preserve it for long-term consumption, but you still capture it when it is in its prime."
Lee does much of her dried ingredient shopping at Buford Highway Farmers Market ("Aisle 27!"). H Mart is a resource for fresh vegetables. "Springtime is coming and I'm super excited," she says. "Shepherd's purse is the first thing Koreans will go for. Koreans love that shit — super aromatic."
After winter in Korea, the first wild edible greens are seen as harbingers of spring, just the thing to awaken one's ki, or energy lost during winter. Lee sautés chwi-namul, heart-shaped and slightly fuzzy mountain greens with soy paste, gochujang, sesame oil, and pine nuts, making them sublimely herbaceous, mildly bitter, and nutty in flavor.
"You need a lot of energy to meditate," Lee says as she sets down two wooden bowls, each holding a small scoop of white rice. "There's this thing called 1,000 bows. In order to become a monk … all the bad things you've done, you cleanse for. You'll do 1,000 bows. 1,000 bows! You would get dizzy. It's physically very laborious and demanding so you want to have nourishment." 
She creates delicate balance with the addition of steamed gondre, the leaves of young thistle that grow in mountainous areas near temples. It's aromatic, tealike, and as earthy as the wooden spoon and chopsticks nestled inside. Tofu is pan-seared and braised with leftover sauces from the namul. Her kelp-based soup includes water left over from making rice. "The whole idea of temple cuisine is not to waste anything, right?" she says. "What Mother Nature has given you, you are using every single thing of it." 
We dig in, taking what we need and talking of gratitude. Eating temple food can be as meaningful and memorable as reading sacred texts, meditating, performing rituals, viewing artifacts, or practicing mindfulness. "In Buddhism, you pray for others or for yourself," says Lee. Preparing, offering, sharing, and eating food are all a part of finding your dharma. And indeed, my mind and body feel connected as I eat each dish Lee so carefully prepared.
My craving for Korean temple food is almost lustful after these visits, the very inclination its methods tried to prevent. But upon further reflection, I find my hunger is more for the tranquility I experienced when eating with Lee rather than for the meals themselves. Sharing temple food was a study in subtlety, en route to my own personal enlightenment. It nourished the inner me.
---