Rice up your life
Jollof unites Atlanta's far-flung West African community
Dinnertime during my childhood rarely included American staples. There was no pot roast and potatoes, no fried chicken with mac and cheese. When we did "eat American," it was actually Italian — spaghetti or lasagna. Most days, we had the food my parents grew up on in Ghana: sticky balls of rice with peanut butter soup, spinach stew with boiled plantains or yam (ours is a white, starchier tuber with a tough dark skin).
I learned early on that my DeKalb County classmates were not eating the same things we were. And while I've always had my favorites among traditional Ghanaian dinner fare, there's only one dish that's captured my attention outside of my mom's kitchen: jollof rice.
Africans throughout the Western region of the continent have their own variations of jollof. Tomatoes give the otherwise plain white rice its signature reddish hue, and a combination of onions, garlic, ginger, and pepper create a surprisingly robust flavor. Ask for it in Senegal and you'll likely get thieboudienne, the country's national dish, which is jollof cooked with fish and a medley of vegetables. In Nigeria, the rice is parboiled. Ghanaians prefer to use jasmine or basmati rice. Personal and regional preferences yield sides of goat, beef, chicken, lamb, fish, or vegetables. The dish can be served sans proteins or alongside a hearty, meaty stew. In Ghana, it's best with a dollop of shitto, a pepper sauce made with Scotch bonnets and dried shrimp. Many families include jollof in their regular dinner rotations, and no special occasion is complete without a large aluminum pan of it. 
Kida Ama, the Senegalese manager at African Delights Restaurant in Mableton, notes that while cultures vary wildly across West Africa, jollof is the dish that you'll find almost everywhere.  "That's the most famous one," she says. 
Growing up, however, I didn't see jollof as any better or more special than the rest of my mom's cooking. The taste was on point, of course, but I wasn't a fan of my mom's technique. The rice was too soft, and I prefered beef to the mixed veggies she used. Africans eat a lot of rice dressed up different ways, and after several years, I grew tired of it — except for at Ghanaian events, when that beloved aluminium pan was piled high with longer, firmer, beefed-up jollof. The aunties had discovered the foolproof oven method for making it just right, and as boring as functions can be for a kid, there was always something heartwarming about coming together as a community over our food.
West Africans share so many components of our meals: plantains, fufu, pepper soup. Somehow jollof has become the most contentious. The way each country unifies behind its own preferences probably has something to do with it. "We make it differently but at the end of the day, it's jollof rice," Ama says. "It's part of the identity."
Jollof's blend of commonness and versatility have made it West Africa's unofficial regional dish. "It's flavorful and there are so many variations of it," adds Matthew Owusu, the Ghanaian owner of Cafe Songhai in Norcross. "So if you go to Senegal, Gambia, Liberia, Ivory Coast, they all do it differently."
Owusu and Ama say their clientele includes not only Africans, but also Americans of various races. Owusu prides Cafe Songhai on its commitment to teaching diners about what they're about to consume and the culture the food is linked to. He sometimes makes slight modifications, such as the level of heat, so that foods are easier on the palate.
"Our intention right from the outset was to have a broader appeal. Anyone interested in good food, prepared to be adventurous, that sort of thing, we're open and we're very happy for that challenge," Owusu says. "But then, yes, we just want to broaden the scope and appeal of West African food."
Ishmael Osekre of Afropolitan Insights, a collective of Africans throughout the diaspora who curate cultural experiences here in the states, says jollof is "buzzing" right now — maybe even on the verge of having its own food "moment." That buzz inspired Osekre and the Afropolitan Insights team to launch the Jollof Festival with back-to-back events in Washington, D.C. and New York City in July 2017. They're bringing the third installment to Atlanta next month, on Sat., May 26.
Jollof's popularity stateside has grown from a groundswell that can be traced back to the #jollofwars among West Africans, a playful debate over which country makes the best jollof. The main contenders, Ghanaians and Nigerians, throw shade at one another on social media. Diasporic Africans amplify the dispute, fanning flames from the sidelines. 
"The conversation around jollof has been kind of picking [up] momentum for a while now," says Osekre, who grew up in Ghana and moved to New York to attend Columbia University. "It's just that no one was paying close attention enough to feel like, 'OK, this is something that can hold a strong presence [and] we need to make something deliberately for it.'" 
As jollof picks up steam online, it's interesting to me that the trend has been insulated to the African diaspora. While not all of my black American friends know about jollof, far fewer of my non-black friends have any idea what it is. Like the Africans in Atlanta, the West African dining scene is spread far and wide, from Mableton to Norcross, Marietta to Stone Mountain. There's no concentration of the African contingent the way, say, Latinx and East Asian cultures have dominated Buford Highway. 
Africans are notoriously bad at unifying, no doubt a byproduct of the arbitrary borders Europeans drew, haphazardly dividing and combining ethnic groups along colony lines. If Africa is Wakanda, each country is T'Challa, Nakia, Okoye, W'Kabi, M'Baku, and Killmonger: passionate but divided on what the best choices for the populace are. In this scenario, Ghana and Nigeria could be T'Challa and Killmonger, locked in a never-ending power grab.
A YouTube search for "jollof wars" yields more than 3,000 hits. In early 2017, BuzzFeed pitted Ghanaians and Nigerians against each other in a blind taste test that garnered more than 300,000 views (only one guy correctly identified which jollof was from where). Some months prior, Facebook founder Mark Zuckerberg entered the fray, tipping the scales toward Nigeria and thrusting jollof into the global spotlight when he tried the dish on an August 2016 trip to the country. 
But as hard as Ghana and Nigeria fight for the jollof crown, neither country gets credit for creating it. "When they fight about it, I just laugh," says Ama. "I laugh because I strongly believe that jollof rice can only come from Senegal." And indeed, history favors Senegal as the birthplace of jollof rice. The name itself is widely said to derive from "wolof," as in the ancient Wolof Empire, namesake of a state, ethnic group, and language in present-day Senegal and Gambia. 
Here in Atlanta, you can find jollof, but you have to hunt for it — and probably venture outside the perimeter. To write this piece, I began with a detailed investigation on Yelp. First, I searched for African restaurants. After weeding out East African and Afro-Caribbean concepts, I Ctrl-F'd my way through the results, singling out restaurants that served jollof rice. There were 15 left, a pittance compared to the 135 metro restaurants serving biryani, a South Asian rice dish.
The first time I tried jollof in the outside world, I was a freshman at Georgia State. I walked into the Sweet Auburn Curb Market and came upon a small stall called AfroDish. The owners, a Ghanaian couple, serve West African and Caribbean dishes, including jollof. Until then, I'd never even seen the dish outside of a Ghanaian person's home, let alone tasted it. But just one bite of their "seasoned rice" (named for those who might tilt their heads at "jollof") took me back to the days of aluminum trays piled high. I was awed. 
Looking back, I'm grateful for Ike's Tropical Market, an Afro-Caribbean specialty shop in Snellville. My mom carted my siblings and me to Ike's shop regularly for kenkey, shitto, fufu powder, and the occasional sleeve of digestive biscuits. It was the first place in the outside world where the food we ate was "normal" and no heads tilted in curiosity. It was like an oasis. 

Now, many years later, the Atlanta Jollof Festival has the potential to be a similar oasis, only this time, less isolated. The festival promises a spread of regional variations on jollof, cultural performances, and more. Chefs from Nigeria, Cameroon, Ghana, Liberia, Senegal, and Sierra Leone are slated to throw down the proverbial jollof gauntlet. The festival will serve not only as an introduction to jollof rice for Atlantans, but also as a chance for West Africans to engage with one another's cultures while duking it out for bragging rights. 
"As much as we speak of Africa, people don't realize that Africans do not have the opportunity of spending as much time in each other's countries in the way that Americans visit other states," Osekre says. "For a lot of folks, this is like a discovery. This is an opportunity to see what others are made of, to see what is good or not about their food." 
He lights up as he speaks. "That really is a beautiful icebreaker for even Africans, just to be able to connect, you know, and introduce each other to their special cultural experiences."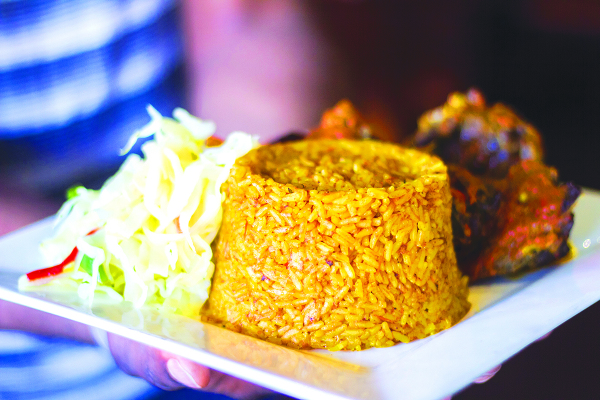 Perhaps when it comes to cultural appreciation and exchange through food, West Africans are doing it right. We're stepping up to the plate and showing people what we've got. Immigrants as a whole are finally embracing our own culinary heritage exactly as it is, rather than bastardizing it in an attempt to attract those who wouldn't come to the table otherwise. The food we're sharing is the same as what we eat at home, and we're unbothered by people who turn up their noses. It's their loss. Anyone looking for us in the "ethnic" section won't find us, because we don't see ourselves as "ethnic." Besides, we all know words like "ethnic" and "exotic" really mean "made by those nonwhite folks over there."
Maybe in a few years Food & Wine will publish a stellar recipe for jollof (dear editor, my aunt's is pretty amazing). Or maybe a national publication will highlight jollof alongside a white executive chef who learned the recipe from his Ivorian sous chef. Until then, pass the shitto.
---