GRAZING: Welcoming the unfamiliar
Why Anthony Bourdain would want you to eat at the Plate Sale
This month, I want to introduce you to a remarkable pop-up dinner, the Plate Sale. But before I rave about the food, I need to explain what's behind its aesthetic and riff a bit on what good cooking is all about. Anthony Bourdain's death has put me in that mindset.
I know you've had this experience: You go to a restaurant whose menu of fairly complicated dishes is all about organic produce and antibiotic-free meat from pasture-bred animals. You're expecting to eat healthfully, ethically, somewhat expensively, and deliciously. Then you take a bite, put down your fork, and you say to yourself — maybe even aloud — "Damn, this shit tastes like chicken. It's just messed-up chicken."
There's a reason for this. High-quality ingredients do not guarantee an especially notable plate of food. A truly gifted cook knows how to accentuate and distill a primary natural flavor by layering it with other flavors, scents, and textures. I'm over-simplifying but this is fundamental to cooking everywhere, as described in anthropologist Claude Levi-Strauss' 1964 book, The Raw and the Cooked. 
Levi-Strauss envisioned food as a triangle with "the raw" at the top, "the cooked" at the bottom left, and "the rotten" at the bottom right. The skills of cooking, reflecting a civilization's development, transform the raw in varying artful ways. But the food can also go rotten, from either point on the triangle. This is as much metaphorical as literal. Processed food — cooked and turned into a "dead" powder that is cooked again — is as metaphorically rotten as is, say, bacon cooked three hours before serving. Food can literally come into contact with regions we consider rotten, like the floor of a slaughterhouse, and thoughts of that, common in our culture now, can evoke our sensibilities about animals. 
At best, the gifted cook plays with binary opposites like sweet and sour or creamy and brittle. The flavors come together — boldly and subtly — and then fall apart or nearly so, recombining in different ratios. Put this all together and cooks (and the diners who seek their food) are actually expressing their values and personal experience within their sociocultural reality. Anthony Bourdain mapped the globe by its cooking in this way.
Not following me? Say it's the early, very white '60s and you want more than anything to be like everyone else. Where do you eat? At McDonald's. Its golden arches are as comfortingly gaudy as your girlfriend's blonde bouffant. The predictable food, virtually chef-less, has no outstanding tastes besides the binaries of salt in your fries and sugar in your milkshake, along with the crisp and the creamy textures. Of course, that's appealing but it's also desolate. Indeed, the beef itself is barely beef. Move forward 50 years. Our population has become dramatically multicultural (i.e., complicated) and it is deserting McDonald's while the Creamsicle-colored Donald Trump, detester of the multicultural, continues his impassioned bromance with Ronald McDonald. The rest of us now want food with echoes of resonance deeper than salt and sugar; we don't want rotten pink slime flowing from the bowels of a dying Minotaur in a sci-fi myth. 
Here comes the Plate Sale. This pop-up dinner series is hosted by Mike and Shyretha Sheats. Mike is the chef and Shyretha handles the floor and beverages. They began hosting pop-ups a couple of years ago while they were both working at Staplehouse, the restaurant in our city that most demonstrates cooking that is bound to the beauty and diversity of our culture. Staplehouse's artistry, as Levi-Strauss would say, is not just born out of mysterious individuals' talent. It is talent in a particular context. The restaurant memorializes and celebrates Ryan Hidinger, a well-known chef who died too young. The ultimate context then is a broken heart. Staplehouse contributes part of its profits to the Giving Kitchen, which helps the city's restaurant workers in need of financial assistance. It's no surprise that beauty flows out of such a place.

The Sheats host the Plate Sale at various locations. Most recently they took over weekend nights in June at Gato in Candler Park. Normally, the brilliant Talat Market pop-up is there, but the staff spent the month in Thailand in search of inspiration. Earlier, the Sheats have shown up at Octopus, A Mano, B's Cracklin' Barbecue, and the Learning Kitchen in the Sweet Auburn Curb Market. Both are Southern, African American, and grew up around farms with revered family cooks, so the farm-to-table ethos engulfed them early on. A lot has been written about the couple's Southern roots, and you can Google Southern Foodways' article and former CL cuisine editor Hilary Cadigan's interview. But I think a lot more is going on here than creative Southern cooking.
What is a pop-up? It is a dinner without a permanent home. Like a homeless person, its operators amble in search of food. They may be picky, but they take what's available, and they share it without much conventionality. I once followed a howling kitten behind a gas station on Hill Street and found myself in a camp of homeless people. They invited me to sit down. I ate a sugary cellophane-wrapped pastry and a stalk of fresh asparagus. One of the men talked about how much his father loved asparagus. I realized that even shoplifting and robbing dumpsters can be a way to find your metaphorical way home. A week later I returned to fill my car and they were gone.
The Sheats aren't literally homeless, but their dinner is, and in a strange way, that's the sociocultural context that makes the Plate Sale and most other pop-ups so intriguing. In fact, our entire culture seems lost right now, even putting aside the huge, literally homeless population. The center will not hold and the best are seeking the fringes. Thus the gig economy that allows every worker his own version of driving for Uber. I don't want to entirely conflate this notion of homelessness with privacy, but it really is almost impossible to contact the Sheats. The only place to find any news of their next public event is on Instagram (theplatesale). This is within a culture in which great concern about privacy is surging.
 
I ate twice at the Plate Sale in June. Gato itself occupies the fringe. It's a rather shabby diner with the usual open kitchen and a noise level that leaves you hoarse in five minutes. The menu is super-brief and confusing. The first night, there were five dishes. I could see that a plate of roasted pork might be worth $24, but $12 just for a side of purple peas and collards seemed extreme. "This is really expensive," I said to Shyretha, who was our server. "Yes, it is," she replied. Then I realized the dishes were all designed for two people, so the price dipped to just $33 each for all five items. Gato doesn't have a beverage license, so Shyretha was not making cocktails.
The menu described the first dish I tasted simply as butter potatoes with mussels and kale. It arrived in a bowl of foamy green sauce with inexplicably clear flavors. The soft mussels, the primary ingredient taste-wise, had been soaked in a kale emulsion before rejoining the broth in which they were cooked. An oil of lovage was added to that, along with snipped chive leaves. You get: the herb garden, the potato patch, and the sea. Both dinners included luscious peas hidden under crispy baby collards speckled with benne seeds — from Sea Island, I'm sure, since the peas one night were the island's famous red variety. Purple hulls with a bit of green garlic hid under the collards the next night. My favorite dish was remarkably understated on the menu as "aged pork and squash." It was a chunk of super-tender pork whose exterior ring of fat was as crunchy as it was juicy. The meat was striped with two varieties of squash and topped with a towering pork rind and a red nasturtium. Adding another texture was a pool of emulsified pork fat married to a squash puree. The second night's menu also include roasted pork, but topped with glossy chanterelles and black garlic. This was the only dish I'd give a definitive thumbs-down. The meat was literally too tough to cut with the table knives provided without activating carpal tunnel syndrome.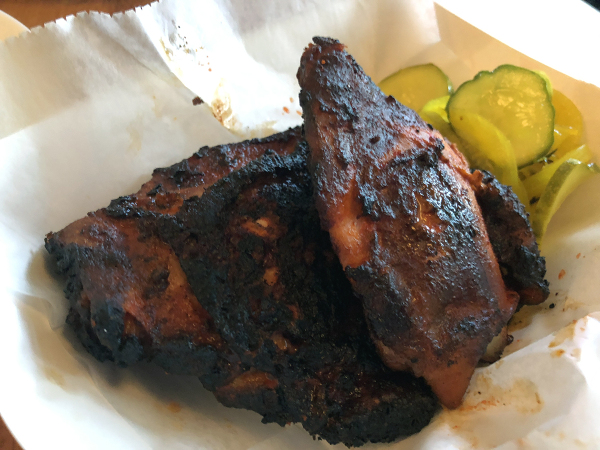 The most rococo dish brought some crunch with its charred carrots, cucumbers, and spiced peanuts aflush with a marigold emulsion, all of it wreathed in carrot leaves. The most uncomplicated Southern dish was the fried catfish with a golden hushpuppy from a 19th-century recipe, and some mayo-based tartar sauce. Barbecue came in the shape of a smoked chicken thigh that had been mopped with vinegar, salt, paprika, and cayenne. I could have made a meal of that. There were also grilled shrimp over Carolina Gold Rice. Both desserts I tried were peach-based. The peach meringue tart, although more conventional, beat the peach ice cream with molasses, cilantro, and a couple other herbs. It was too messy for two to comfortably share. 
The latter in fact, points to a complaint. Although the dishes were served in portions for two, no service spoons were provided, so I shared a lot of saliva. Also, the tiny plates for individual servings were not changed frequently enough. Thus a completely inappropriate sauce could end up staining an otherwise perfect one.
Keep your eye on Instagram and don't miss the next Plate Sale. But wherever you eat, I urge you to question yourself. Are you welcoming the unfamiliar, the beautiful, which is always born on the fringes of culture? Let your imagination be homeless now and then. That's just what Anthony Bourdain taught us to do. That won't kill you. It's what kept him alive. -CL-
---