QUICK BITES: Food news roundup 8-2
Bombass biscuits, Better Half's new supper series, and the definition of a "PizzaBeeria"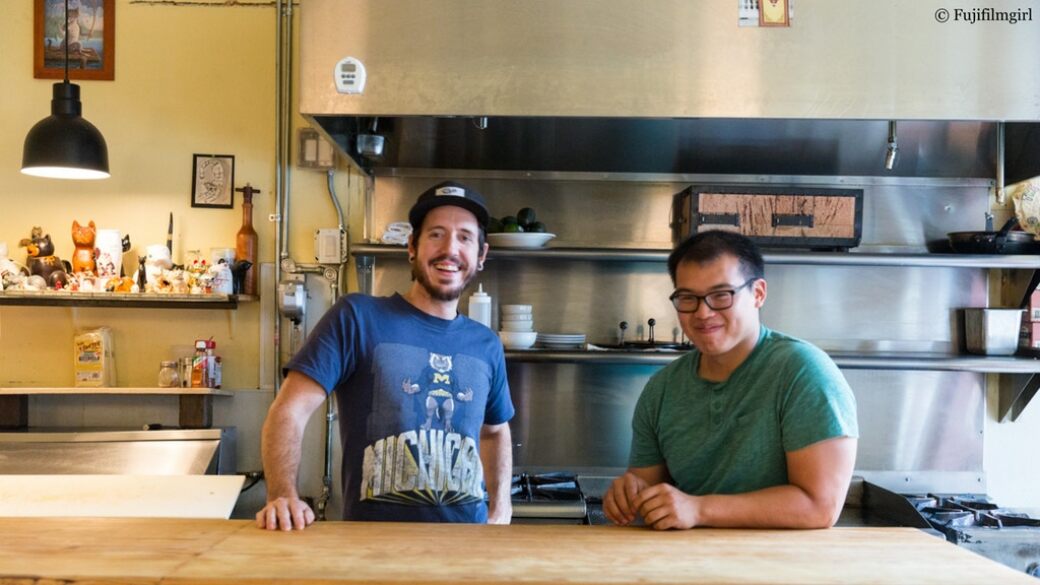 DYNAMIC DUO: With ten days to spare the team (Parnass Savang and Rod Lassiter) reached it's Kickstarter goal of $20,000 for a brick and mortar restaurant.
Congratulations to Talat Market. With ten days to spare the team (Parnass Savang and Rod Lassiter) reached it's Kickstarter goal of $20,000 for a brick and mortar restaurant. We'll soon be eating their Georgian Thai food at 112 Ormond St. But wait, there's more! This week Bon Appetite released their list of America's Best New Restaurants. There was one Georgia entry: Talat Market. You can continue to back them, you know? There's a pretty cool pig roast at Wrecking Bar included. 
Bombass biscuits are on the menu again at B's Cracklin BBQ (2061 Main St.). Top Erika Council's (Southern Soufflé) fluffy wonders with gravy or order them stuffed with fried chicken or B's pork. Breakfast begins at 9 a.m. 
Better Half's Zach Meloy is harkening back to his beginnings with a new supper series. Pulpit Suppers kicks off Aug. 18 with the intimate format of his original PushStart Kitchen pop-ups. The Georgia-focused menu of cocktails and snacks, followed by 5 courses with beverage pairings, is limited to 14 guests. Invites are released through better Half's email list. 
Mark your calendars each month for a dinner series in celebration of Holeman & Finch's 10-year anniversary. Chef Linton Hopkins and Executive chef Spencer Gomez are teaming up with highly acclaimed chefs across the country from this week through April. Sun., Aug. 5 Chef Edward Lee is in the house. Forthcoming guest chefs include Sean brock, Mike Lata, Gabrielle Hamilton, Naomi Pomeroy, and Tandy Wilson, among others. Tickets are available 45 days in advance via Tock or by reserving at 404-948-1175.
Sad news in the dumpling sphere. Chef Liu (5283 Buford Highway) has closed. There is new signage for Hot Melody Chinese already in place. 
It sounds like a big and tall store, but it's described more as a "PizzaBeeria." Nashville's Slim and Husky's was rumored for expansion to Atlanta. According to WhatNowAtlanta, plans have been filed and they will build from the ground up in Adair park (581 Metropolitan Pkwy S.W.)
Shorty's in Toco Hill (2884 N. Druid Hills Road N.E.) is opening for brunch. Come September they will serve breakfast specialties on Sat. and Sun. from 10:30 am to 2:30 pm. Shorty's also has a Tucker location. 
Sean Brock has left Charleston's Neighborhood Dining Group to focus on his projects in Nashville. He will still be founding chef and culinary advisor for the Husk group of restaurants (Charleston, Nashville, Greenville, Savannah) but will step away entirely from McCrady's, McCrady's Tavern, and Minero (Charleston and Ponce City Market). 
Sunday, August 5 is National Oyster Day. Are you prepared? Slurping suggestions: Kimball House, Bread & Butterfly, Watchman's, C&S Seafood and Oyster, Beetlecat, The Optimist, Mary Hoopa's, C. Ellet's.
The Chastain Park location of Verde Taqueria (4600 Roswell Road) has closed. Two other locations in Brookhaven and on Collier road remain open.
Westside's Cooks & Soldiers has a swanky new mural to check out. Prolific doodler who goes by the moniker Dozfy finished up a beauty of an octopus this week. It may be over urinals though, ladies. 
A new Pho 24 is replacing defunct Rize Artisan Pizza at 6050 Roswell Road in Sandy Springs. The Vietnamese noodle house which first opened in Chamblee, is expected to open in late September. Also coming soon is an Atlantic Station location. 
Athens is stirring (or are they shaking) up some fun with the Athens Cocktail Classic, a series of weekend events with cocktail classes, sampling, and competitions. The cocktail-centric weekend runs Aug. 16-18, dropping knowledge and know-how from the likes of Jerry and Krista Slater (The Expat), Greg Best (Ticonderoga Club), Miles MacQuarrie (Kimball House), and Chad Ralston (ASW Distillery). http://athenscocktailclassic.com
Congratulations to Gerry Klaskala, chef and co-owner of Aria and Canoe. On Sun., August 12 he will be presented with this year's Lifetime Achievment Award from the Georgia restaurant Association at the GRACE Awards Gala. 
Deal: Milton's Cuisine and Cocktails is celebrating 12 years of dining in Crabapple. Their gift to you (available all month) is a finger-licking feast of boneless pickle-fried chicken, their signature hot jalapeno honey and everything bagel spice, and kimchi coleslaw for $12. 
---