HIGH FREQUENCIES: Second line as it is supposed to be
The Rebirth Brass Band rolls into town
Thanks to exposure in the hit HBO series Treme, a relentless touring schedule and their justly famous ongoing Tuesday night residency at The Maple Leaf in New Orleans, the Rebirth Brass Band is something of a household name. Highly adept at blending the fundamental constructs of the earliest second line progenitors with 21st century funky rhythms and hip hop grooves, while the Dirty Dozen Brass Band may reign as the elder statesmen of such Crescent City congregations, the Rebirth Brass Band sets the contemporary standard by which other brass bands measure their prowess.
Atlantans will have a chance to witness the Rebirth Brass Band Saturday, September 8, at Smith's Olde Bar, where they will appear for two shows. The 7 PM performance is sold out, but, at the time of this writing, tickets are still available for the 11 PM show.
Fellow CL scribe Doug DeLoach, who calls such brass-oriented jazz ensembles  "one of the oldest and richest, most publicly accessible performing traditions in America," had the good fortune of seeing Rebirth on their home turf at The Maple Leaf for one of those legendary Tuesday night sets. He still describes the experience as "truly phenomenal."
DeLoach isn't the only Atlantan to have been reborn, bathed in the sounds of the Rebirth Brass Band at the Maple Leaf. The Woggles guitarist Jeff Walls told me recently that he too was transformed by Rebirth while he was still in Guadalcanal Diary. Having witnessed the brass band's exuberance onstage made the break up of Guadalcanal Diary later that year somewhat easier.
As Walls recalls, "I had experienced an epiphany earlier in the year (1989) when I was in New Orleans for Mardi Gras, where I happened to spend an evening dropping acid at a packed all-black juke joint with a young Rebirth Brass Band performing. On this night there was no PA system, no production to speak of, and no pretentious scenesters in sight. There was only the irresistible pulse of that second line rhythm and the shrill sound of a ten year-old trumpet player blasting away just inches away from my face. Their incredibly syncopated funk filled the small room and everyone there was dancing with such abandon that it seemed like the walls were breathing with a rhythm that was straight out of the jungle.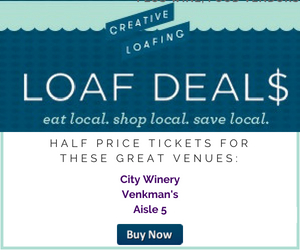 "The experience was so unbelievably intense that I couldn't stop the tears of joy from rolling down my face. I realized then that I was witnessing the ultimate expression of musical communication right before my eyes. And it didn't require managers, lawyers, record labels, concert halls, or even a PA or a soundman to put it across. In fact, any of that would have ruined it. I began to imagine what it might be like to get back to that sort of spontaneous primitive feeling and sense of direct musical communication with the audience, without all of the false pretense and boring predictability of a typical "Big Rock Show."
See for yourself this weekend.
The truth is out there dept. … W8ing4UFOs will open for Five Eight Saturday, September 8, at Eddie's Attic. A relatively offbeat double-bill for the Decatur music room, the main connection here is Sean Dunn, longtime guitarist with the Athens-based Five Eight, who also plays with W8ing4UFOs, the evolving squadron of misfit tunesmiths, Billy Fields, Will Fratesi, and Brian Halloran among them, led by Bill Taft. The former's brazenly elemental garage/new wave/punkish fervor should nicely complement the latter's whimsical blend of neo-symbolist musing and chamber rock engineering.
Moving on up dept. … The Puddles Pity Party & Friends Holiday Jubilee, being billed as the sad clown's "first official holiday show," is set to take place at the Fox Theatre Tuesday, December 18. Tickets for the event go on sale today, September 7. Not the first time Puddles Pity Party has performed during the holiday season, it is his first headlining gig at the Fabulous Fox. Puddles will implement "Mighty Mo," the theater's custom-built M.P. Möller pipe organ, in his show, at which he will perform with a number of special guests near and dear to him.
A limited number of VIP packages, including premium tickets, a meet and greet photo opportunity with Puddles, an acoustic performance of two songs by Puddles, an exclusive VIP Puddles souvenir, and single event access to the theatre's "member's only" Marquee Club, will be made available. This should be a blast!
---