HIGH FREQUENCIES: Dream pop and change
Bicycle Eaters bid a fond 'adieu'
Jeffrey Bützer and the Bicycle Eaters claim September 28 to be the band's final performance. Indeed, with the seven members now living in different parts of the world, their performances have been few and far between. As Bützer notes on his Facebook page, "We figured we would do the Atlanta thing, and release an album and then disband." In keeping with that theme, their Kavarna appearance also serves as a record-release party for the group's appropriately titled new and final album, Petals of Youth."

I wondered if they approached Petals of Youth knowing it was going to be their last record together? If so, did they approach the songwriting any differently?
Bützer was quick to respond. "We actually wrote and recorded it two years ago. We arrange together but never write together. Lionel Fondeville, who writes the band's French lyrics, is in France, and vocalist Cassi Costoulas now lives in Nashville. In writing we had a common thread of magic realism and a sort of shared narrative even though the three of us never discussed it.

"This is the first time words I wrote have been sung on anything.

"That and the recording process was the big difference on this record. And we very much wanted it to be a sort of 'pop' or 'dream pop' record, à la Pixies and Blonde Redhead."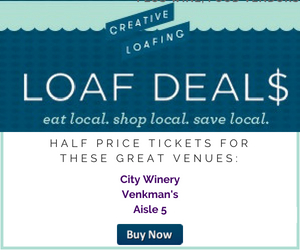 Formed in 2010 with a completely different line-up, the Bicycle Eaters are Bützer's longest-running band project. The pianist will be joined Friday by those who collaborated on the final album: Cassi Costoulas, vocals; Chad Shivers, guitar; Matt Steadman, bass; Kristin Haverty, cello; Eric Balint, vibraphone, percussion; and Professor Sean Zearfoss, drums. Also appearing will be special guest Julianna Money, and, a puppet show will be presented by Raymond vs Raymond.

Don't think this is the last time we'll hear from Bützer. He's already working on new material. Given half a chance, he could quite possibly rule the pop music world one day — if that world ever returns to one of well-crafted songs and allows individuality and depth to shine through today's highly-polished production gloss and Auto-Tune.

The passed are past dept. …When MC50 took the stage at the Variety Playhouse Sept. 7, Wayne Kramer's hand-picked super group did so with little fanfare. Celebrating fifty years since the release of MC5's revolutionary debut, Kick Out the Jams, their only intro was the recording of Rob Tyner's challenge to the live audience from 50 years ago, calling on those in attendance at Detroit's Grande Ballroom to decide whether "You are going to be the problem or whether you are going to be the solution!"

Given much of these times mirror those of the '60s, Kramer's punching the air with his fists seemed to mock the call to action, not encourage it. Even his echoing Tyner's recorded words seemed half-hearted. But when MC50 started to play, the musicians launched into the set full-force. "Ramblin' Rose" may have been knocked down a few registers — it would've been surprising if Kramer had been able to hit the falsetto of his youth, though he could still do his pre-"Moonwalk" slide across the stage like he did back in the day — but otherwise MC50 rocked the music of Kick Out the Jams and other songs from MC5's two studio albums, Back in the USA and High Time.

Backstage after the show, Kramer took time to talk with fans and friends, but he appeared to be most interested in networking with those who had made their way to the dressing room who work with various civil liberties organizations trying to make a change in society, not unlike his work with Jail Guitar Doors USA. He may not have talked the talked onstage, but afterwards, he certainly walked the walked.

As good as MC50 was at the Variety Playhouse, they didn't tear the roof off the place as I had expected. The musicianship was there, but the kinetic energy of those onstage never seemed to ignite. Maybe it was because Atlanta was only the third night of the tour. Maybe it was because there was only a limited amount of general admission tickets sold in front of the stage and on the sides. Maybe it was because the majority of reserved seat ticket holders sat comfortably numb clutching merch bags filled with MC50 t-shirts, posters and badges during the show. Hell, maybe it was because I am now 50 years older than the ten year old who first rocked out to Kick Out the Jams.

Whatever the reason, I needed to see MC50 again. Monday, Sept. 17, they were playing Irving Plaza in New York. Done. Maybe it was too soon, only ten days after Atlanta, maybe the band still wouldn't have it's tour legs, but if you can't rock it in New York, where can you?

Irving Plaza is structured more like Atlanta's Tabernacle than the Variety Playhouse, with an open floor and seating in the balconies on the side and in the back of the house. Not unlike Atlanta, the show was not sold out.The members of MC50 ambled onstage to the recording of Tyner's intro to "Ramblin' Rose," and once again Kramer seemed somewhat nonchalant. With that song's end, the band kicked into "Kick Out the Jams," firing on all cylinders, and they never stopped. The power, the energy of MC5 was resurrected and there was no stopping MC50.

During the Atlanta show, at the beginning of "Starship," a song credited as having been co-written by MC5 and Sun Ra, because the 5 used some of the interplanetary traveler's words in the lyrics, Kramer started the song announcing "Next stop Jupiter," then launched into Ra's "We Travel the Spaceways" before singer Marcus Durant to continued with "Starship's" original lyrics. Joined onstage by Coco the Electric Monkey Wizard of the night's opener, Man or Astro-Man? on theremin, Kramer attempted the classic Sun Ra call and response with the other band members, while Monkey Wizard piloted them from planet to planet. It fell short. In New York, both those onstage and in the audience joined with Kramer in the call and response, celebrating the celestial omniscience of the late jazz musician who claimed to be from Saturn, though he's buried in Birmingham, Alabama. In doing so, they also acknowledged the wide and varied influences that have made MC5's Kick Out the Jams such a powerful and lasting tour de force.

Back in action dept. … Chris Edmonds, the singer/songwriter behind the Swinging Richards and Caesar Speaks throughout the '80s and into the '90s, has made a point of taking time off from performing, but that doesn't mean he quit writing songs. With a new band, Chris Edmonds and the Dark Hearts, he's back to appearing onstage with some regularity. This Wednesday, Sept. 26, finds him playing Smith's Olde Bar with his new band, featuring Doug Kees, guitar; Rob Groover, bass; and Jimmy Ginn, drums. They open for Ian Moore & the Lossy Coils, so you may want to get there early.

Hey Bo Diddley dept. … Sometime after her stint in the Velvet Underground, drummer Maureen Tucker made her way south, calling Georgia home. That didn't stop her from making music, however. The big beat for Lou Reed, John Cale and Sterling Morrison released a number of solo albums, mainly for indie labels such as 50 Skidillion Watts, France's New Rose, and Atlanta's Sky Records labels. Next month, tracks from many of those earlier releases from the late '80s to mid-'90s will be compiled and released on a new album, I'm Sticking With You, out on Modern Harmonic. A reissue label that has done a fine job with releases by John Cage, Sun Ra, John Cage & Sun Ra, Barney Kessel, and the Louvin Brothers, among many others, Modern Harmonic touts Tucker's record as it's first with a peel-able decal cover (not unlike the iconic, Andy Warhol-designed, The Velvet Underground & Nico). Only this time, it's a removable replica of a bottle of glue, not a banana, that adorns the cover. It still remains to be seen what is under the peelable decal. For those keeping track, the nine-song compilation is pressed on white vinyl.

California dreamin' dept. … Former Atlantan Andrew Slater, who many may remember from his writing for the Atlanta Journal-Constitution before he headed to LA to start Clean Slate Records and a management company, has a new film project debuting. Titled "Echo in the Canyon," the documentary focuses on Laurel Canyon and the emerging folk rock scene that developed there between 1965 and 1967. With interviews handled by Jakob Dylan, with whom Slater worked previously when the younger Dylan was in the Wallflowers, the film is said to include insights from a number of those who were a part of the scene, including the Byrds' Roger McGuinn and David Crosby, the Mamas and the Papas and the Beach Boys' Brian Wilson. "Echo in the Canyon" is slated to open the Los Angeles Film Festival before heading to screens nation-wide. Congratulations, Andy. …
---