GRAZING: Cupcakes, cabaret, and Cajun food
Baker Dude Bakery Cafe and the Po'Boy Shop are open for your gastronomic needs 
I was sitting at a small, round table in the corner of a new bakery café in Grant Park. It was about 5 p.m. I appeared to be the only customer, although about five employees were chatting and joking behind the counter and in the dining area. Soon after I took the first bite of a nectarine-plum galette, a woman sitting on a sofa to my right began singing softly. I was startled, even a bit scared, but I reminded myself that Donald Trump has driven many good people to strange coping mechanisms. Let her sing. It's safer than Zoloft. Then things got even weirder. She stood up and walked toward the opposite wall, singing more loudly. Then another employee and the bakery owner joined her, belting out a ballad. A fourth employee sat at a long table staring at his phone. A bit later, he broke into a few dance moves.
Welcome to the Baker Dude, maybe the most offbeat cafe in Atlanta. It is located in Building B of The Beacon Atlanta, the Belt Line development that contains Patria Cocina, the Mexican restaurant I wrote about last month. It's a pleasant site with big windows that unfortunately don't have an outdoor view. There is, however, a kitchen window beneath the invitation, "Let us entertain all your senses," painted on the wall. The staff is clad in the café's accent color, royal blue.
Owner Orran Booher is a native of Jamaica who started baking cakes alongside his mother as a child, as well as participating in a performance arts club. He moved to New York in 1997, when he was 20, and to Atlanta in 2002 for a corporate job. While he worked, he continued singing and acting around town for a few years, baked cakes for friends and colleagues, and ended up becoming the father of twin boys. About three years ago, wanting a major change in his life, he began baking cupcakes for sale online and at farmers markets. Then he opened a cupcake kiosk at Peachtree Center. Now, he's combined his two passions — performing and baking — in the Baker Dude Bakery Café. 
I confessed to Booher that I am a lifelong cupcake hater, though I managed to slightly overcome my disgust when they became such a huge fad early in this century. I explained that when I was a child I found icing disgusting. When I was about eight, I went to a birthday party where, instead of cake, they served big sloppy cupcakes with inches of green Crisco-like icing that had dried out and cracked. They were so nauseating that whenever I wanted to change my situation — like going home "sick" from school — I'd visualize those cupcakes and vomit. As it turned out, Booher developed his cupcakes out of a similar, if not phobic, distaste for too much icing on a cupcake with no flavor except sugar. His cupcakes are comparatively small with a French-like twist of icing that doesn't entirely coat the cake. They are gorgeously packaged so that the icing isn't disturbed in transport. The dulce de leche one I sampled was a marvel. Ditto for the German chocolate (which was the only icing I'd eat as a kid). You can even buy vegan and Paleo cupcakes here.


But cupcakes are only part of the menu. With the help of executive chef Michel Hetu-Robert and "cake goddess" Teri Farr, the Baker Dude also offers other pastries and savory dishes for breakfast and lunch. I haven't tried the whole loaves of bread, the morning omelettes or pancakes, but I've enjoyed the galette, a caprese-like sandwich with kale pesto, a pear and Gorgonzola quiche, and a heartily thick lasagna, my favorite. The only item I didn't care for was a keto-compatible chocolate brownie made with avocado. There are plenty of other options, including savory buckwheat crepes for brunch, salads, and even sandwiches for kids, like pb&j. You'll notice there are no cookies or coffee drinks. I'm guessing the reason is the existence of the development's coffee shop, Buteco, and the soon-to-open A Haute Cookie.
Now, for me, the performances obviously add a pleasantly surreal character to the café. Booher told me that they can range from spontaneous outbreaks of song and acoustic guitar to an 8 p.m. Friday-night cabaret featuring Stiletto, a drag performer, who is accompanied by pianist Robert Reeb. On Saturday night, plays are planned. You best call ahead or check the website for details. 

The Po'Boy Shop opens
A new Cajun spot, The Po'Boy Shop, has opened in Decatur in the strip center on Clairmont that houses nothing but restaurants, including the deservedly fetishized Community Q BBQ. I've visited twice with friends. The place has been overrun — to the degree it had to close two hours early on a Friday night. Despite the crowd, I've not had a long wait. They just underestimated the amount of food they needed to prepare. You can sit inside, where it's noisy as hell, or outside on the patio.
Any effort to produce a Cajun menu outside New Orleans produces the same kind of argument that people have about barbecue and deli food. Everybody has a different notion of authenticity. The Po'Boy Shop is obviously mindful of that. When I quizzed one of the owners about the olive salad in the muffaletta, he assured me that it's house-made, but he was quick to say that the sandwich is not made with the New Orleans traditional round loaf of bread. On the other hand, he said, all po'boys are made with the French bread from New Orleans' Leidenheimer bakery. 
I went for the muffaletta. It included the requisite mortadella, capicola, salami, provolone, mozzarella, and an indeed well-made olive salad. But that bread. It was mushy as hell and totally unphotogenic. I ordered the gumbo both visits because the first try was very unsatisfying. It was salty and strongly fishy. An excess of shrimp shells may have produced the fishiness but the shrimp themselves were way over-cooked and mainly absent. The sausage was sliced pizza-thin. Happily, it was much improved the second visit — thicker with all components, including veggies and perfect shrimp. The sausage, although in much greater quantity, remained papery thin. Fix that. I loved the gumbo's brazen dark roux my second visit.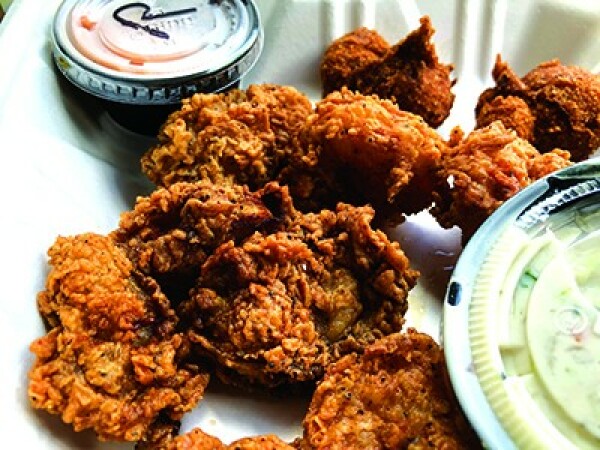 Fried shrimp and oysters are available on po'boys or plates and tasted hot, juicy, and just-made both visits. Maybe you'll think I'm fussy, but, even though I was eating in, my nine oysters were unappetizingly served — thrown in an oversized paper take-out container with two hushpuppies and tiny plastic containers of cole slaw and remoulade. The oysters, like the shrimp, do much better on the po'boy bread. Catfish, grouper, and chicken tenderloins are also available. There's a cheeseburger, a vegan burger, and the notorious Debris, a sandwich made with roast beef slow-cooked so long it falls apart, producing fat "debris" used to make gravy. Like my mother's, it's served with a horseradish sauce.
Other dishes include house-made Cajun meat pies (excellent!), red beans and rice (good!), and bourbon-glazed bread pudding (you tell me!). Would I go back? Yes. Be warned: They don't have a license to serve alcohol at this writing, so call ahead if you need to drink. And be sure to talk to your server. My first one was a former ballet dancer who, before that, was on her high-school wrestling team in Marietta. 
Here and there
Warning! I returned to Hattie B's Hot Chicken after reviewing it here a few months ago when I ordered the "damn hot" version and found it surprisingly mild. Whoa! There must have been a mix-up in the kitchen, because my second try was blistering hot. Halfway through a breast, my mouth went numb, so I finished the rest with no difficulty. … I'm sure you've noticed the mac-and-cheese fad of 10-plus years ago has erupted again — like a volcano spewing cheesy lava over everything. I made the mistake of ordering Panera's barbecue-chicken version recently. If you like rubbery pulled chicken and thin cream heavily doused with violently sweet ketchup, you'll love it. … It's been two years since I visited Nam Phuong on Buford Highway, generally considered the best Vietnamese restaurant in the city. It's not on the menu, but the kitchen made me my favorite crispy rice and pork caramelized in a hot pot with fish sauce. It was the best version I've ever had and worth the $15 tab — relatively high for any dish there.
Baker Dude Bakery Café, 1039 Grant St., Suite B18, 404-997-8177, bakerdude.com
The Po'Boy Shop, 1369 Clairmont Road,   Decatur. 678-974-8725, thepoboyshopatl.com
---