'Diversity, inclusiveness, and tolerance'
Thanking Sara J. Gonzalez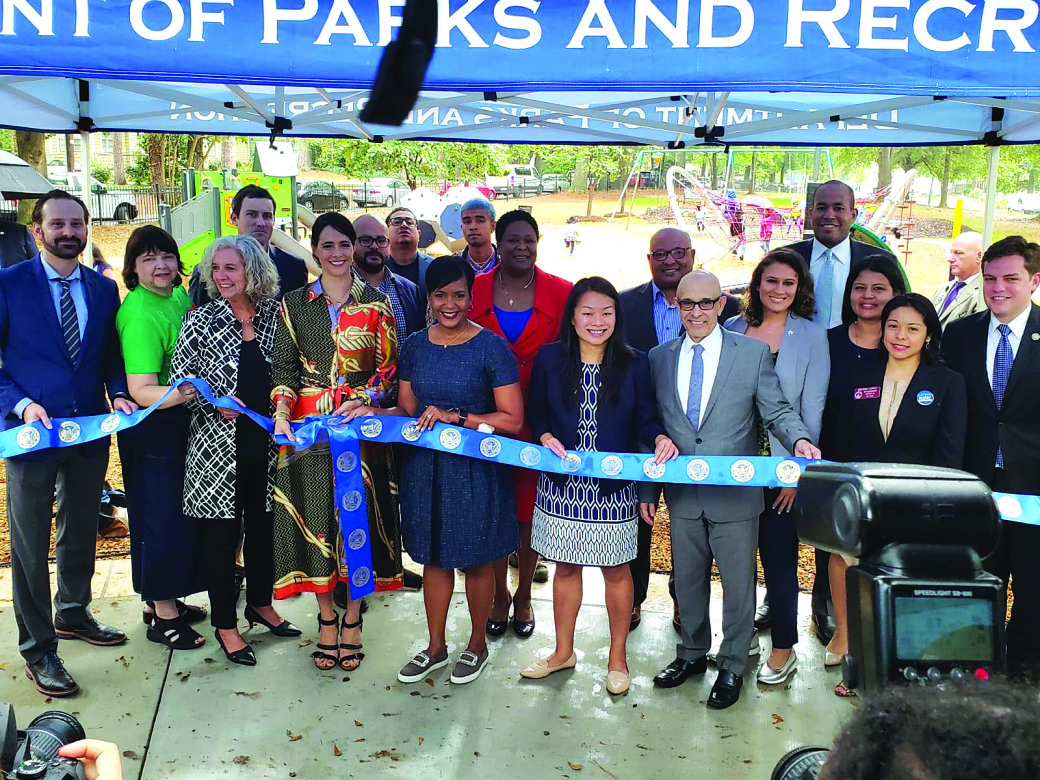 A LIFE WELL LIVED: Mayor Keisha Lance Bottoms and Isabel Gonzalez-Whitaker tie the ribbon at the dedication of the Sara J. Gonzales Park.



While Atlanta has for decades been a melting pot of immigrants and refugees, the city has a long-standing and rich community of Cubans who left the Caribbean island during the early days of Fidel Castro's revolution and sought refugee just over a hundred miles to the north, making their way from Florida to Atlanta.
Isabel Gonzalez-Whitaker is first-generation American. Her parents fled death threats and the revolutionary regime in Cuba, and ultimately opened one of the first Cuban restaurants in Atlanta. Isabel's mother, Sara J. Gonzalez, went on to become a Hispanic, immigrant, and minority rights activist of prominence in the South. When she passed in 2008, Isabel worked to have the Coronet Way Park off Defoors Ferry Road, not far from where her mother lived, renamed to honor the determined woman who not only taught her daughter to be strong and steadfast, but helped others hold onto their dreams to make a better life in these United States.
Gonzalez, who was founder of the Hispanic American Center for Economic Development, and served as president and CEO of the Georgia Hispanic Chamber of Commerce, was a beloved and well-respected member of the community.
In October 2018, the park was renamed the Sara J. Gonzalez Park, honoring Gonzalez's life of community, diversity, inclusiveness, and tolerance. The park is not only the first park in Georgia named for an Hispanic, but it is ADA-compliant, ensuring that 90 percent of the playground equipment is for children of all abilities. There is an open field for futbol (or soccer), and the park includes a first-of-its-kind learning center, where students can sit and plug in their tablets and notebooks for online teaching.
Following the park's dedication in her mother's name, Gonzalez-Whitaker, a veteran journalist and former Creative Loafing contributor, talked to CL about what she remembered of Thanksgivings with her family:
For my family in Atlanta, as long as I can remember, Thanksgiving was celebrated in our house as a cultural connection to this country while also providing a collective moment to give thanks to our health and solid footing in the U.S. We would wholeheartedly and eagerly participate in the ritual: a large meal with the family we could gather together, a modest table full of traditional American Thanksgiving dishes, a pause to give thanks with the songs of Stevie Wonder, Gladys Knight, and Quincy Jones playing in the background. Christmas, on the other hand, was celebrated as a traditional Hispanic holiday in our house, which meant a similar family gathering that took place the night before Christmas (Nochebuena) and centered around a feast of mojo marinated pork, yuca, black beans and rice, flan, and turrón, set to the tunes of Celia Cruz, Gloria Estefan, and Benny Moré. 
Though the food and surface traditions may have been different, both events for us were really about family and the explicit and implicit acknowledgment of our gratitude for being together with the awareness that others (within and outside our family) were not as fortunate. Both celebrations always made me feel patriotic for this country and the gift of home, safety, and opportunity that it provided our family.

At the same time, I also get a bit down around the holidays, Thanksgiving especially. In part it's because while Thanksgiving is a beautiful reminder that we are able to celebrate a more prosperous (and less dangerous) life in this country, it also is a reminder of the generationally- close trauma that my immediate family endured in their home country and which continued for them in a different way once they arrived here. I think people forget that just because you escape one set of terrible circumstances doesn't mean there aren't different kinds of traumas awaiting in a new homeland. Settling in anew, finding your path, and finding your voice can also be also a perilous journey — emotionally, spiritually, and otherwise.
And while the original colonization of this country is not something we discussed much around the table growing up, thanks to history classes there's always been an awareness of the harsh conquest narrative and its Spanish roots, both here and on the islands where we are from.
But ultimately I'm grateful. Grateful especially to have been and continue be in a position to be able to even ponder these conflicting feelings and narratives both personal and historic. That in itself is a blessing. And Atlanta was a great city for me in which to be able to absorb it all and ultimately feel welcome, safe, and fed. — CL —