FIRST DRAFT: Five years of Three Taverns, SweetWater gives back, and new releases
Local craft brews and news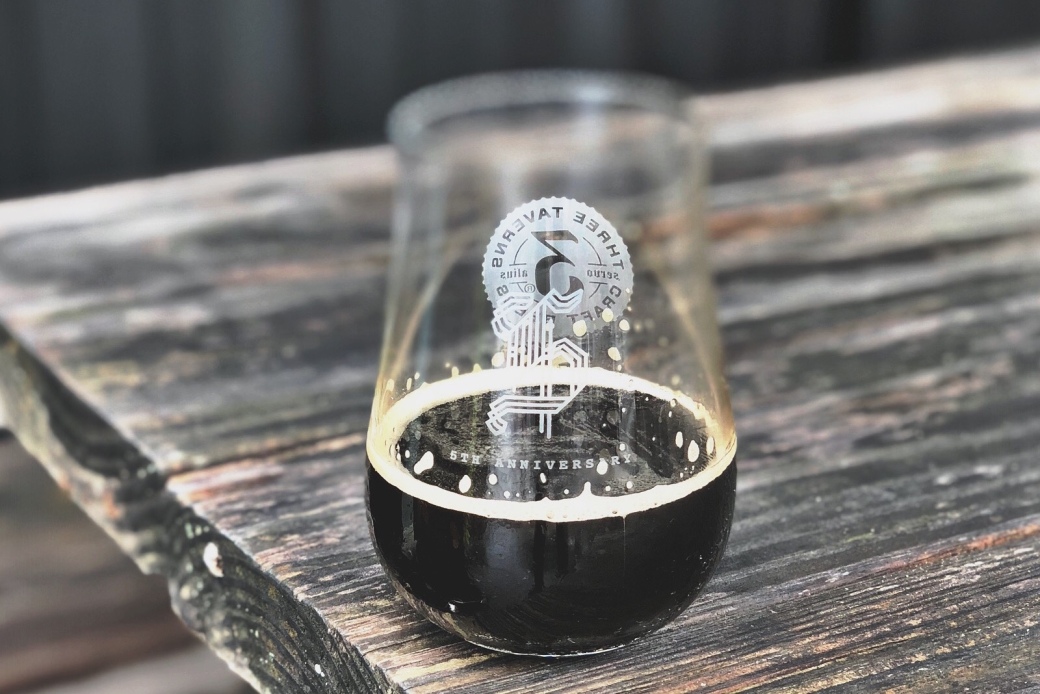 HAPPY BIRTHDAY: Three Taverns Brewery celebrates its fifth anniversary with new beer releases and a party on Nov. 17
Three Taverns Brewery is celebrating its fifth birthday this Saturday, Nov. 17, from noon-10 p.m. The Decatur brewery will have more than 40 beers on tap and available to-go, including new releases, seasonals, and year-round staples. Entry is $35 and includes six full pour beer tickets, photobooth pictures, and a commemorative anniversary glass. Tickets and anniversary beers can be reserved ahead on CraftCellr, or purchased at the brewery day-of.
ANNIVERSARY BEER RELEASES
5th Anniversary Ale | Spiced Strong Ale, 12.5 percent ABV
The anniversary ale is a blend of five of Three Tavern's most popular barrel-aged beers: Helm's Deep, Mount Fang, Departed Spirit, BBA Dubbel Shot, and DBA Fest Noel. The combination creates a wintery aroma and a flavor of herbal spices featuring dark fruits, chocolate, and roasted coffee.
Lazy Sonker | Blueberry Cobbler Sour Ale, 5 percent ABV
Three Tavern's Lazy Sonker is brewed with lactose, cinnamon, and vanilla to get a whole bite of crust flavor into this creamy sour ale for a taste, evocative of a favorite fruity Thanksgiving dessert. Earlier this year, the brew claimed second-place "People's Choice" award at The Wrecking Bar's Wild Wild Beer Fest.
Oak on Ponce IPA | Oak-Aged IPA, 7.5 percent ABV
This oak-aged variant of Three Tavern's A Night on Ponce IPA merges robust notes of wood and vanilla with the citrus hop character of one of the brewery's most celebrated beers.
In other news, SweetWater Brewing Company is kicking off the giving season on Thursday, Nov. 15, with its sixth release of Second Helping IPA, a collaborative beer with The Giving Kitchen brewed with juniper berries. 100 percent of profits benefit The Giving Kitchen's mission to assist food service workers in critical need of financial assistance, including those drowning in medical expenses. Tickets are $20 and include a crowler of Second Helping IPA to-go, a pint of beer of your choosing, and a brisket sandwich courtesy of SweetWater's new taproom chef Nick Anderson.
Steady Hand Beer Co., is slowly introducing its brews to stores and beer festivals before the Westside taproom location officially opens. The company already has a fall variation of its flagship Georgia Farmhouse Ale on shelves now, implementing hints of roasted sweet potatoes, hearty rye, toasty malts, and spice. At 6.25 percent ABV, this fall-centric beer pairs easily with Thanksgiving food, including sweet potato pie and caramalized dishes. Keep an eye out for news on this new brewery before it opens later this winter.
Monday Night Brewing is bringing back its 8.5 percent ABV barrel-aged bourbon version of its Drafty Kilt Scotch Ale, adding notes of charred oak and vanilla to the decadent chocolate and caramel malts of the original beer. This variant won an award for Atlanta craft beer in Denver's 2014 Great American Beer Festival, taking home the gold medal in the wood and barrel-aged beer category. It will be available on draft and to-go at the brewery on Friday, Nov. 16.
Marietta's Red Hare Brewing is raising money for testicular cancer and other male centric health issues at their annual Movember fundraiser this Friday, Nov. 16, from 5-9 p.m. The brewery partnered with Movember ATL to throw a party featuring live music from local rocker Halem Albright, Red Hare beer on tap, tacos from The Real Mexican Vittles, men's health support vendors, and a facial hair competition.
Members of the Atlanta craft beer community: If you have a cool event or beer release in need of coverage, drop a line to Creative Loafing's beer correspondent, Alex Patton, at alex.patton@creativeloafing.com