PHOTOS: Tears for the Dying at the Insight and Soy Sauce Supply Co.
Good Grief, Unprotected Chex, and Jamee Cornelia filled out a queer punk showcase in Scottdale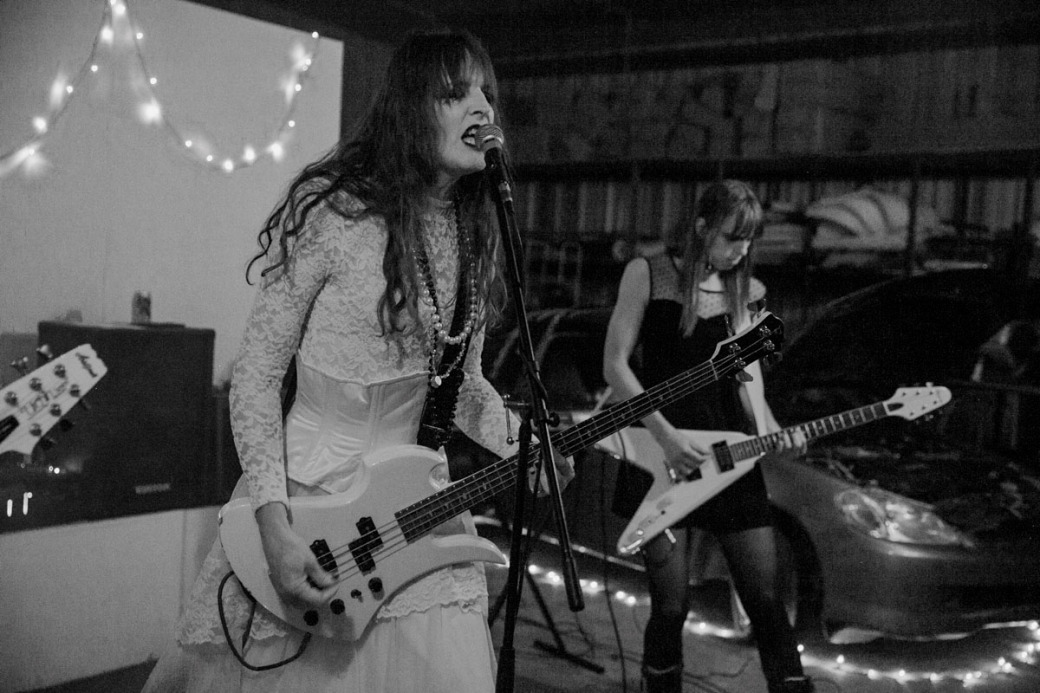 SPIRITUAL CRAMP: Tears for the Dying singer and guitarist Adria Stembridge headling a queer punk showcase in Scottdale Jan. 23.
On Wednesday, January 23, trans-goth-punk trio Tears for the Dying headlined a secret four-band show at the Mosaic Art Supply in Scottdale. The queer punk showcase took over the warehouse stocked with mosaic tiles and recycled glass typically used for artwork and interior design projects. This Wednesday night, however, the space was transformed into the Honda Insight Repair and Soy Sauce Supply Company — Tears for The Dying keyboard, guitar, and bass player Natalija Moss works as a Honda Insight car mechanic, and soy sauce is used to curb salt cravings, a side-effect from taking androgen blockers.
Hailing from Athens, Georgia, Tears for the Dying presented a setlist boasting nihilistic song titles such as "Shadows," "Go Die," and "All for Nothing." The group set a haunted mood with purple and blue lighting and smoke as lead singer, bass player, and guitarist Adria Stembridge appeared in a wedding gown and corset. Moss and guitar and bass player Debra Beat wore black dresses and tights, and all three members traded places playing guitar, bass, and keyboards. The sparse but dedicated crowd remained transfixed during the changeovers, and reflected the group's gothic traipse during a cover of Christian Death's "Spiritual Cramp."
"Monachopsis," a song from the album Charon also proved itself to be a particularly fatalistic crowd pleaser — the title refers to a state of feeling perpetually out of place.
Asheville, North Carolina's crusty pop-punk threesome Good Grief brought high energy to the show. Raleigh, NC rapper Jamee Cornelia took over the floor with enough flair to bedazzle an arena. The lineup was rounded out by folk-punk and emo balladier Unprotected Chex, the solo project of singer/songwriter Chex. The Los Angeles-born Atlanta transplant's set built around solo acoustic numbers, steeped in themes of gay identity and societal observations in songs such as "Sour Apple" and "Closet Monster," and a cover of Linkin Park's "Crawling."
The intimacy of a small space, the hard rain outside, and the BYOB setup encouraged people to get to know each other between sets.
It's easy to be a wallflower at a larger show — but the sound was just loud enough to strike a balance between a punk rock blowout and a comfortable gathering — no ear plugs needed!Check out a gallery of photos from the show.