Adventurous duo creates ethereal soundscapes
Duet for Theremin and Lap Steel are on an odyssey born of a love for non-fixed pitch improvisation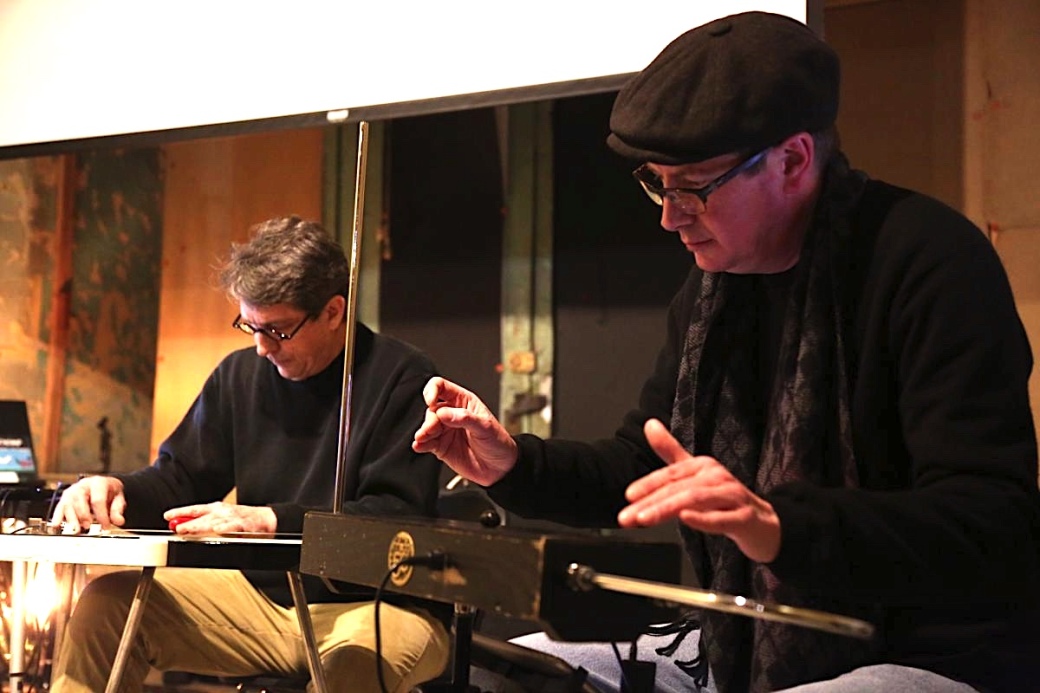 DUET FOR THEREMIN AND LAP STEEL: Scott Burland (right) on theremin and Frank Schultz on lap steel create contemplative ambient soundscapes. DfTaLS will be performing at The Bakery on Sunday, May 12, with Space-Saver and Helton & Bragg.
While it's a given that May is the month of jazz in Atlanta, with the annual Jazz Festival in Piedmont Park dominating the scene, other worthy musical gambits are in play during the run-up to Memorial Day weekend.
On Sunday, May 12, The Bakery serves up an exceptionally tasty triple-bill featuring Duet for Theremin and Lap Steel, Space-Saver, and Helton &Bragg. Listening Post regulars will no doubt be familiar with DfTaLS, the world's most successful and longest-lived pairing of non-fixed pitch instrument players. Space-Saver is the latest project of Travis Thatcher, an Atlanta ex-pat who conjures up joyous and frightening free noise collages from saxophones, drums, and oddments. For the last several years, homeboys Blake Helton (percussion, synth, electronics) and Colin Bragg (guitars, electronics) have been channeling everything from sci-fi soundtracks and Eberhard Weber to Indian ragas and Funkadelic.
Since forming in 2006, DfTaLS has regularly performed at all the standard alternative venues around town including Eyedrum, Railroad Earth, Avondale Towne Cinema, and various art studios. They've toured New England and around the Southeast, and performed in Paris, France, and New York City. In 2018 they played Big Ears in Knoxville, Tennessee.
DfTaLS has officially released five albums: Untitled (2006), Duet for Theremin and Lap Steel (2007), Live (2009), Collaborations (2013), and 10 (2016 on CD, vinyl in 2018). An abundance of music is available on the DfTaLS site and Bandcamp including collaborations with Helton & Bragg, Cave Bat, and Rob Rushin, as well as studio recordings and live shows, much of which is free to download and stream.
Listening Post recently caught up with Scott Burland (theremin) and Frank Schultz (lap steel) of DfTaLS to get an update on what's been going on in their world.
Listening Post: What was the original impetus for forming Duet for Theremin and Lap Steel?
Frank Schultz: One night, at an Eyedrum open improv session at the Contemporary, Scott brought a theremin and I brought a slightly modified lap steel. We never got to play together, but the idea around what those two instruments might sound like stayed in my head for weeks. I got in touch with Scott to ask whether he was interested. He was.
Scott Burland: Yeah, this wouldn't have happened without Frank searching for an opportunity to make music that hadn't been heard before. In a wonderful bit of kismet, something clicked in his mind, which brought this project to life.
Listening Post: What were the first few practice sessions like?
Schultz: Heaven and hell on earth (laughs). In a word, fun.
Burland: Listening back, as I do from time to time, I appreciate our naiveté while we were learning to play our instruments. I wanted to include some of those early recordings on 10, our 10th anniversary release. In one respect, I think it's best we didn't. On the other hand, those recordings are truly experimental and serve a historical purpose.
Listening Post: DfTaLS creates a contemplative ambient soundscape in which the listener has a lot of room to wander and wonder, to think and daydream. What are you two thinking about when you're performing?
Schultz: When I'm not checking email on the laptop (wink, wink) … Seriously, I'm usually not thinking as much as I am listening and reacting, getting lost in the moment. When I need to change what I am doing, I will think about how to make that transition. Other thoughts may include "that is a nice cardigan" or "where is my vibrator?"
Burland: I'm always thinking about the music: what Frank is playing, how I'm responding and vice versa. We rarely, if ever, make eye contact, so the music is in charge. At a recent gig, we had a relatively specific discussion about a "plan." I found myself thinking about the plan, which was a detriment. We are at our best when we are listening intently to what the other person is doing, what we as individuals are doing and how that effort coalesces.
Listening Post: Describe the process of improvising and composing. For an album, I imagine you have to establish some parameters within which to work. What are the differences in recording an album as opposed to improvising in a live setting?
Schultz: Actually, we didn't set parameters for our releases. On Collaborations, the only parameter was that the pieces were collaborations with other folks. With 10, we got together for a weekend and recorded our improvisations, with the exception of "Dulcamara," which was an idea we had been playing around with, and picked our favorites from those improvisations that were recorded a couple of months earlier. This was the first album where we went in and messed with the improvisations by adding overdubs, additional effects, and triggering synths. About half of the songs were messed with after the original recording while the other half were just as we played them. So, the short answer is, there is not much difference.
Burland: Most of our releases have been documents of unaltered live performances. The difference with 10 was, during the recording process we came to the realization that we could do whatever we wanted with the original recordings. We were able to add, subtract, and enhance the pieces to paint a different picture. I hope we do more of that in the future. A good example was asking Jeff Crompton to add saxophone and clarinet to "Absinthium," one of the tracks on 10.
Listening Post: Touring as an improvising ambient electronic duo must come with a few unusual moments. What are some of the more memorable concert experiences?
Schultz: Big Ears (in 2018) was such a milestone for us. Then there was Eyedrum on my birthday in 2008, playing with Shaking Ray Levis and Davey Williams, who recently passed. And we were on tour with Good Noise Bad Noise from England, which was a great adventure. Joe's Pub in NYC with the New York Theremin Society. Pilot Light (in Knoxville, Tennessee) in 2012 where we had a late-night dance party with the staff listening to Steely Dan.
Burland: Frank picked some good ones, but I will add our first performance at Eyedrum in December of 2006. There was a nice, attentive, quiet crowd with many Eyedrum regulars including board members who were as jaded as they come. What I mean by that is we received compliments from board members who had heard hundreds of performances over the years. That was an important affirmation or validation about what we were doing.
Listening Post: Did you ever imagine DfTaLS would be thriving all these years later?
Schultz: I am always amazed, when looking back, by how we got here. I hate to imagine us not playing together in the future.
Burland: In the early days, we were just getting together every couple of weeks and seeing what developed. At one point, I thought, "OK, what's the plan? Should we make a CD or do a performance, then move on to other things?" When we decided to perform in front of an audience, the reaction was positive to the extent that we thought we should continue. We're not finished with this project. There are still many ways in which we can develop it. We are not done, by any means.
Listening Post: What's next for DfTaLS?
Schultz: We have a nine-day tour in September, which takes us to Chicago, where we've never played. We hope to have a new CD release by the end of year.
Burland: We did a gig recently at the Bakery billed alongside violinist Mike Khoury, which ended with an impromptu jam session. That was interesting from the standpoint of learning that there are other musicians with whom we can collaborate and other types of music from which we can draw inspiration. During the September tour, we will be performing with dancers in Chattanooga who improvise movement along with sound and visuals.
It's been a great ride and we've met so many great people and musicians along the way. We are very fortunate.