GRAZING: Vive el Little Rey
Tex-Mex at Ford Fry's latest restaurant
I could name names, but I'm too nice to do that. I'm talking about the way some great chefs become overwhelmed by entrepreneurial zeal (aka "greed"). They open one new restaurant after another, claiming they need the creative challenge. Inevitably, though, they turn genius into a stale brand. They become human cartoons, plaguing food TV and runways of charity fundraisers with other formerly fashionable chefs … and food journalists. It's a sad, sad thing to watch. Give me a moment to take a breath.
Now, I can identify one chef who has gone the expansionist route but seems to have so far remained immune to staleness. I'm talking about Ford Fry, who opened the Southern-style JCT Kitchen here in 2007, followed by about a dozen more restaurants, including duplicates in other cities. His big game-changer was the Optimist, which gained tons of national publicity for its brilliant seafood dishes. It and subsequent venues like St. Cecilia, King + Duke, and Marcel remind me of F. Scott Fitzgerald's claim that "the rich are very different from you and me." These restaurants are well out of the price range of average Americans, but any accusations of pricey snobbery are quickly sabotaged by Fry's true, far more affordable passion: Tex-Mex cooking. He grew up in Houston and at this point has seven Tex-Mex restaurants. There are four locations of Superica, two of the El Felix, and one of the brand-new Little Rey. 
I have long confessed that I have no affection for Tex-Mex cooking. Growing up in the South, I never heard anyone even delineate a difference between Tex-Mex and Mexican cooking. It was all about Taco Bell and canned Old El Paso grub, both literally inedible to me because of my oh-so-delicate digestive system. When I moved to Houston in the '80s to become editor of a large "society" magazine, I was subjected to lots of Tex-Mex fare, including Frito pie — a bag of Fritos torn open and ladled with extra-greasy chili and raw onions. I could see hurling bags of that shit at alt-right Nazis, but who knew people voluntarily ate it? While I was being schooled in such horrors, I did discover sublime Texas barbecue and, even better, actual Mexican cooking in Houston taquerias and a few gourmet restaurants in Dallas and Austin. There's more to the story, but when I got back to Atlanta to edit Creative Loafing for a second time, I became a messianic advocate for the emerging taqueria scene on Buford Highway. 
It think it's also fair to claim that I did end up learning to enjoy well prepared Tex-Mex food in places like Houston's legendary Ninfa's, whose mesquite-smoked and grilled chicken "al carbon" certainly influenced Fry. Still, for years, I regarded Tex-Mex as a bastardized cuisine, in the same way some people view Italian-America cooking. But I admit: It's a real magic trick for people like me to brand what exists nonexistent because it doesn't jibe with my notions of authentic existence. Crazy. I apologize. But I'll always prefer carnitas over fajitas.
So, I have been anxiously waiting for Fry to open Little Rey with his business partner, Kevin Maxey, another expatriated Texan. Little Rey operates at the corner of Piedmont Avenue, Cheshire Bridge Road, and Piedmont Circle. Entering the parking lot, negotiating it, and then leaving is an automotive Rubik's Cube. But you'll manage. Little Rey requires you to wait in line to order and pay at a counter up front. Sometimes we are talking very long lines at the counter followed by lengthy waits for your food. Meanwhile you can swill margaritas. You have to fetch your own meal, plastic utensils, water, and napkins. There are no servers, just very charming clean-up people who will answer any question you have, such as "What's this brown thang on my taco?" Some will argue that small, $4.50 tacos merit more personal attention.
I love the whimsical interior where a goofy chicken lectures a goofy Felix the Cat (an allusion to Fry's the El Felix, I suppose). The building has been a bank, a real estate office, a tattoo parlor, and a very popular late-night bar with naked go-go dancers. It's a huge windowed dining room with some but not all community tables. There's a large patio offering a dramatic view of the pinkly fluorescent Tokyo Valentino. Really, the place is so large that it's wrong to conclude that a full parking lot also means a full restaurant. The problem has not been space. It's been slow ordering.
My first visit was kind of a disaster. I only ordered two tacos. First was one made with chopped chicken al carbon. Second was the Oaxaca, featuring a tortilla that was bathed in melted cheese and then turned kind of crispy before getting its filling of poblanos, mushrooms and salsa verde. I asked that there be no onions on the chicken al carbon taco. There were onions. I took the tray back to the counter and they cheerfully agreed to remake the taco. I went back to my seat and waited a good 10 minutes to hear my name called. Yes, the chicken taco's onions had been removed, but my Oaxaca taco was replaced with a second chicken taco … with onions. I took the tray back and explained the new problem. They added another Oaxaca to the plate. Then I noticed there were no poblanos on the Oaxaca. I took it back again. They remedied it … I think. They put tiny little diced green things on the taco. I assumed I'd be eating rajas — strips of roasted poblano chiles, but whatever. The Oaxaca did have large chunks of mushrooms and in the end it was delicious. On a subsequent visit, another Oaxaca came to the table. This one had nothing but oily chopped mushrooms and green speckles. Took it back. Got a somewhat better one.
Some will argue such bumbling is to be expected in the first few weeks of a new restaurant, especially when throngs are stampeding the doors. But this reached the level of self-parody (and my meal was comped). Still, I forged on. At my next meal, I ordered the signature dish, the pollo al carbon. You can get a whole chicken, a half, or a quarter. I opted for the half. The chicken was unexpectedly juicy and deeply flavored by the oak and mesquite smoke. To me, though, the flavors were so strong and relentless that I wanted to mix them up. I plucked meat and rolled it into corn tortillas with ingredients served in shot-glasses: smoked onions and jalapenos, ranch beans, and cilantro rice. There was a mild green sauce and a piquant red on the table, but that was it. I think a salsa bar would provide needed distractions from the overwhelming taste of mesquite. I suggest you get a quarter of a chicken and order something with a different flavor profile to accompany it.
After all this meh, I was blown away on my last two visits. I ordered Little Rey's red pozole. It's not the giant bowls you find on Buford Highway. Instead, you get maybe two cups of an intensely flavored guajillo chile broth containing hominy and chopped chicken. On the side were the traditional garnishes — radishes, pickled onions, and cabbage. On my way out, I noticed an employee eating something like a Mexican version of poutine. I asked him what his menu favorite was. He quickly replied that it was the torta — a sandwich that encases a fried chicken breast. I winced. Everybody in the city is producing one of those now, thanks to the invasion of Nashville hot chicken. But so be it. I ordered it. It was by far the best thing I've eaten there. It's a brioche bun filled with mile-high spicy slaw, a substantial smear of avocado, fresh jalapeño slices, and a perfect, crispy chicken breast, all held together by a extra-long toothpick. I should note that the chicken is neither smoked nor drenched in hot chili oil.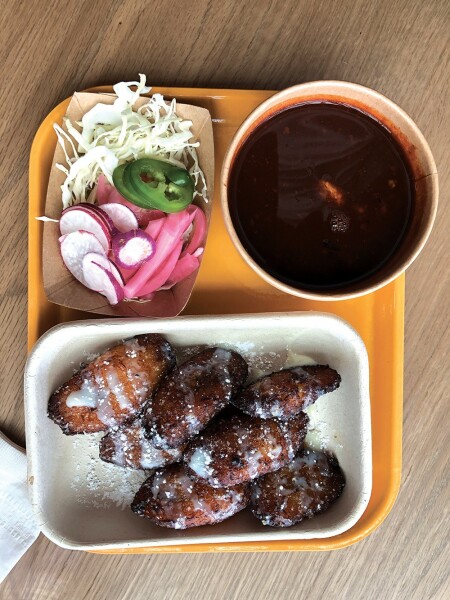 There are only two desserts — soft-serve ice cream and fried plantains. I ordered the latter. They are gooey, virtually caramelized, and heavily dusted with powdered sugar and salt. The salt makes sense if you like, say, salted caramel ice cream, but the kitchen goes overboard for my taste. Little Rey is also open daily for breakfast. The menu includes tacos and some more complicated dishes like huevos rancheros. Take-out is an option if you want to wait forever at home instead of with sighing customers.
Finally, I remind you that Fry has recently published a cookbook — Tex-Mex: Traditions, Innovations, and Comfort Foods from Both Sides of the Border. I don't think he's in danger yet of becoming a parody of himself!
Little Rey, 1878 Piedmont Ave., 770-796-0207, littlerey.com.
---