TALK OF THE TOWN: Alabama astronaut lands at Eddie's Attic
Abe Partridge walks on the fabled stage as the headliner in historic first
It's the same for any singer/songwriter stepping onto the stage at Eddie's Attic in Decatur for the first time. There's the sense of awe and wonder, playing a room where the careers of so many performers have been launched, those songsmiths who base their careers on what they have to say and how they say it. Usually accompanying themselves on an acoustic guitar or piano, they are plugged in, tuned up and ready to make that great leap forward. Just seeing their picture in the "tonight" box next to the side entrance door brings them closer to fine. Playing the room, and having the audience respond favorably, is the icing on the cake, the cherry on top, yeah, even the proverbial cat's meow.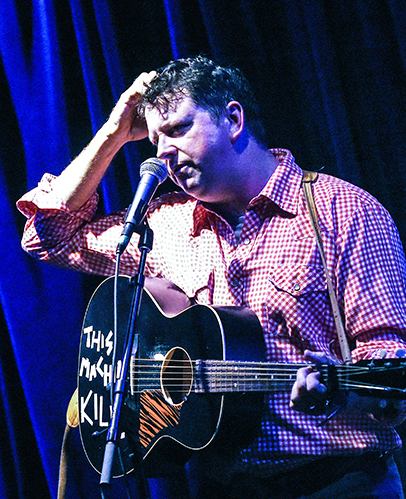 Abe Partridge was no different. More than a few times between songs, he shook his head in disbelief and remarked how incredible it was to be playing Eddie's. It was a career goal that was just a dream when he first started writing songs while still an avionics engineer tech sergeant in the U.S. Air Force.
His show was booked for a Tuesday night, July 2, two nights before the Fourth of July with jingoism at a fervor that could only mean it's an election year. Not a lot of people are in town at such a time. Even fewer think about going to see a singer/songwriter. The crowd was small, but those there hung on Abe's every word, as he told stories of love, the blues of being in an "undisclosed location in (the) southwest Asia killing floor," the irony of a punk rocker buying a Black Flag t-shirt on Amazon, or the harsh reality that "our babies will never grow up to be astronauts" 50 years after man first walked on the moon.
After the show, Partridge mingled in the lobby with the audience, who he'd invited to check out his art work for sale or perhaps by a CD or t-shirt. And they did. His wife Cathy was at the merch table, pulling stickers and magnets, while explaining Partridge's technique of painting on tar-covered boards. There are those who claim NASA's moon landing was fake, but Partridge's performance at Eddie's was real. The night was one small step for a musician, one giant leap for Abe Partridge.