GRAZING: Feasting in Summerhill
Religious barbecue, tattooed pizza, and bejeweled ice cream
DOUBLE MEAT PLATE: Brisket, chopped pork, pork and beans, and very odd fried rice with pork belly at Wood's Chapel.
Summerhill, the neighborhood around the former Turner Field, is the latest site of our city's rabid gentrification. Originally home to freed slaves and Jewish immigrants after the Civil War, it had a thriving commercial district, mainly along Georgia Avenue. Eventually, most businesses vacated the buildings, leaving them empty for decades. Now, redevelopment — served in part by Georgia State University's taking over the stadium — is turning it into a center for restaurants, which will eventually number as many as 12. I've visited three of the new eateries for barbecue, pizza, and soft-serve ice cream. 
The anchor restaurant is Wood's Chapel BBQ, a 5,200-square-foot space that takes its name from a church that opened soon after the neighborhood's creation in 1865. It is certainly a departure from the romanticized, disheveled barbecue shacks all over the South. Besides the enormous dining room, there's a game room, a large patio, and a smokehouse whose fragrance fills the air as soon as you park your car in the unpaved lot full of loose, big stones, like ole-timey rural driveways for trucks. I should warn you that there's often a long line at the counter to place an order. Feel free to chat with strangers. Make friends for life during the sometimes 30-minute wait.
I've tried just about everything on the menu except sandwiches in my three visits. Everything here is locally-sourced and intensely flavorful. My favorite has been the St. Louis-style ribs. They are perfect — smoked, glazed, and blackened with the requisite bark. I love that they aren't sloppy. There's this idea that rib meat should be falling off the bone, dripping sauce. These ribs, pink in the center, allow you to pick them up and take a bite without creating a greasy avalanche.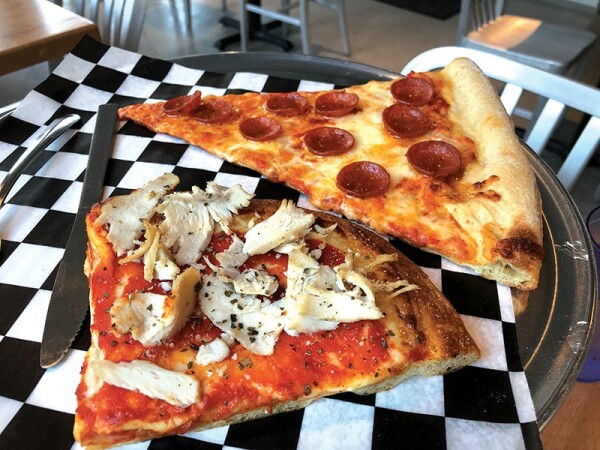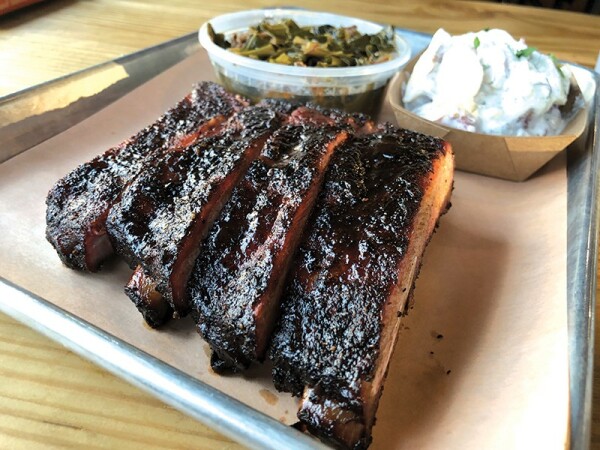 I've also tried the chopped "whole hog" from Riverview Farms. I found it on the dry side, and that brings up one significant complaint. Normally, you can compensate for dryness by adding sauce, but I did not find any of the available three sauces very palatable. Two are ketchupy and sugary; the third is vinegary, but also sweet. You must dispense the sauces from a gigantic contraption into tiny cups. You'll find yourself walking back and forth to supply your table. It's a long walk! Honestly, though, the meats don't need the sauces for taste. They come from the smokehouse immensely flavorful as they are. The sugary sauces can obscure the primary flavor.
The beef brisket is sublimely juicy with streams of fat — sometimes too much fat, if there's such a thing. I lived in Houston, where brisket is king, and this is as good as any I ever ate there. I'm not crazy about smoked fish, but I ordered the restaurant's salmon. I ended up giving my serving to my tablemate, who loved it.  The only meat I didn't try was the smoked turkey. 
All of the meats are served solo or in pairs, along with two sides. Here, the kitchen gets playful. I would be perfectly happy to order nothing but a big bowl of the greens with the cornbread. The greens — collards during my visits — were swimming in pot liquor lightly doused with vinegar and full of pork pieces. The cornbread was the sweet variety — they seem to love sugar here — but it's nonetheless good dipped in the bowl of collards. The jalapeno-spiked coleslaw, turned pink by the inclusion of thin slices of beets, is maybe the best side. The creamed corn borders on the complicated, bringing nuevo-elote to mind. The pork and beans with burnt ends tastes like the usual at first. Then you realize the kitchen adds texture by using several types of beans while the burnt ends add extra richness. The potato salad is spiked with dill. (I prefer mustard in my potato salad.) The mac and cheese, although tasty and slightly spicy, was way too sticky-thick. The one mystifying fail for me was the intriguing fried rice with pork belly. It really tasted like a Chinese-American mid-century nightmare. The minced pork was flavorless. 
I've sampled two of the gorgeous pies exhibited on the counter. Both the lemon chess and especially the banana-pudding pie were nostalgic, creamy successes. (For another sweet adventure nearby, consider visiting Big Softie, described below.)
There is no way Wood's Chapel won't be an epic success. The owners are Todd Ginsberg, Shelley Sweet, Jennifer Johnson and Ben Johnson. They own five other venues, including The General Muir. Sweet and the Johnsons also operate West Egg Café. Pitmaster Brian Keenan was the owner of Meating Street Barbecue in Roswell, and chef Wilson Gourley last worked at 8ARM.
Junior's Pizza has opened in the boxy-modern building next to Wood's Chapel. Be prepared to marvel. The walls aren't quite as inked as the skin of owners Alex and Jennifer Aton, but the huge, slice-munching unicorn and bug-eyed demon painted by tattoo artists will make you feel lost in the Krog Street Tunnel. Junior's website logo takes the prize for best pizzeria blasphemy anywhere. It's a traditional "sacred heart" with flames, wings, and thorns. But a slice of pizza takes the place of the heart itself. Jesus!
I'm not sure how to categorize the pizza. Alex worked for Fellini's for 10 years, so the pies are unsurprisingly thicker than the Neapolitan versions so popular now. You might call them sort-of, kind-of New York style, but Alex has eschewed that description in the voluminous press the pizzeria has received. Whatever, the dough is the result of experiments he conducted at home, where the couple made pies and delivered them privately for two years.
People have their favorite styles of pizza, just as they do with barbecue. Mine is generally the Neapolitan but I usually, inappropriately, ask for it to be well done. I don't like gooey pies. In fact, before Neapolitans became available around town, I loved the super-thin, crackery pizzas at Everybody's (R.I.P.). I've tried four of the cheap slices at Junior's, where the wait to order at the counter can be as lengthy as it is at Wood's Chapel. I ate two slices at home (vegan and white) and two at the restaurant (regular tomato and Sicilian).
I can say at the outset that the outer crust on all the pies was problematic for my taste. I want it to require a bit of tugging by the teeth and I want some char, but I don't want a dental wrestling match. I left the crust behind on all four of these slices. Otherwise, the dough was pretty conventional. My favorite slice was the regular, tomato-sauced one with pepperoni. I'd received suggestions to order it because it features very thin-sliced pepperoni that curls into tiny cups in the oven, getting charred and slightly crisp around the lip. This alone makes going to Junior's worthwhile.
My second fave was the Sicilian, almost never my thing because of the thickness, but it tasted great topped with roasted chicken. Prepare to chew the thick dough a long time. My third-rating goes to the white. The cheeses were better than average, but I made the mistake of ordering it topped with basil and garlic. The basil was a miniscule portion, cooked until super-shriveled. I had asked the counter person if the garlic was roasted. She said yes. I was thinking slippery, sweet cloves here and there on the pizza, but it was minced and pervasive. I wouldn't talk to anyone but myself after eating it. The award for fourth place goes to the vegan slice. Oy. I got it topped with some Kalamatas, but I found the virtually slimy, faux cheese repulsive. This was one of the slices I took home, so I don't know if the brief trip in the box steamed it into something it's usually not.
As I wrote above, people have their favorite styles of pizza, so don't troll me for not being more enthusiastic. I absolutely recommend it. The prices are low, the vibe is terrific, the pizza's merits depend on your wise selection of toppings. 
After your meal at Wood's Chapel or Junior's, please waddle across the street to Big Softie for ice cream you know is going to be fantastic because it adjoins a new location of Little Tart Bakeshop. Both are owned by Sarah O'Brien.
Of course, everything is made on the premises from sourced ingredients. You get a choice of soft-serve chocolate, vanilla, coffee, vegan (made with oat milk), and, sometimes, a specialty. I've only tried the vanilla and coffee in my two visits. Select a waffle cone. They are made at Little Tart. 
The glass case exhibits bowls of toppings that look like they'd be perfect for the Mad Hatter's tea party. Several are in the form of sprinkles, including a festive "pink praline" and little chunks of "honey comb." I had those two on cone #1 and toasted coconut and benne brittle on the second. The latter is just plain spectacular. Benne seeds are basically heirloom sesame seeds, native to sub-Saharan Africa, brought to South Carolina's low country by slaves. I remember eating wafers made with them as a kid. I don't know exactly what Big Softie does to make the brittle, but it is, of course, crunchy and just a little bitter — a perfect foil for the sweet and creamy ice cream.
The shop also makes beverages, such as a root beer float. There's a patio behind Little Tart where you can lick a cone and rest your feet which may be exhausted by the long waits at the counter of all three of these venues. I haven't actually stopped by Little Tart yet. I need to see how the ice cream might taste atop the city's best croissant.
Wood's Chapel BBQ, 85 Georgia Ave. S.E., 404-522-3000, www.woodschapelbbq.com.
Junior's Pizza, 77 Georgia Ave. S.E., 404-549-7147, www.juniorspizzaatl.com. 
Big Softie, 68 Georgia Ave. S.E., 404-348-4797, www.bigsoftieatl.com.
---