Eyewitness to history
With his tour of Atlanta's historic civil rights landmarks, Tom Houck recounts the key role of the city and its people in the movement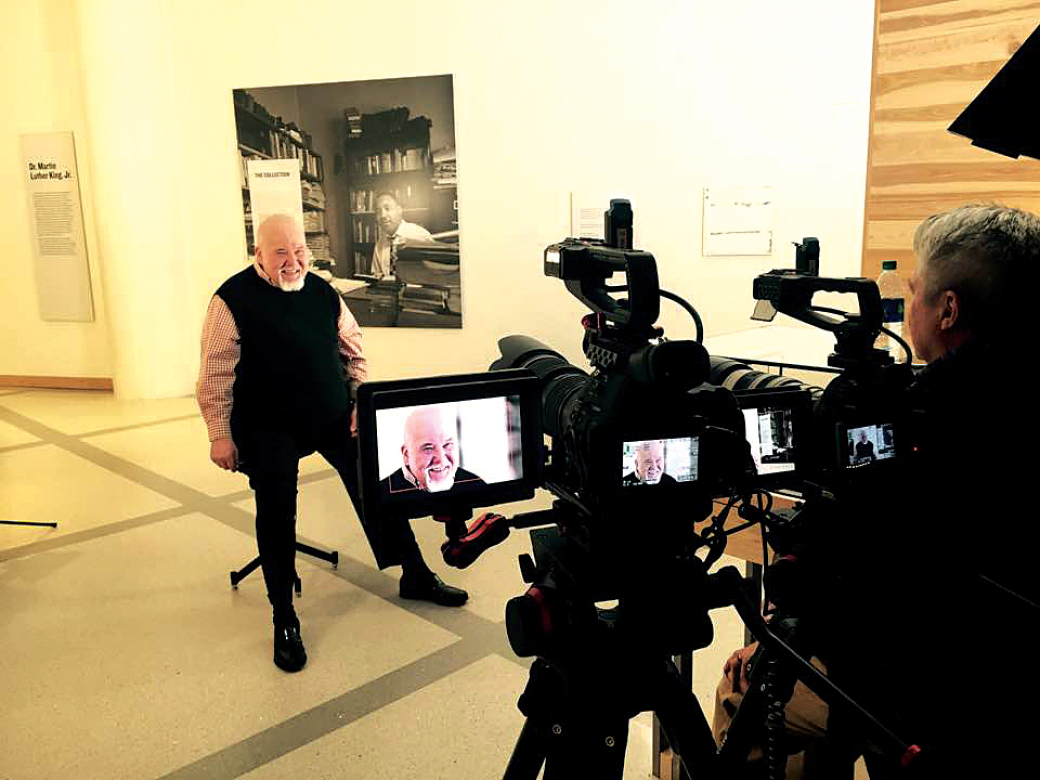 THE GUARDIAN OF THE HUMAN SPIRIT: Tom Houck being interviewed at the Center for Civil and Human Rights.
Merely a teenager when he signed up with the civil rights movement in the mid-1960s, Tom Houck has been committed to the cause ever since. Now 72, the raspy-voiced activist runs weekly bus tours of Atlanta's historic civil rights spots, encompassing buildings, schools, churches, statues, neighborhoods, and other significant places and participants in the South's struggle for equal rights.
"We don't follow any specific rules or script, except our love for Atlanta and its nonviolence in the civil rights movement, which I was very fortunate to be a part of," Houck says from his perch at the front of the tour bus on a recent Saturday morning. 
"I got kicked out of high school for going to Selma (Alabama, in 1965, after Bloody Sunday) and never returned, and wound up working for the Southern Christian Leadership Conference in Atlanta," Houck recalls. The SCLC was founded by Dr. Martin Luther King Jr. in 1957 in reaction to the Montgomery Bus Boycott and its aftermath, and the organization consisted mostly of local African American leaders such as Ralph David Abernathy, Andrew Young, and Joseph Lowery who organized nonviolent protests against discrimination and, in doing so, made a place for themselves in this country's history.
As we pass the old SCLC building on Auburn Avenue, Houck says, "The march from Selma to Montgomery and the March on Washington, those were all planned here; this is where the Albany, Georgia, movement was based; the Poor People's Campaign was organized here." The National Park Service has purchased the former SCLC headquarters and "hopefully will restore this building to the beauty it once had," he continues.
"It took a lot of blood and sweat and tears to get the city integrated," Houck acknowledges. "Atlanta was the headquarters of many of those civil rights leaders, that's why you see so many streets and buildings named after them. Some became politicians — Andy Young became mayor of Atlanta; there is Congressman John Lewis; Hosea Williams was elected to several offices."
Houck says he was arrested about 20 times while working as a "foot soldier" in the civil rights movement "and I got 17 stitches in my knee to prove it." A tavern across the street from the SCLC became a refuge for him and his fellow freedom fighters. "You get thirsty when you're out in the field getting your head beat in."
In the middle of all this Houck was "bamboozled" into being a driver for Dr. King and his family. "Here I am, a white boy in 1966, I was 18, I had a lot more hair then and weighed about 150 pounds less. The civil rights movement was still going on, but I decided yes, yes, I would drive," he recalls. "I drove for about nine months, but I still wanted to organize — I was a hell of a good organizer — so I went back to organizing over the housing demonstrations in Chicago, the Vietnam war, and ultimately, the Poor People's Campaign for low-income whites, Hispanics, and Asians." He describes the Poor People's Campaign as a challenge for social and economic justice and dignity that is still going on today. "We had a president back then (Lyndon Johnson) who was not quite like the one we have today." 
Houck acknowledges it was a great experience driving for King "because it put me in the center of Atlanta and of the King family. I met a lot of people through them who became my best friends, my travel agents, my doctor, and my dentist, Walter Young, Andy's brother, who is still practicing." 
The King family suffered more than just the tragedy of MLK's assassination in 1968. Younger brother Alfred Daniel King was found dead the following year in a swimming pool "under mysterious circumstances," according to Houck. Their mother, Alberta Williams King, was shot to death inside Ebenezer Baptist Church in 1974, while playing the organ. Yolanda King, their eldest child, died of a heart attack in 2007 at the age of 51.
Coretta Scott King, MLK's late widow, started to plan the King Center on Auburn Avenue shortly after his death. "Today it's headed by (King's youngest child) Bernice Albertine King," Houck notes. "It's dedicated to nonviolent protest around the world — still a work in progress but it's coming along. That's what their goal is." 
Houck's tour, which begins at the King Center, also takes in the Vine City home where the King family lived and their children were raised. "The house was full of love and joy. We would play football out here with neighborhood kids and Dr. King would sometimes join us," Houck remembers.
"It was here that Coretta got the news on April 4th of 1968, shortly after 6 o'clock, that Martin had been shot in Memphis," Houck adds. "She got ready to go (to the Atlanta airport) and got picked up by Mayor Ivan Allen, and on the way there they discovered Martin had died. She led the same march in Memphis the next day that Martin was going to lead, nonviolently, then came back to Atlanta and played host to the world for the next three or four days. One of the last visitors to come here was Bobby Kennedy, and a few months later we know what happened to him."
Another residence on the tour is the family home of John Wesley Dobbs, a pivotal figure in black suffrage who co-founded the Atlanta Negro Voters League, and who was instrumental in getting  mayor William Hartsfield to hire black police officers. Dobbs died in 1961 on the same day the Atlanta School System was desegregated, and his grandson, Maynard Jackson Jr., won election as the city's first black mayor 12 years later. A giant sculpture to honor Dobbs was erected on Auburn Avenue during the 1996 Summer Olympics. 

Many of Atlanta's most prominent civil rights leaders are buried at South-View Cemetery, where Houck's bus stops towards the end of the three-hour tour. King himself was buried there temporarily before his crypt at the King Center was constructed. The tour also takes a drive down part of the Atlanta boulevard named after King, where Houck once had an apartment. "It's an honor to have lived on a street named for my hero," he says. -CL-