GRAZING: Perfect faux tacos and Barbie's favorite steamed rice cakes
Velvet Taco and Vietvana stretch the limits
THE WAIT: The line at Velvet's counter can get long but moves rapidly --- much more rapidly than the time you'll spend looking for an above-ground parking space.
I was in Buckhead, waiting for two tacos. For a moment I felt like a contestant on "The Price is Right." The counter dude shouted on the mike: "Cliff, Come on down! Your tacos are ready! Come onnnn!" I didn't know that I was about to eat one of the best tacos of my life. That's saying a lot, because I have lived on tacos in Mexico, San Francisco, Los Angeles, Houston, and Atlanta. This taco was so good but so unconventional, I think a lot of people are going to call it a faux taco. I'm a taco snob and I don't care. You people eat greasy hamburger on crispy "tortillas" and call them authentic tacos, for god's sake!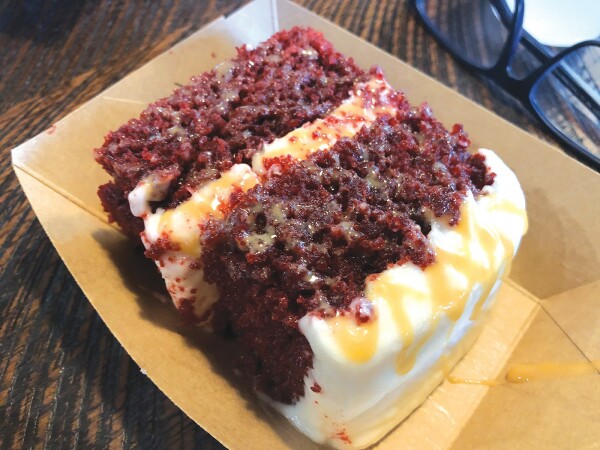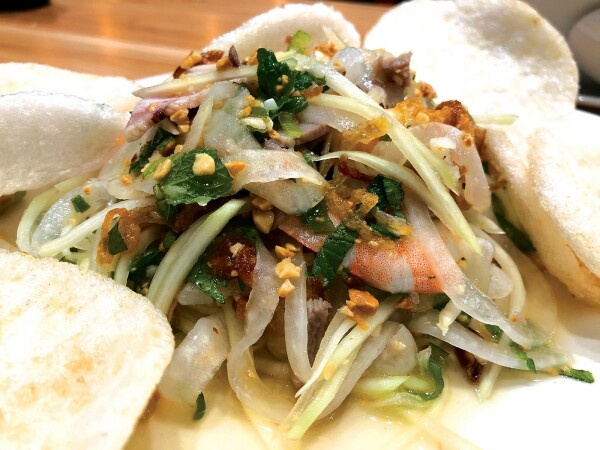 My magic moment occurred at the new Velvet Taco, which calls itself "the temple of the liberated taco." It is a Dallas-based chain restaurant that recently opened on West Paces Ferry Road in the shopping center that houses Whole Foods. The particular taco I'm sanctifying was a one-week-only special described as "Hatch chile, pig & fig." Those are three of my absolute favorite flavors — pulled pork, fresh figs, and the seasonal Hatch chile that is used here to spike the taco's crema. The figs sat on a bed of arugula, my favorite green leaves, tossed with a few noninvasive threads of red onion.
While the fact that the ingredients filled a folded tortilla of course means it's a taco, this is far from your typical street taco. Since all of Velvet's tacos are chef-composed and a bit complicated, you don't get to alter flavor by dumping ingredients fetched from a salsa bar. I did, however, find a bottle of hot sauce and put a drop of it on one bite of my other taco — brisket — and it was like knocking over a domino. It completely disrupted the flavor palate, seriously.
Velvet of course is far from the only restaurant toying with taco ingredients, but, compared to most, they're way ahead. Take that brisket taco. Brisket, roasted barbacoa-style, is not an unusual meat to find on a taco anywhere in North or South America. But you don't usually find these other ingredients in a taco: Angus brisket, red chile mayo, avocado relish, queso blanco, and micro cilantro inside a large flour tortilla encrusted with French comté cheese. My sample was flawless — or mainly so. The cheese was too gooey to be called a crust and corn had been added to the ingredients. Puzzling.
Velvet reaches to unexpected places. One of its most popular tacos is a take on India's chicken tikka. The flour tortilla wraps crispy chicken tenders, a spicy tikka sauce, buttered cilantro, basmati rice, raita crema, and Thai basil. You can also go Middle Eastern and gluten-free with falafel patties wrapped in lettuce with tahini crema, arugula, tomato, pickled fresno chiles, avocado, pickled red onion, and pea tendrils. Velvet rescues other flavors from the cliché category in which they have fallen. You know you want a taco made with Nashville-hot tofu, shrimp and grits, or ahi poke. There are brunch ones featuring chicken and waffles or bacon and eggs.
Sides are limited and that's okay. Generally, the tacos are huge and two is the most you'll want, especially if you add a side. I'm ambivalent about the sides I did sample. Elote — Mexican grilled corn — is appearing everywhere, on and off the cob. Velvet's is basically complicated creamed corn that had no flavor or visual evidence of grilling. I enjoyed my first few tastes of the restaurant's "red curry coconut queso," but found it watery and a little silly in its overreach. Skip the sides and order the one dessert — an inhumanly rich red velvet cake. We sat beside a large, campy painting of an 18th-century woman in an erotic frenzy, clutching two large cubes of the cake. I know how she feels. It is fantastic. Incredibly, four of us could not even finish the piece we ordered.
Velvet is open most days from 11 a.m. to well after midnight. (Call or check the site.) I have a few summary warnings. First, the tacos range in cost from about $4 to $6. They are worth every penny and are far bigger and tastier than those of the same cost at places I shall not name. Second, if you're homesick for Mexico, no, these tacos really will not satisfy a craving for the al pastor, carne adovada, and carnitas you find on Buford Highway. Third, the parking sucks. If you don't park in the underground lot, you can endlessly wander the main lot, looking for a space not reserved for Whole Foods customers. I'm guessing late-night parking is easier. Fourth, don't fail to contemplate the oddity of once again seeing almost all people of color consigned to the kitchen. It's true that Buckhead is trendy and sports some international flair but, oh, the apartheid!
Speaking of ethnic minorities in Buckhead, I'm happy to see that people of color are showing up at the Shops at Buckhead, often called our own little Beverly Hills. Even the development's website, which at first literally featured almost exclusively white faces, has been integrated! Among the new transcultural restaurants there is Le Colonial, part of a New York City chain whose name, um, celebrates colonialism — specifically the 70 years Vietnam was colonized by the French, creating a somewhat hybridized cuisine that is actually my favorite food. Yay, colonialism! I haven't been yet, but the expensive menu reminds me of New York's Indochine, where I ate many years ago. Le Colonial, with indisputably master chefs, is really expensive, although a prix fixe lunch menu is now available for $25. You can contribute to my forthcoming GoFundMe Page, if you'd like for me to check out dinner (and the $165 menu at Lazy Betty in the O4W).
Le Colonial's opening is part of a huge surge of Vietnamese cooking in our city. Among the inexpensive and mainstreamed newbies is Vietvana Pho Noodle House — a huge spot in Avondale Estates, located in the vacated Our Way Café space. The name contracts "Vietnam" and "nirvana," and I'm happy to say that it offers far more than pho, the noodle soup that caused the surge of interest in broader Vietnamese cooking.
The restaurant's owners are Vietnamese-born Chef Dinh Tran and his wife Khanh Dang, who. also own Khanh Vietnamese Pho & Sandwich in Duluth. Vietvana is almost 5,000 square feet, featuring an open kitchen, a small bar, and a main dining room full of glistening wood tables under a blue ceiling, bordered by an endless banquette. The room is divided by a long community table.
The pho menu is extensive. You can mix and match bowls full of house-made rice noodles in beef, chicken, or vegetable broths with a variety of meats and vegetables. There are also chef's specialty bowls. We chose one of the latter — a light beef broth afloat with white and green onions, cilantro, and a huge, halved softshell crab. They did fail to bring the usual herbs to the table, so be sure you get those to ramp up the flavor even more. We left the bowl dry.
I have an obsession with Vietnamese bun dishes — slurpy noodles topped, like the pho, with ingredients of your choice. I chose my usual eggrolls, shrimp, and glazed pork. During my visit, the shrimp were quite undercooked but that has changed, according to a friend. Oddly, two of us had to request fish sauce, which should be on every table in a Vietnamese restaurant. I'm clueless.
The weirdest dish I tried was an appetizer of steamed rice cakes. A single order included seven tiny, chewy, pasty, flat blobs in separate, Barbie-playhouse-sized containers. Each was topped with dried shrimp, fried onion, croutons, and scallion oil. The flavor was too fishy for my taste, but my tablemate was in heaven, scooping out the goo, folding it into itty-bitty tacos, and chewing and chewing. I much preferred the classic, crispy papaya salad with pork and shrimp, doused with fish sauce and served with large shrimp crisps. I did want more mint in the mix.
There's a hell of a lot more to try here, but if you want a ridiculously cheap and delicious meal, try the banh mi. These are the sandwiches that pull as many people to Buford Highway as pho does. They are stuffed, crunchy baguettes like the French brought to Vietnam but made with rice flour. Vietvana offers 15 different versions, most all of them under $6. We ordered two to go. One contained a paté, ham, roasted pork, and dried shredded pork with pickled veggies and fresh jalapeno slices. I've eaten the pate many times before, but Vietvana's sandwich contained about twice what I like, overpowering the other flavors. So, I scraped about half of it out of my sandwich to make it perfect. The other banh mi, made with lemongrass chicken and the usual garnishes, was tangy-tasty. Please try the fried-egg and tofu versions, and let me know.
Vietvana, like Velvet Taco, is open late. It closes at midnight every day except Sunday, when the pho evaporates at 11 p.m.
EMERGENCY: You must drive to Kennesaw and visit Fire Stone Chinese Cuisine. It's been open a year and features the cooking of Wen-Qiang Huang, a protégé of the infamous Peter Chang. The food is Sichuan and Hunan. It's spicy but not that spicy. I'll report more later. In the meantime, it's important that you order the balloon-sized "pancakes" and the fried ribs under a mound of secret crunchy stuff. -CL-
Velvet Taco, 35 West Paces Ferry Road, 470-400-3900, velvettaco.com.
Vietvana Pho Noodle House, 2831 E. College Ave., Avondale Estates. 404-963-2757, vietvana.com
Fire Stone Chinese Cuisine, 840 Ernest Barrett Pkwy., Kennesaw, 678-324-0512, firestonechinese.com
---