TALK OF THE TOWN: Imagine Music Festival 2019
A sun-drenched, yet wild 'n' wet, weekend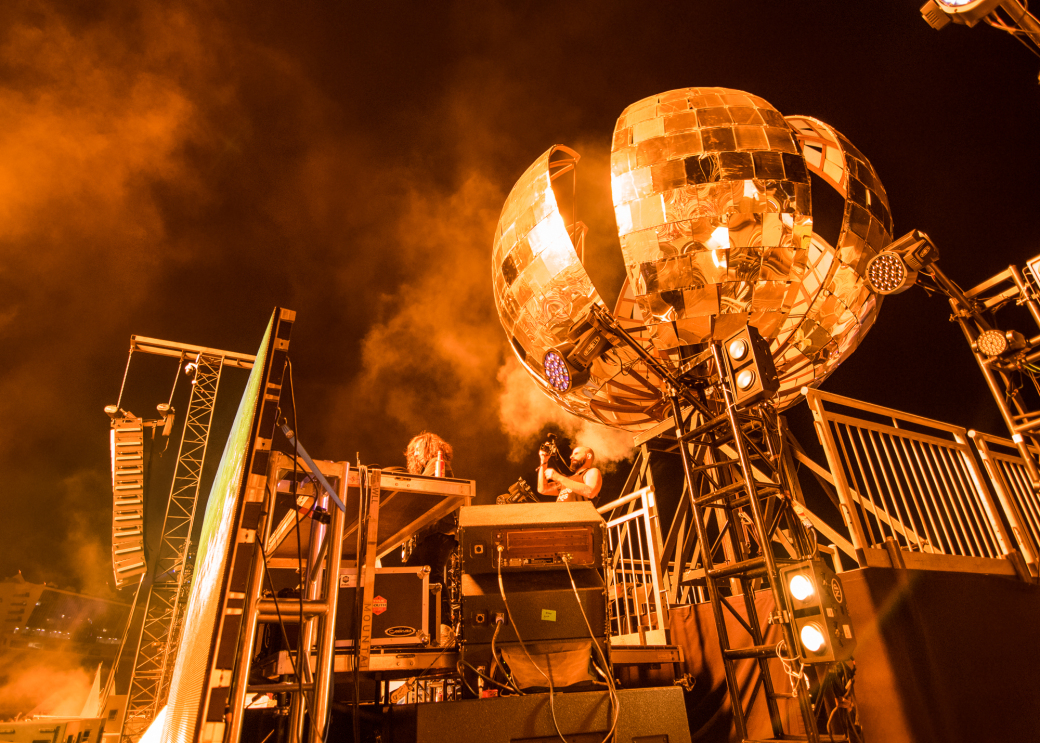 MASTERS OF THEIR UNIVERSE: Onstage at Imagine Music Festival (see more of Stephanie Heath's photos in the carousel below).
The Imagine Music Festival kicked off its sixth-year with an 'aquatic fairytale' and a big bang! Six stages came alive with musicians, live performers, art installations — there was no shortage of entertainment at the event, held September —- at the Atlanta Motror Speedway.
Oceania was the main stage, with two others, Amazonia and Disco Inferno, following in size, and three smaller stages, Six Feathers, Tyches, and Silent Disco. While the highlight of the festival was the non-stop music, the stages themselves, carefully crafted, offered their own visual effects. The Disco Inferno stage featured a giant disco ball that spit out fire, while Amazonia offered aerial performers, dancers and visuals for select DJ sets. Oceania, like its name implies, looked like something you might find under the sea, a home to the great Poseidon himself. Accented with large pearls and giant pillars, the stage was not only aesthetically appealing but interactive as well, bellowing smoke and flames during the artists' performances.
Unfortunately, Diplo, scheduled to headline  had to cancel due to "unforeseen circumstances," though he promised to make up the date t/b/a. DJ Diesel, who you might better know as Shaquille O'Neal, covered that slot, proving not only that he could hold down a 75 minute set with ease, but also why he is the "Chief Fun Officer" for Carnival Cruise Lines. Other highly-anticipated artists included Rezz, who, as direct support for DJ Diesel, showed she should've headlined Friday night. Indeed, she performed like she was the headliner!. Zedds Dead, Alison Wonderland, Above & Beyond all rocked everyone's socks off, fans posted up for hours on the rail to see their favorite artists and show unconditional support.
The Disco Inferno Stage included Boogie T, Subtronics, Leah Culver (an Atlanta hometown hero). Artists on the Amazonia stage included Detox Unit, Tipper, Jade Cicada and Zen Selekta, among others. Sunday night Marshmello closed out the Oceania stage with a bang, literally, with fireworks and confetti at the finale; Claude VonStroke closed out the Disco Inferno Stage and Tipper the Amazonia Stage.
On Saturday there was a pool party hosted by Beatbox Beverages, one of the many sponsors of the Imagine Festival. There were giant duck and flamingo floats, with festival attendees soaking up the sun, playing with beach balls, making a splash, or getting some shade. The options were endless. In the Imagine Festival Gaming Lounge gamers and DJs raised money for Children's Healthcare of Atlanta. Also, in the gaming room there was a giant ball pit people could jump in and a "complimentary bar" where you could interact with others  and give strangers respectful compliments at this bar and. Live painters and art installations filled the festival grounds, and a vendor alley featured food, drinks, and retail therapy with shops like Festy Besty and Spunglasses.
Imagine Music Festival 2019 • Photos by Stephanie Heath