THE MOVE: Plan Accordingly.
Hey, y'all! What's the move?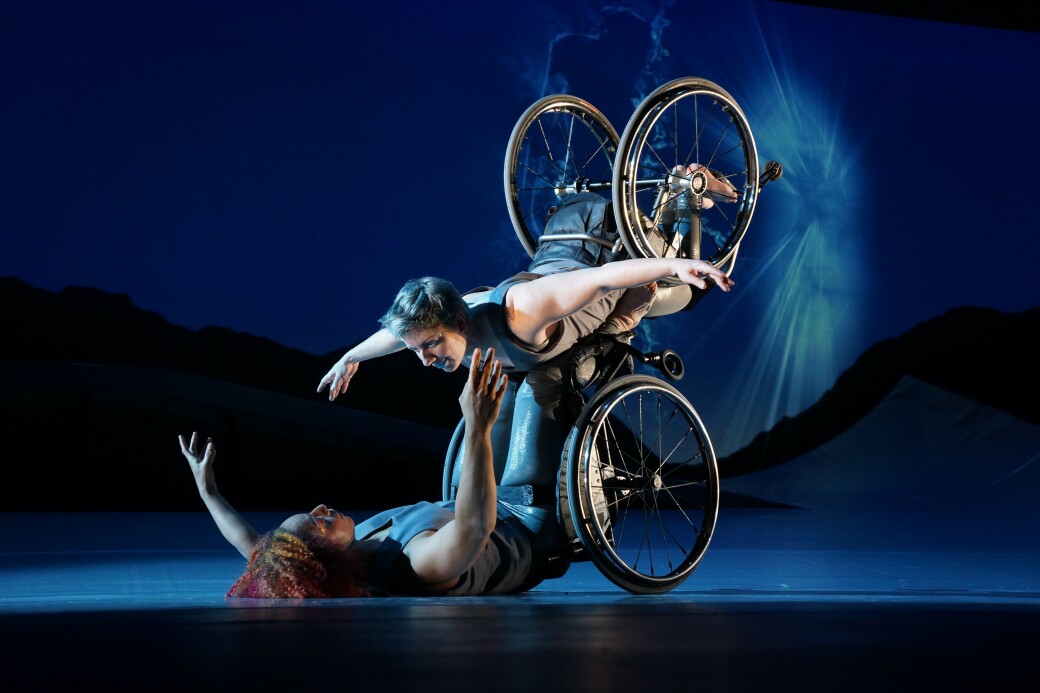 MAKING EYE CONTACT AND SMILING: Laurel Lawson as Venus is flying in the air with arms spread wide, wheels spinning, and supported by Alice Sheppard as Andromeda who is lifting from the ground below.
The Move is a column intended to help you beat the fight against basic, one move at a time. Look here for all the best underground, and some above ground, events in ATL. Bc you CAN have a balanced diet of disco and yoga. Warning of side effects: Overdose of culture and queerdom. Bloated bank account from lack of overpriced ticket purchase. Confusion meeting clarity via mind, body and soul. Consume at your own risk.
Shameless copy/paste plug OTMonth: Psst… Xtra! Xtra! Weed all about it! Shameless plug for the latest episode of, "Friends in High Places." Listen along as I interview the likes of those mapping out the cannabis industry for Georgians, bc it's not coming, it's here. For more updates: @CallMeMissConception @CreativeLoafingAtlanta
SATURDAY, NOVEMBER 2
"Girls That Go Bump in the Night," Naked Girls Reading — I'm attracted to nudity, love a good topless beach, and wish, almost daily, that I could ride my bike topless with zero fux given by anyone in sight. I'm that person who replaces female nipples on the internet with those of a man to prove a nipple is just a nipple. Naturally, when I see an event with the word "naked," I'm intrigued. No, I am not a pervert, I just don't like being told what to do with my body, period!
"Naked Girls Reading" first started in Chicago "in March of 2009 as an idea of two international showgirls, Michelle L'amour and Franky Vivid. It is a group of beautiful ladies who love to read … naked. That's really it. There's not a whole lot more to it." I have so many questions, but I guess I'll just have to attend to find out. BTW, this Atlanta show celebrates All Souls Day with ghost and horror stories. $20. 8:30 p.m. (doors). Metropolitan Studios, 1259 Metropolitan Ave. S.E. 404-219-2003.
THURSDAY, NOVEMBER 7–SUNDAY, NOVEMBER 10
Josephine, a burlesque cabaret dream play — Fringe Fest Atlanta is in its sixth year with 543 curtain calls and counting. This year's standout performance is one that has already sold out shows across the U.S. Josephine portrays the celebrity life of Josephine Baker, an American ex-pat who moved to France in the 1920s and found success in film as a black woman. "(Baker) starred alongside white romantic leading men in films in the '30s, had multiple interracial marriages and homosexual relationships, and performed in men's clothing before the term 'drag' existed in the lexicon."
On playing the lead role, performer Tymisha Harris says, "I believe the time is long overdue for strong women of color to have their voices heard and their stories told. Playing Josephine Baker for the last three years has made me a better performer and human. To be able to share this story that touches hearts and minds across the world has been the most fulfilling artistic endeavor of my life."
Atlanta Fringe Festival takes place over several days in venues across the city. You have four opportunities to catch "a burlesque cabaret dream play" at the Southwest Arts Center. Though it was established in 2001, I'm just learning of the Center now myself. It was the first Fulton County spot created for the sole purpose of inspiring and housing the arts. It is also MARTA-friendly. Take the train to the West End and hop a short bus. Have you been on a MARTA bus lately? They are clean, virtually empty, and it's legal to text and ride. $25. 8 p.m. Nov. 7-9. 2 p.m. Sun., Nov. 10. Southwest Arts Center, 915 New Hope Road S.W. 404-613-3220. 
SATURDAY, NOVEMBER 9
Condom Couture — When it comes to philanthropic creativity, this event fits like a condom. Yes, you read it right and no, it's not a dirty word. Condom Couture Atlanta is shredding sexual taboos, raising money for Planned Parenthood, and supporting local artists with their upcoming fashion runway show at the Westside Cultural Center.
"We're doing this to raise awareness and funds for reproductive health care services, advocacy, and education in Georgia. For men, women, and families; all inclusive of cultures, genders and identities." — Condom Couture Atlanta.
Local designers will create fashion lewks from condoms. They prefer to work with non-lubed condoms for garments, I'm told. $50-$300. 8 p.m.-10 p.m. Westside Cultural Arts Center, 760 10th St. 404-594-6412.
The Original Mannequin Project 2019 — Four years ago, Atlantan Grayton Pinkston was born — and quickly diagnosed with cystic fibrosis. Almost immediately, a group of his family and friends formed Grayton's Guardians to raise money for cystic fibrosis research. To date, they have participated in numerous walks and adventures around the country in Grayton's name. Just last month, members of Grayton's Guardians hiked from the south ridge of the Grand Canyon to the north ridge to raise awareness and funding for cystic fibrosis research.
The upcoming Atlanta event, however, is a little different. Thrown in true Melrose & McQueen fashion, this is a party. There will be free beer, prizes, and antics at the Basement in EAV for the eighth year of The Mannequin Project, Melrose & McQueen's annual charitable event. Each year, a different cause is chosen. I asked Grayton's uncle, Mike Dean, about the connection between Grayton's Guardians and the hair salon, and it's quite a charming story.
"Our family's story with Melrose and McQueen started seven years ago at Inman Park Fest. I dropped by because they were having a party, and the next thing I knew, I was getting my hair cut there each month. Sometimes I even dropped in with my dog, Buckley, who the staff adored. Slowly, each family member started going to Melrose. My wife Natalie, my sister, my brother in law, my mom, and my dad. Kristo and his team have always felt like an extended family. Once Grayton needed his first haircut he naturally was going to go where the rest of the family goes. Grayton's now goes to Melrose for his haircuts. Kristo, Amber, Laura, Kenny, and team usually stop by to say hey, and they talk about Grayton's favorite subject: monster trucks. Next time you drop by the shop, take a look behind the bar and you'll see pictures of Grayton and Buckley back there.
"We're honored to have Grayton's Guardians partner up with the Mannequin Project," Dean continues, "because it's different than other charity events. We love that it supports one of our favorite local businesses along with local artists in the community. We hope to see you there." $10. 6 p.m.-10 p.m. 21+. The Basement, 1245 Glenwood Ave. S.E. 404-622-8686.
WEDNESDAY, NOVEMBER 13
Mommie Dearest at The Plaza Theatre — This month's installment of Wussy programming at the Plaza Theatre is the usual camp cult genre, with Faye Dunaway starring in Mommie Dearest. According to her fellow cast members, Dunaway was more difficult and terrifying than the role of Joan Crawford she was playing. I can't imagine anyone over the age of 30 who hasn't seen this film, but you'll want to clear your closet of wire hangers before you return home. $15. 7 p.m.-10 p.m. The Plaza Theater, 1049 Ponce De Leon Ave. N.E. 470-225-6503.
FRIDAY, NOVEMBER 15
Wahine's Hideaway Vol. 1 — DJ Wahine is back, Atlanta, and establishing a new TROPICAL party, inside for the winter. This kitschy, tiki-themed party pops up at Edgewood SPKEZ (that's Speakeasy for those who need more vowels) and encourages tropical lewks. Expect to hear warm sounds of funk and tropical disco.
Wahine on why she decided to rejoin the DJ scene, "I've been spinning since '04 but took a long hiatus and didn't come back to it until earlier this year. ATL's very welcoming scene has been a big part of that return." $10. 10 p.m.-3 a.m. Edgewood SPKEZ, 327A Edgewood Ave. S.E. 404-343-4404.
SATURDAY, NOVEMBER 23
Kinetic Light: "Descent" — The Georgia Tech Arts department has a new director, Dr. Aaron Shackelford. We met at the Ferst Center last month while an aerialist performed high above us on campus during a light and audio mash-up. Wearing a chic scarf and blazer in 90 percent humidity, Shackelford looks the part of a new art director, committing to the scarf despite the heat. His excitement to be in this new role is obvious — and infectious.
The performance I'm most looking forward to this month is by Kinetic Light, a team of dancers in wheelchairs who appear to defy gravity. Kinetic Light has traveled the globe performing "on an architectural ramp with hills, curves, and peaks" in shows that "celebrate the pleasure of reckless abandon." $15-$25. 8 p.m.-10 p.m. Ferst Center for the Arts, Georgia Tech, 349 Ferst Drive N.W. 404-894-9600.
Nonsense ATL presents Atlanta Disco Society + special guest Ree de la Vega — It tiz zee season to hold up in a dark room and dance with strangers. It's the only way to exist in cold temps, IMO. OK, obviously I like to do a lot of other activities in cold temps, but dressing in a disco lewk is def high on the list.
"Four times a year, Atlanta Disco Society celebrates the glamour, debauchery, and decadence of the Studio 54 era. With red carpets, a light-up dance floor, next-level fashion and lewks, and disco music from the 1970s through today, ADS is always a night to remember. For the November edition, we're especially excited to have Ree de la Vega as our special guest, playing along with DJ Kimber." — Nonsense ATL. $10. 10 p.m.-3 a.m. The Basement, 1245 Glenwood Ave. S.E. 404-622-8686.
---