GRAZING: Smiling before crying at Supremo Taco, dining 'mostly Southern, mainly Asian' at JenChan's
A TRIO OF FORMS: Supremo's black bean taco at top, the chorizo quesadilla at right and the aguachile tostada in the foreground.
Twenty years ago during frequent visits to LA, I often visited a late-night taco stand on Santa Monica Boulevard, not far from Silver Lake. I stood at a counter outdoors and watched the nightlife while I ate perfect tacos. My usual impromptu dinner companions were two transgender hookers who called the taqueria their "safe space." Yes, I frequently hummed Lou Reed's "Walk on the Wild Side," a tribute to the "superstars" of Andy Warhol's Factory, including Candy Darling, the trans star and muse to the Velvet Underground. 
The new Supremo Taco in Grant Park is not that much a walk on the wild side in its ambiance. It adjoins Grindhouse Killer Burgers' parking lot on the explosively redeveloping Memorial Drive. The customers are mainly young cis-gender residents of the area who have never heard of Lou Reed, but whose palates chefs Nhan Le and Duane Kulers are taking so far beyond Taco Bell that it might indeed feel like a trans, um, cultural crossover to the wild side.
This is a truly ramshackle taco stand. There is no indoor seating. You order at a doorway counter that puts you a step from the interior of the tiny, blindingly lit kitchen. You take your order home or you squat in the parking lot or you carry it to the stand-only patio, draped with fake ivy. There are odd stylistic notes — not surprising since Le and Kulers own the wonderfully twisted 8Arm and Octopus Bar. You'll wonder why the building's neon logo is a green portrait of an Hispanic woman shedding a blinking tear. Why is she so emotional? You note on the website that they sell t-shirts under the heading "SUPR/EMO GEAR." What's with the site's huge photo of a mouth stretched by fingers into a smile, revealing a gold grill lettered with the restaurant's name? I think I solved the emotional mystery, and I'll get to that later.
There are only seven tacos, one tostada, and two quesadillas available here, all made with corn tortillas. They are inspired by the Chicano culture of Southern California. I urge you to read Supremo's website. Le and Kulers have written an extremely insightful essay that deconstructs the notion of authenticity by relating Chicano culture to Mexican culture, to the dominant American culture, and, by extension, to global culture. Their argument against thoughtless deflection of the taco's native roots embarrassed me a little, because last month I raved about Velvet Taco's weird, way cross-cultural fare. There, a taco is arguably only a taco because of its form — a stuffed, folded tortilla. But, as I noted, the chain is not a place to explore the food of a culture most represented here along Buford Highway.
My favorite taco at Supremo is the barbacoa. It's made with lamb — succulent, with the deep flavor of my favorite meat and a very slight sting of chile de arbol. The first word that came to mind when I bit into it was "birria," the stew that I'd long forgotten since my years in Houston, where I ate it fairly often. My second favorite is the carnitas with chicharrones. The taco struck me as a clever variation of the classic carnitas I ate in Mexico, and I have no idea if Supremo's is a copy of a Chicano version. To make "authentic" Mexican carnitas, you should braise pork until it's tender, then slowly pan-fry chunks of it until crispy. The second step is labor-intensive and hardly anyone does it in Atlanta taquerias. Instead, you get just tender pulled pork. Le and Kulers dice chicharrones — deep-fried pork rinds — and mix them with the pulled pork. You get the usually missing, fatty crunch! My third favorite taco is the al pastor, marinated pork properly cooked on a trompo, a vertical rotisserie that Lebanese immigrants brought to Mexico to make shawarma. The trompo is topped with a pineapple that drips its juice throughout the meat's cooking. Supremo adds little chunks of pineapple to the taco.
My next favorites were the two quesadillas, especially the fried one filled with oaxaqueña cheese — "no cheddar," the website proclaims — and topped with a bit of red salsa. The grilled quesadilla filled with ground, spicy chorizo was magically not greasy. Just in case, a bracing salsa verde wards off any such sensation. Minor problems turned up in a few items. The chicken taco's mole poblano was a bit sweeter than I like. The black bean taco with squash, pepitos, and crema was frankly a mess. If you order it, eat it first, so it doesn't have time to soak the tortilla. Finally, I had mixed feelings about the tostada's aguachile, which is typically a shrimp ceviche. The onions and cukes were there with the few fat shrimp, but the heavy pinkish sauce threw me off.
Back to that emotional logo and those emo T-shirts. I decided the emotion relates to the status of immigrants in America. My favorite words in the website's essay ask this question: "How do we contextualize Mexican food in the paradoxical reality that the culture's cuisine is more embraced than its own people?" Is the emotion about the hideous fact that 40 percent of Americans have rejected and demonized immigrant people who have already had an enormous, positive impact on us?
Chef Kulers told me, more explicitly, "You could say that's part of it, but it's really that 'Smile now, cry later' thing." Go to Google and you'll learn the advice has long been popular in the California Chicano community and is the subject of countless tattoo designs. It's actually a fierce, not a weak, declaration, and you'll notice that the word "banda" floats across the section of the website that contains the essay. I doubt it's coincidence that the word means "gang." I'll leave it to you to decide if that and the photo of a mouth stretched into a smile to reveal the golden dental grill amount to stereotyping. I think it's more about the way a minority culture sabotages bigotry by using humor and exaggerated signifiers.
I love the place. It's open 5-11 p.m. Tuesday through Thursday and 5 p.m.-midnight. Friday and Saturday. Go late.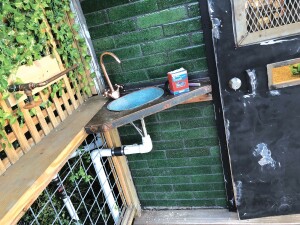 ON TO CABBAGETOWN
Less than a mile away, JenChan's has opened in Cabbagetown on Carroll Street. Owners Jen and Emily Chan have taken a risk with a location of seemingly endless openings and closings, but they have a fighting chance. Young but long involved in the restaurant industry, including the Ford Fry empire, they have been operating the successful JenChan's Delivery Supper Club for some time. The frozen meals — prepared with organic, pastured, and local ingredients — are also available in a market area of the restaurant. So, that's multiple revenue streams. Go, Chans!
The restaurant has a great vibe, with community tables, a bar, paper lanterns and pops of red in a warmly lit room. During my two visits, nostalgia-inducing, classic soul music played. We had the best server ever, Jeremy. But there are problems with the food, which the Chans describe as "mostly Southern, mainly Asian" comfort food. That basically means it's Chinese-American style and that comes with a lot of sweetener and extra-big doses of soy sauce that I don't like. I should own that this is a personal taste; I avoid brown sauces everywhere. My companions didn't share my reaction, and I don't mean that I didn't find plenty of likeable dishes.
The go-to here is The JenChan, a take on the classic Southern meat-and-three. You get your choice of chicken, pork tenderloin, flank steak, or salmon. I ordered the deliciously braised and fried chicken. One of the three sides is always rice. My second was green beans and mushrooms in a kung pao sauce, which historically includes sweet notes, but at JenChan's those notes are overwhelming. My second side was an order of the house-made potato chips seasoned with garlic and ginger. They are wonderful but best ordered as a snack before the meal, because the very strong use of ginger in much of the food eclipses the lighter use with the chips.
After the chicken, my fave was the egg roll stuffed with pimento cheese and cabbage. I avoided the dipping sauce, which was a (too) sweet and spicy classic. Deep-fried pot stickers here are filled with pastured pork along with green onions, cilantro, garlic and ginger. They are tooth-shatteringly crunchy and tasty. Another great starter was the corn fritters containing green peas. They were actually a lot like hushpuppies and served with a mild, allegedly spicy mayo. The menu, incidentally, warns that the restaurant uses a lot of Sriracha and sambal, but I never encountered enough spiciness to produce a single drop of sweat.
Among entrees, after the fried chicken, I most liked a special of grilled salmon with big leaves of earthy "dinosaur kale." I found the strips of flank steak in the pepper steak way too chewy. It included onions and red and green bell peppers, all over ginger rice, with a side of mixed greens anointed in a ginger-lime-honey dressing. The most disappointing dish I ordered was the "black bean ribs" whose dominant, funky flavor was derived from the fermented black beans in which they were braised. I did find that if I scraped away the black-bean concoction, the pastured pork ribs had wonderful flavor. Dessert here was a deconstructed ice cream sandwich made with two almond cookies layered with a big chunk of chocolate and a bigger scoop of vanilla ice cream.
Jen Chan's is also open for lunch when much of the dinner menu is available, along with five sandwiches like a shrimp po'boy and Mongolian beef cheese steak. Brunch on Saturday and Sunday offers a completely different menu, including Danish Aebleskivers (pancake balls) "until sold out." I really love the ambiance, enthusiasm and much of the food here. I even love the fortune cookies because the custom-ordered notes are quotes from Max Ehrmann's "The Desiderata," the famous prose poem that Emily Chan's mother introduced her to. Give it a try.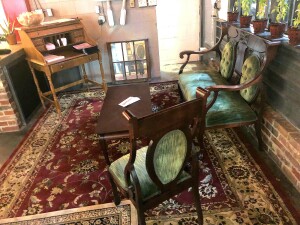 Supremo Taco, 701 B. Memorial Dr. S.E., 404-965-1446, supremotaco.com
JenChan's, 186 Carroll St. S.E., 404-549-9843, jenchans.com 
---