THE BLOTTER: The Joker on the run
And other tales of life in the ATL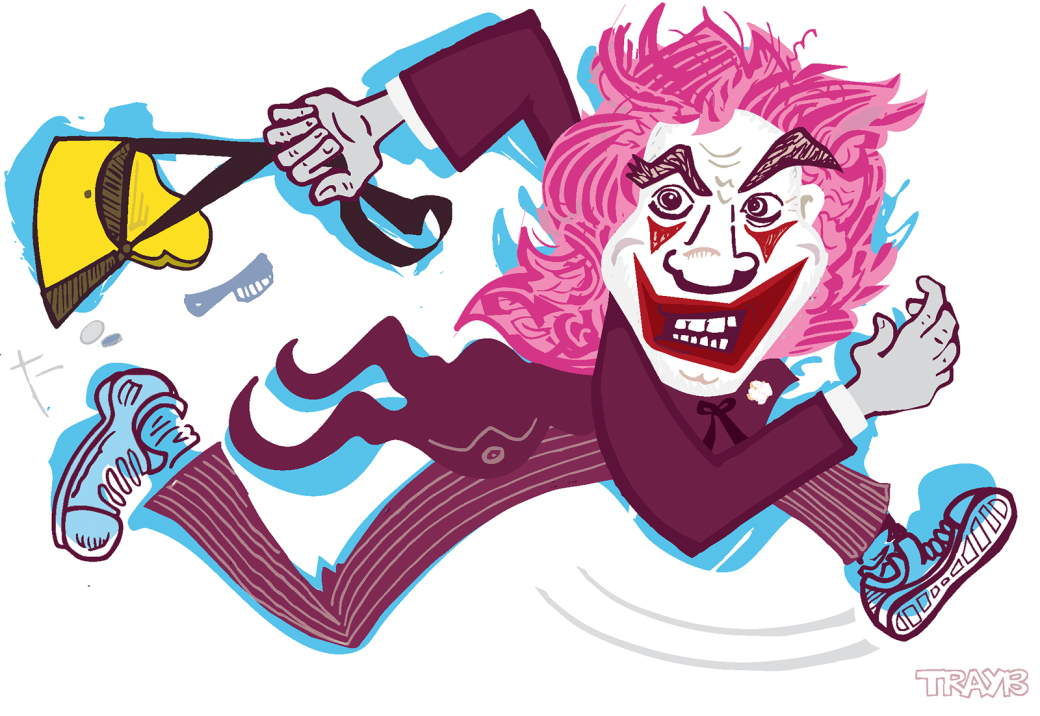 JOKER SEQUEL, ATL-STYLE: A woman was returning home from the West End Kroger to her condo on Donnelly Avenue. As she walked down the driveway toward her building, a thin man dressed as the "Joker" from the Batman movie franchise jumped out of the bushes near her door.
The skinny Joker was "wearing white paint on his face, red lipstick, and a pink wig with long hair," according to the police report.
Homegrown Joker never spoke a single word. He just grabbed the woman's black Calvin Klein purse from her shoulder. The woman "attempted to hold onto the purse strap," and that's when she got a small cut on her finger.
The woman said the Joker "ran back into the bushes" with her purse. She believes he used a cut-through route to escape into some neighboring apartments.
Missing items from the woman's purse included a Visa card "with a picture of Betty Boop on it," the cop noted. Yes, a Betty Boop credit card, stolen by the Joker.
TOO MUCH EGG NOG AT THE HOLIDAY PARTY? A boyfriend-girlfriend couple in their 20s were hanging out in their Midtown apartment on 14th Street, when suddenly they heard weird noises outside. It was late and they weren't expecting any visitors, so they got spooked and called police, worried about a potential robbery.
Three cops responded and started searching the couple's apartment — finding nothing amiss inside. Then, police checked the outside balcony: Bingo! Sitting on the balcony, a 27-year-old man wearing only his underwear … with a half-empty bottle of vodka next to him.
Cops asked: What the heck are you doing in your underwear on this balcony?
Underwear Man responded, "I guess I had too much to drink and entered the wrong apartment. I'm sorry."
However, the Midtown couple decided to be super-cool about finding a drunk stranger wearing underwear on their balcony: They decided not to press charges.
Atlanta police were not as forgiving. They charged Underwear Man with disorderly conduct under the influence — and took him to jail. Which seems a bit unfair. Hopefully, Underwear Man got a few more clothing items before cops tossed him in the holding cell.
WILY COUGAR ESCAPES: A brouhaha broke out at the Mac Cosmetics store in Ponce City Market. A 22-year-old man strolled in with a woman 10 years his senior (age 32). They both started yelling, "Ohhhh, we in the fucking Mac Store!" so loudly that other shoppers turned and stared. 
Then, the 32-year-old woman took it up a notch. Suddenly, she "spit in the face" of the Mac store's assistant manager — and took off running. However, her young Boy Toy stayed behind and didn't run away. So when a police officer arrived, he charged the 22-year-old man with disorderly conduct. Oh, those wily cougar getaways, leaving behind their young pranksters ….
NAKED SMELLY MAN SCREAMING: An officer responded to a fight call near Grady Hospital on Jesse Hill Jr. Drive. "Upon arrival, I was abruptly met by an irate male running up to my patrol car and attempting to jump into the back seat," the cop noted. "He was screaming erratically and bleeding from the left side of his forehead, and saying that I was trying to kill him."
The screaming man "walked up extremely close to me," just so the cop could get a strong whiff of his boozy breath.
"He continued to behave in a concerning manner as he requested for me to kill him, several times — and then proceeded to remove all his clothing to expose his bare body, from his neck to his knees," the cop noted. "Due to his erratic behavior, multiple backup police units had to come to my aid" to coral the Mostly Naked Man and walk him just one block to Grady Detention Center, located across the street. 
STRONG CONDOMNATION: In the Kirkwood neighborhood, an outraged 41-year-old woman flagged down an officer patrolling the streets. She said around 4 a.m. she went to a vacant home on Kirkwood Avenue "where most of the homeless people in the neighborhood be at" and knocked on the front door repeatedly. Apparently, she hangs out there on a regular basis.
Finally, a man responded to her persistent knocks. Opening the door, he said the 41-year-old woman absolutely could NOT come inside, because during her last visit, she'd left several messy, used condoms in a bedroom. Then, the man pushed her out of the doorway and slammed the front door closed.
The woman was stunned and pissed. But what exactly did she want police to do about this condom clash? Well, that's unclear.
The cop simply filed a report outlining the woman's beef. Nothing more. 
CONDOM CLASH, PART II: A naked 37-year-old man and 29-year-old woman were fornicating between the sheets at a Midtown apartment on 19th Street. Suddenly, the woman noticed the man wasn't wearing a condom. So she punched him in the face. Stunned, the man called police. "He said they usually have unprotected sex, and that he did not know it would be an issue when he realized the condom was not on," the reporting cop noted. The man didn't want to press charges against the woman for punching him … but he DID want police to make her leave his apartment. Both parties confirmed the sex was totally consensual — and that they were completely shitfaced drunk. The woman even "showed me text messages from (the guy) suggesting they would have intercourse as soon as she arrived," the cop noted. The woman also refused to press any charges … and very willingly left the guy's apartment.
DRUNK GIRL DOES FASHION CATWALK STRUT: A cop saw a black Chrysler 200 speeding and weaving on I-85 South. He activated his blue lights and siren and tried to stop the car at the Williams Street exit. "The vehicle continued south to Freedom Parkway, then to Boulevard, before finally stopping on Cain Street," the cop noted.
The driver, a 26-year-old Decatur woman, opened her door and stumbled out, stating she had to pee. She admitted she was "buzzed."
"She was wearing high-heeled boots, which I recommended she remove for the subsequent field sobriety tests," the cop noted. "(She) had to balance herself on me and I had to help her pull her shoes off." The woman promptly failed the Walk-and-Turn test.
"After I gave her instructions for the One-Leg Stand, she began performing the Walk-and-Turn test again in a 'runway model fashion' and started dancing in front of my patrol car," the cop noted.
Then, she flunked the Breathalyzer exam and attempted to "bite the card out of my hand to stop me from reading" the implied consent statement, the cop recalled.
The Decatur woman went to jail and demanded to pee twice more within 30 minutes. Nothing further.
WISDOM DOESN'T ALWAYS COME WITH AGE: In Southwest Atlanta, a man said he returned home at 3 a.m. from a night of revelry celebrating his 40th birthday. He parked his black Cadillac Escalade outside his home on Veltre Circle and went to sleep. "When he returned to his vehicle at 8 a.m. the next morning, he noticed all his vehicle doors were wide open," a cop noted. "Upon further inspection, he noticed he was missing three rifles, a handgun, and his wallet." The man said he believed he forgot to lock his car doors after returning home from his birthday bash. -CL-
The Blotter Diva compiles reports from the Atlanta Police Department and puts them into her own words.
---