THE MOVE: Plan Accordingly - January 2020
Hey, y'all! What's the move?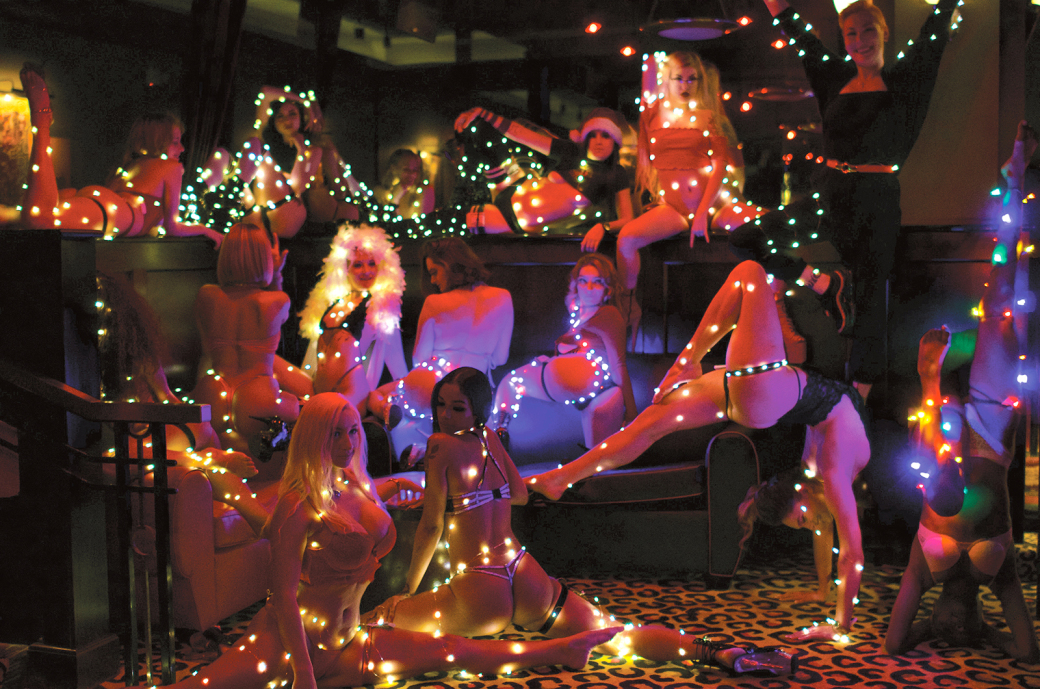 PERSPECTIVE: Getting lit at the Cheetah on a regular basis could change one's perspective on nudity and body as art.
The Move is a column intended to help you beat the fight against basic, one move at a time. Look here for the best underground, and some above ground, events in ATL. Bc you CAN have a balanced diet of disco and yoga. Warning of side effects: Overdose of culture and queerdom. Bloated bank account from lack of overpriced ticket purchases. Confusion meeting clarity via mind, body and soul. Highly recommended for Zoomers to Boomers. Consume at your own risk.
Lawd! I'm as ashy as a biscuit and ready to party. This month, on "The Move," we do it all, including dancing and carb guzzling. And while I'm waiting for my two, new fake bands to take off, I'd like to start January 2020 by blabbing re some of my regular hot spots. Open calendar commitments, mostly. So saddle up, cowgirls, and cheers to more money and honey in 2020. 
Shameless plug OTMonth: Psst… Xtra! Xtra! Weed all about it! Shameless plug for the latest episode of, "Friends in High Places." Listen along as I interview the likes of those mapping out the cannabis industry for Georgians, bc it's not coming, it's here. For more updates:  @CallMeMSConception @CreativeLoafingAtlanta
Any Day but Sunday: Cheat on your diet, and stay warm, at the Cheetah. Did you know the carpet is new? I hear it would match the drapes, if there were any. A $4-MILLION-dollar custom faux cheetah print, that I'm constantly reminded not to roll around on. And with that new smoking ban, it's going to stay flossy. Oh, you didn't notice? No more smoking inside starting next year, not even in clubs. 
With the Cheetah long since allowing cigars, you can imagine the 2020 City of Atlanta smoking ban causing some concern. Upon research, the Cheetah discovered smoking is actually a deterrent for customers — for the same reason they don't allow the dancers to wear glitter. Both leave a trace. Makes sense. Where can anyone smoke anymore?? Now, I'm not saying lie about where you've been, but when I go back to the office from a lunch meeting at the Cheetah, I don't need a lady in the elevator offering me Nicorette. OK, Karen. 
If you keep up with The Move, you'll know we strongly support freedom for sex workers. It all boils down to the belief in humans having the right to do anything they want with their bodies, from stripping, abortions, and healthcare in general to choosing a date with Dr. Kevorkian. But I digress.
The Cheetah treats its staff with respect and professionalism. There's a hard no-drug policy. The owners pay for private drug dogs to check the staff lockers to make sure there ain't no shit goin' on, hoping to create a safer environment for everyone. How do I know all this? I've spent hours with the staff as a photographer. Most of the management and bar staff have worked there for 20+ years, and the dancers talk about this being a dream job. Making more than 70 cents on the dollar, as most women in the U.S. do compared to men, and lifting sexual taboos? Strippers should be seen as role models, IMO. I call them the origianl body artists, so let's celebrate them the way we do other artists.
Stop by for lunch and sit with Paul at the bar, or ask Sam the manager about her 19 years there. Either way, get the fried chicken. Like Chick-fil-A, The Cheetah is closed on Sundays.  @thecheetahatl
SUNDAYS

Ecstatic Dance Atlanta — Ecstatic Dance Atlanta makes me feel all warm and fuzzy, like hot water and lemon juice, or a pharmaceutical commercial. EDA has everything. A roof, a floor, music, artists, a DJ, and my blessing. It's held in a safe space, the Chosewood Ballroom, not far from Atlanta's federal pen. Move however you want. No talking. No cell phones. No pagers. Just space, and several Burners.
Or, in the words of Ecstatic Dance Atlanta organizer Kathleen Cooley, "A room full of kind-hearted people, of varying ages, abilities, and backgrounds, dancing freely to a large variety of (music) genres woven together by a live DJ on a booming sound system. We are a phone/photo/booze/shoe free gathering, and we dance in an old Baptist church turned ballroom, noon till 2 p.m., every Sunday."
Cooley is also the host/producer of Monday-night radio show "Museday Mashup Mixer" with Katia Kool on WRFG 89.3 from midnight to 3 a.m. "I play primarily female artists from around the world (and a lot of local artists as well). I do play males … but the ratio is about 90/10. I talk a lot about sex and relationships from an older woman's vantage point," says Cooley, who stresses her radio show is not related to Ecstatic Dance, but a fun factoid about Kathleen. Y'all know I luv me some fun factoids in The Move.
Recommended donation $15, noon-2 p.m., Sundays, Chosewood Ballroom, 420 McDonough Blvd. S.E. 404-735-4841. chosewoodarts.com
WEDNESDAYS

Work That Pussy Wednesdays — Let's say you're having a rough week at work. Maybe your juice cleanse ended with you finishing an entire Sara Lee pound cake. You are loved, but maybe you should run, not walk, to MJQ Concourse. Watch those pounds melt off at Work That Pussy Wednesdays. DJ sets by Jash Jay, Ree de la Vega, and others are unveiled each week. Drag Queen Brigitte Bidet also makes appearances. I hear she shares a body with a professional dancer, if you need some new moves. 
WTPWs is another brainchild of ATL's popular DJ, Ree de la Vega, well-known for her weekly summer banger, Chaka Khan Hacienda, at 8ARM. If you see Ree on the flyer, it's gonna be colorful. Plus, MJQ misses you, even if you've never met. A wonderfully small, dark, underground club with the near sole purpose of dancing. 
Free. 11 p.m.-3 a.m. Wednesdays. MJQ Concourse, 736 Ponce de Leon Ave., 404-870-0575.
@mjqofficial @reedelavega @theJashJay @brigittebidet
FRIDAY, JANUARY 10

Manifest: An Art Show at FreeMarket Gallery — In the Freemarket Gallery's first art show of 2020, check out a personal fav, Hi.Adelaide, whose work is as whimsical and trippy as Adelaide's music videos. Oh! You didn't know? She's also the front human of Lady Clementine's Fantastic Party, a musical sensation, IMO. Here's what Adelaide has to say on the newer downtown art space: "As one of the first artists at the 86 Pryor (Street) studios it has been so incredible to watch how FreeMarket Gallery has activated Underground (Atlanta) and connected collectors and artists in the heart of the city. After a stunning first opening in November I cannot wait to see and show in 'Manifest.'"
So, let's say a gal isn't collecting fine art yet, although I have been wearing a lot of turtlenecks. FreeMarket Gallery throws these shows for curious catz and gurus alike, according to their Facebook page. "FreeMarket Gallery creates an environment based on the idea that everyone is a creative, and that even latent art consumers can find an avenue to consume artwork free of the traditional barriers of intimidation and social alliances presented by art galleries."
Free. Time TBD. FreeMarket Gallery, 86 Pryor St. S.W., www.freemarketart.com
@hi.adelaide @freemarketart
SATURDAY, JANUARY 11

Somebody Told Me: Indie Dance Party at Venkman's — Kimber and the Nonsense ATL gang threw such a bitchin' Halloween party at Venkman's they're back for more. Known for infamous glow, foam, and even cereal parties such as Heyday and Atlanta Disco Society at the Basement EAV, they are classing the dance party up at Venkman's, with a whole new vibe for those who feel too clean for East Atlanta Village. The music is for the acquired taste of the '90s, '00s, to today: LCD Soundsystem, Beck, and Oasis, more indie vibes than Spice Girls. Kimber's right, this could just be our favorite new party we've never been to, y'all. Beltline accessible!! Protect your new holiday thread haul in a cereal-free environment. 
10 p.m.-2 a.m. $10, Venkman's, 740 Ralph McGill Blvd. 470-225-6162. www.venkmans.com
@NonsenseATL @venkmansatl
THURSDAY, JANUARY 16

AMEN: A Drag Show & Competition! — A new decade welcomes a breath of fresh drag! Friends and performers of House of ALXNDR will gather to host Edgewood's longest running drag show, "Amen!" with a fresh competitive spin. Join Dotte Comm, JayBella Banks, Molly Rimswell, and TAYLOR ALXNDR for cheap drinks and ample entertainment at Sister Louisa's Church of Living Room and Ping Pong Emporium. Better known as just Church. Thank God. 
"Every month, the cast of AMEN and special guests will perform, judge, and host five competitors who will vie to win! Winner is chosen half by crowd votes, and half by the judges. Winner receives a cash prize and a spot to perform at the next month's show. In November 2020, the winners from each show (Jan.-Oct.) will compete in the AMEN Pageant. The top three will be chosen as the new AMEN cast of 2021, receive monthly bookings, and special prizes. — ALXNDR
Wanna compete? Contact the queen mother herself, TAYLOR ALXNDR (contact@tayloralxndr.com) ASAP. These spots fill fast, y'all. This event space is not ADA accessible.
Free, 11 p.m.-2 a.m. Sister Louisa's Church of the Living Room & Ping Pong Emporium, 466 Edgewood Ave. S.E. 404.522-8275. www.sisterlouisaschurch.com 
@TAYLORALXNDR @mollyrimswell @thedottecom @sisterlouisaschurch
FRIDAY, JANUARY 17

Club Soda — Club Soda returns. A resident funky house party at my favorite place to dance, The Music Room. Why? It's dark, small, and underground with a lot of house music. 
Extra funk is promised at this Club Soda set with APX, an ATL-based synth funk, Billboard- charting, world-touring duo. A mouthful you're not expected to repeat, just dance to, and they mean it. "A no-nonsense, for-dancers-only energy of the underground sans pretentiousness." Host and DJ, Taradactyl, was voted Best DJ in CL's 2019 Best of Atlanta. 
Pro tip:  Feel awkward and don't know what to do with your hands when you dance? Take a scarf. Use it as a prop. Let it guide you. Wax on. Wax off. 
11 p.m.-3 a.m. $5. The Music Room, 327 Edgewood Ave. S.E. 404-343-0111 boomboxatl.com 
@clubsodaatl  @theapxmusic  @djtaradactyl  @djnolan.one  @TheMusicRoomAtlanta
---