GRAZING: Sketches of Spain
The good life invades the BeltLine, Mamak offers vegan, the Harp spurts 40 intoxicants
SWEET: Piquillos are sweet by nature and Buena Vida adds fruitiness with Arbequina olive oil from Catalonia, plus a tempering shot of lemon. The peppers are stuffed with herbed goat cheese and garnished with fried chickpeas.
Almost 20 years ago, on September 12, 2001, I was sitting in my favorite café in Seville, feeling very lonely after the horrifying events of the preceding day. The chef came out of the kitchen with a plate of ham and a newspaper. He sat at the table, telling me how happy he was to see me and asked how I was feeling. I told him I was numb. He opened the newspaper to show me page after page of the devastation that had occurred the day before at the World Trade Center in New York City. I was completely unnerved. Soon, other customers gathered around the table, looking at the pictures. Five or six of them sat down, and for the next few hours we grazed and talked about America.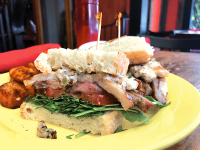 I wanted more than anything to move to Spain. That's where, as I've often put it, I felt more like myself than anywhere else. An avalanche of obligations — that plus the Euro — made moving impossible, but Spain remains the place where my imagination still roves. For that reason, it's always a bit difficult for me to visit a restaurant here that features Spanish food. In the same way immigrants are never quite content with restaurant versions of the food their mothers cooked back home, nostalgia makes me hypercritical.
For many years, it was virtually impossible to find Spanish food in Atlanta. Now, it's not so hard. The latest restaurant to open is Buena Vida Tapas & Sol. Most of the Spanish venues here seem to emphasize the cuisine of Barcelona and the Basque region. Buena Vida draws its inspiration from southern Spain — from Ibiza off the eastern coast and from the interior region, Andalusia, where Seville is located. It's where flamenco originated; where Moors, Christians, and Jews coexisted, especially aesthetically; and where the poet and playwright Federico Garcia Lorca lived. It's hot as hell most of the year and that, I assume, explains "the sol" — the sun — of the restaurant's name. 
I could hardly wait to visit. After two foiled attempts, I finally made it on a Sunday afternoon when, alas, the extensive tapas menu is radically abbreviated for a brunch menu featuring fusion entrees like shrimp and grits. There are a couple of appealing dishes made with morcilla (blood sausage), such as the hash with piquillo peppers, sweet potatoes, mushroom confit, poached eggs, and Hollandaise. Tempting, but I was there for tapas and did manage to find some classics that are also on the dinner menu. My favorite was the croquetas — four crunchy-fried orbs filled with a luxuriously creamy béchamel in which diced Serrano and Iberico ham were suspended. They were dotted with a smoky, slightly tangy pimentón (paprika) aioli. You're probably going to be a bit annoyed that the ham isn't more substantial, but understand that this dish originated to make use of scraps of meat. In any case, believe me, the ham's taste will come forward after a few bites. I'm not sure why two varieties of ham are used — Iberico is the more exotic and costly — but it reminded me of the many plates of ham I ate at that café in Seville. The owner/chef knew the pedigree of every pig — where it was raised, what it was fed, how long it had lived. If you want a more generous taste of a variety of hams, you can order a plate of it along with cheeses at Buena Vida.
Another tapa that is ubiquitous is the Spanish-style tortilla — a wedge of a thick, browned omelet usually packed with creamy potatoes. Here, the kitchen uses a changing variety of vegetables in addition to the potatoes — namely red peppers, zucchini, onions, and kale during my visit. The omelet was topped with a spoonful of intensely aromatic aioli that drizzled into a pool on the chive-scattered plate. Next up was a serving of three piquillos stuffed with Georgia goat cheese. You're going to immediately notice a fruity taste. That's because the kitchen uses Arbequina olive oil from Catalonia, complemented by an acidic shot of lemon. The piquillos are crazily scattered with fried chickpeas — a really ingenious foil for the creamy textures. The dinner menu includes many vegetarian and vegan choices, including Beyondigas — albondigas (meatballs) made with Beyond Meat. There are also seafood and meat tapas including a Sevilla-style hot chicken. I mean …. Basta with the hot chicken! There are three major items for the table — a roasted chicken, a gigantic rib eye, and a whole fish. 
The talent behind the food here is executive chef Landon Thompson, a James Beard semifinalist who was chef de cuisine at Iberian Pig and executive chef at Cooks & Soldiers, both owed by the Castellucci Hospitality Group. Those two restaurants are without argument the best Spanish venues in the city. While Cooks & Soldiers has a much fancier menu, Buena Vida has a friendlier price point — surprising, given its location in the North and Line apartment complex which, according to its website, is very "refined" and exists "at the crossroads of everything that matters." That means, of course, that it's on the BeltLine and, like its neighbors, mimics the residential architecture of Soviet Russia. Buena Vida's owners — Adam Berlin and Juan Sebastian Calle — have remedied that to some degree with an obviously Ibiza-inspired, pastel-drenched interior. Pink is everywhere, backgrounding some cool murals and pottery. At the front entrance there's a neon greeting, in memory of Calle's younger sister, which says "Te quiero mucho." It's that sincerity in the face of inevitable darkness that made me fall in love with southern Spain, and, while Buena Vida is still a work in progress, I'm looking forward to returning despite my estrangement from the place I belong.  (Buena Vida Tapas & Sol, 385 N. Angier Ave., 404-948-2312, buenavidatapas.com)
A NEW VEGAN OPTION: The people who own Mamak, the Malaysian favorite on Buford Highway, have opened Mamak Vegan Kitchen nearby in Chamblee. It's next to their other new venue, Chom Chom Vietnamese Kitchen, which I wrote about last month. I visited recently with two friends and we had a meal that lived up to the quality of the meat-eater's Mamak. 
I really wish I had the depth of character and self-discipline to become a vegetarian, but I do not. Because I know I can get up in the middle of the night and eat fried chicken, I have no desire to eat faux meat when I go to a vegetarian restaurant. I just want inventive vegetable dishes. Nonetheless, I felt compelled to try the rendang made (à la Buena Vida) with Beyond Meat at Mamak since my two companions stuck to undisguised vegetables and tofu. The original Mamak makes a superb rendang, and everything about the vegan version was as good on my first bite. But as I continued to eat, I felt like I was chewing a tenderized sponge. It had springy, meaty texture but it was too uniform. Likewise, all of the flavor at first was from the sauce, with nothing behind it like the natural flavor of meat. I could cope, but then there emerged an increasingly strong taste of, um, nothingness. I used to hate tofu, but tofu doesn't pretend to be something else, and it doesn't really deviate from the flavor it absorbs.
My friends' choices were awesome. My favorite was the kari sayur, a slightly piquant curry of creamy eggplant, broccoli, cauliflower, tomatoes, chunks of tough tofu, and especially delicious crispy okra. My other friend ordered chow kway teow — flat rice noodles tossed in a wok with tofu, bean sprouts, snow peas, and a chili paste. My miniscule problem with it was the presence of a bit too much soy sauce for my taste but, honestly, I have a low tolerance for it. My friend thought I was an idiot, but, really, I'm not. The menu's picture was barely tinted with the sauce. (Mamak Vegan Kitchen, 2390 Chamblee Tucker Road, 678-909-8188, mamakvegan.com)
BUENO AND CHEAP: I admit that while I was eating at Buena Vida, I kept thinking about Eclipse di Luna, where I've frequently eaten lunch over the years. Its menu offers inexpensive tapas — artful classics and novelties — along with specials. Recently I had an easily fetishized sandwich of pork belly, arugula, tomatoes, and roasted jalapeno aioli on ciabatta. Plus they got paella. (Eclipse di Luna, 764 Miami Circle, 404-846-0449, eclipsediluna.net)
---