See our
guide to COVID-19 in Atlanta
(this page last updated )
A guide to maneuvering the SBA 'Paycheck Protection' loan program
The state of Georgia has been declared a disaster area — a guide to helping you prevent your small business from becoming one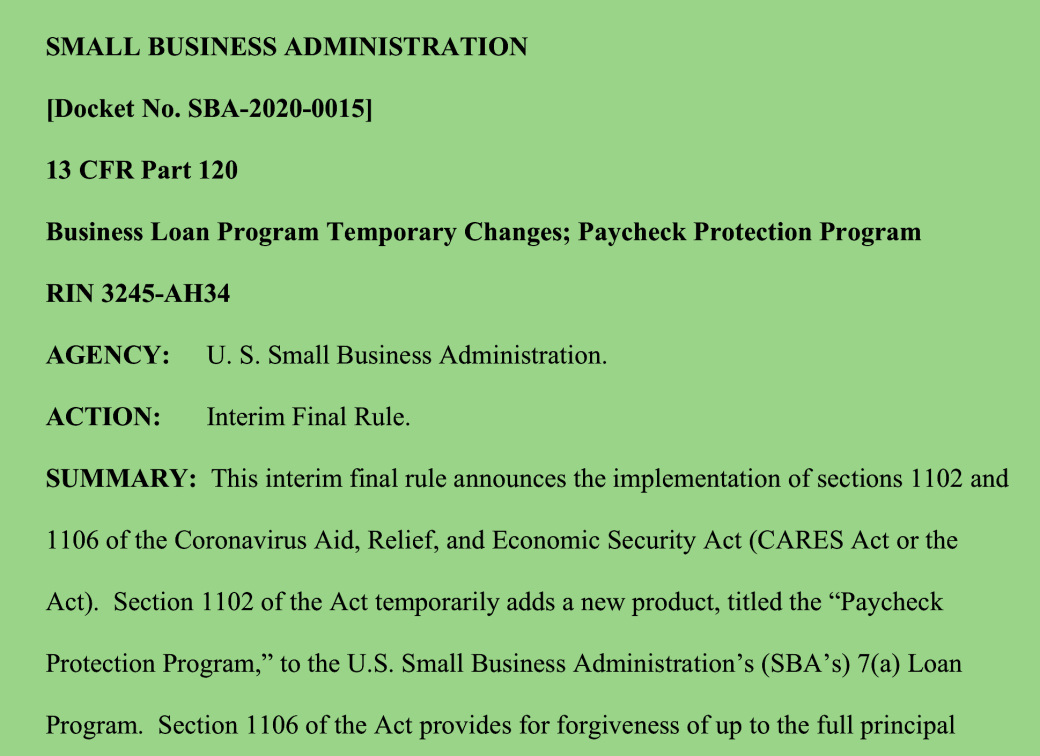 Small Business Association disaster loans
Friends,
We wanted to share our experiences with fellow business owners on how the new Congressional legislation is working. We're queued up with our SBA lender and are in the process of applying for the emergency loan package. Here's what we understand so far (we'll keep this updated as we progress):
If you own or are involved with a small business, the SBA "Cares Act" loan program basically is a three step process:  (1) take your avg monthly payroll + 1099 payments to individuals over the past 12 months; (2) take that monthly payroll and multiply by 2.5 times. This is what the SBA will lend you. The SBA then forgives payments you make over the first 8 weeks of the loan to payroll (including 1099), rent and utilities. So if you borrow the money and then re-hire your employees, every dollar spent is forgiven debt. The SBA has waived the personal guarantees normally required.
Here's the info on the SBA and the Emergency Loans
Here's some Q&A/tips on the program from our Florida based law firm.
Here's a Q&A/tips from the Atlanta-based Troutman Sanders' parent firm with advice to bankers on how to handle the loans. This is good to see what bankers are reading as they are gearing up to lend.

In addition, there are two more options to consider:
For businesses with general liability insurance there may be a case for business interruption insurance.
The State of Georgia is officially a disaster zone and there are emergency funds available to businesses including a $10,000 quick payment mechanism. This disaster loan is a standard SBA emergency loan with repayment terms, etc. but can be rolled up into the larger loan without a personal guarantee.
2020.04.02 Update: We received the preliminary loan application last night and submitted it to the bank. We're using a community bank in Florida where we have had a relationship for the past several years who specializes in SBA loans. It is a 2 page application. Hard part is calculating 12 month average payroll but once you have this, the rest is checking off that you aren't a criminal. Bank says it will get back to us and expects to process it on Friday if application is complete.
2020.04.02 Update: The Treasury issued a new set of regulations that is throwing all the banks off a bit. Interest rate changed slightly and they changed the way companies could calculate the overall amount they can borrow to just include formal payroll. This is going to create a problem for businesses that have 1099 employees as this sets up a process for either unemployment or a long queue for individuals to have to go thru a swamped SBA process. If I were a freelancer or being paid by 1099 income, I'd recommend going to the unemployment process and see if the State of GA can start to handle this. Paying unemployment to 1099 workers isn't something the State is used to so expect some confusion to set in.
2020.04.03 Update: Our banker emailed at 11:53pm (midnight) with a list of items that might be needed. also gave me his cell number, email, etc. and encouraged me to call with any questions over the weekend. Seems like the Treasury change last night threw everyone off. Hearsay from friends on Wall Street and Private Equity - there is great fear that the US Treasury isn't staffed to handle the promises made by the Congress. This might turn out to be a mirror of the promised "Covid 19 tests". Hope not. 
2020.04.04 Update: Our bank got swamped with so many loans that they had to shut down the acceptance of new applications until the first batch of loans gets cleared. 
2020.04.06 Update: I sent an email submitting all the additional information - basically was asking for payroll information for calendar year 2019 and then YTD thru March 1, 2020. Seems like the Treasury is moving timing around for purposes of computing the overall loan amount. They also wanted some W2 information. It was pretty easy to provide as we just did this for year end accounting. On the email, i asked for information on where we are in the queue and got a call back mid-morning. The bank is running two 12 hour shifts and they hand the files off and go home and sleep and then come back for another shift. We seemed to have give all the info needed so we were moving along. The bank had yet to get any loans thru the SBA but they were optimistic that things were going to be processed. One key item - we seemed to have a "number" from the SBA so this seemed to suggest we have a file that just needs populating.
2020.04.09 Update: We're expecting a call today or Friday with some sense of what the queue looks like ... more to come. 
2020.04.11 Update: We got an email from our banker saying they are working through our application and to should have an undate in the next day or two.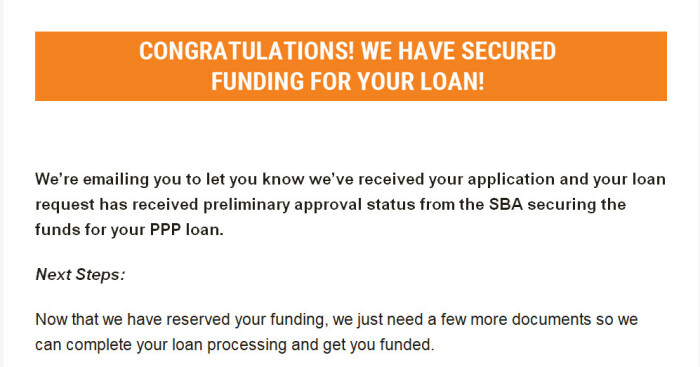 2020.04.13 Update: We received an automated email saying "Congratulations!" but more documentation was needed and there will be another email request for info in the next 24-48 hours. The documentation is similar to what we've submitted but there is a more detailed request for bank statements, the last tax return and where you want the funds to be sent. Crossing our fingers that we're close. 
Update: 2020.04.16 – We are still awaiting the 24-48 hour promised update from our bank. We're at 72 hours but thinking these guys are swamped. When we saw the news that the program was going to run out of money, we sent a note to the bank asking if we are still good and got an immediate reply that they had the funds secured. A few friends of friends have gotten funded so we'll see. Congress is working on refreshing the funds but the talks have been slowed this week over whether or not to give additional money to hospitals/municipalities in addition to reloading the SBA money. The politics are going to get gnarly as connected businesses get money and true small businesses and 1099 contractors without easy access to advice are going to get screwed. Access to high quality information and the confidence to access/navigate the fluid situation is going to be the life or death of Atlanta's small business community.
Update: 2020.04.16 – The Wall Street Journal is reporting that SBA has shut the doors on the small business program. One note of caution, there is a game of chicken going on between the Republicans and Democrats on the next bill so keep in mind that the SBA is an arm of the Trump Administration and has an incentive to play up the closing of the funds batch of money. Not pretty but there is no way there aren't more funds coming in this program so small businesses need to find a bank and queue up for the next round. Most banks have a "waiting list".
Update 2020.04.17 - We got the email from the bank asking for the final round of documents. Pretty straightforward request for last tax return, 3 months of bank statements, a borrowing resolution form to sign, driver's license photo, payroll summary and a quick worksheet for how you intend to use the funds. The worksheet spells out that 75% of the money must go to payroll. There is a reference in the request for information that says "funding date, targeted at 10 days from SBA Authorization." We're guess that the autorization was made with the Congratulations email from April 11th. If so, maybe next Tuesday or Wednesday?
Update 2020.04.24 - We got a call from the bank that they hit a glitch with their internal software trying to manage the volume of loans and thought they would be able to clear all the loans over the weekend.
Update 2020.04.30 - We got a final request from the bank to submit the 2019 tax return related to the business. We had provided all the information that would have been on that form but seemed that the SBA wants to see this on the proper IRS form. An hour after submitting this, we got an email saying the loan had been completed. Everything in the fine print was what we had expected - no new surprises thankfully. Funding is supposed to be done within 2 business days.
Update 2020.05.01 - We received our cash. It was deposited directly into our account. Now the work turns to the rules for how to use the money so it gets written off. Hope this log is helpful to others going thru this process.
Ben Eason
ben.eason@creativeloafing.com
---