GRAZING: Little Bear: In planning for six years, open two weeks, currently takeout only
Jarrett Stieber 'radically' transforms the dining experience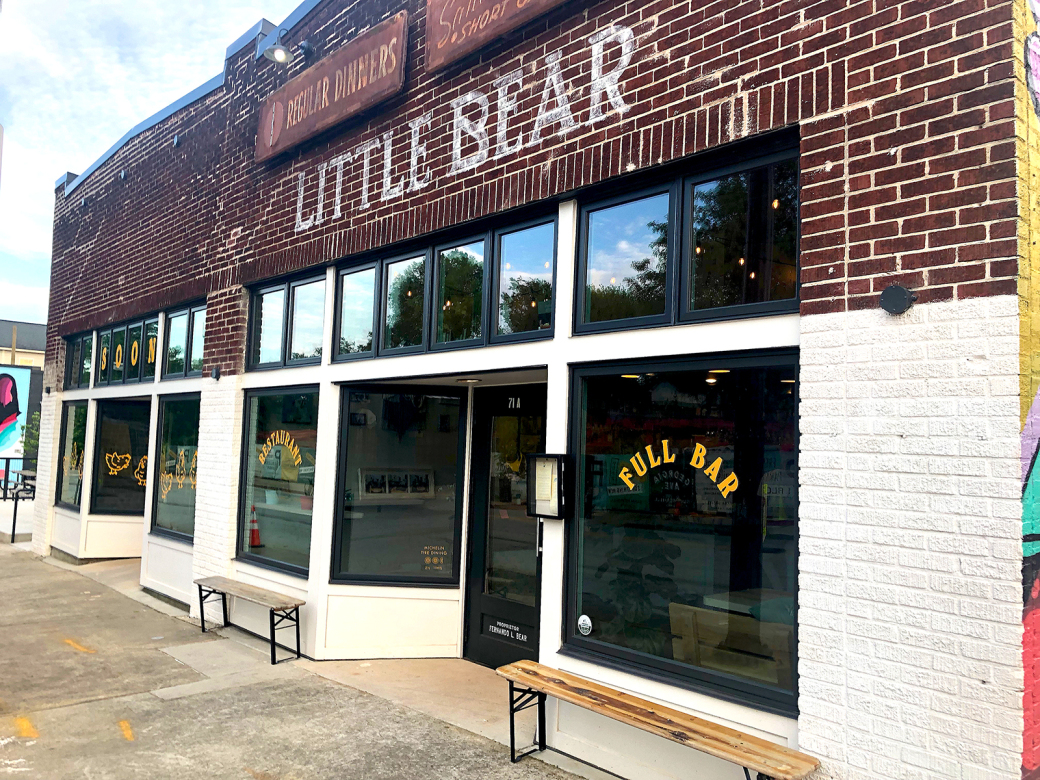 LITTLE BEAR: The nondescript exterior in Summerhill reflects the tamer side of Jarrett Stieber's carefully imperfect aesthetic. It's like the black takeout boxes that contain food fit for eating with your very best magic mushrooms.
Every plague has its silver lining. For the first two weeks of March, I unsuccessfully tried to get a table at Jarrett Stieber's greatly anticipated new restaurant, Little Bear, in Summerhill. Then the plague arrived and turned the restaurant — six years in the making — into a takeout joint. So, the silver lining is that you and I get to more easily score five or six courses of Stieber's prix fixe menu. 
But that's the only silver lining I've encountered lately. When I wrote my last column in March, the mayor had not yet locked down the city. Since then, the coronavirus has created a tsunami of misery, sweeping through all sectors of the economy. Layoffs, furloughs, cutbacks, closings, and firings have been especially difficult for restaurants. Most operate on a slim profit margin to begin with and — let's be honest — most employees are poorly paid and living paycheck-to-paycheck. For many, it's a transition or side job while they seek a more stable career opportunity. Since the crash, many forms of assistance, from free meals to fundraised cash, have become available to unemployed restaurant workers, but we are standing on the precipice of a second Great Recession, which caused reorganization of the entire economy. We're likely destined again for a new "normal."
As it happens, "normal" is not a word that would suit Jarrett Stieber, regardless of the economy. I, like most of Atlanta, have been intrigued by his cooking ever since he opened the pop-up, Eat Me Speak Me. He started out miserably unappreciated by the public at Candler Park Market and The General Muir in 2013. High points of that time included cooking blood sausage on a panini press and being overshadowed by matzoh balls. In 2014, he moved EMSM to Gato and it arguably become the city's favorite pop-up. In 2017, he moved the operation to SOS Tiki Bar, which he vacated last year to get Little Bear rolling.
While many other restaurants have cut staff and turned to takeout, Stieber's business is doing so well that he has not had to lay off any of his small crew or reduce pay. There are many reasons why. The food is of course the preeminent one. It's often described as "whimsical."  Stieber guesses that's partly because of the menu's humor. An example is the standing title of his shareable prix fixe menu: "Just fuck me up, fam'," sarcastically referring to the true experience of family dining. The restaurant's proprietor, by the way, is the greatly anthropomorphized Pyrenees mountain dog that Stieber and his wife Hallie own. His real name is Fernando but his nickname is, yes, Little Bear. (Please, no ABBA jokes.) Maybe the clearest example of linguistic whimsy is the front window's announcement that the restaurant has won a rating of 2.5 tires from Michelin Tire Dining. It's goofy but it all adds up to a pointedly satirical attitude toward the pretensions of fine dining.
The funny thing is that Stieber is a James Beard semifinalist and, on the surface, his food resembles contemporary fine dining: smallish plates of strictly local produce and proteins, unexpected flavor combinations, artful presentation. Consider the Spanish-inspired menu featured during the week I fetched a meal there. One dish was a rectangular portion of a Spanish-style tortilla made with baked eggs and mild turnips, covered with a "ropa vieja sauce" and "an egregious amount of olive oil."  WTF is ropa vieja sauce? I've eaten a ton of ropa vieja, a favorite Cuban dish, but I don't think of it as a Spanish dish or as a sauce. Stieber clarified in an email: "We thought it would be fun to include some flavors from places Spain forced their will on… Ropa vieja as more of a red-wine, braised meat gravy sauce to serve on another dish sounded fun to us." So, there you have it: a classic tor-tilla that deliciously dishonors Spanish colonialism.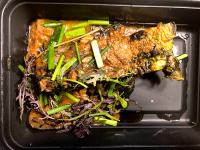 There were also the inevitable patatas bravas, but Stieber makes them with sweet potatoes, cooking them to addictive crispy-creamy perfection in a concoction of pork fat, coffee, and chili oil, then drizzled with aioli. The protein of the week was Catalan-style pork meatballs combined with a fetish of Catalonia — roasted green onions under salbitxada, a usually red sauce turned weirdly green by Stieber. The opening soup, caldo de Gallego, was absolutely the best version I've ever had. I opened the container and the odor of fennel blasted the room like the sins in Pandora's box. It was made with red peas instead of white beans and was hellishly fiery. Stieber swears it wasn't intentional, but the meal ended with a pastry, a pestiño — fried, honey-glazed dough flavored with benne and anise, which echoed the licorice flavor of the fennel that began the meal. It was apparently also coincidental that pestiños are only available during Christmas and Holy Week in Spain and were indeed served by Little Bear during Holy Week. The meal also included a stunning salad of gem lettuce, dill, radishes, and shavings of sharp idiazabal cheese, made from sheep's milk. There was, finally, a second dessert of traditional almond cake, dusted with powdered sugar, allegedly flavored with strawberries.
So, what, besides the satirical approach, makes this food actually different from fine dining? For one significant thing, there's the cost. The menu I've described was $55 for two. On the brink of recession, that may not sound inexpensive — and you better tip $15 minimum — but it's as many as seven dishes of entirely local ingredients for two! Still, to me the truly notable thing is the artistry. Stieber, chef de cuisine Jacob Armando, and executive sous chef Trevor Vick work just the opposite of most kitchens. Instead of going shopping with a recipe, they go shopping and then dream up a recipe. Stieber describes the process: 
"The thought process for making a dish is pretty simple, actually. Unlike most restaurants, we order from the farms we buy from first, then use what we get to put together our menu instead of thinking of a dish then ordering whatever product we need to make it happen. So from there, we kind of use the ingredients like pieces in a puzzle so we can make dishes that have a balance of color, texture, and eye appeal. Usually the formula is basically to balance those elements, then make sure there's something a little unusual or unique so that we can remain creative and stand out. That twist could be an unusual flavor combination, a different technique, or preparation for something which might be done a different way more often, etc. Another thing we like to do is layer condiments/sauces in our dishes so that every bite has the intended starting flavor of the dish, and you don't have to struggle to get a solid bite, but, as you eat the dish and drag things around, elements mix together and create new flavors by the end."
This is an impressive description of how creativity spurns originality, similar to the Greeks' explanation. In their view creativity is not internally generated but arises outside of us. They personified that process as an encounter with the muse. In the same way, Stieber is saying that inspiration begins with the available ingredients. That's often demonstrated as a game on the nightmare known as food TV, but the process is impossible to sustain in a high-volume restaurant, using ordinary ingredients. I don't mean to suggest that Stieber is a complete savant. He's been cooking half his life, having begun at 15 when he haunted Alon's before getting a paid job there at 16. Also a musician, he enrolled at UNC-Asheville to study music recording but rapidly realized he wanted to continue playing and writing music, not engineering it. He came back to Atlanta, where his practical parents told him he was going to need a real job to back up his music making. So he landed at Le Cordon Bleu in Tucker. That was in 2007. While there, he got a job at Hector Santiago's restaurant, Pura Vida, which was my favorite restaurant in the city during its few years of preternatural existence. It was there that Stieber learned how an uninhibited, inventive chef can radically transform the experience of dining.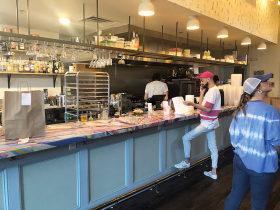 After Stieber graduated, he migrated from kitchen to kitchen in Atlanta. Restaurants on his resume include Restaurant Eugene, Holeman & Finch, and Empire State South, all of which employed Ryan Smith, now the chef/owner of Staplehouse. If you're familiar with Smith's brilliant work, you'll instantly spot its influence in Stieber's. The main difference, I think, is rigor. As I told a friend, Stieber's cooking is what you would get if Hector Santiago fucked with Ryan Smith's food. It's a bit messier, compellingly so, but almost in a conversely studied way. Sort of like perfect "messy hair." In fact, I jokingly accused Stieber of being OCD. He explained — elaborately — why he was not. 
Stieber doesn't deny that his particular method — refined for seven years with Eat Me Speak Me — is risky, so that he's constantly testing, tweaking, giving up, and restarting. But creativity always risks occasional failure and, even more painful, mediocrity. The only problem I had with my Little Bear experience was trivial — the effect of takeout itself. The crew arranges every dish in detail in its own sturdy black takeout box, so transferring anything to a plate is going to disrupt the beauty. I did find most of the food more tepid than I like, but we all know that hot food in a box ain't pretty by the time you get it home. The restaurant also vends "Fernando's Liver Stimulus Package" —  boutique wines, spritz kits, beer, and cider.
I suggest you order now, because when Donald Trump reopens the gates to Moneyland, you won't get a table at Little Bear. —CL—
Little Bear, 71-A Georgia Ave. S.E., 404-500-5396, littlebearatl.com. Open for takeout only, Wednesday–Sunday. You can order by phone, 10:30 a.m-8 p.m., for pickup 5-8 p.m. Vegetarian and vegan options are available when ordered a day in advance. The menu and photos are posted weekly to Twitter and Instagram, @littlebearatl. Unemployed restaurant workers who need a meal may DM chef de cuisine Jacob Armando via Instagram, @fourtimespicy. He is preparing and delivering free meals on Tuesday nights.
---