Look at things differently
Change to come
With the killings of Breonna Taylor, Ahmaud Arbery, George Floyd, and Rayshard Brooks, things are changing. Protests and demonstrations have rocked cities the world over as people of all colors are demanding justice and equality for all, and that Black Lives Matter.
Racists policies are being overturned; statues honoring Confederate traitors are coming down; symbols of oppression to people of color, from Christopher Columbus to Woodrow Wilson, are being reviewed and removed; police strangle- and chokeholds are being banned; and standard operating procedures of police departments throughout the United States are being questioned and changed.
The status quo is no longer acceptable. Everything must change — a "revolution of values," as the Reverend Dr. Bernice King states, is in order, for Black lives to matter. The old ways of thinking are outdated. Systemic racism in our society must end.
The United States is now at an important point in its history, as people stand up to the murders of innocent Black civilians and not only take to the streets, but demand real change in our society and in our culture.
In this issue of Creative Loafing we not only offer such perspectives from many of our regular contributors, but our art director Blake Tannery has called on four Black Atlanta artists to illustrate what they feel at this particular point in time.
To best present their artwork, we've designed this issue a little differently. While you may read it from front to back as you would any issue, we ask you to:
Open to the center spread.
Carefully remove the staples binding the pages together.
Pull out each broadsheet so that you may fully appreciate the artwork — and subsequent articles — as a whole.
The Artists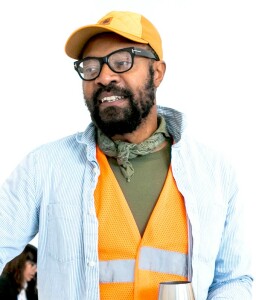 William Downs is a contemporary American artist residing in Atlanta, Georgia. His varied work includes drawing, painting and printmaking, installation, and three-dimensional studies. For Downs, "the line" is paradoxically fundamental and surreal, based on its infinite capabilities. His work expresses truth in common forms turned ambiguous, while his use of repetition distorts expectations of truth. Downs' forms form, reform, and deform. Downs received a B.F.A in Painting and Printmaking from the Atlanta College of Art and Design and a multidisciplinary M.F.A from the Mount Royal School of Art at the Maryland Institute College of Art. His awards include Artadia and The Working Artist Project at MOCA GA. His work has been included in nationally touring shows with Art AIDS America, curated by Rock Hushka and Jonathan Katz; and in Black Pulp! curated by Mark Thomas Gibson and William Villalongo. His shows include: Contemporary Art Museum St. Louis, Grizzly Grizzly, Tempus Projects, and Zuckerman Museum of Art. 

INSIDE THE PRINT EDITION:
"Living in a Day Mare," page 10.
"unarmed," page 23.
Zipporah Joe'l is originally from South Carolina. She is inspired by her upbringing in the rural South and all of the juxtapositions it had to offer. Her work is chrome wheels on a dirt road. She's most known for her illustrations created using gouache and pen on watercolor paper.

"Black is Infinite"
This work is meant to serve as a reminder that there is power in being still. In moments of stillness, we can hear ourselves, and we hear God — a reminder that outside opinions have no power when you remember, know, and see yourself as you truly are. You ARE abundance, you ARE creation, you ARE joy, you ARE wisdom, you ARE worthy, you ARE love ... Nourish those truths every damn day.
INSIDE THE PRINT EDITION:
"Black is Infinite," page 16 and 17.
Dr. Fahamu Pecou received his BFA at the Atlanta College of Art in 1997 and a Ph.D. from Emory University in 2018. Dr. Pecou exhibits his art worldwide in addition to giving lectures and speaking engagements at colleges and universities. As an educator, Dr. Pecou has developed (ad)Vantage Point, a narrative-based arts curriculum focused on Black male youth. Pecou's work is featured in noted private and public national and international collections including: Smithsonian National Museum of African American Art and Culture, Société Generale (Paris), Nasher Museum at Duke University, The High Museum of Art, Crystal Bridges Museum of American Art, Seattle Art Museum, Paul R. Jones Collection, Clark Atlanta University Art Collection, and Museum of Contemporary Art Georgia.

"For centuries, Black lives have been plagued by the looming threat of death and violence," Dr. Pecou says. "This threat once wielded as a means of control and coercion persists in contemporary times. Whether (a result of) high-profile political assassinations, police brutality, health disparities, or even the results of pathological self-destruction, Black existence is fraught with the specters of death intent on inducing trauma and inspiring fear."
In this ongoing series of expressionist drawings, Dr. Fahamu Pecou confronts the death-bound narrative by highlighting the enduring legacies of iconic individuals. "REAL NEGUS DONT DIE" asserts that not even death can stop us. "Negus," an Amharic word denoting royalty, uses both alliteration and subversion to reference the powerful impact that the recent deaths of individuals like George Floyd, Breonna Taylor, Rayshard Brooks, and Ahmaud Arbery, among others, have had in our society. Rather than being forever silenced, these individuals have been elevated to the status of kings and queens, their deaths inspiring millions of others to stand and fight back against injustice and oppression.
"REAL NEGUS DONT DIE" resists the narrative of death as destruction and diminishes the finality and trauma that the threat of death inspires. The series reminds us that the work we do can have a lasting impact, and stands as a reminder that our lives (and sometimes our deaths) have meaning and purpose.
INSIDE THE PRINT EDITION:
"REAL NEGUS DONT DIE: Why We Stand (For George)," page 14.
"REAL NEGUS DONT DIE: Homebound (For Rayshard)," page 19. EDITOR'S NOTE: We ran an incorrect title in the July print edition for this piece. Our apologies for the error and any confusion it may have caused.
Sachi Rome is a painter, muralist, and mixed-media artist from Atlanta, Georgia. As a child growing up in the inner city she was often left with little to do, and to pass the day, she and her twin sister would spend hours in secondhand stores, looking for clothes and books. Rome's joy of the treasure hunt and the ability to see the beauty and usefulness in discarded items was nurtured and honed at this time. Her love of making and creating evolved and grew as she went on to graduate from Morris Brown College and pursue art and art education.

Rome briefly studied under the critically acclaimed African American artist Louis Delsarte. His influence is reflected in her focus on color and impressionistic texture. Rome's works seek to change the social history behind who is captured and immortalized through portraiture. The current direction of her work looks at the connection between history, time, memory, and past lives. The imagery presents dignity and grace while seeking to give voice to the unheard voices of the silent Black woman, disconnected sister, lost brother, or friend. She is regifting them with life and audience.
INSIDE THE PRINT EDITION:
"Blues Breaking," 40" X 40" acrylic and diamond dust on Strathmore. "She breaks through her blues to find joy and light," page 12.
"Young General," 36" X 40" acrylic and diamond dust on stretched canvas.. "Focused on the fight before him" page 21.
"These works are part of a series called 'Anything But Brushes' (no paint brushes are used at all). I'm driven to capture the essence of people who have left this earthly plane too soon. The abstract portraits that I present are the essence and energy of ancestors who lost their lives before their time. … I am a conduit of energy, color, and textures that manifest into forgotten and lost ancestors. The work reflects a need to continue the stories of the lost and voiceless who still demand to be heard. As an artist, I keep telling these stories and hope that one day Black lives will not be cut short and can live out the full and rich stories that life and the world have intended for them."
"Anything but Brushes" series employs unconventional tools — such as kitchen spatulas of various sizes, combs, and torn cardboard — for mark-making, to allow a disconnect from the conscious mind's expectations of the mark. The work of each series is a focused effort at channeling the energy and history of past generations, honoring the ancestors' request for new presence and life.
Rome is currently a 2020/2022 TCP Fellow recipient and is seeking opportunities for her first major solo show. You can find her at
www.sachistudioart.com
and @sachistudioart, on Instagram, Facebook, and Twitter. ­
—CL—
---