ATL UNTRAPPED: The new stomping grounds — Atlanta hip-hop list
Journey through the places, spaces, and experiences significant to the city's new wave of hip-hop artists
I. The car

Yes, one of the places most significant to the current state Atlanta hip-hop scene is the car — whether that means your car, my car, their car, or a random car altogether. Long gone are the days where the key to making a name for yourself in the city was investing in studio time to record a mixtape and hoping that blogs would pick it up. Now, it can all start with a car freestyle.
As seen with Deante' Hitchcock — whose viral car freestyles earned him the recognition of Mark Pitts and a spot on RCA Records — a well-executed performance in one's whip can be a Firestarter for a successful rap career. The approach is not solely linked to Hitchcock either. Several artists, from Shunie and Omeretta to King Khali and Almiighty Renzo, have put their best flows and lyrics on display with car freestyles, and as a result, the world is now watching Atlanta's rising wordsmiths.
II. Cam Kirk Studios

Cam Kirk is one of the city's most legendary photographers and creatives. His catalogue of work is unparalleled, and includes iconic images that grace the cover to Gucci Mane's Trap God 3 mixtape in 2013 as well as the cover for Migos' Rich Nigga Timeline in 2014. His work has inspired the likes of photographers such as Gunner Stahl, and thanks to his easily accessible downtown studio, he has also become one of the most meaningful resources for Atlanta's rising artists.
With different booking options available, artists on a wide range of budgets can book the studio as well as use its backdrops, lighting equipment, creative color gels, and editing studio for any type of creative project, from a cover photo shoot to video-work. Last year, 3, the artist behind the incredible single "Feel Something," shot the album artwork for his 2019 project
Bloom
here, and this year, the newly minted XXL Freshman Mulatto shot the promotional artwork for her "Muwop" single, which features Gucci Mane and a sample from his classic track "Freaky Gurl." Ironically, one of the photographs for the promotional campaign is a frame-for-frame recreation of Kirk's aforementioned shot of Gucci for
Trap God 3
, further showing how Kirk's influence has seeped into this new generation of rappers.
III. The Masquerade
Even at its inception — at the original location in the Old Fourth Ward — the Masquerade has been the stomping ground for fresh hip-hop talent. Mainstream acts from across the country such as Mac Miller, Travis Scott, Kid Cudi, and Wiz Khalifa all made successful stops at the venue along their journeys to superstardom. In recent years, the Masquerade has increased its embrace of the city's diverse hip-hop acts. Much in part due to the efforts of local talent buyer Joe Warren, rappers of all styles have gained opportunities to open for historic and major label acts who perform there, including Johnny Apollo opening for U-God and Yung Baby Tate doing so for Rico Nasty. The Masquerade has also been the home to some great locally curated rap events, with excellent showcases featuring artists such as Will Hill, BOREGARD., ProtéJay, Hadiyah George, Daylan Gideon, SwaVay, and El Chapo.
IV. Sprite

Sprite's love for rap isn't new. The carbonated beverage brand notably partnered with Kurtis Blow for a commercial in 1986 and has maintained its support of rap and hip-hop into the 21st century. A product of The Coca-Cola Company, Sprite's work with Drake in 2010 inspired the iconic line, "I avoided the coke game and went with Sprite instead" on the intro to his debut album Thank Me Later. Ironically, in a city known for its loyalty to Coca-Cola, for rising artists here, things go better with Sprite.
Rightfully so, as of late, the Atlanta-based brand has stepped up its interest in the city's hip-hop scene. Last year, it held the "Sprite Way Live" music showcase, featuring local artists such as Ray Moon and Cam the Artisan. This summer, after the egregious displays of police brutality across the country, Sprite doubled down on its support for hip-hop, Atlanta, and most importantly, Black Lives. Not only did it release the "Dreams Realized" commercial, which was curated with the help of Cam Kirk and featured images of several young local creatives, it gave two young ATLiens — recording artist Willis the Lion and gifted photographer Talecia Tucker — their own commercials, which have been airing nonstop during the NBA playoffs (when the playoffs occur).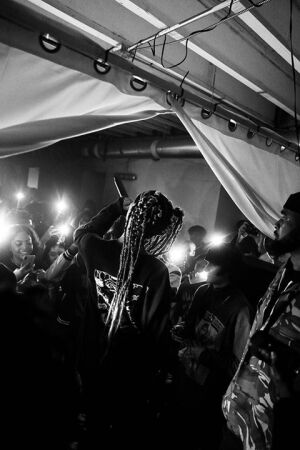 V. Shop FMM (Bktherula)
Atlanta's love for getting jiggy is no secret, and the next wave of hip-hop artists is no exception. Sure, shops like Wish ATL, A Ma Maniere, and Versus ATL continue to be go-to spots to grab vintage gear as well as the latest in streetwear, but few shops have become as culturally relevant to the current state of Atlanta rap as Shop FMM (Fashion Maniere Moda) Located on Peters Street SW, the shop is run by creatives including Lukas Liu and LifeonMars (Marcus O'Neal), and it attracts some of the city's most buzzing talent. In addition to supplying custom-made clothing and vintage streetwear, the shop has also served as the location for creative events like the Rula Festival earlier this year, where Bktherula (newly signed to Warner Bros.) headlined a showcase of Atlanta artists and premiered her independently released
Love Santana
mixtape, distributed by Shop FMM.
VI. Little Five Points
In addition to simply being one of the best areas in Atlanta, period, Little Five Points is a significant part of the ATL for rising artists. Housing the legendary venue Aisle 5, L5P has been home to unforgettable concerts from Jaye Newton, Danger Incorporated, Wiley from Atlanta, $odaman, and many others. With a plethora of record stores, eccentric clothing stores, and its vibrant aesthetic, L5P is the home for everything from record release parties to music video shoots. In fact, at the top of this summer, Cam the Artisan released the visuals to his latest single "Brown Skin," a wholesome yet catchy ode to the magnificence of Black women. The video was filmed on location in Little Five Points, serving as hip-hop's latest nod to the grooviest neighborhood in the city.
VII. Issa Rae (Zaia, Sons of the James)
While it's not a physical place that you can plug into Google Maps and pull up to, Issa Rae's "radar" is somewhere that Atlanta artists are nonetheless managing to find on their own. The fourth season of her hit HBO series
Insecure
aired earlier this summer. The robust collection of music featured over the 10 episodes featured two of Atlanta's most compelling talents. Already prepping the release of his latest endeavor,
Very Alone
, Zaia was quickly reminded of the success of his
RESET
EP from last year, when "Waste My Time," one of the standouts from the visual project, was featured in the season's second episode, "Lowkey Distant." Additionally, Rob Milton was featured months later in the season's penultimate episode, "Lowkey Trying," with the inclusion of "Things I Should Have Said," the first single from his new R&B outfit Sons of the James. At this point, Issa Rae is becoming a pillar of Atlanta's music scene.
VIII. Lotus Rosery (Kalenbree, Lord Bones, Sammy Surf)
Locally hosted music festivals like A3C and ONE Musicfest continue to put Atlanta on the national festival circuit map. Although they both have reputations for giving local talent career-boosting placement, they're not a starting point for most rising artists. Lotus Rosery is the independent festival that gets artists ready for those bigger experiences and helps them find their bearings onstage. The massive local showcase first started in 2018, featuring Destiny Briona, Keshore, Kenny Mason, Xiamara Jennings, Timxspnt, Jazz Ingram, and Cam the Artisan. Since its inaugural outing, Lotus Rosery has expanded with DJ sets and art installments, adding artists such as Kalenbree, Lord Bones, Sammy Surf, June, and Tahj Keeton to its growing alumni.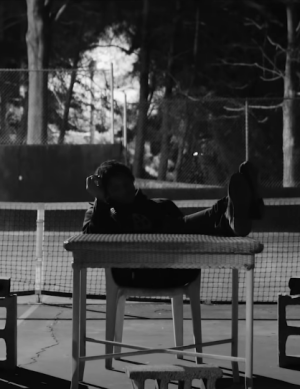 IX. A video shoot (Kenny Mason, 2FeetBino)
For Atlanta's upcoming artists, music is only one part of the package. Many already excel in that department and have turned their attention to creating supplementary content to fully bring their work to life. In a city of impressive visuals, there is no shortage of directors and videographers. From creatives like Planet Shubh crafting quirky music videos (Jelani Imani and DavidTheTragic) to directors like Nasser Boulaich guiding the gorgeous visuals for breakout albums like 2FeetBino's
A Story Never Told
and Kenny Mason's
Angelic Hoodrat
, the people helping to bring the city's crazy visuals to life are some of the most significant elements of Atlanta's hip-hop scene today.
X. A Creezed studio session
A good engineer, let alone a great one, is hard to come by, but Creezed has earned the trust of Atlanta hip-hop artists as one of the go-to engineers for quality recording, mixing, and mastering. He has worked with many of the artists already mentioned here, from Cam the Artisan on his breakout single "Bliss" last year to Bktherula on her
Love Santana
project this year. His credits don't stop there, though. This year alone, Creezed has recorded and/or mixed releases from artists such as J Dlux, Simone Telease, Derrick Nealy, Ahjee Parker, and Killchris. As both an engineer and a DJ, he has explored the full gamut of Atlanta's new sounds, making him one of the sonic architects behind the new generation of artists. A studio session with Creezed in 2020 means something, plain and simple.
—CL—
---