The state of the (Redneck) Underground
How the pandemic and current politics are impacting the scene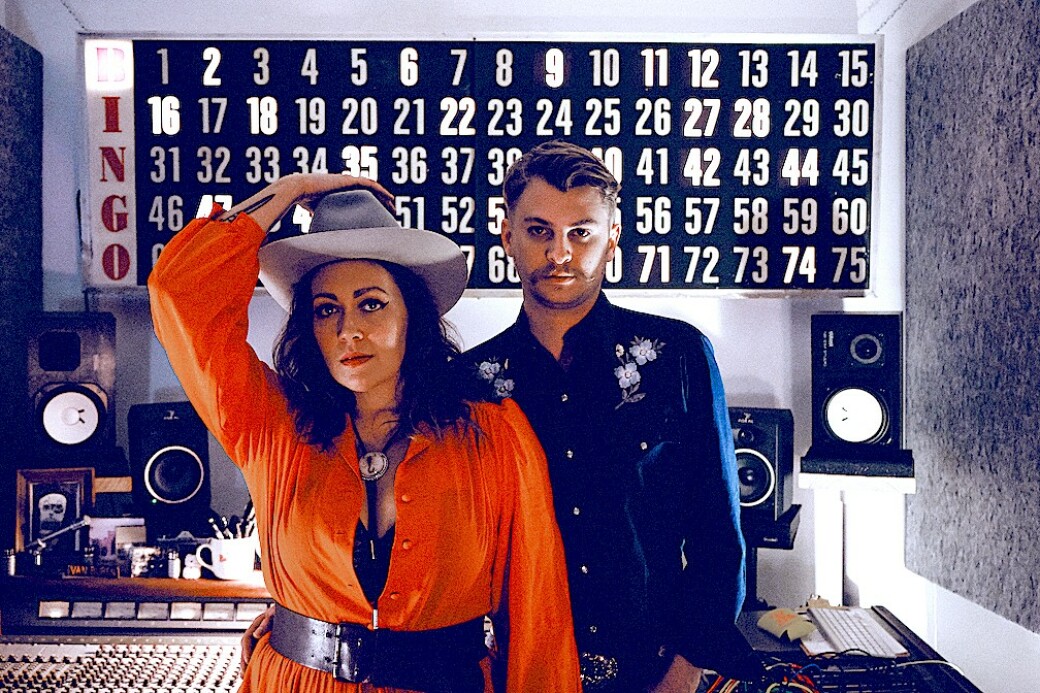 ANDREA AND MUD: The release of their new album, 'Bad News Darlin',' during the coronavirus pandemic turned into something of a self-fulfilling prophecy for the Atlanta Duo.
To say it has been a tough year so far for the Redneck Underground, a local alt-country, roots rock music scene, is an understatement. Just like every other city across the nation with a vibrant music scene, Atlanta has been profoundly affected by the COVID-19 pandemic, and to a lesser extent, so far, by the paradigm shift in American culture, particularly as it applies to the South and Southern iconography. The power of language and imagery has become a point of contention as people are gradually becoming "woke" to the actual meanings and implications of certain signifiers, and there is a lot of discussion around the cultural appropriateness of these objects and ideas.
The Redneck Underground is an aggregation of bands, a product of both geography and style, combining the heritage of Deep South roots and Southern identity with the country/rockabilly music born and bred all over the South. While mainstream country music was already popular in the Atlanta area, the Redneck Underground  — the alternative country music scene in Atlanta (for lack of a better definition) — emerged from an Inman Park dive bar called the Austin Avenue Buffet in the late 1980s. The Buffet's two-room set up was perfect for live music, and the owner was happy to have roots-oriented performances on various Friday and Saturday nights.
Bands like Slim Chance & the Convicts (full disclosure: this writer's band), Dave Weil's Blacktop Rockets, Caroline Hull Engel's Trail of Tears (later Caroline & the Ramblers), and many others performed regularly at the Buffet, and when the crowds outgrew the location, the bands moved to the newly opened Star Community Bar in Little Five Points. With more space and longer nights, the scene grew in size and popularity. Bands such as Billy Ratliff's Truckadelic started playing often, and more recently the Wheel Knockers and Andrea & Mud have been part of the scene. It was at the Star Bar where bookers Faylynn Owen and the late Gregory Dean Smalley created "Bubbapalooza" in 1993, a full-on weekend-long celebration of the Redneck Underground scene, that is held every year on Memorial Day weekend … until this year.
The most obvious problem confronting the local roots music scene is the shutdown and quarantine. A music community thrives on social interaction in public places, and with the bars and music venues closed, this doesn't happen. The situation was already problematic with the closing of the Star Bar on December 31, 2019. The new owners took over and started remodeling, but before they could open the doors, the pandemic hit. Most intown venues that featured live music have also been closed, and the consequences have been frustrating and disappointing.
Dan "Jet Powers" McNeill, frontman for The Wheel Knockers, who have just released their debut album Hearse, Nurse, or Tow, reflects on what his band has missed. "We had hoped for a fun album release party at The Star Bar back in April with The Billygoats and local surf combo The Mystery Men? We were also looking forward to Bubbapalooza. Both were obviously canceled."

"Our last 'normal' show was at our beloved Lloyd's Lounge on March 6," laments Andrea Colburn, of country duo Andrea and Mud.  "We have done some livestreams, but they quickly got very disheartening. There's an obvious lack of connection with the crowd, and that's what I miss most about performing — seeing people singing along and dancing, meeting them after the show, and hearing how our music makes them feel."
Kyle "Mud" Moseley describes another aspect that is missing without live shows. "I'd often go see others' performances for inspiration, and that's obviously a no-go. And frankly I don't enjoy the livestreams as much as in-person performances."
In spite of the lack of actual physical interaction, some artists have been using social media to entertain their fans and generate a little income. Bryan Malone, a member of The Forty-Fives and booker at the Star Bar, has been organizing the "Almost Live at Little Five" streaming shows every two to three weeks, and doing his solo streams every Thursday. The "Little Five" events feature music by Star Bar regulars, some corny comedy, and of course, Ted Weldon as the host. Local legend Ratliff of Truckadelic and Thrillbillys (and many others) fame, has tried his hand at a few online shows. He says, "To satisfy my performance jones I've been working on 30- to 40-minute shows for social media that combine my own songs with favorites from all genres that wouldn't translate well with the band. Reinventing my songs to fit my voice (his songs are usually sung by Weldon in one or the other of the bands) and as solo songs has been challenging and loads of fun."
According to singer Caroline Hull Engel, the pandemic simply made her band get creative. "Caroline & the Ramblers jumped in pretty quickly with some livestream shows after COVID hit. We did a few outdoor socially distanced shows on both our bass player's front lawn and mine. They were very well received, and we even had some folks come over to hang out in the front yard in their beach chairs — of course, socially distanced and wearing masks."
The timing of the pandemic has greatly affected the work habits of local musicians and has limited opportunities. Both The Wheel Knockers and Andrea and Mud released new music just before or during the quarantine. This has restricted their planned promotions and prevented touring. According to Colburn, "Releasing Bad News Darlin' a few months into the pandemic was extremely tough. Not being able to be on the road and get actual feedback from the mouths of our fans was tough. The album got many great reviews and just made it to #50 on the Americana charts, so it did extremely well, especially considering we are the only independent band on the charts. I guess we will always have to wonder how it would have done if the world wasn't in lockdown at the time of its release."
For a working band like Andrea and Mud, the lockdown has stifled their livelihood. She notes, "The first tour that we had to cancel due to the pandemic was going to be up north, like, way north, almost to Canada." Moseley adds that there is more than a financial loss. "I miss the unexpected things of being on the road: meeting awesome new fans, coming around the bend to an amazing view, etc. I also miss the friends we have made from coast to coast and most of all, the immediate reward you get from creating something of your own and being well received."
One thing about isolation is that creative people usually create. The downtime has been productive in many ways for musicians. Ratliff describes his day: "I find myself playing a lot more guitar at home than before when I was gigging and rehearsing with the band regularly, and this has resulted in an awakening of my songwriting muse as I knock off the cobwebs and explore the dusty roads of my creativity. More writing will translate into new songs for the band when and if we ever get to gigging again."
A bit less productive, other than finally getting Hearse, Nurse, or Tow in the hands of the fans, McNeill keeps the band in the circle. "We have Knocker Knight about once a week — an hour or so Zoom meeting where we check in with each other, talk music, drink beer, and sometimes even discuss band business. From a creative standpoint we haven't been as productive as one might think. I have managed to finish a couple songs, but that's about it." Andrea and Mud have been writing songs, cooking, fishing, gardening, and hanging with their cat.
While many folks are simply waiting out the pandemic before resuming normal music-related activities, there has been major movement in the country as a whole regarding significant political issues. The uprising of protests surrounding the multiple shootings and deaths of African Americans involving police officers has taken center stage in many cities, bringing a new awareness — along with change — to the cultural rift in America. This has been particularly controversial in the South, where Confederate monuments and the "Stars & Bars" flag have been identified as signifiers of a racist history. The efforts to remove these images have been strong and met with great resistance. Part of this revisionism includes concepts such as the term "redneck," often associated with racist Southern history and a rather regressive mentality. So how does this impact the "Redneck Underground?"
The term, as it applies to the local roots/country/rockabilly music scene, has apocryphal beginnings. Often credited to the late Deacon Lunchbox, it may have come from a conversation he had with journalist Bob Townsend many years ago. Regardless, it stuck, since it so fittingly described the scene at the time.
In 2006 I wrote a chapter for a book of essays on Americana music, an edited version of which ran in the now-defunct Georgia Music Magazine. The "Redneck Underground" was defined as functioning on two levels. First, it was based on what is commonly referred to as "redneck culture" — classic country music, NASCAR, family, an affinity for Southern iconography and signifiers, and a strong regional pride in being Southern. Second, it was "underground" in the sense that it was clearly a counterculture, a reactive response to the trendy hipster scene that was also thriving in Atlanta at the time. But most importantly, there was a love of Southern culture without the historic racism, ignorance, and prejudices that have stigmatized the South for so many years.
The history of American music is fascinating — and the contributions of people of color immeasurable. Both country music and rock 'n' roll would not exist without the massive influence of African Americans, as the foundations of both were built with roots deep in slave field chants, gospel, and griot traditions that predate the blues. Nevertheless, country music has been a fairly homogenous white music scene, and to a great extent, so has the Redneck Underground. Not exclusionary, and not on purpose, it's been more a result of today's culturally parceled world. A few members of bands that identify with the Redneck Underground have been Black, or POC, along with plenty of audience participants of various cultural backgrounds —  and there has always been an open door for everyone. It has been clear, with a few of the old-timers at the Austin Avenue Buffet being the exception, grumbling when a POC entered the bar to see a show, that racism is not tolerated or condoned in the Redneck Underground. And the Americana Music Association, which focuses almost exclusively on roots music, has done great work in expanding its "tent" to be much more inclusive and broad. A deep discussion of race in country music is far too expansive for the scope of this story, however the recent Ken Burns' documentary "Country Music" is a wonderful and comprehensive resource for insight into the blending of cultures into the art form we know today.
Joel Burkhart, a kind and popular soundman and musician (AM Gold) who migrated from Detroit to Atlanta in the mid-'90s, reflects on his experience upon discovering the open attitudes of the local scene. "One of the first things I learned about the Redneck Underground was that it was the exact opposite of what I thought a redneck was. I saw all of you rallying around a little man (Gregory Dean Smalley) with a big disease with a little name (AIDS), and at that time in the early '90s, AIDS still seemed a taboo thing to discuss in many circles. Yet the Redneck Underground leaned into it and helped support him, and, after he passed, his family." Burkhart continues, "I have watched this Underground fight for equality, disavow racism and hate, and continue to support each other. I realized when I moved down here that there was much more diversity to being Southern than what I was raised to believe. There were a lot of people in the South that didn't fit in the Duke Brothers/Boss Hogg version of the South that I was sold."
There are some differing opinions on how the term Redneck Underground should be handled. For example, Weil (of the Blacktop Rockets and more recently the Moonlight Mechanics) feels the term was not personally appropriate from the get-go. "I never really embraced the term 'Redneck Underground' as much as a lot of the other folks. Mostly because I'm a Yankee and never thought of 'redneck' as any part of who I am. Where I'm from, the term had almost entirely negative connotations."
Engel, who was born, raised, and has lived in Georgia all her life, sees things a bit differently. "I am a proud Southerner and I have been honored to be a part of this scene for many years. I feel that using the term 'Redneck Underground' is harmless and, in the musical context, should not be confused with the racists and bigots out there. I know for a fact that there is a certain amount of 'shtick' that goes along with the scene. That does not mean I agree with or that I am proud of certain aspects of the South's past — to the contrary. However, there is a lot more to being a Southerner and part of a music scene that celebrates a slice of Southern culture than the stereotypes invoked by the media, television, and film." Engel's concept of the Redneck Underground seems in line with the general attitude; however, it begs the question, does it offend or marginalize others?
"In light of the current atmosphere in America and the fact that 'certain individuals' have emboldened racists and empowered white supremacists to come out of their hidey holes, I think it's important to tread carefully," observes Ratliff. "Over the years, the term redneck has morphed into being equated with racism and ignorance. I used to be proud to be called a redneck, but now I fear it mistakenly gives the appearance of acceptance and support of racism. I say chuck it, unless used in the context of documenting a time and movement that was wonderfully creative and glorious and totally devoid of racism and other connotations now associated with the term."
Colburn, a relative newcomer to the Redneck Underground scene, sees the issue from two sides. "I am pretty sure that anyone that knows the scene it describes, knows that the people included in this term are actually very open-minded and progressive. If it were put to rest, I would understand why, though. I'm the kind of person that does not get offended by words in general, but I know how important it has been for society to remove anything with racist undertones."
"The Redneck Underground never appeared (to me) bigoted or racist. I hope it's not, but with 'redneck' in the title it might always be associated with the assholes who reject objective morality and the facts to back it up," Moseley adds. "Is it for me to decide if it's time to move on from the name? No."
Perhaps it's best to let the natural order of life and society take its course, and see where the scene ends up. The political issues of the name appear to be secondary to those who are part of the scene, but their focus is also on maintaining open doors and focusing on socially relevant concerns. Colburn encapsulates the shared feelings of many of the locals, who are missing the music and the tribe. "Maybe there will be some good from this. Maybe quarantine will make everyone appreciate the things that we had been taking for granted for so long; like hugging our friends or standing front row at a show and feeling the music. I am very hopeful for that." I think that sums it up for all of us very nicely. —CL—
---