THE BLOTTER: Stupid phone call of the month
And other tales of life in the ATL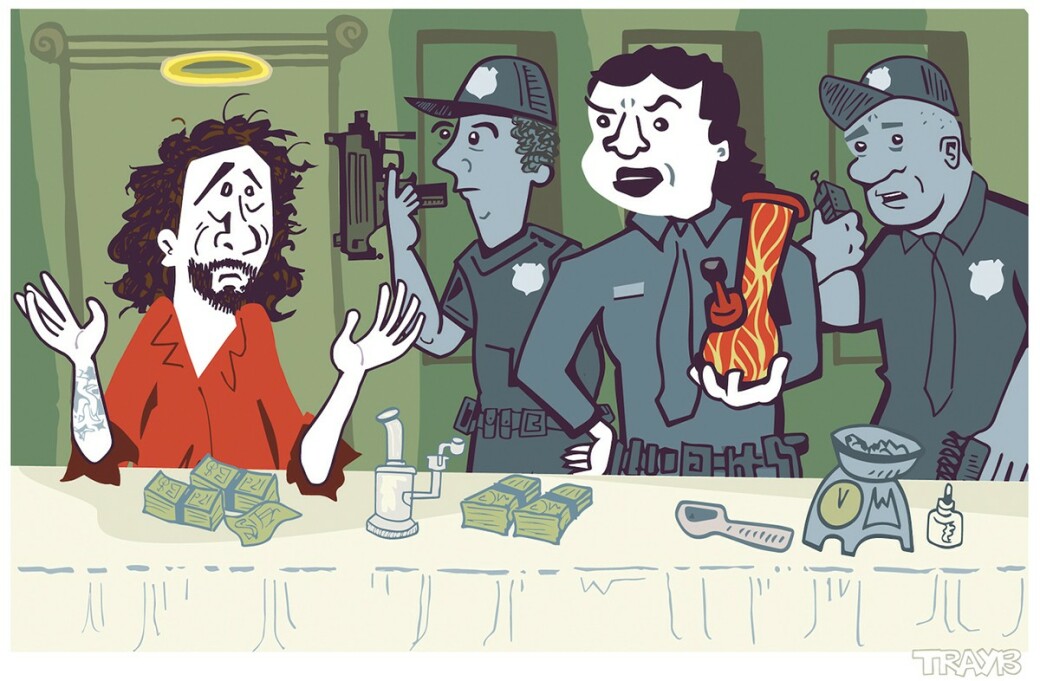 WET AND WILD: A sheriff's department had some amusing (and obviously fake) advice for how Georgia drivers should handle rain.
The Oconee County Sheriff's Department posted the advice on Facebook after heavy rain from the remnants of Hurricane Sally moved through.
"Y'all are doing a pretty good job driving in the relentless rain, but as always some of y'all don't get it. Headlights. Who needs 'em?" deputies wrote. "Turn them OFF in the driving rain and drive in stealth mode. Two or three of you had your lights on this morning like losers. Stop it."
The sarcastic post also mocked drivers going too fast on wet roads.
"Hydroplaning can only occur if you are going faster than 35 mph. How fast can you go? Faster means you will be the first to the scene of the crash," the post read. "Don't settle for second place."
The post also compared Atlanta drivers to NASCAR racers: "NASCAR runs bald tires so you should too. Those wimps don't even race in the rain either. Dale (Earnhardt) Junior is ashamed of y'all."
GET YOUR BOOTY TO THE POLL: How important is the upcoming election? Just ask Atlanta's strip club dancers — who banded together to produce a sassy, sexy PSA encouraging Atlantans to get out the vote. There's plenty of spicy booty shots in the 1:30 clip — with the words "One" and "Vote" prominently displayed on strippers' derrieres. The entire video includes lots of stripper-pole dancing, awesome and skimpy outfits … and some wise words on the value of every individual vote. 
One hot stripper says, "If your vote didn't matter there wouldn't be so many people trying to discourage you from casting it. We have the power to create the change we want to see, and we can do that by voting for people who we trust to prioritize our interests and concerns. Go vote!"
Atlanta strippers also started a website encouraging people to vote. getyourbootytothepoll.com features online resources for registering, researching candidates, and voting in the upcoming election. 
HOME-SCHOOL SURVIVAL ACCESSORIES: Parents appearing half-dressed, drinking, or smoking during their kids' virtual classrooms has prompted teachers at Boca Raton Elementary in Florida to speak up during a school board meeting.
"Parents, please make sure that you have on proper clothing when you are walking behind your child's computer, because we've seen them in their drawers, their bras, and everything else," one teacher said.
Some parents had been seen holding cigarettes and possibly joints, the teacher said, according to WSBTV.
"Parents, when you are helping your children at their computer please do not appear with big joints in your hands and cigarettes. Those joints be as big as cigars. Oh yeah, we've seen it all," she said. "I had a father, no shirt, drinking a beer at 11:45 in the morning," another teacher said.
DON'T BE A MASK-HOLE: A father says he doesn't understand why his fifth-grade son was asked to remove his Hooters-themed face mask at school.
"There is nothing offensive or derogatory about this mask," the father told WESH TV.
His son said his elementary school teacher said something about his mask in class.
"I wore it, and she said it was not appropriate for school. I asked her why, and she said if you really want to know why go ask the principal," the 11-year-old said.
The boy's father says his son has worn the Hooters mask for four weeks now. It wasn't until recently that his son was told to remove it.
"I don't think it's offensive at all. It's just a restaurant," the father said.
STUPID PHONE CALL OF THE MONTH: In Austell, Georgia, a 24-year-old man called police to report a possible home burglary … but he's the one who wound up in handcuffs, headed for jail.
Apparently, he forgot to put away his bags of drugs, cash, and machine guns. He called 911 after midnight to say he could see someone breaking into his home on his security camera.
According to WSBTV," Officers showed up to the house after they got a call about a home break-in. They searched for a burglar, found a window open, and went inside to make sure it was safe, police said. Officers didn't find anyone, but they came across the drugs and guns out in the open.".
The male caller arrived home at 12:45 p.m. — and was immediately arrested. He's charged with numerous crimes for possession of guns and drugs with intent to distribute.
The Austell Police Department says it was their biggest bust of the year. 
TICKET TO RIDE: In Cherokee County, Georgia, a man ran away from a traffic stop near I-75, leaving behind a winning Georgia lottery ticket in his car.
Wondering what happens to his lottery ticket? Well, deputies posted on Facebook to let the suspect know.
"To the suspect who ran on foot from our deputies on a traffic stop this morning on I-75, you left a winning $100.00 lottery ticket in your vehicle," the Cherokee County Sheriffs' Office wrote on Facebook. "You can claim your ticket at 498 Chattin Drive in Canton. It will be here waiting for you. Congratulations, by the way."
But that doesn't go for everything deputies found in the man's car.
"Yes he will get his lottery ticket back, but we are keeping his methamphetamine," the Cherokee County Sheriff's Office acknowledged.
Deputies eventually found the man not far from where they originally stopped him.
YOUR TAX DOLLARS VANISHED: Ex-Atlanta Chief Financial Officer Jim Beard was indicted for fraud, theft from the government, possession of machine guns, and obstructing federal tax laws. Beard was Atlanta's chief financial officer for six and a half years under former Mayor Kasim Reed.
Federal prosecutors allege that "Jim Beard allegedly abused his position as one of the most powerful executives in the City of Atlanta to commit federal crimes for his own gain, including stealing tens of thousands of dollars of the public's money …"
They accuse him of defrauding the city out of tens of thousands of dollars by using those funds in a range of inappropriate ways, including using his city of Atlanta credit card to pay $3,800 for hotel rooms in Chicago when his stepdaughter went to the Lollapalooza Music Festival in 2015 and 2016. Beard was not even in Chicago for the festival.
In one bizarre instance, the U.S. Attorney's Office said Beard "ordered two custom-built machine guns that he caused to be delivered to Atlanta City Hall, after which Beard illegally took possession of the machine guns for his personal use …. Beard then had the City of Atlanta issue a $2,641.90 check to pay for the machine guns."
Beard earned a salary of approximately $221,108 for his position as CFO for the city of Atlanta. —CL—
The Blotter Diva compiles reports from the Atlanta Police Department and local news reports — and puts them into her own words.
---