Dining out: Hero Donuts and Buns plus Hot Dog Pete's in Summerhill; Estrellita in Grant Park
Doughnuts, weenies, purple ice cream, and fried pork chop sandwiches
I can't take it anymore. The dining room has become a solitary confinement cell where cobwebs float onto plates piled with food that has all the pizzazz of an electric can opener. I eat at my desk, staring at the TV, watching sanctimonious Chris Cuomo not listen to the responses of guests he interviews. Ultimately, I take the one pill that has made COVID-19 bearable — Ambien — and totter off to bed at 9:30. Really, I'm going crazy. Finally, though, it came to pass on a late Friday afternoon in mid-October, that I just had to eat out.
No, it wasn't something exotic or fancy I craved. I wanted to check out the new Hero Doughnuts and Buns, in Summerhill, not far from home. It shares ownership, Alabama origins, and a patio with the also new Hot Dog Pete's. What could beat a burger, a hot dog, fries, and a doughnut for an early dinner, seated socially distant on a patio on a beautiful day? Unfortunately, as I walked across the street from the large parking lot at the end of Georgia Avenue, I saw that the front patio between the two restaurants was packed. I'm talking elbow-to-elbow people and virtually nobody wearing a mask. Actually, they weren't even eating, so I have no idea what the deal was. Perhaps Gov. Kemp was about to mimic his lover Donald Trump by staging a Rose Garden-style super-spreader weenie roast. I don't know. I ordered my stuff for takeout and resisted the urge to go all-out, pro-mask Karen.
As I've written here before, I really don't trust most takeout food because the containers often affect taste and texture by basically steaming the contents. You don't get to taste the food at its best. For that reason, I'm reluctant to say anything definitive about Hot Dog Pete's, even though hot dogs are arguably to-go by most people's definition. While the menu features American classics like Coney Island and Chicago hot dogs, I ordered two of the more exotic sausage combos. The Hot Rod, described as "cheddarwurst sausage," was piled with bacon, caramelized onions, shredded cheddar, and barbecue sauce. The Sonora Dog features the cheddarwurst enlivened by jalapenos, topped with bacon, avocado, pinto beans, pico de gallo, mustard, and mayo. I'm not a big hot dog fan, but I shared the two dogs with someone who is. Neither of us was impressed. One of the sausages was so dry, it had wrinkled. None of the jumbled toppings offered standout flavors and, most surprising of all, the brioche buns from Alon's tasted stale and dry as hell. Like I said, it's too early to fail the place and I'm betting it gets better.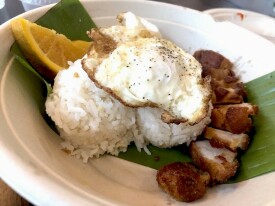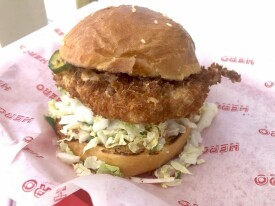 Meanwhile, there's Hero Doughnuts and Buns, which also has two locations in Alabama. I've become totally addicted and find the roomy rear patio just fine for dining on the premises. One simple way it shuts down Pete's is the far superior super-light brioche buns and doughnuts made on the premises. On my first visit, I ordered the Super Crunch sandwich — a chicken breast fried Korean-style, layered with pickles, pepper jam, and "cracked sauce," which the cashier told me also contains a heavy dose of pepper. It's crack, but not to the extent the double-patty Hero Burger is with its ton of melting American cheese, more cracked sauce, grilled onions, and bread-and-butter pickles. I was feeling cynical when I ordered the burger because it had become a nominee in Creative Loafing's best burger list during Atlanta Burger Week, despite the brief time the restaurant has been open. Well, it deserved to be there. I also ordered some crinkle fries and — sorry guys — they sucked: cold, dry, and not easy to swallow. Nonetheless, I returned for a third visit, this time ordering the panko-fried pork chop sandwich with so-called boom-boom sauce, shredded cabbage, and pickles. All three of these sandwiches were dream-worthy and compact enough to make a doughnut seem like a rational side dish. So, I tried three — a classically round pistachio, an apple fritter, and the bread pudding. The latter two are so decadent, you might want to pop them in the oven, smother them with whipped cream, and use them as an aphrodisiac to pep up your neglectful lover. The restaurant also serves breakfast buns and plates like "Loaded Hashbrowns," whose load includes the potatoes with a fried egg, onions, jalapeños, American cheese, pepper jam, cracked sauce, and your choice of bacon or three varieties of sausage. Oh yeah!
That same week, I visited a new Filipino restaurant, Estrellita, in Grant Park. My intention was takeout, but I arrived 30 minutes before closing and the dining room was empty, so I decided to eat in. This was the first time I've done that since the pandemic appeared in March. I'm happy to say I love everything about this place, which is owned by Hope Webb, Walter Cortado, and Blesseda Gamble. While it only seats a socially-distanced 20, you'll first notice the décor designed by Webb. Her inspiration is the Hollywood Regency style (which, incidentally, is on display in Ryan Murphy's "Hollywood" series on Netflix). The style's main elements are glass, mirrors, metal, and lattice patterns. That means you'll be sitting on a simple gold chair or viewing yourself in the restroom's three many-sided gold mirrors. None of this is meant to imply the golden pomposity of a Trumpian hotel. On the contrary, the ambiance is sleekly informal, and the sound system's mid-century jazz adds extra coolness.
Estrellita ("little star") is open for dinner every evening except Tuesday. I visited on a Saturday afternoon when brunch is also served. I only got to try three dishes, but I'll definitely be returning. My starter reflected the long Spanish occupation of the Philippines — a torta of creamy eggs, onions, and potatoes on a really delicious pandesal bun. My entrée was the soon-to-become notorious P.I.G. plate. That stands for pork, itlog (egg), and garlicky jasmine rice. The pork was fried and crunchy, sort of like carnitas, and the egg was likewise fried and served atop a huge serving of the rice. While I quickly polished off the pork and egg, I left a good bit of the rice behind, prompting Cortado to say, "I see you're not that much into carbs." Honestly, I don't question the plate's authenticity, but, hell yes, I wanted a lot more of that pork. I also ordered dessert — two large scoops of ice cream made of ube, a purple yam. It was accompanied by four lumpia, spring rolls filled with plantains. This was obviously meant for two but you will want to relieve your pandemic anxiety by eating the whole damn thing by yourself. The menu offers other classic Filipino dishes like shaved beef (bistek), fried pork belly, lo mein-like noodles, stews, and lumpia with savory fillings. Cortado also regularly prepares specials. My only complaint was the sauces, especially a super-sweet banana ketchup that had no banana flavor. I didn't care for another cloyingly sweet condiment that reminded me of apple sauce. Cortado rescued me from these by offering a tart soy vinegar. Much better.
These three restaurants likely represent the future by stressing takeout and small dining rooms. Unfortunately, Estrellita does not offer patio space, but that is definitely the preference of most diners for now. We'll see what happens when winter arrives. I shouldn't fail to mention that all three of these places are inexpensive. Well, some people object to paying $2.50 or more for a doughnut, but they can go to Krispy Kreme and be the foody philistines they are. You and I are so much better than that. —CL—
Hot Dog Pete's, 25 Georgia Ave., 470-369-6777, 11 a.m.-8 p.m. Sun.-Thurs., 11 a.m.-9 p.m., Fri. & Sat., hotdogpetes.com, @hotdogpetes.
Hero Doughnuts and Buns, 33 Georgia Ave., 470-369-6800, 7 a.m.-5 p.m. daily, herodoughnutsandbuns.com, @herodoughnuts.
Estrellita, 580 Woodward Ave., 404-390-3038, 5 p.m.-10 p.m. Mon. and Wed.–Sun, closed Tuesday; brunch 11 a.m.-2 p.m. Sat. and Sun., estrellitafilipino.com, @estrellitafilipino.
---