Atlanta: The city in the forest
A guide to outdoors in Atlanta
When venturing out onto Atlanta's infamous Doll's Head Trail, one of the first things you'll encounter along the path is a discarded piece of granite-turned folk art, hand-painted with an inviting message: "I took a walk in the woods and came out taller than the trees." It's an unknown quote — one that's often misattributed to Henry David Thoreau — but the transcendental message is no less poignant. Getting lost in the woods and communing with nature is an essential, therapeutic act when it comes to disconnecting from the bustle of city life and finding inner peace. Atlanta is teeming with hidden greenspaces — one of its many nicknames is "the City in a Forest."
For decades, it's been possible to drive along Ponce De Leon Avenue or Cheshire Bridge Road and see what looks to be nothing more than a small patch of trees between houses. Take a closer look, though, and it's an entryway to acres of dense, untamed forest filled with living creatures, rare fauna, and history that dates back to Atlanta's earliest beginnings.
The city still regularly reveals new places for nature excursions at nearly every turn. Not just city parks with manicured lawns, but unadulterated natural habitats where deer, snakes, muskrats, and the occasional red fox or box turtle are perfectly at home. That's practically unheard of for a metropolitan area that's home to more than six million people. Of course, the forces of development and gentrification are always closing in, but these pockets of natural wonder are an endlessly fascinating feature of the city, and worth getting to know. The following is a list of hiking spots and outdoor areas broken up by neighborhood. Personal picks are followed by other destinations in each area that are an easy day trip for anyone in the city to visit for a quick jog, or to pack a picnic and get away from the maddening crowd, if only for an afternoon. This is just a small portion of what the city has to offer.
ITP
CAPITOL VIEW
Perkerson Park is a lovely fixture of Southwest Atlanta's Capital View neighborhood. It's the largest greenspace in the area, complete with playground facilities, baseball fields, a tennis court, and an active disc golf course. What's remarkable, though, is the patch of old-growth forest that lies at the heart of the park — a real natural habitat in the city. The trees are also home to an abundance of owls, woodpeckers, and red-tailed hawks that are mostly active at dusk and dawn. 770 Deckner Ave. S.W.
• Emma Millican Park
MIDTOWN
• Piedmont Park, 400 Park Drive N.E.
MORNINGSIDE
Featuring 33.1 acres of rolling forest, Morningside Nature Preserve fills in the area between Cheshire Bridge Road and the Morningside neighborhood. At the heart of the park, the South Fork Peachtree Creek sports a tall swing bridge and the best sandy "dog beach" the city has to offer. Trails are great for hiking, running, and deer spotting. The forest is so dense and filled with wildlife that you forget you are in such close proximity to a major thoroughfare. 2020 Lenox Road N.E.

East Palisades Park occupies an expanse of land in the region of Sandy Springs — well within the Perimeter — and the sheer diversity of the landscape is overwhelming. The park features trails of various difficulty levels through diverse terrain, but one should not miss the stunning bamboo forest for which it is best known. Some of the best views of the Chattahoochee River are here, making this one of the best-loved hikes in the city. This is not the place to find total solitude, but the woods are beautiful, and there are some steep climbs for a good cardio workout. Pack a picnic, and bask in this actual natural ecosystem in the midst of the city. 1425 Indian Trail N.W., Sandy Springs.
• Island Ford Park at the Chattahoochee River , 1978 Island Ford Parkway, Sandy Springs.
NORTH ATLANTA
• Bartram Trail
• Northside Beltline Trail
• Powers Island Trail
• Red Top Mountain State Park: Iron Hill Loop Trail, Red Top Mountain Road S.E., Acworth
• Sawnee Mountain Indian Seats Trail, 2500 Bettis Tribble Gap Road, Cumming
NORTHWEST ATLANTA
• Westside Reservoir Park
• Bellwood Quarry
PONCE DE LEON CORRIDOR
The Clyde Shepherd Nature Preserve is a privately owned and maintained 28-acre park that connects with Hahn Woods near Lullwater Preserve. The park boasts an extensive network of boardwalks and trails that lead past features such as a pollinator garden, Raccoon Rock, and Beaver Pond, which is frequently visited by great blue herons, ducks, and other wildlife such as owls and deer. This is a relatively easy hike through the woods. Good for grandma, grandpa, and the kids.
Deepdene Park is the largest and easternmost stretch of the Olmsted Linear Parks on Ponce De Leon Avenue, situated between the city of Atlanta and Druid Hills. It's a shining example of the kind of park you've driven by countless times but never noticed. From the street, there's no way of knowing that it opens up to reveal a 22-acre tract of heavily-wooded terrain, complete with winding paths featuring steep slopes, running trails, a meadow, and a bubbling brook. Keep an eye out for crawdads and tiny newts going about their business in the creek bed while traversing the stone paths across the water. In the early 1900s, the park's creator Frederick Law Olmsted Sr. said, "We want a ground to which people may easily go after the day's work is done." More than a century later, Olmsted's vision for a simple yet profound escape still offers a bucolic intown setting for anyone in the city to explore and enjoy. 2199 N. Ponce De Leon Ave. N.E.
The first thing to know about Lullwater Preserve is that you cannot get there by car. Take a MARTA bus or pay to park in a deck at nearby Emory University and hike across campus to the park. It's worth putting in the extra effort, as the park is never overcrowded, and it's a bird-watching hotspot featuring kingfishers, great blue herons, and the occasional wood duck or hooded merganser. The ruins of the 1920s powerhouse at the edge of Candler Lake offer a tangible link to the past. Venture into the Hahn Woods and make your way across the impressive wood and steel span bridge over the creek. Both paved and dirt trails offer a variety of paths through this peaceful escape in the heart of the city. 1463 Clifton Road, Decatur.
• Freedom Park (Stone Mountain) Trail
SOUTH ATLANTA
• South Bend Park, 1955 Compton Drive S.E.
SOUTHEAST ATLANTA
Constitution Lakes lies at the intersection of Moreland Avenue and South River Industrial Boulevard Road — just inside the I-285 Perimeter, and a five-mile shot down Moreland from Little Five Points. This 200-acre park is the former site of the South River Brick Company. What was once an excavated pit has been reclaimed by nature, and is now a thriving wetlands, home to snakes, turtles, deer, river otters, muskrats, and some of the best bird-watching in the city. Kingfishers, egrets, sandpipers, woodpeckers, cedar waxwings, green herons, blue herons, night herons, and flocks of ducks and geese flank the scenic boardwalk, which is a destination for migratory birds as well. Along the park's 1.25 mile hiking loop, the Doll's Head Trail is a surreal folk-art maze where artist and carpenter Joel Slaton has gathered all manner of repurposed urban debris — including an awful lot of disembodied doll parts — that he's found on the property to line the path through the woods. When trains pass by on the nearby tracks, the sound and the idyllic setting will leave you in a trancelike state.
SOUTHWEST ATLANTA
Cascade Springs Nature Preserve was, in the summer of 1864, the site of one of the bloodiest conflicts fought during the Civil War, the Battle of Utoy Creek. During Reconstruction times, it was believed that water from the area's natural springs held healing properties, and it was bottled and sold. All that remains of the operation now are the ruins of a pump house and the moss-covered stone spring houses near the boardwalk to the waterfall. This 135-acre property of old-growth forests — Southern mesic, riparian, and oak-pine-hickory — features an abundance of increasingly rare Bigleaf magnolia trees. Hike through the woods to discover a picturesque boulder field atop this idyllic setting, tucked away amid the Southwest neighborhood. Grilling out is allowed here (bring your own grill), and there's plenty of space for picnicking. 2852 Cascade Road.
WESTSIDE
The Lionel Hampton-Beecher Nature Preserve is yet another flourishing intown wildlife sanctuary featuring a variety of rugged dirt and paved trails frequented by hikers and mountain bikers alike. The whole area is a haven for wildlife. Deer, box turtles, pileated woodpeckers, and hawks roam the woods freely. The land on which the nature trail sits was donated to the PATH foundation by the late jazz pianist and vibraphone master's family.
The park backs up against the Westview Cemetery and is maintained by the Westside Watershed Alliance. S.W. Connector Trail, Atlanta.
OTP
The Cochran Mill Park and Nature Center is a great place to take in some beautiful waterfalls and enjoy adventurous hiking. There are some kid-friendly sections of the trails, but the terrain is very wild, and leads to some of the least accessible hiking on this list. Putting in the extra effort is well worth it, so take off the Vans, put on your hiking boots, and prepare to get dirty. Feel free to cool off in the wading pool near the waterfall. 6875 Cochran Mill Road, Chattahoochee Hills.
Cochran Shoals Trail at the Chattahoochee River is great for running, hiking, and mountain biking. Stroll along the wide riverside path, or explore the vast network of paths comprising the adjoining Sope Creek Trail that lead to an old family cemetery, Sibley Pond, and the Marietta Paper Mill. Whether enjoying the serenity of the Chattahoochee, spotting birds and other river wildlife, or exploring the forest hills, there is no shortage of discoveries to be made here. 152 Columns Drive, Marietta.
South River Trail is a system of quiet, paved biking, running, and walking trails interspersed with paths into the woods. It's a great intown wildlife spot and a true alternative to the Beltline. Ride your bike freely here throughout a varying terrain of trees and paved trails that can take you all the way to Arabia Mountain. This one is a truly impressive resource. Make it a whole day in the woods, or take a quick, reinvigorating stroll down to the South River banks and back. The South River Trail is also part of PATH Foundation's ongoing projects to revitalize abandoned habitats within the city, connecting neighborhoods and providing an outlet for alternative means of travel, aka getting cars off of the road.
• Cloudland Canyon, 122 Cloudland Canyon Park Road, Rising Fawn
• Cohutta Wilderness, 2694 Old Hwy 2, Cisco
• FDR State Park
• Kennesaw Mountain Loop Trails, 900 Kennesaw Mountain Drive N.W. Kennesaw
• Len Foote Hike Inn Loop Trail, 280 Amicalola Falls State Park Road, Amicalola Falls State Park, Dahlonega
• Pine Mountain Trail near Allatoona Lake
• Providence Canyon State Park, 8930 Canyon Road, Lumpkin
• Sope Creek Trail, 3760 Paper Mill Road S.E., Marietta
• Vogel State Park (Coosa Backcountry and Blood Mountain Trails), 405 Vogel State Park Road, Blairsville
QUICK DRIVES
Arabia Mountain National Heritage Area is a must-see destination come springtime if you are inclined to visit only one OTP spot. The mountain's stunning geologic formations are home to five species of plant life that are listed on the state and federal endangered lists, including the bright red diamorpha plant, which lives and thrives in small pools of water. It's an extremely rare, colorful, and very fragile ecosystem that at times feels like visiting another planet. Spiderwebbed with trails, this former quarry vividly demarcates the collision of nature and industry. 3350 Klondike Road, Stonecrest.
Boundary Waters Park is a quick drive from Atlanta to Douglasville, Georgia. Just beyond the Boundary Waters Aquatic Center and frisbee golf course lies a 12-mile network of hiking, running, biking, and horseback riding trails nestled along the Chattahoochee River. The hilly terrain offers great opportunities for exercise and scenic views of the river. Don't expect to encounter too many other hikers on the trail, and give yourself plenty of time to explore the terrain before sundown. It's a peaceful alternative to nearby Sweetwater Creek State Park. 5000 GA-92, Douglasville.
Sweetwater Creek State Park is one of the most heavily traveled destinations on this list, and for good reason. Multiple trails allow hikers to craft day-long trips through a vast and varying terrain, from an open glen, to dense forest, to a lake with resident snapping turtles. The creek itself could be mistaken for a raging river, complete with rapids and boulders to traverse along the hiking path. If you're a snake lover you will most definitely find a great diversity of water snakes along the creek's edge. There are many great picnic spots here, and the ruins of the New Manchester Manufacturing Company on the creekside offers an invaluable link to the past. There's more history to be soaked up at the visitor center, which features wildlife displays and Civil War-era and Native American artifacts. The park also offers canoeing and yurt camping facilities. 1750 Mount Vernon Road, Lithia Springs.
• Stone Mountain Trail: Hiking the Walk-Up & Cherokee Trails
• Vickery Creek Trail at Roswell Mill, 95 Mill St., Roswell
• Yellow River Park, 3232 Juhan Road S.W.
RESOURCES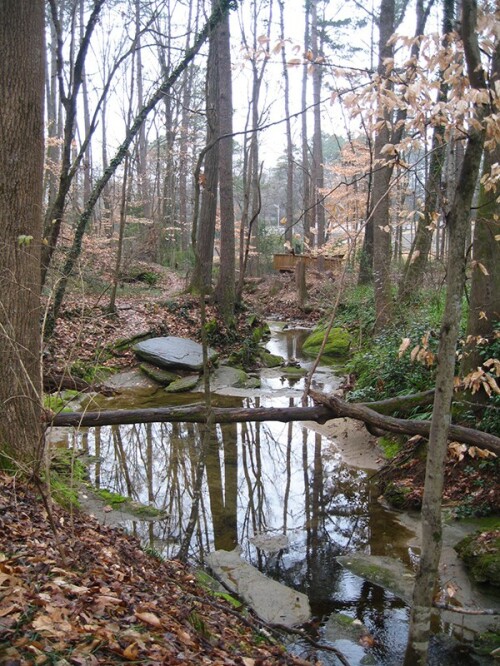 Atlanta Trails and Jonah McDonald's book Hiking Atlanta's Hidden Forests: Inside and Out are both invaluable resources for learning more about these hidden pockets of nature. The beauty, though, lies in discovering for yourself what these forests have to offer.
CAMPING AND GLAMPING SITES
Pretty much all intown parks have strictly designated opening and closing times posted, so camping isn't really an option, per se …. Although, in most cases, you'll find that there isn't anyone there to shoo you away. For the intrepid outdoorsman, Georgia is known across the country as home to several top-notch camping spots that lie just beyond the Perimeter. And if roughing it in the great outdoors ain't your thing, glamping in the area is off the charts — that is, camping with accommodation and facilities that are a bit more luxurious than a traditional tent, including electricity, air conditioning, running water, and so on. Glamping generally comes with a price tag, and requires a reservation. Airbnb seems to be a particularly trustworthy source for creative new glamping spots. The following is a list of popular camping and glamping locales for whatever your ideal experience may be.
• '69 Airstream in the City (glamping), Atlanta
• Atlanta Glamping Hostel, 2497 Hatfield Circle S.E., Atlanta
• Black Rock Mountain State Park, 3085 Black Rock Mountain Parkway, Mountain City
• Victoria Bryant State Park, 1105 Bryant Park Road, Royston
• Don Carter State Park, 5000 North Browning Bridge Road, Gainesville
• Chattahoochee Bend State Park, 425 Bobwhite Way, Newnan
• Cherry Blossom Yurt on Lookout Mountain (glamping), Rising Fawn
• Glamping at Clarks Hill, 3780 Dogwood Lane, Appling
• Cloudland Canyon State Park, 122 Cloudland Canyon Park Road, Rising Fawn
• Fort Mountain State Park, 181 Fort Mountain Park Road, Chatsworth
• Fort Yargo State Park, 210 South Broad St., Winder
• F.D. Roosevelt State Park, 2970 Georgia Highway 190, Pine Mountain
• Get Away From Atlanta, Suches
• High Falls State Park, 76 High Falls Park Drive, Jackson
• Glamping at Lake Lanier, Shady Grove Campground, 7800 Allyn Memorial Way, Cumming
• North Georgia Glamping (Geodesic Dome)
• Elatse'Yi Farm, Ellijay
• Panola Mountain State Park, 2620 Highway 155 S.W., Stockbridge
• Red Top Mountain State Park, 50 Lodge Road S.E., Acworth
• Secluded Intown Treehouse (glamping), Atlanta
• Shady Grove Campground, 7800 Allyn Memorial Way, Cumming
• Sweetwater Creek State Park, 1750 Mount Vernon Road, Lithia Springs
• Teepee in the City (glamping), Atlanta
• Terrora Campground, Jane Hurt Yarn Road, Tallulah Falls
• Tugaloo State Park, 1763 Tugaloo State Park Road, Lavonia
• Turner Campsites, 142 Turners Campsite Road, Cleveland
• Unicoi State Park & Lodge, 1788 Highway 356, Helen
• Vogel State Park, 405 Vogel State Park Road, Blairsville
RESOURCES
• Atlanta Glamping
• Georgia Glamping Company
• Glamping Hub homepage: glampinghub.com —CL—
---