THE MOVE: Plan Accordingly - April 2021
Hey, y'all! What's the move?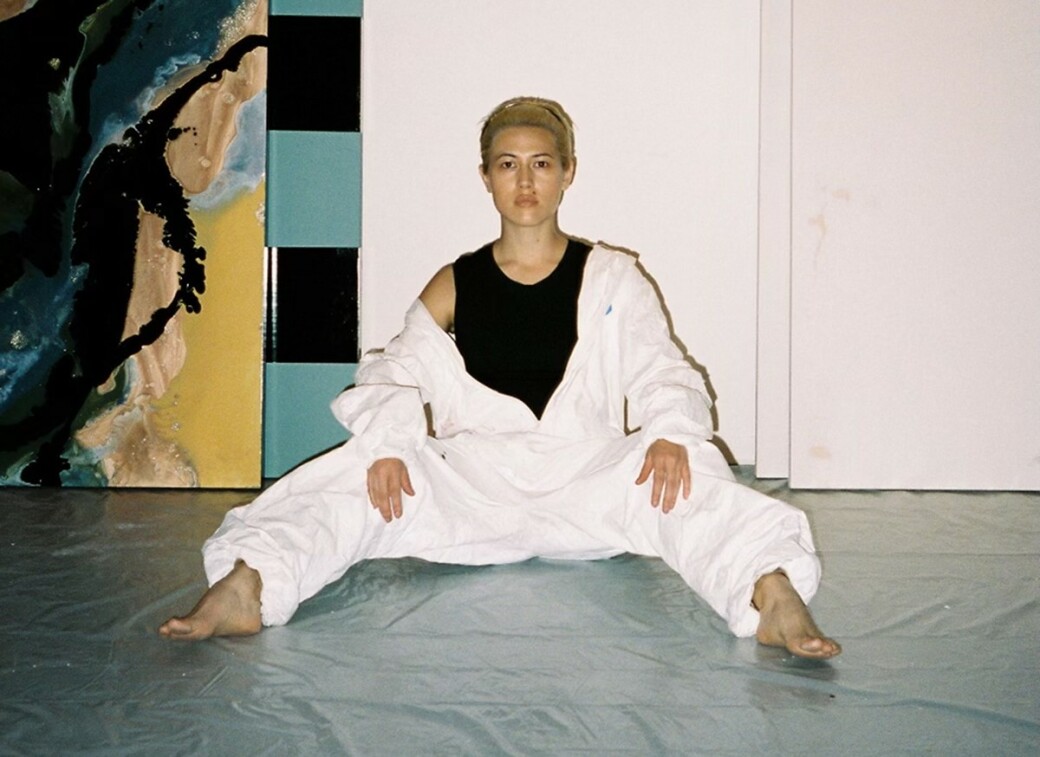 FUTURE MEDICINE: Mixed-media artist and Atlanta native Adelaide Tai will be working in real time behind a glass display on Ponce City Market's Beltline platform leading up to her April show.
The Move was og intended to get you out of the house, interact with strangers, and return home with new experiences, not coronavirus. The "new moves" recommended in this column are to be consumed at your own risk. Each in-person event requires masks and social distancing, with a free side of judgment if you don't follow said guidelines. Prefer plants over people? We've got you covered.
Cute plague trends to keep on a soon-to-be post-pandemic planet: Handwashing/sanitizer everywhere, personal space, masks are fashun too, stay cashless, delivery of everything, working from home, j.o.m.o. — the joy of missing out. And let's thank QR codes for making the comeback of the century.
If you've made it this long without catching COVID-19, strap in a bit longer. Although the mass vaccination of mankind has begun, and millions of humans have been pricked at least once with — well, we don't know exactly what's been injected — please rem there are millions left unvaccinated, and, oh yeah, variants are expert travelers. We don't know when this ride will end, but there's that glimmer of laser lights and confetti cannons in the distance.
GO OUTSIDE
And take your plants with you
All house plants, like us, want to be outside late March to October-ish. Go see them in their natural environments. Atlanta is a green city with more trees than most, and loads of walks, hikes, waterfalls, streams, and forests. See hundreds of thriving, native plants species without leaving the perimeter.
CL has done the list work for you. Pick from ITP, OTP hiking, walking and camping options. Search "Atlanta Trails" on CLATL.com.
House Plant Shopping in Atlanta
House plants started making a trendy comeback in 2017 after a supposed 30-year hiatus. Today's plant market is far from my grandmother's floral shop of the the last century. Humans are paying well into three and four figures for exotic plants that they'll likely kill. Don't believe me? Check out the gorgeous storefront at The Victorian in Ponce City Market. We're talking some 2-inch twigs for $297 — check out the rare plants in shop's small exotic greenhouse — some so gorgeous and rare, the owner won't sell. That's not a diss. Much love that they and their plants are thriving.
If you're not a risk taker, or are new to plant parenting, stick with low-priced stuff. The best plant is one snipped and propagated — or generation plants, we like to say. If you're feeling fancy, Atlanta has no shortage of lushly curated vine shops and pop-ups. Varnish & Vine, known for large cacti, pop ups now every Saturday and Sunday with Bradford Botanicals Co. And, new to Glenwood Park, Goat City Plant Design offers green shopping space and delivery to metro Atlanta and beyond.
April 2-4
Start to Finish: An Art and Home Decor Showcase — On the Plaza, or BeltLine side of Ponce City Market, look for an immersive expo of home goods, plants, and fine art. Designed to allow onlookers to lose themselves in the full lifecycle of spacial decor with The Print Shop by FreeMarket, in conjunction with The Victorian (plants!) and Sustainable Home Goods, "Start to Finish" offers an art and home decor showcase.
In tandem, "Future Medicine," the new fine art collection from mixed-media artist and Atlanta native, Adelaide Tai, will be unveiled. The entire collection is being created now while BeltLine witnesses watch Tai mixing her medicines in isolation through glass walls.
"The mystical world of energy healing found me around the same time as painting, a little lost and looking for direction. As my work as an artist grew, so did my love for alternative healing modalities.
"I have studied Pranic Healing and Reiki, learning about how energy functions on a spiritual and emotional level, inextricably tied to the operations of the physical body. I see how as both modern medicine and holistic therapies evolve, the distance and skepticism between them decreases.
"Just as once-considered-alternative practices like acupuncture are being fully recognized for their efficacy and integrated into hospital systems around the country, I believe that in the future art will be appreciated as inherent to humanity's wellbeing.
"Elevated spaces and conscious audio-visual interiors are the future medicine." — Adelaide Tai.
April 10
Oakland Cemetery Plant Sale — A one-day outdoor plant sale open to the public. Tickets required! To avoid lines, this year a $10 ticket/reservation is required. That price is good for two guests and the 10 bucks goes towards any purchases.
This year's lineup promises rare and exotic, "hard to find" plants. Instead of running over the elderly browsing the shrubbery, consider joining the cemetery's nonprofit organization. Membership includes early-bird shopping!
April 17
Mystic District Market: The Herbal Edition — Cults are back. Think makers market with good goth vibes. Vintage vendors, including Simmering Babe Vintage; edible delights by the Hi Five fam; plants for sale; IRL LIVE music and entertainment located in the parking lot behind The Basement EAV. Meet other humans who likely think cults are hot right now.
Hosted by SZN Alxndr with special guest SHI by Florista, SILK WOLF, Ralo + Elio Stereo, and performances by The Off Centered Project will be OUTSIDE for everyone's pleasure.
Tickets are $6.66. Don't get caught dead without one. Rain or shine! Hella storm make-up date is April 18, tho.
The Basement, 1245 Glenwood Avenue S. E., 8 p.m.- 2 a.m.
April 19-25
ATL Burger Week — What if all y'all had to do was eat burgers to save the world? Eating burgers during ATL Burger Week 2021 could save some neighborhood restaurants. That's right. Our food friends who've survived are going to be recouping losses for quite some time. By ordering take-out, delivery, or dinner for one at the socially distant bar, y'all are helping our local restaurants, servers, and staff stay alive.
One week only, order the competition burger at as many participating restaurants listed at www.atlburgerweek.com. Once you feel the meat sweats come on, it's time to vote online for your favorite. Follow along @ATLBurgerWeek
April 23-25
Bear Shadow — Highlands, North Carolina. Not all festivals are dormant. If you're willing to take a short two-hours-plus-change drive towards the NC mountains and glamp or car camp, live outdoor music could be in your future. The following musical performers will be in the flesh, not streamed: Mandolin Orange, St. Paul & The Broken Bones, Drew Holcomb & The Neighbors, Chuck Leavell, The War & Treaty, Jamestown Revival, Shelly Colvin, Devon Gilfillian, Robert Ellis, and more, near the classy mountain town of Highlands, NC.
Remember concerts? They pair well with on-site Bear Shadow activities such as guitar lessons, yoga, and "Hike & Mics"  aka guided hikes followed by cocktails, acoustic live — again that's 3D not streamed — tunes. Psst. Hike & Mics end on a sweet note with "nice ass swag bags" (tip from an anonymous Atlanta influencer). Grab your bubble pod squad and head to the mountain top, Sweet Bithkits!
Multiple locations .Free Food. Comida Gratis. Open 24/7.
"A community fridge is a refrigerator that is placed in a public space to enable food to be shared, at no cost, within a community. Anyone can take food out or put food in. This is a mutual aid initiative — not charity." — free99fridge.com
Just a few reasons for such a great idea are less food waste, easy access to fresh, healthy food; and encouragement to y'all to connect with your community.
There is 24/7 access if you or someone you know is in need; if you have leftovers, please consider donating to any of the locations. Each location is named in honor of a Black community family member whose life was taken tragically too soon. There's a Slack channel you can check to read what's going on at each fridge in real time, what's needed, etc. Just make sure you call each fridge by their names: Korryn, Sandra, Floyd, Breonna, Elijah, and Tamir.
Book Currently Changing Lives — In the Flo, by Alisa Vitti, is rec for people of all genders and ages. Take everything you think you know about a menstrual cycle and trash it. Chances are, you or someone you know is a bleeder, once was, will be, or can just handle a scientific read that explains how those born to menstruate live on an entirely different clock than those born with XY chromosomes. Hint: It's not a 24-hour clock.
If you've come to this column for relationship advice, bless your heart, bc you're in luck. Humans born with any chromosomes will benefit from reading this book to better understand the XX human body, to ebb and flow with it vs fighting it. Start talking about it. PERIOD. If this triggers your interest, sample some of Vitti's wisdom on the Gabby Reece podcast, "BioHack Your Flo."
ATTENTION! YES, YOU — LOOK HERE. If you skipped this subject, you're at high risk for excessive immaturity and living in the dark.
Friends in High Places — This month, we CBD and chill. Unoia is a lifestyle, not just another CBD company. Black-owned and nurtured by two LGBTQ+ locals, Unoia encourages its followers to think beautifully.
Unoia pops-up on the reg around town and markets. This month, catch them April 17 at Parlour 4-7 p.m. While there, order the Unbothered cocktail featuring Unoia CBD agave. April 19, Unoia Pull Up at Emef Studio Gallery and Store 7-10 p.m. Expect CBD cocktails and yummy gummy tasting. April 25, pop-up at Ponce City Market at the Village Market Retail 2 p.m.