>>

blotter

>>

THE BLOTTER: - June 2021
THE BLOTTER: - June 2021
And other tales of life in the ATL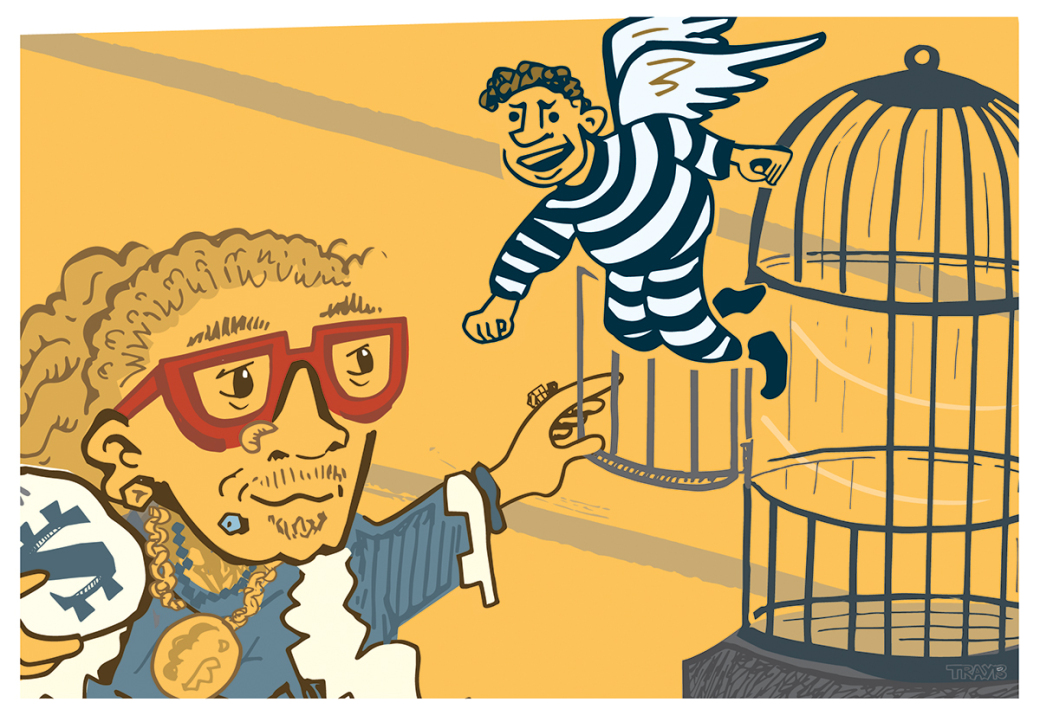 SLEEPLESS IN VINE CITY: People in the Vine City neighborhood are fed up, furious — and extremely sleep-deprived — over a pop-up tented nightclub that's allegedly blaring music way, way later than the law allows. It's called "Dome in the City."
One man says the nightclub's booming music didn't stop till nearly sunrise, and people are complaining as far away as Castleberry Hill  — one mile from the massive, temporary, tented nightclub. "It's no sleep," he says. "You can't sleep, with that type of noise."
One woman says most of her Saturday night was spent staring at her bedroom ceiling, hoping the noise and shaking would stop. "I have a white noise machine. I have earplugs, and my entire bed was vibrating and my pillow. My dog was barking," she tells Fox5Atlanta. The same woman says she's lived in Vine City near Downtown and the stadium for about a decade, and she's OK with the typical, noisy sounds of city living, crowds, and special events — but this is a whole different noise level.
Neighbors in Vine City say they've reached out to the nightclub owners, who did not respond to their noise complaints. The woman said she did get an automatic, slap-in-the-face message: "I immediately got a text that requested I go to their website to reserve a VIP table," she said, laughing. "Which of course, I was not interested in."
The man says: "They need to do something in the facility that's going to cut down, dramatically reduce the loudness and thumping of the music. Because of the type of structure it is — a tent — I really don't see what they could do to reduce that, other than pack up and leave."
THE STICKING-IT-TO-THE MAN AWARD: This spring, a suburban Atlanta barbecue restaurant owner gets $1.7 million dollars to settle his federal lawsuit claiming harassment by a Stockbridge city councilman, which started with a dispute over a $60 restaurant tab.
Georgia Championship Barbeque Company owner Arick Whitson says in May 2016, Stockbridge City Councilman Elton Alexander visited his restaurant and asked him if he wanted to "do business with the city." The restaurant owner replied yes, and Councilman Alexander ordered $60 worth of food.
When the councilman was asked to pay his food tab, he allegedly said, "I thought you wanted to do business with the city" — and left without paying, according to the Associated Press.
The restaurant owner said after the incident, code enforcement officials started visiting his restaurant on a frequent basis. Also, the owner said he had trouble getting a liquor license and a sign permit. Plus, he claims Councilman Alexander falsely accused him of being a sex offender, according to the AP. Whitson filed an ethics complaint in 2017, which he says only ramped up the councilman's attacks on him.
Councilman Alexander was appointed the "mayor pro tem" (or vice mayor) of Stockbridge in January 2021, after nominating himself. According to the city of Stockbridge's website, Alexander "began his career as a restaurant manager before moving into the food safety management field."
The city of Stockbridge's insurer will pay the $1.7 million dollars. Alexander has denied the claims — and the city of Stockbridge is not admitting wrongdoing.
HIP-HOP HOMECOMING: Atlanta rappers Young Thug and Gunna are putting their money where their mouths are — by posting bond for 30 inmates at Fulton County Jail.
YSL Records released exclusive video of dozens of inmates joyously exiting the jail and reconnecting with their families, including an emotional reunion between a father and son.
Young Thug said, "We just woke up and went to the jail with the lawyer and … got as many people as we [[[could] out."
"You never know what someone has been through," Gunna tells WSB-TV Atlanta. "There was people sitting out three or four years and couldn't get out on a bond. If they did the crime, then they can do the time, then it's all right. But it's like, you're giving them a bond higher than what they [[[allegedly] stole."
If you've never been to Fulton County Jail, the conditions are notoriously overcrowded, unsanitary, and beyond miserable. Fulton County Jail has been the subject of numerous lawsuits and investigations into its reportedly unsafe conditions.
Here's a hat tip to Young Thug and Gunna. Well done.
EXTREME SICKOS IN FLOYD COUNTY, GA: Gruesome details are emerging about an alleged neo-Nazi terror cell that met near Rome, Georgia. They are reportedly members of a white supremacist group called the Base, which aims for the violent overthrow of Western society.
Two men in their early 20s — one from Austin, Texas, the other from Alabama — are charged with animal cruelty related to the alleged theft and ritual beheading of a ram or goat on Halloween 2019 near Rome, Georgia, according to an indictment recently handed down by a grand jury in spring 2021.
The two men join six other men believed to have come to an isolated property, where an undercover officer says they shot guns, took drugs, and "planned for a race war as part of the white supremacist group known as the Base," according to the Atlanta Journal-Constitution. The goat or ram was allegedly swiped from a nearby property and killed in a ritual sacrifice. An assistant district attorney said the animal was killed in a "Norse-pagan ritual" in which the participants drank its blood and posed for photos with its severed head.
Three Georgia men — ages 26, 22, and 20 — were arrested as part of the alleged conspiracy. Prosecutors say the 22-year-old's home near Rome was used as the locale for the meeting. The three men are facing animal cruelty charges, along with charges of conspiracy to commit arson, home invasion, and murder.
Authorities describe the men as a group that planned to kill a Bartow County couple they suspected of being anti-fascist activists. Group members were arrested before they could carry out the alleged murder plot, as part of an undercover investigation.
The AJC reports: "The Base was founded in 2018 as a far-right, paramilitary organization that sought the creation of a white ethno-state. An investigation by The Guardian newspaper in 2020 revealed the Base's leader to be Rinaldo Nazzaro, an American expatriate living in St. Petersburg, Russia."
ASSHOLE RAISING CANE: A Georgia Purple Heart veteran wants her stolen — and very unique — walking cane returned, no questions asked. Retired Army Sergeant Kendra Lou Pieper stopped at a Chevron in Newborn, Georgia, to fill up her car with gas. Then, she spotted an acquaintance and they chatted for a few minutes. Afterward, she drove away in her pickup truck. About 25 minutes later, she realized she'd left her beloved walking cane leaning against the gas pump.
Piper explained the incident on Facebook: "I laid my cane against the pump while I was pumping gas, and drove off without it…. Dustin (her fiancé) went back to get it. Needless to say, they reviewed the security cameras, and someone in a white Suburban pulled up after me and took it. And the camera did not pick up their tags."
Here's why Pieper's cane is one-of-a-kind: She lost part of her left leg (from the knee down) in Afghanistan when an IED embedded in a building blew up. The AJC reports, "The wooden cane is adorned not just with Pieper's name and rank, but several of the medals she earned for her service, including her Purple Heart, combat action badge, and crossed pistols insignia." The cane handle is a carved eagle's head.
Pieper wrote about her stolen cane on Facebook, and the response was amazing. Her post has been shared more than 650,000 times. The New York Post even wrote a story about Pieper's cane plight. The Newton County Sheriff's Office has opened an investigation.
"Everyone understood that (the cane) wasn't worth money, you can't sell it," Pieper told the AJC. "But you know, the meaning that's carried behind it — everybody seemed to understand that it told my story without me having to say anything."
It gets worse: Someone created a fake Instagram account, posing as Pieper and using her info — and asked people for money donations to buy her a new walking cane. Pieper is disgusted by that move: "I have not, and will not ever ask for money to replace it. It was very sentimental to me," she wrote.
So far, the war veteran's walking cane hasn't been returned. C'mon, asshole cane thief, return it to Sgt. Pieper right now.  —CL—
The Blotter Diva compiles reports from the Atlanta Police Department and local news reports — and puts them into her own words.
---