GRAZING: Hell ain't a bad place to be
Lunch at El Viñedo Local, dinner from Krystal, lecturing cheap tippers, exploring new foodie media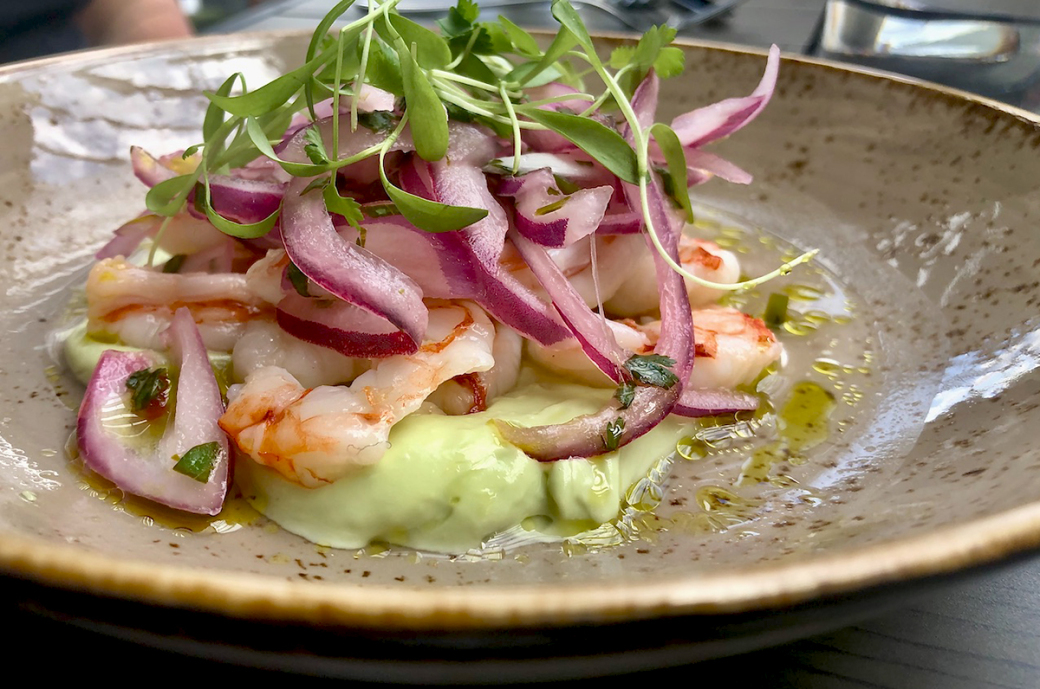 THE TABLE'S BEST: Ceviche made with poached Georgia shrimp, avocado puree, meyer lemon oil, and cilantro, served with fried green plantain chips.
If you're re-emerging from the misery of home cooking and looking for a unique lunch spot in Midtown, head to El Viñedo Local, a South American café that opened just in time to be hobbled by the Pandemic Royale. I've only made it there once, but three friends at my table provided a broad enough sampling to crave more of the savory flavors that Chef Bruno Vergara, a native of Uruguay, is concocting.
El Viñedo, open now only for breakfast and lunch, plans to expand its hours to include dinner. It is located in Circa 730, one of those millennial workday beehives where tenants brainstorm, hit the onsite gym, and probably oil up with CBD sunblock while lounging in the genuinely cool curvy wood swings out front. This ethos of togetherness extends to El Viñedo's interior where the main seating is communal, but there's a large patio where you can choose your view. I picked the Lutheran Church of the Redeemer across the street. It's all pleasant, seriously.
Owner Robert Kaster, who has 20 years experience in the food and beverage industry, envisioned El Viñedo as a bar focusing on South American wines. That's obvious, given that the name means "the local vineyard," but the café also features bracing coffees made with organic, fair-trade beans roasted by Café Campesino in Americus, Georgia. A double-shot of espresso with enough crema to make chapstick unnecessary concluded my meal.
Most of the dishes at El Viñedo aren't new to the city, but I'd venture that most are prepared with more finesse. The menu includes empanadas, arepas, sandwiches, ceviche, plates, and sides. I loved my empanada criolla, which was filled with finely chopped beef, green olives, and boiled eggs. The filling rocked, but what made this and other empanadas unique was the stellar, comparatively thick, slightly crumbly pastry shell. Other fillings include braised chicken, spinach and mushrooms tossed in béchamel, and ham and mozzarella. All also include the queso fresco that Latin Americans love.
We also sampled a plate of fried fish with tartar sauce and lots of lime slices. The super-crispy chunks of fish were topped with a Peruvian-style salad of sliced red onions and cabbage. This same salad or a derivative was on just about everything we ordered. Other plates include the classic pabellon — steak with fried plantains, black beans, cilantro, and rice with salsa rozada. El Viñedo offers chicken as a substitute for beef.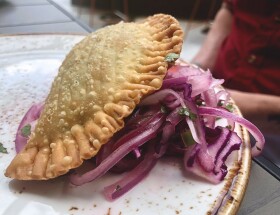 The pabellon is also available served on an arepa. Here, my enthusiasm waned a bit. One of my favorite dining spots is Arepa Mia in Decatur, and my go-to there is the pabellon. An arepa is basically a big crunchy biscuit made with cornmeal, split open and filled with goodies. The version at El Viñedo was a bit thick for my taste, and the filling's beef was not the juicy shredded variety that I love at Arepa Mia. As such, the arepa itself and the fried sweet plantains didn't get the lubrication they needed for a good marriage, even with the black beans and queso fresco. I have no idea of the degree to which this might be a regional difference. It's not bad. It's just not what I expected. You can also get arepas filled with chicken and, um, Duke's mayo, or vegetables.
Arguably the best dish on our table was the ceviche made with sliced poached Georgia shrimp (okay, it was cooked) with avocado puree, cilantro, and Meyer lemon oil. It was heaped with the onion salad. The serving is perfect for anorexics but the rest of us can order it as a starter or double, maybe triple, the portion. It's not that it's a terribly small portion; it's just so good. Or maybe you could double-up on the fried plantain chips that come with it.
We didn't try any of the three sandwiches. The Choripan has become a thing around town, so I'm on a break. It's grilled Argentinian chorizo layered with butter lettuce, tomatoes, chimichurri, and more Duke's mayo. The fried fish is also available as a sandwich. The only side we tried was the freshly fried yucca with the zippy salsa rozada. The people around town who serve cold fried yucca need to be imprisoned.
Hours here for the present are 7-10:30 a.m. and 11 a.m.-3 p.m., weekdays only. Breakfast is a few empanadas, pastries, and egg dishes. You might call to see if dinner has begun.
LET'S GO TO THE KRYSTAL: It's been a year since we all thanked Jesus on learning that bankruptcy would not be closing Dunwoody-based Krystal's 300 locations. Unfortunately, the new owners have not as yet brought back the $7.99 all-you-can-eat special, probably because the dining rooms are still closed and the takeout windows are not built for plunging gigantic loads of meat slivers and steamed buns down the throats of the indiscriminate.
I was 15 when I ate my first Krystal. My friend Norman bribed me to take the bus to downtown Atlanta with him by offering a free meal at this burger joint he loved. I admit I was repulsed and caused someone behind the counter to screech threats to call the police when I threw the red basket in which the Krystals were served in the garbage. Yes, I exhibited bad etiquette at a Krystal. I thought it was disposable, bitch! In my mid-20s, I lived in Augusta. On many nights I partied at the Peacock Lounge with a friend whose speech therapy was destroyed when he got drunk. "Kriff, wet's go to da Kritchal!" he'd say as we left the club. We did. I hated the food but I loved the late-night weirdness.
When I moved home to Atlanta, Krystal became a true marker of the luxe real estate I occupied. In the late '70s, I lived a block from the Krystal on Peachtree in Midtown where all the trans hookers hung out. I loved hanging with the girls, but I couldn't eat the stuff. In 1982, after being escorted to an AA meeting by a cop, I ended up renting an apartment directly behind the Krystal on Ponce de Leon. Homeless people foraged in the dumpster there and frequently brought the bounty across the parking lot to eat in my junked car. I never ate there. Honestly, the only time I enthusiastically ate Krystals was after nights in places where every desire of the human body was completely degraded.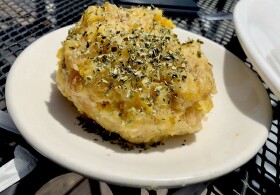 But last month, after I proved I could actually love hot dogs after a lifetime of avoiding them, I decided I should give Krystal a try after a very long time. I was partly incentivized, too, by the absurdly low cost of the tiny square oddities. If you've resumed dining out, you've probably noticed that prices have increased dramatically at many restaurants. Krystal was actually founded during the Depression in Chattanooga as a knockoff of the Midwestern chain, White Castle. The idea was and remains explicitly to provide super-cheap eats. Of course, it doesn't take long to figure out that you have to eat a ton of Krystals to equal a regular burger's meat content, but you are supposed to fill up on the buns. It's kind of like going to an Ethiopian restaurant and having the spongy injera bread expand in your stomach before you complain about the skimpy portion of stew on the table.
I drove to the Krystal on Moreland Avenue, expecting to dine in and soak up the atmosphere, but business was limited to the takeout window, and during the eternity it took to decipher the menu, order, and drive away, I didn't see a single other car arrive. I did not know the chain had expanded to chicken and hot dogs, but I was only interested in the burger patties that are blotted with mustard and layered with a pickle slice between the "famous steamed bun." Diced onions, which used to be inevitable, apparently no longer are. There were none on our burgers. I ordered the queasily named "sackful with cheese" — 12 burgers with American cheese for $12.49. I added tots and fries at $2.29 each. Yes, I ate six Krystals with little difficulty and really found them less disgusting than pathetic. The only flavor was in the pickle and mustard. I added some real mustard, which was a mistake because it deprived the Krystal of the kind of affection we have for, say, mangy stray dogs that lick our faces and beg to bring their worms and fleas home with us.
JUST SAYING: If you have resumed eating out at places beside Krystal, you have noticed that  prices really have increased significantly at many restaurants. You would expect increases after a year in any case, but the pandemic has aggravated the situation. You can't peruse an industry publication without reading how restaurants are finding it almost impossible to find staff. It's partly because some would-be employees probably still prefer to avoid contracting COVID, but the stunningly low pay is the big issue outside fine-dining venues. That in turn makes it hard for restaurants to operate at anything close to full capacity, and that drives prices up.
As long as I've been writing about restaurants, I've been astounded at the stingy attitudes of people about tipping. Last month, I went to a restaurant with two very comfortable friends. On the way, we were talking about tipping, and I said that I never tip less than 20 percent after taxes. One of my friends wrapped up the attitude of Marie-Antoinette's heirs: "I am not paying someone 20 percent to hand me a sandwich." I explained that the tips are shared, that servers are often paid barely better than minimum wage. He repeated his declamation. We ordered our sandwiches at the counter and took a seat on the patio. I asked Marie if he had left a tip. He said no. I told them both to look at their receipts. The restaurant had added a 20-percent tip to each bill. That is the right thing to do, at least until wages increase to the point you don't have to live under a bridge to work for a restaurant, and that, Marie, is not an uncommon situation.
MEDIA: I'm always behind and only just learned that Jennifer Zyman, our former dining critic, is producing a podcast, "The Food that Binds." I asked Jennifer for a quick description: "As a food writer and restaurant critic, my work was always focused on the how of food, but the why has always interested me. There are so many different relationships — good and bad — within the food space, hence the title 'The Food that Binds.' So many people in the culinary space have fascinating stories, and I wanted to explore it all, whether it is a chef with body image issues to how diners are interacting with restaurants post-COVID to the power of mutual aid."
Her first episode is a fascinating conversation in which Chef Kevin Gillespie and Jennifer discuss body image and their own issues with it. I have to say one "positive" result of the pandemic seems to be that, in the absence of epidemic restaurant reviewing, food writers have been compelled to take a deeper dive, and Jennifer is doing that. You can find the podcast on the usual platforms or check out Jennifer's website, where she also archives her writing for Atlanta Magazine and other publications: jenniferzyman.com.
One of our city's long-lost geniuses, Paul Luna, has also launched an online media program, accessible on Facebook as Lunacy.TV and on YouTube under his name, Chef Paul Luna. It's brief interviews, mainly with people from the Atlanta restaurant scene. Paul resides in Switzerland now, so he is at a safe distance if he asks any impertinent questions. The interviews (minus one) are all entertaining and under 10 minutes.
Thank you, Jennifer and Paul, for inviting me on your programs, but ever since my on-air battle at WGST with Sean Hannity, the worst person on earth before Tucker Carlson was invented, I have studiously avoided interviews. —CL—
El Viñedo Local, 730 Peachtree St. N.E., 404-596-8239, elvinedolocal.com
Krystal, 415 Moreland Ave. S.E., 404-524-3616, krystal.com
---