>>

Places

>>

Culture

>>

2021 Fall Arts Preview
2021 Fall Arts Preview
This year Atlanta's arts community rises above the uncertainty brought by COVID-19
After more than a year of pandemic imposed isolation, the Atlanta arts community has cautiously emerged with hard lessons learned and COVID safety protocols in place. Beneath sweltering sun, amid stultifying humidity, and under the ghastly pall of the Delta variant, major institutions have announced their 2021-22 seasons. Gallery proprietors are reopening doors. Theater directors are setting stages. Live music venues are booking artists. Some sort of "new normal" is taking shape.
The following compendium of upcoming exhibitions and performances is by no means complete. Instead, let it serve as an indication of the diverse and dynamic nature of the resurgent Atlanta arts scene. In print, readers will find straight listings with minimal descriptive information. In some cases, the listing is augmented by a first-person reflection on the lockdown experience, what it meant, and what it portends for the future. The online version of the Fall Arts Preview includes more expansive content about exhibits, performances, and events.
With all due respect for a still-evolving public health crisis, it's nice to have in-person arts happenings back on the calendar.
Dance
Atlanta Ballet
Gennadi Nedvigin, Artistic Director
atlantaballet.com
Performances at Cobb Energy Performing Arts Centre. Evening performances start at 8 p.m. Matinee performances start at 2 p.m.
COVID safety based on CDC guidelines. Check with the Atlanta Ballet for the latest information.
The Carlos Family in Honor of Thalia N. Carlos Presents: The Nutcracker (Dec. 4-29) — One year after its scheduled Cobb Energy Performing Arts Centre debut, Atlanta Ballet will finally make its long-anticipated return to the theatre stage to present Yuri Possokhov's The Nutcracker. This innovative production features larger-than-life sets and bold costumes enhanced by striking video projections.
Atlanta Ballet 2 Presents: Snow White (Feb. 4-6, 2022) — In this one-hour ballet version of Snow White choreographed by Bruce Wells, audiences will follow the young heroine and her prince as they outwit the schemes of the evil queen. Performed by Atlanta Ballet 2, this shortened family version is designed for audience members ages 12 and under, but the magnificent production can be enjoyed by children and adults alike.
Firebird (Feb. 11-13, 2022) — Visually and musically arresting, Yuri Possokhov's Firebird is an explosive production that can be enjoyed by all ages. In addition, the February program will feature a world premiere from Atlanta Ballet Choreographer-in-Residence Claudia Schreier, whose two prior Atlanta Ballet creations, First Impulse (2019) and Pleiades Dances (2020), have wowed audiences and critics alike. Two works created by Atlanta Ballet Company dancers who choreographed for last sea-son's Silver Linings round out the mixed bill.
Giselle (March 18-20, 2022) — Two years after its originally-planned opening date, Atlanta Ballet dancers will at last have the chance to perform the achingly beautiful and tragic Giselle — an enrapturing master-work that remains one of the most enduring romantic ballets of all time.
May Program (May 13-15, 2022) — Following its triumphant premiere in Atlanta Ballet's reimagined 2020|2021 season of Silver Linings, Claudia Schreier's Pleiades Dances makes its way to the theatre stage for the May program. Adding a classical element to the evening are selections from Paquita, a famed 19th-century classic revered for its demanding and intricate choreography. Finally, an all-new work by Atlanta Ballet Company dancer Sergio Masero, completes the season finale production.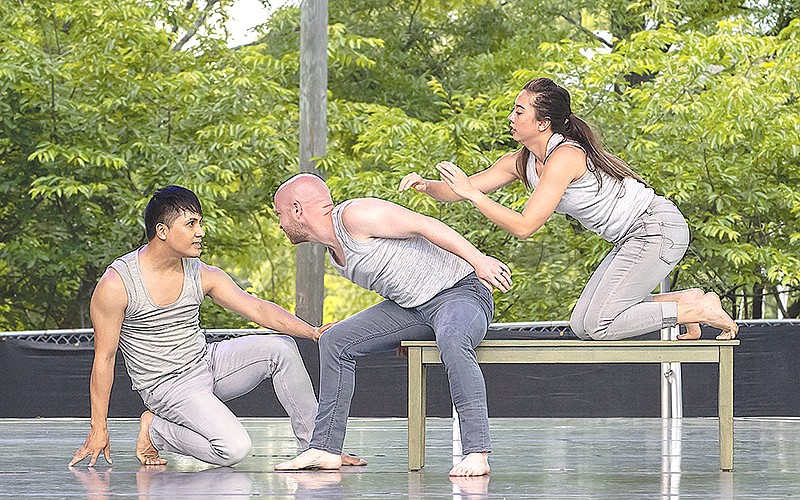 Dance Canvas
Angela Harris, Executive Artistic Director
dancecanvas.com
Times TBA
Performances will be held outdoors in the pavilion at Atlanta Contemporary where masks are required while on campus.
Art Is Our Response (Sept. 10) — Premiere screening of Art Is Our Response , a documentary film chronicling Dance Canvas' 2021 Summer Choreographic Residency in partnership with Atlanta Contemporary.
2021 Summer Choreographic Residency (Sept. 11) — Final series of performances by members of Dance Canvas who participated in the residency program in partnership with Atlanta Contemporary.
Angela Harris: "I have been busier than ever during the pandemic, mainly because it hasn't been 'business as usual.' In a typical year, we would have planned one or two new initiatives. This past season, due to the pandemic, our organization launched more than 10 new programs, mainly due to moving programs to virtual platforms, seeing what our audiences wanted and needed to safely interact with our programming, and trying to best serve our artists and community. For our 14th season, we are looking forward to going back to live performances, providing opportunities for emerging professional choreographers, and engaging safely and in-person with our audiences."
glo
Lauri Stallings, Choreographer and Founder
gloatl.org
Most glo events are staged outdoors, free, and open to the public. Local COVID protocols apply.
A work as part of the Hudgens Prize Retrospective, The Hudgens Center, Duluth, Georgia
"March on Variations!" in Palmetto, Georgia (Fridays through Dec. 31, 1-4 p.m.) — March on Variations! is an iterative project at the intersection of social service, movement, and care, serving Palmetto in South Fulton County through spring 2022. Activities include teaching virtual movement SHOPS to elementary school children, illuminating rural Main Street with Neon Studies, sowing wildflowers and edibles, and distributing 4,000 children's play kits door-to-door.
Tanz Farm XIII: The Running Project: Morgan-Bobrow Williams (Oct. 18-24, day/time TBA) — The Running Project is an ongoing multi-disciplinary piece, which Morgan Bobrow-Williams began researching as part of his Tanz Farm residency in the fall of 2020. The artist's final work will cohabitate urban spaces in Atlanta during October 18-24. Locations TBA.
Terminus Modern Ballet Theatre
John Welker, Director
terminusmbt.com
Roam: Further Down the Road (Oct. 16, 17, 23 and 24, two performances per day at 1 & 5 p.m.) — The natural beauty of Serenbe provides the setting for an outdoor celebration of dance in a reimagined version of an audience favorite, Roam. The expanded cast of dancers ramble on and around the stage in a 360 dance experience under the sky.
Marley Was Dead, To Begin With: A Christmas Carol Told Again featuring the Kennesaw State University Dance Theater (Dec. 10, 8 p.m.; Dec. 11, 2 & 8 p.m.; Dec. 12, 1 & 7 p.m.) — In this spooky yet comical telling of Dickens' story, we learn how important Scrooge's business partner Marley is to the narrative while exploring the themes of compassion, generosity and redemption present in the original.
John Welker: "For the arts community, the COVID crisis is bringing forced disruption and inwardly resetting organizational values, which affects every facet of the organization. It is important to talk about this subject in the present tense because it is still happening. Even arts organizations with deep pockets cannot avoid this crisis. To remain purposeful and relevant to the communities served by arts organizations, great opportunities remain available for those who can adapt, grow, and learn from this crisis. Now is not the time for business as usual."
Music
Atlanta Chamber Players
Elizabeth Pridgen, Artistic Director
Vanya Foote, Executive Director
atlantachamberplayers.com
The ACP follows current CDC guidelines. Masks are strongly encouraged, although not required. The ACP reserves the right to alter its COVID pro-tocol based on the guidance of local, state, and federal agencies.
Notes from Inside by Benjamin Krause (Nov. 14, 4 p.m.) — In-person and live-streamed program at First Presbyterian Church of Atlanta also includes Jessie Montgomery's Peace, Jennifer Higdon's Southern Harmony, and Brahms Piano Quartet No. 3 in C minor.
Vanya Foote: "As with many parts of our society, COVID exposed our systems, forcing us to re-evaluate our missions and equity. I do hope we all come out of this as better arts organizations and nonprofits. I am also eager to hear more of the creativity that was spurred during this time in the form of plays, compositions, dance, photography. While this time has been utterly devastating, let's not take it for granted, or return to our pre-COVID practices."
The Atlanta Opera
Tomer Zvulun, General and Artistic Director
atlantaopera.org
All listed productions are at the Cobb Energy Performing Arts Centre.
Evening performances start at 8 p.m. Matinees at 3 p.m.
Atlanta Opera will provide full details of COVID-related safety guidelines in late summer.
George Frideric Handel: Julius Caesar (Nov. 6, 9, 12, 14) — The love affair between Julius Caesar and Cleopatra is given a Baroque flourish in Handel's masterful work. Caesar arrives in Egypt in pursuit of his enemy, only to fall in love with the beguiling queen, setting the stage for an episode akin to Game of Thrones in which blood, lust, and the pursuit of power both torments and unites.
W. S. Gilbert & Arthur Sullivan: The Pirates of Penzance (January 22, 25, 28, 30, 2022) — As Frederic enters the rank of full pirate at the end of his apprenticeship, he and his fellow pirates court the daughters of Major-General Stanley. This sets off a hilarious course of riotous events that pit Frederic against his pirate clan. Featuring famous tunes including the "Major-General's Song," "Oh, Better Far to Live and Die," and "With Cat-Like Tread."
Gioachino Rossini: The Barber of Seville (March 5, 8, 11, 13, 2022) — Everyone's favorite barber pulls the levers in this comedic romp featuring a fiery young girl, her lecherous old guardian, and a smitten young nobleman. It's all up to the wily Figaro to stay one step ahead of the shenanigans. From the famous overture to its rapid-fire vocalism, this laugh-out-loud opera is a winner that works its charms on people of all ages.
Mason Bates: The (R)evolution of Steve Jobs (April 30, May 3, 6, 8, 2022) — Apple Computer founder Steve Jobs, one of the most influential people of the modern age, is transformed into a dramatic character in this compelling 2017 opera by DJ and composer Mason Bates and librettist Mark Campbell. Set in an appealing electro-acoustic soundscape generated by Mac laptop (of course) and live musicians, The (R)evolution of Steve Jobs cycles through key moments in his career and personal life.
Tomer Zvulun: "Above all, the pandemic taught The Atlanta Opera to be creative in entirely new ways. Our company's mission is to reimagine opera, but before the pandemic, the notion of performing operas under a tent had never crossed our mind. Once the pandemic hit, we had two big ideas that made everything else possible. First was The Big Tent that, when the walls were rolled up, created an outdoor venue with abundant fresh air. The other was ensemble casting, which relied on internationally acclaimed singers who live in Georgia or in nearby states, and who could perform in all of our shows. The 2020-21 season was unlike any other. We had four fully staged operas and six concerts, nearly 45 performances, all under a big top-style tent without any outbreaks."
Atlanta Symphony Orchestra
Jennifer Barlament, Executive Director
aso.org
Safety measures for live ASO concerts, based on the latest information from the CDC and other health officials, includes mandatory mask wearing, social distancing, and limited capacity.
Delta Classical Concert Series
Thursday, September 9 — Saturday, September 11 — 8 p.m.
 Symphony No. 5
Piano Concerto No. 5
Sept. 17, 18, 2021 Fri., Sat. 8 p.m.
Don Juan
Violin Concerto
Different River
Till Eulenspiegel
Thursday, September 23 & Saturday, September 25, 2021 - 8 p.m.
Symphony No. 102
Double Bass Concerto
Serenade No. 2
Oct. 13 and 14, 2021 Wed./Thurs. 8 p.m.
Overture to La forza del destino
Dark with Excessive Bright
Symphony No. 5
Oct. 21, 23, 24, 2021 Thurs./Sat. 8 p.m., Sun. 3 p.m.
Sukkot Through Orion's Nebula
Violin Concerto
Symphony No. 4
Nov. 4, 6, 2021 Thurs./Sat. 8 p.m.
Suite from Les indes galantes
Azul
The Chairman Dances
Mother Goose
Nov. 18, 20, 2021 Thurs./Sat. 8 p.m.
Fanfare for the Common Man
Piano Concerto (ASO Commission)
Symphony No. 3
Nov. 19, 2021 Fri. 8 p.m.
Onward
Sub Rosa (ASO Commission)
Piano Concerto (ASO Commission)
Luna Azul
Everything Lasts Forever
Dec. 2, 4, 2021 Thurs./Sat. 8 p.m.
The Deciding Machine
Four Last Songs
Symphony No. 1
Dec. 5, 8, 2021 Sun. 3 p.m., Wed. 8 p.m.
Hansel and Gretel
Jan. 13, 15, 2022 Thurs./Sat. 8 p.m.
Overture to Idomeneo
Piano Concerto No. 4
Requiem
Symphony No. 5
Jan. 20, 22, 2022 Thurs./Sat. 8 p.m.
warp & weft
Ink Dark Moon
Vocalise
Symphony No. 5
Jan. 27, 29, 2022 Thurs./Sat. 8 p.m.
Of a Spring Morning
Piano Concerto
Symphony No. 6, "Pathétique"
Feb. 3, 5, 2022 Thurs./Sat. 8 p.m.
 Records from a Vanishing City
Aconcagua
Symphony No. 8, "Unfinished"
Music of the Spheres
Feb. 10, 12, 13 Thurs./Sat. 8 p.m., Sun. 3 p.m.
Violin concerto, Il favorito , RV 277
"Io t'abbraccio" from Rodelinda
"Caro! Bella!" from Giulio Cesare
"Dove sono?" from The Marriage of Figaro
Symphony No. 41, "Jupiter"
Feb. 24 and 26, 2022 Thurs./Sat. 8 p.m.
 The Green Fuse
Viola Concerto
Symphony No. 3, "Scottish"
March 3, 5, 2022 Thurs./Sat. 8 p.m.
Piano Concerto in One Movement
Symphony No. 1
March 17, 18 Thurs./Fri. 8 p.m.
 Death and Transfiguration
Requiem
March 24, 26 Thurs./Sat. 8 p.m.
 Leonore Overture No. 3
Double Bass Concerto (ASO Commission)
Symphony No. 9
March 31, April 2, 3, 2022 Thurs./Sat. 8 p.m., Sun. 3 p.m.
 The Parallactic Transits (ASO Commission)
Mandolin Concerto
Scheherazade
April 13, 2022 Wed. 8 p.m.
Symphony No. 9, "From the New World"
Cello Concerto
April 21, 23, 2022 Thurs./Sat. 8 p.m.
 Scottish Fantasy
Symphony No. 3, "Eroica"
April 28, 30, 2022 Thurs./Sat. 8 p.m.
Prelude to the Afternoon of a Faun
Nocturnes
Requiem
May 8, 2022 Sun. 3 p.m.
Cello Sonata No. 4
Cello Sonata
Cello Sonata
Cello Sonata
May 12, 14, 2022 Thurs./Sat. 8 p.m.
Sound and Fury
Cello Concerto No. 1
Enigma Variations
May 19, 20, 2022 Thurs./Sat. 8 p.m.
Aida , Act III
May 21, 2022 Thurs./Sat. 8 p.m.
Itzhak Perlman:
Symphony No. 4
Overture to I vespri Siciliani
Violin Concerto
May 26, 28 Thurs./Sat. 8 p.m.
 Oboe Concerto
Symphony No. 4
Jun. 9, 11, 12, 2022 Thurs./Sat. 8 p.m., Sun. 3 p.m.
Mahler: Symphony No. 3
Schwartz Center for Performing Arts
Rachael Brightwell, Managing Director
schwartz.emory.edu
Masks are required in indoor public and common spaces including class-rooms and auditoriums on the Emory University campus.
2021-2022 Candler Concert Series
George Li, piano (Sept. 18, 8 p.m.) — Since winning the Silver Medal at the 2015 International Tchaikovsky Competition, Li has rapidly established a major international reputation and performs regularly with some of the world's leading orchestras and conductors.
Pretty Yende, soprano (Oct. 3, 4 p.m.) — Making her Atlanta debut for a solo recital, South African soprano Pretty Yende is known for her ac-claimed operatic and solo performances worldwide and critically lauded discography.
Leonidas Kavakos, violin, and Yuja Wang, piano (Nov. 2, 8 p.m.) — This pair of superstars share the stage in their first visit to the Schwartz Center for Performing Arts. Each one an outstanding soloist, together they leave audiences breathless with the beauty and intensity of their performance.
Our Song, Our Story: The New Generation of Black Voices with musical direction by Damien Sneed (Jan. 28, 2022, 8 p.m.) — Created and directed by composer, conductor, and multigenre musician Damien Sneed, Our Song, Our Story is an evening of music highlighting some of the world's most popular operatic arias, art songs, and spirituals.
An Evening with Branford Marsalis (Feb. 18, 2022, 8 p.m.) — Marsalis's ensemble has long been recognized as a standard by which other similar jazz bands measure their prowess. The ensemble's deep book of original music is replete with expressive melodies, provocative forms, and an unrivaled improvisatory spirit.
Kittel & Co. (March 18, 2022, 8 p.m.) — Making his Schwartz Center de-but, Jeremy Kittel performs music which inhabits the space between classical and acoustic roots, Celtic and bluegrass aesthetics, and folk and jazz sensibilities.
Academy of St Martin in the Fields Wind Ensemble featuring Simon Crawford-Phillips, piano (April 9, 2022, 8 p.m.) — From the world-renowned Academy of St Martin in the Fields, acclaimed wind players James Burke (clarinet), Julie Price (bassoon), Stephen Stirling (horn), and Tom Blomfield (oboe) have joined forces for a new adventure exploring some of the best all-wind and wind and piano classical repertoire.
Spivey Hall
Tammy Moore, Marketing Director
spiveyhall.org
Piano Series
Jeremy Denk (Sept. 26, 3 p.m.)
Alexander Romanovsky (Dec. 5, 3 p.m.)
Steven Osborne (Feb. 20, 2022, 3 p.m.)
Benjamin Grosvenor (March 20, 2022, 3 p.m.)
Paul Lewis (April 3, 2022, 3 p.m.)
Louis Lortie (April 30, 2022 3 p.m.)
Strings SeriesSheku Kanneh-Mason, cello, Isata Kanneh-Mason , piano (Oct. 3, 3 p.m.)
Modigliani Quartet (Nov. 7, 3 p.m.)
Castalian String Quartet (Feb. 19, 2022, 3 p.m.)
Takács Quartet (April 24, 2022, 3 p.m.)
Gautier Capuçon , cello, Jean-Yves Thibaudet , piano (May 7, 2022, 7:30 p.m.)
Organ Series
Organ Discovery Day (Oct. 2, 3 p.m.)
Alan Morrison (Oct. 9, 3 p.m.)
Jonathan Ryan (Nov. 13, 3 p.m.)
Gunnar Idenstam , organ, Erik Rydvall , nyckelharpa (Feb. 5, 2022, 3 p.m.)
Nathan Laube (March 5, 2022, 3 p.m.)
Alan Morrison & Friends (May 21, 2022, 3 p.m.)
Vocal Series
Gerald Finley , bass-baritone, Julius Drake , piano (Feb. 6, 2022, 3 p.m.)
Jakub Józef Orliński , countertenor, Michał Biel , piano (March 6, 2022, 3 p.m.)
Angelika Kirchschlager , mezzo-soprano, Julius Drake , piano (May 8, 2022, 3 p.m.)
Jazz SeriesThe Badass & the Beautiful: Ms. Lisa Fischer with Taylor Eigsti (Dec. 4, 7:30 p.m.)
Regina Carter Quartet (Jan. 22, 2022, 7:30 p.m.)
Sean Jones Quartet (March 26, 2022, 7:30 p.m.)
Special Events
Christmas with The King's Singers (Dec. 19, 3 p.m.)
Hopkinson Smith , lute (March 27, 2022, 3 p.m.)
George Hinchliffe's Ukulele Orchestra of Great Britain (April 9, 2022, 7:30 p.m.)
David Russell , guitar (April 10, 2022, 3 p.m.)
The Glenn Miller Orchestra (May 22, 2022, 3 p.m.)
Performing arts venues

Eyedrum
Will Lawless, Board Chair
eyedrum.org
Hours: Fridays and Saturdays (check the Eyedrum website for the latest information)
Masks required, CDC guidelines followed
Kirstin Mitchell, curator, participating artists TBA (Sep. 18-Dec. 11) — A MOCA GA Working Artist Project Fellow, Kirsten Mitchell creates experiential environments in various mediums including painting, installation and performance
George Long & Michael Stasney/IFLY (Dec. 31-Mar. 12, 2022) — The acronym stands for I Fucking L*** You. Expect the unexpected from Long and Stasney whose 2- and 3-D works, performance stratagems and absurdist inclinations always give rise to … something.
Ferst Center for the Arts
Aaron Shackelford, Director
arts.gatech.edu/ferst-center
Unvaccinated individuals are strongly encouraged to wear a face covering while inside Georgia Tech campus facilities.
Traveling While Black (Aug. 13-Nov. 12, no showings on Mondays or Tuesdays, screenings every hour on the hour, 12-7 p.m., Richards Gallery) — This 20-minute, 360-degree virtual reality experience by Academy Award winner Roger Ross Williams immerses the viewer in a discussion with African Americans at the famed Ben's Chili Bowl in Washington, D.C., as they reflect on their experiences of restricted movement and race relations in the U.S.
Terminus Modern Ballet Theatre: InterActions|Boundaries of Sensory Experience (Oct. 1, 8 p.m.)
Kaki King: DATA NOT FOUND (Oct. 23, 8 p.m.) — Virtuosic guitar innovator and former Atlantan Kaki King presents a program of gripping sonic and visual meditation on the traces of things with which we live and the traces we leave behind.
Aaron Shackelford: "In a strange way, the pandemic forced the arts community to tap into the core of what we do best:be creative and impact people's lives. While it came at a terrible cost, I found myself continually inspired by the ways artists and organizations pulled off what seemed impossible to keep art in our lives. For Georgia Tech Arts, we transformed a parking lot into a magical space for live performance, something none of us would even have dared to imagine before COVID-19. It pushed us to reflect upon our core values and mission, and in a remarkable way it gave us the freedom to set aside all assumptions and roadblocks in the pursuit of supporting artists and bringing live art back to our campus."
Rialto Center for the Arts
Lee Foster, Executive Director
Darlene Hamilton, Assistant Director, Marketing & Communications
rialto.gsu.edu
Rialto Center for the Arts observes COVID guidelines issued by the CDC and the University System of Georgia. Currently, masks are optional for vaccinated individuals and strongly encouraged for non-vaccinated individuals.
Trombone Shorty & Orleans Avenue (Nov. 6, 8 p.m.) — New Orleans-born, Treme-raised, multi-instrumentalist, producer, philanthropist and Blue Note recording artist Troy "Trombone Shorty" Andrews brings his jazz-funk troupe to Atlanta.
24th Annual Gala Holiday Concert (Dec. 5, 3 p.m.) — This holiday tradition brings together talented student and faculty musicians from the School of Music performing holiday favorites in a joyful celebration of the season.
Christmas with Calabria Foti & Bob McChesney (Dec. 11, 8 p.m.) — Celebrate Christmas with Grammy-nominated songstress Calabria Foti and trombone virtuoso Bob McChesney, the husband and wife duo who delight audiences with a special blend of swinging jazz and beloved holiday classics.
Wayne Bergeson with special guest David Pastor (Jan. 14, 2022, 8 p.m.) — Two trumpet virtuosos performing with the Georgia State University Jazz Band.
Angélique Kidjo (Jan. 22,2022, 8 p.m.) — World music superstar Angélique Kidjo has collaborated with everyone from Alicia Keys to Bono to Philip Glass. In addition to being a 4-time Grammy winner, Kidjo is a tireless advocate for women and children in her native home of Benin and across Africa, serving as both an OXFAM and UNICEF goodwill ambassador.
Darlene Hamilton: The COVID crisis had a devastating impact on the arts community. With venues shuttered, artists were unable to perform, and venues were unable to bring in much-needed revenues. The Rialto Center for the Arts has been shut down nearly a year and a half. We had to lay off some staff members. But, through it all, we were determined to offer hope through free virtual programming with our remaining staff and a fraction of our budget. We developed the Rialto Homegrown Artists Series featuring short (15-minute) taped performances from artists' homes or other locations, which were streamed on social media platforms for free. We also offered Rialto Replays drawn from some of our best performances from previous seasons. Our Feed Your Senses monthly lunch-time performances featured local talent, and LIVE AT THE RIALTO featured performances by Russell Gunn and the RKJO, Atlanta Ballet, Kevin Bales' Beyond the Neighborhood, and Kathleen Bertrand's Sisters in Song. While shut down, we also developed and produced six episodes of our TV series about racial equity, which aired on GPB-TV/The Knowledge Channel and our social media platforms. Episode 5 of "Crucial Conversations" (now rebranded "Conversations at the Rialto") won three Telly Awards. While the COVID crisis presented many challenges, it ignited creativity in our organization."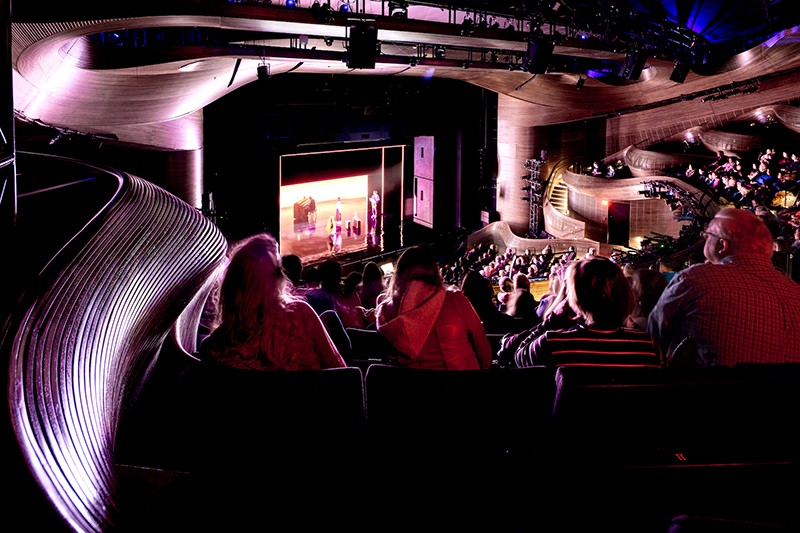 Theater 

Alliance Theatre
Susan V. Booth, Artistic Director
alliancetheatre.org
Performances: Tues., Wed., Thurs., Sun. 7p.m.
Performances: Fri. and Sat. 8 p.m.
Matinees: 2:30 p.m.
The Alliance administration bases its COVID safety protocols on local, state, and federal policies regarding indoor activities.
Alliance Series on the Coca-Cola Stage
Darlin' Cory (Sept. Oct. 3) — A haunting new musical inspired by local lore with an original folk-country score by Grammy Award winner and Sugarland front man Kristian Bush (Troubadour), book by playwright and novelist Phillip DePoy (Edward Foote), and direction by Susan V. Booth.
A Christmas Carol (Nov. 12-Dec. 24) — A new adaptation of the Alliance Theatre's beloved production of A Christmas Carol includes a completely reimagined set design and stunning new costumes. Audiences will be transported to the streets of London to revisit the timeless story of Ebenezer Scrooge's journey to redemption, told with beautiful live music and an all-star cast.
Toni Stone (Feb. 10-27, 2022) — Toni Stone is the first woman to play baseball in the Negro Leagues, also making her the first woman to play professionally in a men's league. Against all odds, Stone blazes a path in the male-dominated sports world, surmounting limitations placed on her by others, and creating her own set of rules. Declared the Best New Play of 2019 by The Wall Street Journal, Toni Stone is a funny, fascinating story of race, gender, and raw ambition.
PushPush Arts
Tim Habeger and Shelby Hofer, Co-Directors
pushpusharts.com
Hours: Open by appointment. info at pushpusharts.com
PushPush Arts follows all CDC COVID recommendations.
PushPush Arts, now in their new home in College Park, is an artist's development center for new media, visual art, theater, music, and a variety of cross-disciplinary original work.
Sounds Like Rain (Sep.-Oct., exact dates and times TBA) — A new media piece penned by Dad's Garage co-founder, Brian Griffin, about the audacity of hope. Set in the near future, which is a mix of The Handmaid's Tale and The Road, three state workers rally to overthrow the system. Directed by Tim Habeger, the cast of this dark comedy includes Joshua Quinn, Claire Christie, and Ron Emile, with film by Chris Tsambis and original music by local composers.
Concerts and New Music Performances (Sep.- Oct., exact dates and times TBA) — A series of original Atlanta music curated by Jean Yves Charles, Corey Stayton, and Moh Green. Featuring Denitra Isler and Conkrete God, Eureka Failure, and College Park's own Grammy award-winner Rasa Don (Arrested Development).
Independent Gallery Series (Sept.-Oct., exact dates and times TBA) — New work by Atlanta visual artists and their partners in other cities. Currently featuring work by PushPush resident painters Harrison Wayne, Christa David, Shanequa Gay, and Brian Griffin. A new exhibit and multi-discipline collaboration, "You Can't Get There from Here," featuring the work of Lanny Brewster and Rob Nixon, officially opens in spring of 2022.
High Risk, Baby! (Oct. 22-Dec. 18) — Lenora is on a mission, but her not-so-inner child is bursting with irreverent questions about DNA, ADD, quantum physics, boners, and babies — where they come from, how they get here, and mostly, how she can get one. A 75-minute autobiofictional ride, High Risk, Baby! was written and performed by Shelby Hofer and directed by Ellen McQueen, Rachel Wansker, and Claire Christie.
The Coping Mechanism (Oct. 29-31, Nov. 5-7, Fridays at 8 p.m. and Saturdays at 2 p.m. and 8 p.m.) — An original theater production by Lori Sinclair Minor, directed by Keith Franklin, The Coping Mechanism follows Paul and Catherine, who have decided to move forward with the illusion of living as if their son is still alive after a tragic accident. This method of memory-editing will eventually threaten their family bond and test their ability to fully heal.
Tim Habeger: "As we come back from the last year-and-a-half, we have an opportunity to come back better. We've been given a wake-up call about inequity. If we approach the problem through systemic change, we can address our long overdue arts ecosystem/infrastructure issues."
Theatrical Outfit
Matt Torney, Artistic Director
Gretchen E. Butler, Managing Director
theatricaloutfit.org
Weekday performances start at 7:30 p.m. Matinees start at 2:30 p.m.
Theatrical Outfit will open its doors in a COVID-19 safe way.
An Iliad (Sep. 15-Oct. 10) — Visionary creators Lisa Peterson and Denis O'Hare have reimagined Homer's tragic poem as a one-person show featuring a live musician in this sweeping account of humanity's unshakeable attraction to war and the heroes that rise and fall in times of chaos.
Baskerville: A Sherlock Holmes Mystery (Nov. 17-Dec. 19) — From award-winning playwright Ken Ludwig comes a fast-paced, comic mystery that takes the audience from Baker Street to the haunted Dartmoor. Join Sherlock Holmes and Dr. Watson as they try to escape a dizzying web of clues, disguises, and deceit as five actors deftly portray more than 40 characters.
Bright Half Life (Feb. 2-27, 2022) — Pulitzer Prize finalist Tanya Barfield brings the world a kaleidoscopic new play about love, heartbreak, skydiving, and the infinite moments that make a relationship. Bright Half Life shares the decades-long story of Vicky and Erica, who meet, fall in love, and go through all the trials and tribulations of marriage and building a family.
The Wolf at the End of the Block (Mar. 30-Apr. 24, 2022) — Abe, a resident of the Rightlynd neighborhood of Chicago, seeks justice after a mysterious, late-night attack at a boarded-up bar. What begins as a simple mystery quickly twists into a personal, pointed, and political thriller in this modern-day neo-noir.
Lady Day at Emerson's Bar & Grill (June 1-26, 2022) — Theatrical Out-fit will once again be transformed into a 1950s Philadelphia jazz bar where the legendary Billie Holiday is giving one of her final performances. Broadway's Terry Burrell returns with a tour-de-force performance featuring more than a dozen of Holiday's beloved songs including "Strange Fruit" and "What a Moonlight Can Do."
Gretchen E. Butler: "It's impossible to predict what the long-term effects of the shutdown caused by COVID will be on the arts community in Atlanta. The good news is that most organizations found a way to survive. …Arts organizations have grown closer to each other and built communication channels, which I hope will remain open for years to come. Inequities in funding opportunities have been exposed and the philanthropic community has listened. Artists have shown again how incredibly resilient we are. A year from now, I hope we'll be able to say that the value of live performing arts — being in a room with an artist as opposed to watching them on a screen — will be more present in people's minds and that our organizations are stronger by virtue of a renewed commitment by patrons to the irreplaceable magic of a live performance."
Visual Arts

Atlanta Contemporary
Veronica Kessenich, Executive Director
atlantacontemporary.org
Hours: Sun. noon-4 p.m., Mon. closed, Tues.-Wed. noon-5 p.m. Thurs. noon-8 p.m., Fri.-Sat. noon-5 p.m.
Masks required.
Fall Exhibition Schedule
Lucinda Bunnen: Inward, Outward, Forward (Sept. 18-Jan. 9, 2022) — Curated by Allison Grant, Inward, Outward, Forward showcases the work of celebrated Atlanta artist-collector Lucinda Bunnen. A powerhouse in the Atlanta photography scene for a half century, Bunnen creates exquisite artworks infused with magic, wonder, fear, and the mystery of being alive. Her invaluable philanthropic work is highlighted by a selection of works by other artists from Bunnen's personal collection.
Adrienne Elise Tarver: Underfoot (Sept. 18-Jan. 9, 2022) — Jamie Steele curated this exhibition by Adrienne Elise Tarver, an interdisciplinary artist based in Atlanta and Brooklyn with a practice that spans painting, sculpture, installation, photography, and video. Underfoot stems from Tarver's interest in origin stories. Her own beginnings, in common with many Black Americans, are unclear. And yet, despite the tendency of Western landscapes to separate us from the land, we continuously seek and feel connection to place.
The Bakery
Willow Goldstein, Founder/Creative Director
thebakeryatlanta.com
Hours: Gallery hours vary on a case-by-case basis.
Staff and internal community members are vaccinated. For visitors, a mask is optional.
DUAL.world (July 28-Aug. 1, South Downtown location) — Curated by and featuring multidisciplinary artist and Georgia Tech student Austin Peete, DUAL.world exhibition showcases original music, prints, and large-scale magazine style graphics of personal journal entries written between 2018-2021. DUAL.world weaves a cross-continental narrative around Black masculinity.
The Show Must Go On (Aug. 13-16, East Point location) — A solo installation from multidisciplinary artist Kate Luther, this exhibition contains humorous hand-painted and sewn domestic objects, which take on the role of props and characters.
There's No Place Like Home (August 2021, South Downtown) — In a group show curated by and featuring local artists Katie Turner and Julia Taylor, paintings, collage, sculpture, fiber works and other media are used to explore our relationships with home and how they evolved during the pandemic.
No Victim's Song (Sept. 23-26, South Downtown) — A solo exhibition by Atlanta-based artist Alexis Childress features photo collages and an installation, which celebrate Black matriarchs, highlighting legacy and female empowerment.
House of Mysticum (October 2021) — Influenced by the Chicago Surrealists, known for combining a radical left perspective with strains of occultism, Steven Cline curated this group exhibition, which includes paintings, collage, sculptures, and other media.
Willow Goldstein: "Our hearts are heavy for our diminished arts and culture ecosystem. COVID has decimated the DIY arts community, which barely had the resources to stay afloat prior to the pandemic. We often make ends meet with other work and day jobs and don't have the bandwidth for or interest in developing online programming like some larger institutions. For The Bakery, COVID took the wind out of our sails. Our spring 2020 calendar was full of promising events, which would have propelled us into the next phase of relocating or programming remotely. The current development and real estate boom basically makes our 2020 plans impossible in the new economic landscape. However, with two new spaces secured as of January 2021, we are slowly rebuilding our make-shift, DIY boat and holding our breath for what the future might hold."
Bernard A. Zuckerman Museum of Art at Kennesaw State University
Cynthia Nourse Thompson, Director of Curatorial Affairs
arts.kennesaw.edu/zuckerman
Hours: Tues.-Fri. 10 a.m.-5 p.m., Sat. noon-5 p.m.
Masks are not required for the fully vaccinated.
Fall Exhibition Schedule
This Mortal Coil (Aug. 28-Dec. 11) — A collection of works by 17 prominent contemporary artists presents a strikingly raw visual dialogue at the surface of our emotional armature, which most individuals work diligently to prevent illuminating.
The Labor of Remembrance: Print and Textile Works by Louise Bourgeois (Aug. 28-Dec. 11) — Louise Bourgeois calls upon both subtle and obvious metaphors associated with textiles within her work: the spider, the needle, clothing, and flax. The careful presentation of a select grouping of her works in association with those comprising This Mortal Coil further establishes the relationship of craft with contemporary artistic practice.
This Mortal Coil and black:The Labor of Remembrance are interrelated exhibitions in dialogue, seeking to mitigate emotional suffering, corporeal pain, and women's toil as producers. Dance and music performance by students of the special topics course, "Site-specific Choreography: Process and Procession," will take place at the closing reception on Saturday, December 11, at 4 p.m.
ZMA Project Wall North: Tony Orrico (Sept. 11-Dec. 5) — As part of This Mortal Coil , visual and performance artist, choreographer, and dancer Tony Orrico will perform "Recoil." The public performance will be live-streamed at 6 p.m. on Saturday, September 11, but in-person attendance is encouraged.
ZMA Project Wall East: Kayte Terry (Aug. 28-July 30, 2022) — A newly commissioned work by Philadelphia artist Kayte Terry, known for examin-ing the literal and figurative boundaries of the body through photography, video, collage, installation, and object-making.
ZMA Project Wall West: Jamele Wright, Sr. (Aug. 28-July 30, 2022) — Combining found materials, Dutch Wax cloth, and Georgia red clay, Atlanta artist Jamele Wright Sr. creates abstract works that explore the Black American vernacular experience. Beginning August 28, a newly commissioned textile work from the artist's "ReBORN" series will be on display for one year on the ZMA Project Wall West. In 2022, additional work by Wright will be displayed on the ZMA Project Wall North.
Virtual Reality Relaxation Station (Aug. 28-Dec. 11) — The Zuckerman Museum of Art, in partnership with Dr. Max North of the Coles College of Business, will present a simulated experience of the therapeutic potential of Virtual Reality Therapy (VRT) in association with exhibitions that display artists' expressions of coping with life's more challenging emotional states. The VRT demo using openly available content will be accessible to visitors in the Ruth Zuckerman Pavilion during the fall exhibition block through December 12.
The American Print Alliance, September 11, 2001, Memorial Portfolio Exhibition (Sept. 10-Oct. 2) — Dr. Carol Pulin, director of the American Print Alliance, started this project by suggesting that each artist create one print to commemorate one person, thereby creating a new legacy from the terrible events that took place on 9/11. Each contributing artist, ranging in age from high school students to retirees, is a member of an Alliance council or a subscriber to the journal, Contemporary Impressions .
The Breman Museum
Leslie Gordon, Executive Director
David Schendowich, director of Marketing and Communications
thebreman.org
Hours: Sun. 11-4 p.m. with pre-registration, Wed.-Fri. noon-4 p.m. by ap-pointment only. Call for reservations with a minimum 48 hours notice.
Masks are currently required for all visitors.
This fall The Breman Museum will feature live performances available through livestreaming with some allowance for limited attendance in the auditorium.
Opening in September is a special exhibition celebrating the museum's 25th anniversary. History with Chutzpah: Remarkable Stories of the Southern Jewish Adventure 1733-Present features more than 250 artifacts, documents, photographs, screen displays, and oral histories, which reveal stories from the generations before the present one, offering a journey into Jewish culture unlike any other.
Also opening in September is an exhibition featuring the work of photographer John Gutmann. Born in Breslau, Germany, Gutmann studied to be a painter under Otto Mueller before turning to photography shortly before emigrating to the United States, where he became known for his vivid im-ages of popular culture.
David Schendowich: "COVID has been a time for arts/culture organizations to take a step back and take a critical look at what we were doing pre-COVID and during COVID to determine what we will do next. Emerging out of the past year will be arts organizations with a new perspective on content, audiences, marketing, and engagement. We believe we have grown. We are more sensitive to the needs and wants of the community and capable of involving more people than ever before."
Hammonds House Museum
Karen Comer Lowe, Executive Director and Chief Curator
hammondshouse.org
Hours: Mon.-Thurs. Closed, Fri. 11 a.m.- 5 p.m., Sat. 11 a.m.-5 p.m., Sun. noon-5 p.m.
Exhibiting Culture: Highlights from the Hammonds House Museum Collection (Aug. 6- Jan. 30, 2022) — Drawn from the Hammonds House Museum collection of more than 450 works dating from the mid-19th century by artists from America, Africa, and the Caribbean, this exhibition features the art of Benny Andrews, Elizabeth Catlett, Sam Gilliam, Richard Hunt, Hale Woodruff, Jacob Lawrence, and others.
Karen Comer Lowe: "From canceled performances to closed doors, the COVID-19 pandemic has had a huge impact on the arts, ranging from lost revenue to lost opportunities for artists. Hammonds House Museum, a small African American museum in Atlanta's West End, has been greatly affected. We have worked to mitigate some losses by offering virtual programming to expand our audience reach. Now that we are able, we are increasing facility rentals."
High Museum of Art
Randall Suffolk, Nancy and Holcombe T. Greene Jr., director of the High Museum
high.org
Hours: Tues.-Sat. 10 a.m. to 5 p.m.; Sun., noon to 5 p.m.; closed Mon.; occasional late Friday hours for special events.
COVID-related visitor policy: Based upon current CDC guidance and the Mayor's Executive Order, masks are required for all visitors over the age of two.
Fall Exhibition Schedule
Calder-Picasso (through Sept. 19) — This touring exhibition presents more than 100 paintings, sculptures, and works on paper from all phases of Alexander Calder's and Pablo Picasso's careers, which reveal the radical innovation and enduring influence of their art.
Electrifying Design: A Century of Lighting (through Sept. 26) — The High is the exclusive Southeast venue for this exhibition, the first large-scale show to consider electrical lighting over the past 100 years as a catalyst for technological and artistic innovation within major avant-garde design movements. Featured designers include Achille Castiglioni, Christian Dell, Poul Henningsen, Ingo Maurer, Verner Panton, Gino Sarfatti, Ettore Sottsass, and Wilhelm Wagenfeld.
Outside the Lines (through Nov. 28) — Outside the Lines emerged from conversations between Bryony Roberts Studio and self-advocates with disabilities and their allies throughout Atlanta. Installed in the Woodruff Arts Center's Carroll Slater Sifly Piazza, Outside the Lines provides an accessible, immersive, playful environment for visitors with physical, developmental or intellectual disabilities.
Gatecrashers: The Rise of the Self-Taught Artist in America (Aug. 20-Dec. 11) — This touring exhibition organized by the High will celebrate more than a dozen early widely celebrated painters without formal training who fundamentally reshaped the idea of who could be an artist in the United States. Gatecrashers will highlight three painters of the interwar period — John Kane, Horace Pippin, and Anna Mary Robertson "Grandma" Moses — alongside paintings by Morris Hirshfield, Lawrence Lebduska, Josephine Joy, and other self-taught artists from the first half of the 20th century.
Really Free: The Radical Art of Nellie Mae Rowe (Sept. 3, 2021-Jan. 9, 2022) — For the last 15 years of her life, self-taught artist Nellie Mae Rowe (1900-1982) lived on a busy thoroughfare just outside of Atlanta and welcomed visitors to her "Playhouse," which she decorated with found-object installations, handmade dolls, chewing-gum sculptures, and hundreds of drawings. Featuring nearly 60 works from the High's collection, "Really Free" is the first major exhibition of Rowe's work in more than 20 years and the first to consider her practice as a radical act of self-expression and liberation in the post-civil rights era South.
Picturing the South: 25 Years (Nov. 5, 2021-Feb. 6, 2022) — Launched in 1996, the High Museum of Art's Picturing the South series supports contemporary photographers in creating new bodies of work inspired by the American South. To commemorate the series' 25th anniversary, the High will bring together for the first time nearly 200 works from past com-missions by artists such as Dawoud Bey, Sally Mann and Richard Misrach, and debut new work by the latest photographers selected for the series, Sheila Pree Bright, Jim Goldberg, and An-My Lê.
KAWS PRINTS (Dec. 3, 2021-March 27, 2022) — KAWS (Brian Donnelly) brings the same level of complexity and skill to his printmaking as he does to his painting, sculpture, and special-edition works, which unite the worlds of design, popular culture, and fine art. This exhibition, the first since his groundbreaking solo show at the High in 2012, will feature all of KAWS' editioned silkscreen prints from the museum's collection, along with a selection of drawings, color charts, and rare early prints.
Randall Suffolk: "This pandemic year has been difficult for the entire Atlanta arts community. We realized early on that, while the way we did business had to change, our mission did not. We pivoted by offering virtual content and programs before reopening to the public, in July 2020, with safety measures in place to protect patrons and staff. We also had incredible support from the community including members, donors, and local foundations. We're looking forward to what we hope will be a 'boomerang' year."
Marcia Wood Gallery
Marcia Wood, Executive Director
marciawoodgallery.com
Hours: Tues.-Fri. 11 a.m.-5 p.m., Sat. noon-5 p.m.
No access restrictions.
A new location (764 Miami Circle N.E., Ste. 150) and a full slate of exhibitions peg Marcia Wood Gallery as a special destination for art lovers this fall. Located in the Miami Circle arts, antiques, and home decor district, Wood shares 9,000 square feet of space with Mason Fine Art and September Gray Art, with each gallery maintaining its own programming and stable of artists.
María Korol: Tidal Range (Sept. 9-Oct. 16) — María Korol's debut solo exhibition features vibrant, lyrical, abstract works on paper in oil pastel and oil paint, some of which are informed by her years as a dancer. Originally from Buenos Aires, now living in Atlanta, Korol is a visiting professor of art at Morehouse College and the 2020 recipient of the Edge Award by the Forward Arts Foundation, Atlanta.
Timothy McDowell: Panel Paintings: Geometries and Allegories (Oct. 21-Nov. 27) — A resident of New London, Connecticut, where he has been an instructor at Connecticut College since 1981, Timothy McDowell has been represented by Marcia Wood Gallery for 20 years. His new paintings on wood panel combine illusory techniques including tromp l'oeil to create content charged with references to art history re-aligned to-wards a contemporary social context.
Benjamin Britton and Mary Engel (separate solo exhibitions): New Work (Dec. 2-Jan. 2022) — Benjamin Britton invites the viewer on an immersive journey into a landscape of fantastic imagery in a 30-foot-long painting installation. Born in Palo Alto, California, Britton lives in Athens where he teaches drawing and painting at the Lamar Dodd School of Art at UGA.
Athens-based Mary Engel has shown with Marcia Wood Gallery for 25 years. Her signature found art animal sculptures span the animal kingdom from dogs to pangolins. The work in this exhibition highlights a recently developed technique in which found objects are combined with objects Engel casts from her imagination.
Marcia Wood: "For me personally, coming out of the isolation of COVID, relocating from Castleberry Hill to the buzz and collaboration with so many wonderful galleries and artists on Miami Circle in Buckhead has been an energizing, hopeful, and inspiring experience."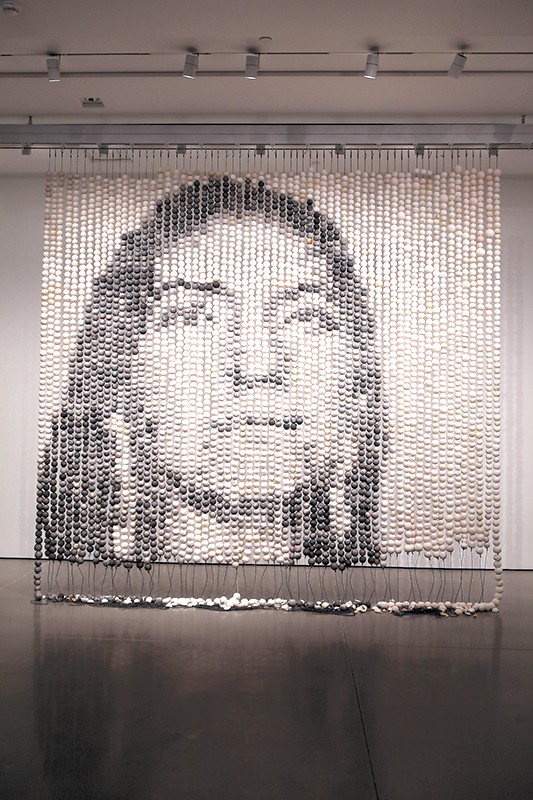 Michael C. Carlos Museum
Bonnie Speed, Director
carlos.emory.edu
Hours: Tues.-Fri. 10 a.m.-4 p.m., Sat. 10 a.m.-5 p.m., Sun. noon-5 p.m.
Masks/face coverings are required.
The Michael C. Carlos Museum is fully open to the public with a complete schedule of exhibitions and programs scheduled for the fall. Supplemental programming related to each exhibition will be announced closer to the exhibition openings.
Each/Other (Sept. 25-Dec. 12) — The premiere exhibition for the fall season, Each/Other features more than two dozen mixed-media sculptures, wall hangings, and large-scale installation works by indigenous contemporary artists Marie Watt (Seneca, Scottish, German) and Cannupa Hanska Luger (Mandan, Hidatsa, Arikara, Lakota, and European), along with a new monumental artist-guided community artwork. While each artist's practice is rooted in collaboration, they have never before worked together or been exhibited alongside one another in a way that allows audiences to see both the similarities and contrasts in their work.
Sarah Jones: "COVID-19 certainly affected the number of people we were allowed to welcome to the museum. Until July 1, 2021, Emory was still under strict healthcare precautions and limited the number of attendees in the museum at any one time. Since Emory University is connected to Emory Healthcare, we are acutely aware of the impact of the virus on the Atlanta community. The museum has been cautious and careful for the sake of the employees, students, staff, faculty, and the public we serve."
Museum of Contemporary Art of Georgia
Annette Cone-Skelton, President/CEO/Director
mocaga.org
Hours: Mon.-Tues. closed, Wed.-Sat. noon-4 p.m., Sun. closed. (The museum anticipates opening on Tuesdays later in the fall.)
Masks are encouraged inside the museum.
MOCA GA's Working Artist Project (WAP) was developed to support mid-career or established artists in the metropolitan Atlanta area. Three WAP recipients have exhibitions scheduled for the fall.
Erin Jane Nelson: One Entanglement, Under Clouds (Aug. 7-Oct. 2) — Mixed media artist and 2020-21 WAP recipient Erin Jane Nelson explores the entanglement of systems — social, political, ecological — in this solo exhibition, which features three frogs modeled on the pagan Triple Goddess.
Katherine Mitchell: Hearing the Trees, Chapter III (Aug. 7-Oct. 2) — 2020-21 WAP fellow Katherine Mitchell's solo exhibition includes a series of paintings/drawings on paper, which seeks in part to reconcile the artist's concerns in visual art and the environment.
MOCA GA Art Auction (Oct. 15) — At press time, details about the format for the annual MOCA GA auction were still being finalized.
Kelly Taylor Mitchell: Solo Exhibition (Nov. 6-Jan. 1, 2022) — A solo exhibition by 2020-21 WAP recipient Kelly Mitchell, an artist-in-residence with Atlanta Contemporary's Studio Artist Program and assistant professor of art and visual culture at Spelman College.
2019/2020 Working Artist Project Apprentice Show (Nov. 6-Jan. 1, 2022)
Museum of Design Atlanta (MODA)
Laura Flusche, Executive Director
museumofdesign.org
Hours: Mon.-Tues. closed, Wed.-Sun. noon-7 p.m.
Masks required unless vaccinated.
Survival Architecture and the Art of Resilience (Opening Aug. 28-TBD) — A traveling exhibition spotlighting visionary architects and artists who have created artistically interpretive solutions and prototypes for emergency shelters in a climate-constrained world. Curated by Randy Jayne Rosenberg, Survival Architecture and the Art of Resilience features commissioned large-scale and portable interactive architectural installations, photography, drawings, and videos.
Full Circle: Design Without End (Nov. 10-TBD): Curated by Janelle Miniter, this exhibition will introduce visitors to Regenerative Design and systemic design approaches, such as Cradle to Cradle (C2C) and bio-mimicry. The exhibition showcases the work of designers who are using regenerative approaches to create everything from large-scale architectural projects to everyday products.
Laura Flusche: "While this has been an extraordinarily challenging year and a half for the arts community as a whole, at MODA, we were able to pivot in a positive way. We brought campMODA to young designers online and connected people from across the globe with virtual design pro-grams. Going digital helped us understand that people everywhere are hungry for conversations about design as a tool for creating a more just and equitable world."
Poem 88
Robin Bernat, Owner/Curator
poem88.net
Hours: Tues.-Fri. 11 a.m.-4 p.m., open by appointment only. 404-735-1000.
Kimberly Binns: HomeFront (Aug. 21-Sep. 11) — In this exhibition, Kimberly Binns presents a variety of vignettes incorporating personal photographs, abstract drawings, paintings and custom furniture to explore the meaning of sanctity of the home for African-Americans, what the idea meant to her in the midst of Corona lockdown, and how it exists within the historical context of government-sanctioned housing segregation policies.
Hannah Tarr: Angel of the Industrial Park (Sep. 18-Oct. 30) — In her first solo exhibition, Angel of the Industrial Park , Hannah Tarr straddles the worlds of provisional painting and contemporary abstraction in mixed-media works, which evoke childhood activities, dream states, and memories.
whitespace
Susan Bridges, Owner/Director
whitespace814.com
Open to the public Thurs.-Sat., 11 a.m.-5 p.m. or by appointment.
Staff is vaccinated; masks are optional.
Zipporah Camille Thompson (Sep. 11-Oct. 16) — Zipporah Camille Thompson is a visual artist and sculptor based in Atlanta whose abstract multimedia assemblages, frequently constructed with mundane materials and personal objects, explore ritual and alchemical transformations, memory, identity, and various metaphysical topics.
Nancy Floyd (Oct. 22-Dec. 4) — Nancy Floyd has been photographing herself since 1982. Each month, she uses a designated camera and shoots one roll of film. When, for whatever reason, she fails to take a picture, the film is advanced so a blank image is recorded. The 2,500+ photographs show her body, from head to toe, standing, sitting, or otherwise situated within some sort of environment, not always alone, and mostly at home.
Teresa Bramlette Reeves (Dec. 11-Jan. 22, 2022) — Born in Athens, Georgia, Teresa Reeves is currently the director of Curatorial Affairs at the Zuckerman Museum of Art. In her most recent solo exhibition at whitespace, Channeling Joan Fontaine , Reeves used colored tissue paper, images based on molded Jell-O desserts, and a video to explore ideas and notions about collective memory and how popular culture shapes our understanding of history.
Susan Bridges: "Our openings are basically all-day events during which the artists are available to talk and visit. We haven't come up with the exact verbiage, but our visitor policy basically states that the staff is vaccinated and comfortable with or without masks, so the decision to wear one is up to the individual."
378
Tom Zarrilli, Director
gallery378.com
Open Fridays 4-8 p.m. and Saturdays 1-6 p.m. and by appointment.
Masks required.
Employee of the Month (Aug. 6-28) — Group exhibition featuring works by Cindy Zarrilli, Clare Butler, and Lisa Shinault. In the Lo Gallery (downstairs), 1951, a non-immersive retrospective by Tom Zarrilli.
Close to Home (Sept. 4-25) — Photography from the time of the pandemic by 14 photographers. Exhibition organized and curated by Bill Gillespie. —CL—