>>

Music Scenes

>>

article

>>

ATL UNTRAPPED: The rebirth of Rome Fortune
ATL UNTRAPPED: The rebirth of Rome Fortune
Five years after his life-changing debut album, Rome Fortune looks inward once more.
Rome Fortune is in a world of his own. At the Goat Farm Arts Center in West Midtown, the shirtless artist sits at a desk positioned near the corner of his personal studio, sporting a fluffy yellow bucket hat and dark blue denim. The modest-sized room is spacious enough to welcome friends, collaborators and guests, yet small enough to still feel intimate. There is a monitor, an assortment of speakers and other studio equipment atop his desk. The rest of the space is filled with eye-catching art installations and paintings from the likes of Markeidric Walker and Jair Salgado. Yet one of the most striking aspects about the entire scene is the yellow accent wall on the far side of the room.
It's acutely reminiscent of the cover art for his self-titled, debut, studio album, which came coated in a deep dandelion hue. Released via indie powerhouse Fool's Gold Records on Feb. 26, 2016, Jerome Raheem Fortune celebrates its five-year anniversary this year. And there's no place more suitable than right here, the Atlanta artist's vibrant creative space, to discuss his artistic journey over the past five years.
One of the first things that Fortune reveals is that he has recently experienced a full-fledged rebirth as an artist and as a human being. When looking at the rapper, it's impossible to ignore how much he's changed just in terms of his appearance. The huge, blue-dyed beard and blonde braids that he used to don are noticeably gone, leaving him with a new clean-cut look. Even the space that he currently occupies, which he has named Romey's Homies, is another physical manifestation of his growth. Fortune has turned his Goat Farm hideout into an all-in-one studio, art gallery and communal space that's designed to connect and uplift local creatives.
"I'm just trying to have a purpose bigger than me," Fortune says. "Being an artist is a self-serving profession, so I'm trying to be more intentional. With this rebirth, I'm learning the game and the rules even more just to break them and show other artists that they can break them too."
Yet, this rebirth that Fortune speaks of goes far beyond his decisions to shave off his iconic hair and beard combo and open a creative communal space. Fortune's path to self-realization has consisted of hard-learned lessons, fresh starts and life-changing experiences. And unbeknownst to many, the early stages of his rebirth actually started five years ago with the release of his debut album.
After making noise in Atlanta and the world beyond with more lighthearted mixtapes like Beautiful Pimp, Beautiful Pimp II and Small VVorld, Fortune made the daring decision in 2016 to drop the most serious and personal work of his career. Although Jerome Raheem Fortune was presented in bright yellow packaging, Fortune's bold, self-titled project was in no way, shape or form a joyful and festive I-made-it-type of record.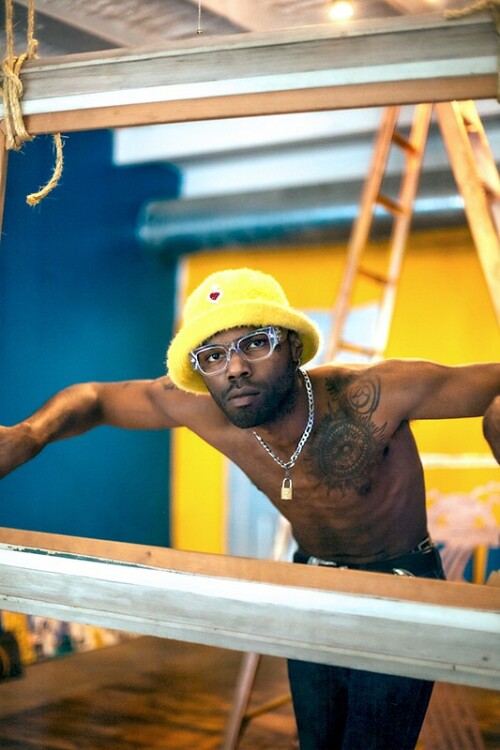 At the time, Fortune was an independent, 27-year-old, Atlanta artist, and the music was simply a reflection of his perspective. While there was an underlying sense of optimism coursing through the album's tracks, Fortune's, at times, harrowing and bleak subject matter added a significant weight to the record. Beyond all the artsy and experimental beats, Fortune's self-titled debut was, at its core, an honest translation of his life onto wax.
On the first track, he proclaims, "I've got to take it all the way / Bloody and limping I'm getting it all," and then immediately airs all his troubles for the world to stream. Despite the many personal accounts of struggle housed in that album's 11 tracks — from missing his child's first steps while on tour to questioning his sanity during an intense cocaine bender — Jerome Raheem Fortune concludes with a bruised, yet persevering, artist limping away as the dust clears. With the final track, Fortune convinces himself, as well as the listener, that he will soon find his way, regardless of the circumstances.
Little did Fortune know, his journey to find his way was just beginning. Upon its release, his debut received generally positive reviews from critics, but it didn't achieve much commercial success. Seeing the early reactions from his fanbase, however, Fortune started to worry about his self-titled album's performance.
"At first, I didn't really care," Fortune admits. "Then, when it didn't do what I expected it to do, I was just like, 'What?' It frightened me because it got a good response critically, but not with people who had grown to know me up to that point. They was like, 'Bro, what you doing?'"
"I feel like it was more so a misunderstanding of the vessel in which the music was coming from," he continues. "If that was whoever and they heard the album, they'd be like, 'Oh shit!' But it's like, 'Rome Fortune, Beautiful Pimp — what you doing? You're talking about you in your ma used to sleep in a hotel!'"
On one level, the mixed fan reception dealt a blow to Fortune's confidence when it came to fully expressing himself in his music, and as a result, the ambitious artist descended into somewhat of an artistic identity crisis.
"That made me kind of want to stick to these social contracts of like, 'Okay, I'm this type of Rome,'" he explains, "and that was part of getting the rebirth fully underway because I was like, 'You people like this type of music from me? Alright, Imma drop a song like this.' But honestly, I can't duplicate anything I do because I'm not in that same space in life, mentally. So then I get confused, and you get confused, and it's like — alright, stop. Just do what you want to do."
On another level, Jerome Raheem Fortune was literally a sonic encapsulation of his life story. Artists are known to get sensitive about their work, but given that some albums are much more personal than others, criticism sometimes stings more than it probably should. Fortune attests to the mental turmoil that he experienced following the release of his debut.
"It really messes you up, especially when the music is so synonymous with who you are," he says. "If it was just a persona that I created and that was its story, it wouldn't really affect me. But this is really my life you talking about. That stuff fucks you up because if you have a certainty in yourself, the confidence stays, but you start questioning certain things within yourself. It's people's responsibility to know that the words that they say add weight, but it's also the artist's responsibility to expect it when we step into this."
In addition to learning how to prevent criticism from negatively affecting his psyche, Fortune also says he had to get to a point where he could look back and take partial blame for his debut's performance. Jerome Raheem Fortune was his only release on a label, and he confesses that his frustrations surrounding the album were originally directed at Fool's Gold.
"It was a one-album deal, so they didn't have so much skin in the game," Fortune admits. "Granted, I will give them this, I'm an artist in the purest form. I will switch my shit up a million times. The track list will change, the vibe will change, everything will change. Originally, the project I was wanting to do with them was more like dance, groovy, club shit — their specialty."
As fate would have it, Fortune was unable to force himself to create that type of album, and what he delivered in the end was an eclectic and avant-garde hip-hop record. As time has passed, Fortune accepts the situation for what it was, seeing it as a "real, real valuable learning experience." But his rough label experience coupled with his dissatisfaction with the Jerome Raheem Fortune reception opened up wounds that weren't quick to heal.
Rather than heading straight into recording a second album, Fortune saw himself back at square one — mainly because the album he thought could have been a GRAMMY-nominated debut and widely regarded work of art turned into something more akin to a placement exam. As Fortune puts it, having to start over again "was like going to school." After being so heavily dependent on his business partnerships, the Atlanta artist started developing trust issues. It was only a matter of time before he rebuilt his team from the ground up as well.
Having taught himself the necessary skills — like how to engineer and how to market himself to music industry professionals — to keep his career going with minimal help from others, Fortune continued to have his fair share of highlights. In the years following his debut, he made noise in the underground scene with projects such as Toro Y Rome Vol. 1 with Toro y Moi in 2018 and FREEk at the top of 2020. But eventually, he hit a wall and felt it was time for a change.
"I got to a point last year where I needed to detach," he says, "so I went to Jamaica for a month. Before I went, I had this long hair and a big beard, and I knew I needed to shave off that energy in order to have a physical reminder or representation of when this rebirth happened."
While in Jamaica, Fortune collaborated virtually with Kody Nielson from Unknown Mortal Orchestra. The psychedelic rock drummer would send him material to which Fortune would add his ideas. The month-long Caribbean respite also rekindled Rome's creative spark. He credits "having a different set of eyes" on him there as the latest source of his inspiration.
Returning to this city after the break, Fortune settled into his new space, Romey's Homies. In an equally profound move, he also got to work building his new team. In light of his decision to be less shielded and secluded, he speaks of how crucial it is to do self-inventory and firmly understand what you need.
"I got crazy trust issues, and that's an understatement," Fortune explains. "But I do know I gotta relinquish that in order to move forward. I know I'm capable by myself, but just the presence of other people can do more for me because it's like an unspoken accountability. If I'm letting people in this zone, that means I respect their opinion, so I've gotta be cool with hearing shit I don't want to hear sometimes."
Months later, the rebirth of Rome Fortune had run its course. Having licked his wounds, found himself a purpose bigger than his own ambitions, and rediscovered his voracious appetite for creating, he's ready to formally signal the next stage in his journey, a second self-titled album. In the same year that his debut turns five years old, Rome confirms that he will be releasing his next LP titled Mr. Fortune on Oct. 13, his 33rd birthday.
In terms of what to expect, Rome teases that it will be a very musical, Gil Scott-Heron-inspired record that features vivid storytelling and diary-like bars. Judging from his description, it definitely sounds like Mr. Fortune will find Rome pouring his soul onto wax once more, meaning that another self-portrait from one of Atlanta's most talented and experimental artists is fast approaching.
The half-decade since Jerome Raheem Fortune has seen Rome at his highest and at his lowest. Although he has emerged a newly realized person, the rapper admits that he still hasn't figured it all out quite yet. On "Alone Tonight" from his first self-titled project, Rome sang, "I'm trying to find the time to find my sanity," and even now, he confirms that he never did find the time to find it.
"I think that's a part of it," he says. "I think that — and just making sure I don't go off the deep end — is a part of what makes my stuff cool. When everything is good, I don't really make the best stuff. Even though a bunch of things are going good right now, life has been a tornado! And that's why I'm confident in saying Mr. Fortune gon' be the illest thing I've done."
It appears that in the five critical years since Jerome Raheem Fortune, Mr. Fortune found his way after all. —CL—