GRAZING: Atlanta is a post-pandemic, post-pop-up dining paradise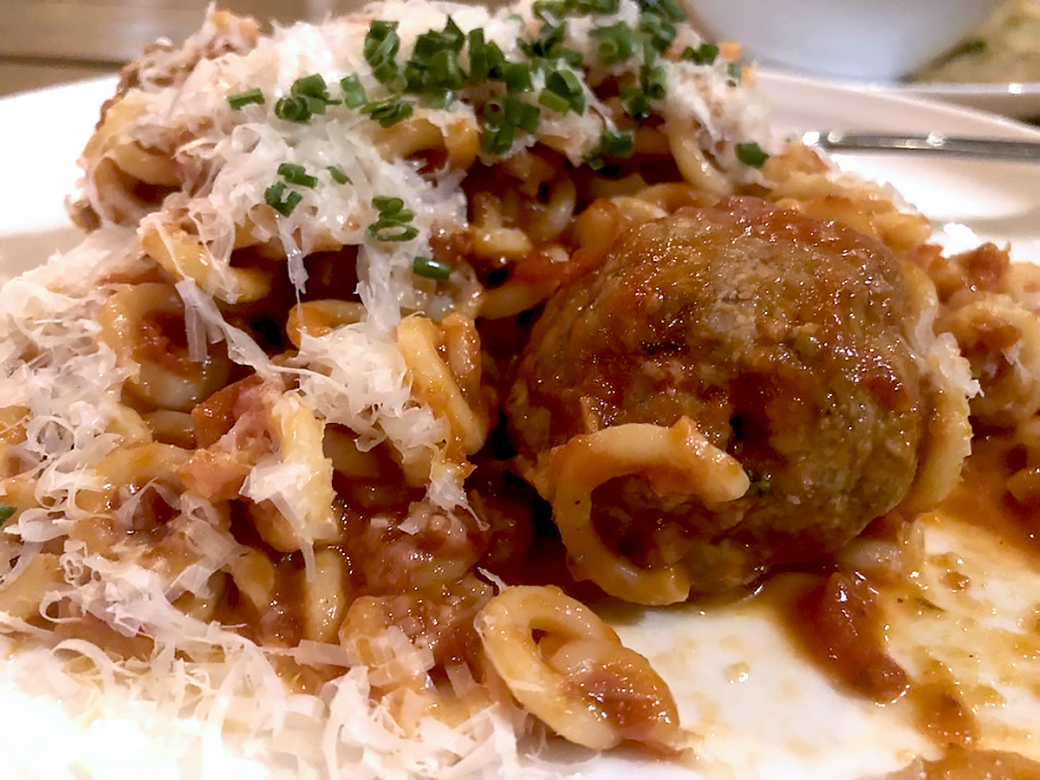 MORE HEAT, PLEASE: This is pop-up Humble Mumble's take on SpagettiOs at the Full Commission recently. Everything was copacetic — the pasta rings, the manchego cheese, the tomato sauce — until the encounter with tepid (at best) and excessively ground lamb meatballs. Considering chef Justin Dixon's talent, it was a shock, unfortunately not redeemed by another dish.
"It's a miracle!" I shouted, looking into the pan atop my antique stove. There, simmering in their own fat and turning crispy, were chunks of pork — the authentic Mexican carnitas I have complained about being unable to find in Atlanta restaurants for 30 years. Lightly aromatic with chiles, garlic, and citrus, the carnitas begged to be folded into tortillas with salsa verde and pico de gallo. Unfortunately, I had not bothered to prepare those because, quite honestly, I did not expect the carnitas to be more than the usual soft roasted pork and planned to just throw them on a plate with some black beans and rice. Pathetically, I did heat some pita bread. It has no talent for impersonating tortillas.
These perfect carnitas were in a small container from Poco Loco, a fairly new burrito joint in Kirkwood. I bought them while ordering a burrito but began blithering about how I could never find actual, real, crispy carnitas in Atlanta. Owner-chef-cashier Nick Melvin tried to interrupt my rant, but I kept going. Finally he said, "If you will listen, I promise you that these will become crispy. The pork has been cured and cooked. All you have to do is put them in a pan and let them cook in the remaining fat" — I interrupted again, "Fine, OK, I'll try them …" They were $15 for a pound, which seemed a bit pricey, but not really. They fed two of us that night.
My reason for visiting Poco Loco, which means "a little crazy" was to try out the breakfast burritos, a Tex-Mex specialty that I used to pick up on the way to work every weekday when I lived in Houston. Like the carnitas, the burrito I sampled was perfect. Each week, Melvin prepares one with meat, one ovo-lacto vegetarian, and one for kids with eggs and cheese only. There are also different frozen varieties available. The adult ones are dubbed with names that are indeed un poco loco. The week I visited, you could choose to eat fitness freaks Jess Sims or Cody Rigsby. Robin Arzon was available frozen.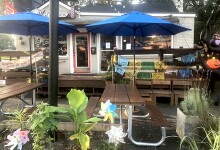 The Jess Sims I chose was described as "green chile beef shoulder, Moore's Farm eggs, home fries, roasted peppers and onions, pickled jalapenos, and American cheese in a house made flour tortilla, with salsa verde." The burrito — medium-size compared to many — was rolled tight, wrapped in tinfoil, and easy to eat without spilling a drop. I know the ingredients sound like a kitchen-sink concoction. I balked at the home fries, for example, but they were a perfect complement to the creamy scrambled eggs. The sour green sauce was a nice way to wake up my body that morning.
There is no indoor seating here, although there are picnic tables out front on a patio that, in honor of Halloween, was more than poco loco itself. There was a steady flow of people picking up orders. During my meal, only two other people chose table seating. I noticed that the guy at the table across from mine was devouring two burritos. I, not being shy since my brain began its descent into Alzheimer's, said,  "Wow man, you actually eat two of those? Is that the Cody Rigsby?" The man looked at me blankly, said "yes," looked down, and took another bite. That burrito mixed the eggs with "cauliflower adobo." I have to be honest. I used to love cauliflower. But I'm sick of it now, people. You finally pulled back a little from the kale. How about not turning cauliflower into meat?
The burrito I sampled has me wanting to go back, but the "provisions" case of the store that holds the carnitas and other weekly specials insures my return. Among those when I visited were a buffalo-chorizo dip, pineapple-citrus agua fresca, salsa verde, black bean and corn salad, smoked pork charros, sweet pickled jalapeños, fermented sweet chile sauce, house-made tortillas, and "frozen sicker-doozie dough." The following week included carne asada marinated in salsa macha, chile-lime hummus, jerked black beans, and fermented poblano hot sauce.
Chef-owner Melvin was most recently in the kitchen at Fox Bros. Bar-B-Q. He like, so many others, found himself derailed by the pandemic. The derailment turned out, as it also did for many others, to be a gift of sorts. He started Poco Loco as a pop-up operating out of his home with so much success that he was motivated to rent the space vacated by Dish Dive, located next to Molasses Barber and Beauty. "It's a dream come true," he told me.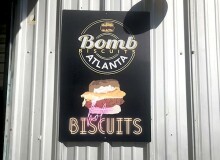 Pop-ups are erratic and hard to keep track of, but they are producing some of the most interesting cuisine in the city now. Without the high overhead, chefs are freer to experiment and create unique niches for themselves. If successful, they may go on, like Melvin, to tie themselves to their own brick-and-mortar locations. One example I can't wait to try is maybe a little more loco than Poco Loco, at least in its name: Pho Cue. If you know that "pho" is correctly pronounced "fuh," you know you can't wait to buy their merch.
The restaurant, not open at this writing, is scheduled to start serving by the first week of November. Located in Glenwood Village, it will be serving a menu of Vietnamese and barbecue dishes. Some, like the pho and a rack of ribs, adhere fairly strictly to their separate origins in Vietnam and Texas. Others, like smoked brisket eggrolls, are hybrids. The owners are Brian Holloway, a food truck manager, and Julian Wissman, a pitmaster from — guess where — Fox Bros. Bar-B-Q, where Nick Melvin also worked. Thanks, Fox Bros., for the talent!
Another pop-up that's gained significant attention is Humble Mumble. Owner-chef Justin Dixon has an impressive resume, starting in 2007 when he worked at Pano's and Paul's. Most recently, he's run the kitchens at the Shed at Glenwood, Bully Boy, and Wonderkid. Yes, his pop-up's name is borrowed from the Outkast song, and his website includes a virtual manifesto that weaves together themes of social activism, humility, fairness, music, and food.
Humble Mumble pops up now and then for lunch at the Pig and the Pearl in Atlantic Station, but mainly for dinner at places like Parlor, Dead End Drinks, and Full Commission, which I visited on a Friday night. I liked Dixon's somewhat kinky cooking at Wonderkid but, to be honest, my meal at Full Commission fell short. I had the feeling I was eating food that had been prepared and plated well in advance. A funny take on Campbell's canned SpaghettiOs ($1.50 or less at a Publix near you) included the pasta rings, a tomato sauce, and a ton of manchego cheese — all perfect for my inner kid. But my less inner adult was tempted by the fat lamb meatballs, not good for a ridiculous reason. As I told my inquiring server, "Uh-oh, my SpaghettiOs' meatballs are unheated." The meat was also too finely ground for my taste.
My other dish was similarly a throwback to the fairly old South — an appetizer of glutinous pimento cheese served with tasteless slices of flimsy radishes, spears of carrots and lifeless squash, sliced dill pickles, a stalk of weirdly pickled okra, and some crackers. Images of my mother's kitchen counter kept bouncing in my head, so the humble allusions were spot-on, but the mumbling ingredients bumbled the dish.
I have enjoyed Chef Dixon's food at his earlier gigs, so I have no explanation for this disappointment.
Speaking of pimento cheese, I'm sure you often hallucinate a perfect buttermilk biscuit layered with it and a slice of fried green tomato. That is one of the breakfast sandwiches Erika Council of Bomb Biscuits creates. Council became well known for her prepandemic pop-ups around town and is now operating out of Irwin Street Market, whose mission is to help aspiring chefs build their business. Council is part of a Southern family of renowned biscuit bakers and restaurateurs. She's also a skilled food writer.
QUICK BITES
I visited recently to try out the bacon-cheddar and the country ham biscuits and to fetch six not-so-plain buttermilk beauties for later consumption. I've not stopped thinking about them since and ended up hunting down biscuits at other venues. I admit that I yanked the bacon-cheddar one out of the box and ate it so fast in the market's patio that I forgot to photograph it. I also admit that the country ham biscuit just wasn't my thing. That biscuit was made with cornmeal. I know it's not actually a sacrilege, but it defies my family's tradition. My uncle cured country hams, and every Christmas morning we ate the ham, still my ultimate comfort food, with red-eye gravy and biscuits my mother made. So, the cornmeal just slapped me in the face even as I ate every crumb. The ham, by the way, was the real thing. The other biscuits, which you will want to press against your cheeks after warming, got eaten later with fig butter and honey. They are available for home delivery, shipping, and takeout. The market counter is only open a few hours on Friday and Saturday.
Alright, I have one other thing to admit. I picked up the biscuits after my visit to Poco Loco. Yes, that's right. I ate a burrito, three biscuits, and a pile of carnitas on the same day with plenty of other stuff. Timing is everything when you're visiting these postpandemic, post-pop-up venues with limited hours. I encourage you to check their websites and Instagram pages for hours before setting out. But do go. —CL—
Poco Loco, 2233 College Ave. Open 7:30 a.m.-1 p.m. Thurs.-Fri. and 8 a.m.-1 p.m. Satur. Find the week's menu and place advance orders on the website, pocolocoatl.com @pocolocoatl
Pho Cue, 925 Garrett St. 404-549-7595. eatphocue.com @eatphocue
Humble Mumble. humblemumbleatl.com @humblemumbleatl, @issablackchef
Bomb Biscuits, 660 Irwin St. Open 10 a.m.-2 p.m. Fri. and 9 a.m. until sold out Sat. Order online only at bombiscuital.com @bombbiscuitatl.com, #bombbiscuits
---