THE BLOTTER: Backlash to Elf Power
And other tales of life in the ATL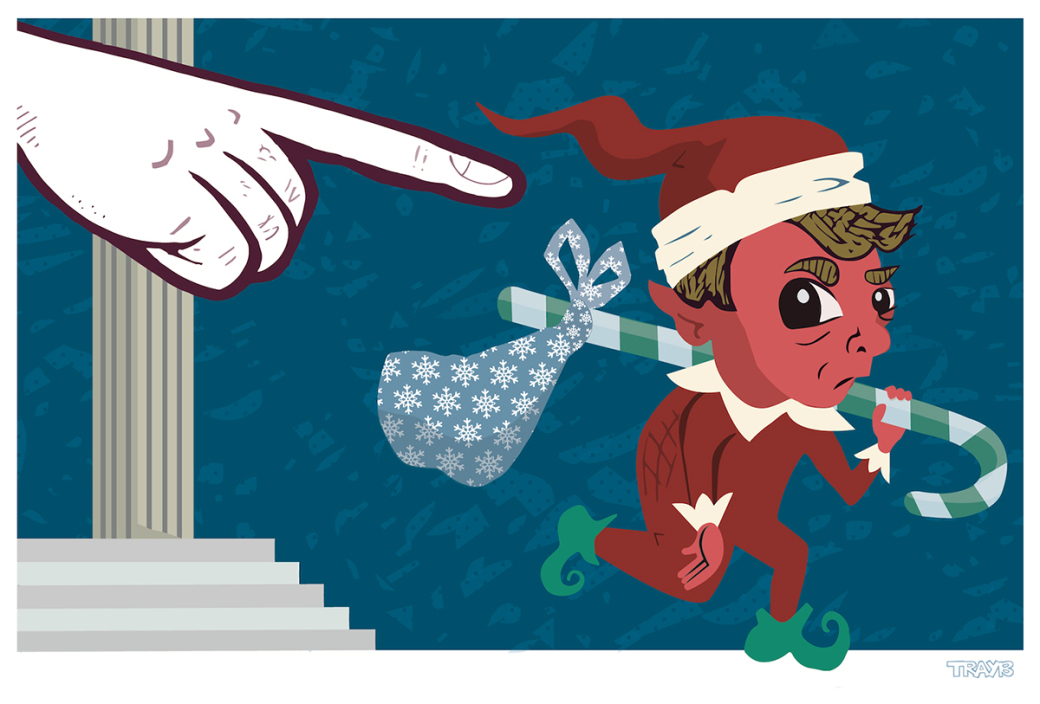 A Cobb County judge is taking aim at that inevitable holiday ritual of parents hoisting up an "Elf on a Shelf" to keep tabs on potentially mischievous children.
The Elves on Shelves allegedly keep track of who has been "naughty or nice." How? The elves are supposed to move their watchdog positions from room to room every night to keep an eye out and report back to Santa. (a.k.a. the parents do the elf-moving after their kiddos fall asleep.)
Cobb County Superior Court Chief Judge Robert Leonard posted a mock order on Twitter, banning those pesky Elves on Shelves for the entire 2021 holiday season. "Tired of living in Elf on the Shelf tyranny? Not looking forward to the Elf forgetting to move and causing your kids emotional distress? I am a public servant and will take the heat for you. My gift to tired parents."
What inspired the judge's faux ban? The judge recalled a "horrific incident" in his own home where the Elf mysteriously didn't move positions overnight, and his "three children went to school in tears, with one child being labeled an "Elf Murderer" (by a sibling) and being accused of making the Elf "lose his magic."
Judge Leonard wrote, "The Court has no doubt that day of education was lost to everyone."
The judge continued, "Elves sometimes move and don't move overnight. When those Elves do not move, it leaves our children of tender years in states of extreme emotional distress. Given the risks of such emotional damage — and supply chain issues caused by the COVID-19 pandemic — the Court has no choice but to banish Elf on Shelf from Cobb County."
The judge did give Cobb parents an out, if they're determined to unleash Elves in 2021. "If you love your Elf, keep your Elf. No contempts."
Oddly, the whole Elf on a Shelf concept was invented by a Cobb County mother and her adult twin daughters. Their Elf-based business nets an estimated $10 million a year.
Royal pain in the ass
A popular thrift store in Athens, Ga. received a troublesome letter allegedly sent by fans of the Queen of Canada.
The thrift store got a "cease and desist" letter addressed from "followers of a woman claiming to be the sovereign of Canada," reported the Red and Black newspaper. "The letter stated that all COVID-19 measures are null-and-void and those that enforce them will face the death penalty."
Apparently, the thrift store manager insisted on filing a police report due to the "harsh wording" of the letter.
We're guessing the faux Queen of Canada is a pottymouth anti-vaxxer. Just a hunch.
You're a mean one, Mr. GOP Grinch
A con artist posing as Georgia's GOP Party leader managed to scam a Republican out of thousands of dollars.
A 82-year-old staunch Republican guy from Winterville in Athens-Clarke County said he personally knows state GOP leader David Shafter (who ran for lieutenant governor in 2018, losing narrowly.)
So when the Winterville man got a text that appeared to be from Shafter, he didn't consider it unusual. The con artist posing as Shafter said he was stuck in a meeting and needed a quick favor from the Winterville man: Go buy $2,500 worth of gift cards and send him photos showing the PIN numbers. Immediately. It was urgent.
You see where this is going, don't you?
So the Winterville Republican man rushes out, buys $2,500 worth of gift cards, and texts the photos with PIN numbers.
"Later, the victim called Shafter only to learn that Shafter had never sent a text seeking gift cards," reported the Athens Banner-Herald.
"Apparently, they called a bunch of people. David said he thought they must have downloaded (his) whole (address book) file," the 82-year-old Winterville man said.
"He did a good job of pretending to be David. If I hadn't been busy, I probably would have called David," the victim said.
"A lot of this time I was driving and would stop at stores (for gift cards)," he said. "I feel stupid about it because I don't usually get caught with anything like this."
"I do know from David I wasn't the only one who they went after," he added.
Scary, hairy politician
The oh-so-tiny city of Stonecrest, Georgia, did not even exist five years ago. Stonecrest is a suburban town of roughly 54,000 residents in DeKalb County, near Lithonia.
Now, Stonecrest's first and only mayor ever is facing federal charges of stealing more than $650,000 in COVID-19-relief funds to pay his own federal and state taxes; to pay off his lakefront home mortgage; and to help cover the college tuition of the city's female bookkeeper.
Mayor Lary allegedly used his influence over local churches to scam money. "Lary presented a check for $150,000 in relief funds to 'Church 1,' on the condition that $50,000 be given to a company called Real Estate Management Consultants, LLC ('REMC'). Lary allegedly did not tell Church 1 at this time that he actually controlled REMC," reported Justice.gov. "Lary allegedly falsely stated that the $50,000 would be used to assist with home repairs for people who could not afford them due to COVID-19. In reality, Lary allegedly used the money for his own purposes."
Also, Lary and his cohorts allegedly demanded "contributions" from businesses that received COVID relief grants/loans under the PPP Small Business Program. "Lary and others allegedly falsely claimed that the money would be each business's 'contribution' to Stonecrest-related marketing and advertising. But Lary and others asked that these "contributions" be given not to Stonecrest, but to entities called Visit Us, Inc., and Battleground Media, LLC. Lary allegedly did not tell the businesses that he controlled these entities."
Mayor Lary was on shaky ground even before his arrest. This fall, a furious Stonecrest City Council voted to censure him over Lary's recent comment during a public meeting about his own "hairy behind." His words, not ours.
Bitch of the Month Award
OK, let's talk about mean bosses. Dr. Carol Terry, who leads the Gwinnett County Medical Examiner's Office, forced some workers to work for free on 72-hour "on call" weekend shifts — and called a Zoom meeting just to force nine colleagues to watch in horror as she ripped into a brand-new employee and fired her on Zoom.
The Fox-5 Investigative Team broke the story — reporting that Dr. Terry spent the entire 30-minute Zoom call spewing insults at Shannon Volkodav, a veteran cop who had just joined the Gwinnett ME's office one month earlier.
"What I've heard … is that you just don't listen," Dr. Terry said to Volkodav. And so on and so on — until she fired her.
At the time of the Zoom call, Volkodav was battling COVID-19. She'd been in the emergency room the night before.
Gwinnett is the only Georgia county that uses a private company to serve as the entire public Gwinnett County Medical Examiner's Office. The Fox-5 investigative team reports: "Dr. Carol Terry's Forensics Pathology Services has won the contract for the last 15 years. The base amount this year is $1,508,808 and can be automatically renewed for another four years."
Some ex-employees of Gwinnett County Medical Examiners' Office filed a federal complaint about Dr. Terry and her labor practices.
Slammer jammer
The Pulaski County Sheriff is probably getting some serious ribbing over how easily five inmates escaped from his jail.
"It's very embarrassing," Sheriff Danny Brennan told 11 Alive News.
Here's how it went down:
Sheriff Brennan said there was an hour and a half delay in even reporting that the five inmates had escaped — because the only two people working were locked inside a jail cell by the inmates.
Apparently, a rowdy inmate was giving a female jail employee some serious trouble as he walked back into the cell around 11 p.m. — that's the exact time when all inmates are supposed to be locked down, lights out.
The female jailer stepped inside the cell to deal with the rowdy inmate — and that's when he attacked, getting his cellmate to help. They snatched the female jailer's car keys and threatened her. The only other on-duty jail staffer tried to help the female jailer; but inmates tossed him into the cell as well.
The two inmates quickly freed three of their fellow inmate friends – and took off in the female jailer's Kia Sedona.
Authorities conducted an all-out manhunt, searching for three days straight and finally captured two inmates. The other three inmates are still on the loose.
Usually, Pulaski County has twice as many jail staffers working every night, but they're currently "understaffed."
More slammer clamor
Apparently, Pulaski County isn't the only place hurting for jail workers. Fulton County Sheriff Patrick Labat is offering a $9,000 signing bonus to fresh hires willing to work at the oh-so-lovely Fulton County Jail. Sheriff Labat says he's losing people every single week.
Of course, anyone who's ever spent a fine evening at this decrepit facility (or even just bailed a friend out) knows damn well that s $9,000 signing bonus ain't enough. By far. To convince any logical person to willingly work at the hellhole known as Fulton County Jail. Period. Try $50,000, boys. —CL—
The Blotter Diva compiles reports from the Atlanta Police Department and local news reports — and puts them into her own words.
---