CREATIVE ARTS: Artists both past and present offer different means of expression
Catch Chris Veal, the BeltLine, and flowers in bloom — all in the same month
IF YOU PAINT IT, THEY WILL COME: CHRIS VEAL CREATES BABY YODA ON THE BELTLINE. SOLO SHOW KICKS OFF IN MAY AT CAT EYE CREATIVE.
Chris Veal has been creating art for over 20 years, doing portraits, murals, and graffiti. His pop art makes light of uncomfortable situations, often satirizing current events on both the local and national level. Many of his paintings appear in different parts of the city – Inman Park, Little 5 Points, Edgewood, East Atlanta, etc. – and are signed "Caveal." This month, over 20 of Veal's new work will be on display at Cat Eye Creative in downtown Atlanta for two weeks.
Free.Chris Veal's Solo Exhibition, Cat Eye Creative — Fri., May 13-Tue., May 31.Tues.-Sat., 11 a.m.-7 p.m., Sun., 11 a.m.-5 p.m. 186 Mitchell Street SW, Atlanta, 30303. 404-547-8638 cateye-creative.com @cat_eye_creative
Through Thurs., May 5
Faces & Figures: David Clifton-Strawn Solo Exhibition, Art Institute of Atlanta – This solo exhibition presented by David Clifton-Strawn, will feature 10 figure studies and 10 portraits that the artist produced over the past three years. Traditionally, his work focused on the dignity, strength, and resilience of individuals, and Faces & Figures will stay within that realm. Strawn has been inspired by Phil Sharp, Katy Grannan, Herman Leonard, Richard Avedon, Irving Penn, Diane Arbus and Robert Mapplethorpe, and his art can be found in the Museum of Contemporary Art of Georgia.
Free. Mon.-Thurs., 6-8 p.m. 6600 Peachtree Dunwoody Road, Atlanta, 30328. 770-394-8300 artinstitutes.edu @aiatlanta
Through Fri., May 6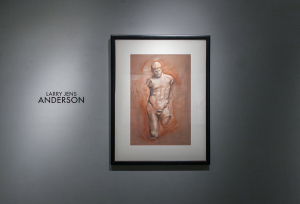 IDENTITY: A Larry Jens Anderson Commemorative Exhibition, Kai Lin Art – Larry Jens Anderson passed in August of last year, and this new exhibition at Kai Lin Art features 25 artworks from the late artist and seeks to commemorate the man not only as a creative, but as a mentor, friend, and teacher. The broad and extensive IDENTITY is a reflection of his life's work, and all the moments (both good and bad) that come with being human. The exhibition includes pieces from All Dick no Jane, and the works Learning to Fall, and The Twins.
Free. Fri., Apr. 1-Fri., May 6. 999 Brady Avenue, Suite 7, Atlanta, 30318. 404-408-4248 kailinart.com @kailinart
Through Sat., May 7
Leonardo Drew: Cycles, from the Collections of Jordan D. Schnitzer and His Family Foundation, Zuckerman Museum of Art – New York Times art critic Roberta Smith describes Drew's work as "popped, splintered, seemingly burned here, bristling there, unexpectedly delicate elsewhere. An endless catastrophe seen from above. The energies intimated in these works are beyond human control, bigger than all of us." Cycles features Drew's sculptures, prints and other works made on paper. His work is large in scale, and sometimes represents worldly landscapes such as cities or forests or everlasting atmospheres like the skyline or the bright stars in distant galaxies.
Free. Sun., Feb. 20-Sat., May 7. 492 Prillaman Way, Kennesaw, 30144. 470-578-6000 arts.kennesaw.edu @kennesawstateuniversity
Through Fri., May 13
Between Thought & Expression, Spalding Nix Fine Art – Spalding Nix's Spring exhibition will highlight the work of four unique artists – Clair Whitehurst, Kate Hooray Osmond, Vera Pawelzik, and Marina Dunbar. Their paintings focus on each artist's individual perspective and creative style. Dunbar's art explores time, movement and transformation, the paintings of Whitehurst centers around emotion, Hooray's work deals with concepts of over-consciousness, while Pawelzwik uses a minimalist approach to evoke balance and peace in these strange times. The collection of these pieces creates a beautiful palate of thoughts and expression through art.
Free. Fri., Mar. 25-Fri., Mar. 13. 351 Peachtree Hills Avenue, Suite 419, Atlanta, 30305. 404-841-7777 spaldingnixfineart.com @spaldingnixfineart
Through Sat., May 14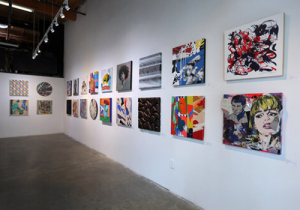 A Moment in Bloom, ABV Gallery – Since Fall began last year, the artist Sanithna has sketched a flower every day, and will continue throughout the Spring. A Moment in Bloom represents the change in seasons, and the beauty of life and death. Each Saturday during the show's month-long duration, artwork will be created with Caroline Worth. Whenever a flower is taken, another will be produced, continuing the circle of impermanence.
Free. Mon.-Fri., 10 a.m.-5 p.m., Sat., 12 p.m.-4 p.m. 659 Auburn Avenue, Suite 504, Atlanta, 30312. 213-915-6448 abvatl.com @abvgallery
Through June 4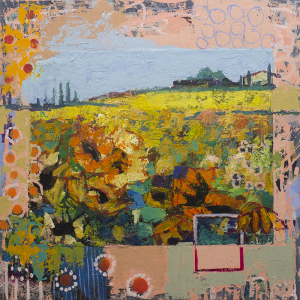 2022 Spring Exhibition, Quinlan Visual Arts Center – This year's Spring Exhibition at the Quinlan Arts Center will feature the works of four individual artists and one group hailing from Atlanta. Participants include Jennifer Ferris, who will contribute more than 70 pieces, the seasoned Ingrid Bolton, Shanon Schneider – the founder of Two Doors Art, Krys Pettit, and BrushWorks Society. Each artist(s) brings a different element to the show, and you'll see mediums ranging from oil and watercolor to acrylic, as well as different styles of creative expression.
Free. Thurs., Apr. 14-Sat., Jun. 4. 514 Green Street NE, Gainesville, 30501. 770-536-2575 quinlanartscenter.org @thequinlan
Through June 30
DIGATL, Underground Atlanta – In a 30,000-square-foot gallery, this exhibition combines art and technology, and brings attendees into the increasingly popular metaverse. With DIGATL you'll be able to collect art from digital and NFT artists, as well as experience VR installations, immersive works, concerts, and so much more. You can book one-hour sessions in advance at the event's website.
$22+. Tues.-Fri., 5 p.m.-10 p.m., Sat.-Sun., 12 p.m.-10 p.m. 50 Upper Alabama Street, Atlanta. 30303. atlnft.art @digitalatl
Through Sun., Sept. 11
Indigo Prayers: A Creation Story, Michael C. Carlos Museum – While searching her lineage in West Africa, Charmaine Minniefield was inspired to create a series of paintings that ultimately led to this exhibition. It ties together the history of the Middle Passage, Minniefield's family identity in Gambia, her heritage, and how all these factors contribute to the woman she is and seeks to become. The ancestry of people of African descent in America has been lost since the inception of this country's version of slavery over 400 years ago. Indigo Prayers explores that connection, and the pride and pain that comes with it.
$6+. Tues., Wed., Thurs., Fri., 10 a.m.-4 p.m., Sat., 10 a.m.-5 p.m., Sun., 12 p.m.-5p.m. 571 South Kilgo Circle, Atlanta, 30322. 404-727-4282 carlos.emory.edu @carlosmuseum
Sat., May 7-Sun., May 22
Cassie's Ballad, West Atlanta Watershed Alliance – Directed by Lydia Fort and written by Addae Moon, Cassie's Ballad is a combination of theater and nature that offers an interactive experience and a source of healing for all those affected by the city's Missing and Murdered Children cases during 1979-1981 in Atlanta. The production will take place outdoors, with the audience traveling with the characters of Cassie's Ballad to several locations along a wooded path in the WAWA.
$TBD. Thurs., Fri., 7 p.m. & 8:30 p.m., Sat., Sun., 2 p.m., 3:30 p.m., 7 p.m., 8:30 p.m. 1442 Richland Road SW, Atlanta, 30310. 404-752-5385 foundstages.org @foundstages
Mon., May 16-Fri., May 22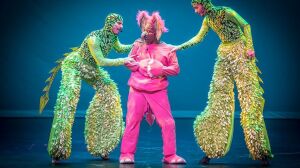 Atlanta Fringe Festival, Various venues around Little 5 Points and Candler Park – The tenth anniversary of this performance arts fest will be the best one yet, featuring 20 groups from various locations such as Georgia, Massachusetts, South Carolina, Arizona, California, New York, Oklahoma, and our nation's capital. The AFF will showcase puppetry, dance, live theater, comedy and more, set in 7 Stages, The Marianna, and Neighborhood Church. Its podcasting network Fringe Audio will highlight the work from national and local creatives that is available to see on AtlantaFringe.org beginning on May 1, with a $100 prize for the winner of the prestigious Critics' Choice Award. The festival kicks off on Monday, May 16 in Little 5 Points.
$20-$120. Mon., May 16-Fri., May 22. Multiple venues in Atlanta. 706-538-8811 atlantafringe.org @atlfringefest
---