LISTENING POST: Musical improvisation, something more composed, and a 'world premiere'
No Tomorrow heats up Underground; Butzer premieres new play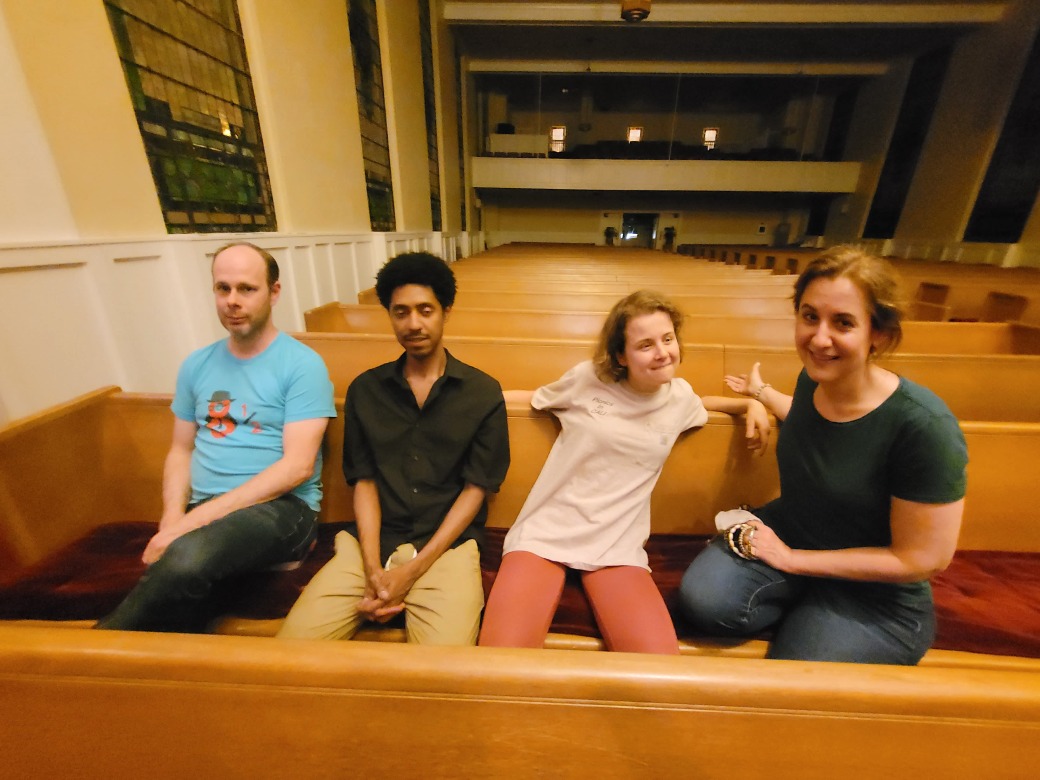 WORLD PREMIERE: Musician/playwright Jeffrey Butzer's comedy, 'The Artificial Island,' is slated for PushPush Theater in College Park. From left: Butzer with cast members London Balbosa, Zoey Laird, and Laurie Sanii.
Fri., May 6
Emory Chamber Music Society of Atlanta at Ackerman Hall, Carlos Museum — The Emory Chamber Music Society's final Cooke Noontime Concert of the season features the Vega Quartet playing Haydn's first String Quartet and Mendelssohn's dramatic Quartet in D Major.
Free admission with registration. 12 noon. Ackerman Hall at the Michael C. Carlos Museum, 571 South Kilgo Cir NE, Atlanta.
Sun., May 8
Taylor/Burland, Pas Musique (solo), .document, Meaning of Everything at Eyedrum — An evening of drone/electronic/experimental music with krautrock undertones featuring Pas Musique founder Robert L. Pepper performing solo. Also on the bill are .document, otherwise known as Elliott Brabant, a longstanding contributor to the Atlanta DIY scene; Meaning of Everything featuring solo guitar by Mykel Alder June, formerly of Mice in Cars and co-producer of the WRITE CLUB live literary series; and Taylor/Burland, a duo featuring guitarists Ryan Taylor (Blackfox, Sensitive Chaos) and Scott Burland, the latter formerly with Duet for Theremin & Lap Steel.
$10 adv/$12 dos. 7:30 doors. 515 Ralph David Abernathy Blvd. SW Atlanta. Facebook Event: https://www.facebook.com/events/518918823244537
Wed., May 11
Rob Lundberg, Atlanta Improvisers Orchestra at Eyedrum — In their first outing since 2019, the Atlanta Improvisers Orchestra presents a program of inimitable large ensemble improvising at Eyedrum. In addition to the AIO's usual semi-conducted, wholly improvised pieces, the orchestra will perform a long composition by composer/photographer/documentarian/bassist Rob Lundberg, co-founder of New York-Chicago-based edgy jazz band JOBS. Lundberg will also perform with AIO.
$10 door. 8 p.m. 515 Ralph David Abernathy Blvd. SW Atlanta. www.eyedrum.org
Fri., May 13
American String Quartet at First Presbyterian Church — Co-presented with the Emory Chamber Music Society of Atlanta, the American String Quartet performs Dvorak's Piano Quintet with William Ransom on piano as part of the Concerts@First music series.
Free admission. 12 noon. 1328 Peachtree St NE, Atlanta, GA 30309-3209. Concerts@First
Georgian Chamber Players, Peachtree Road United Methodist Church — Special guest artist Atlanta Symphony Orchestra Principal Clarinet Laura Ardan joins the Georgian Chamber Players for a program featuring Mozart's Kegelstatt Trio K 498 in E flat major, Grieg's Violin & Piano Sonata in C major, Grieg's Norwegian Dances for Four Piano Hands, and the world premiere of Atlanta composer and music journalist Mark Gresham's Quintet for Clarinet & Strings.
Tickets $20. Doors 7:30 p.m., music 8 p.m. Peachtree Road United Methodist Church, 3180 Peachtree Road NE Atlanta, GA 30305
Bent Frequency with Pantera Trio, Kopleff Recital Hall — Bent Frequency's first all-percussion concert features co-artistic director and percussionist Stuart Gerber with special guests the Pantera Trio and marimba master Harvey Warner. Pantera is an Atlanta-based trio who will be participating in the Luxembourg International Percussion Competition in July. Friday's concert is free and open to the public, but also serves as a fund-raiser to help Pantera defray the cost of traveling to Luxembourg. Don't miss this wonderful program of percussion music featuring a world premiere by Wenchi Tsai along with works by Anne Lockwood, Wolfgang Rhim, Wenchi Tsai, Steven Snowden, Anna Ignatowicz-Glińska, Carlos Stasi, Karel Goeyvaerts, Alvin Singleton and Iannis Xenakis.
Free, donations encouraged. 8 p.m. Kopleff Recital Hall, 15 Gilmer St SE, Atlanta, Georgia 30303.
Fri., May 13-Sat., May 14 and Mon., May 16
The Artificial Island, PushPush Theater — The world premiere production of The Artificial Island, which marks Atlanta musician Jeffrey Butzer's debut as a playwright, promises to be a wicked hoot. The comedy tells the story of a young woman, Penny, who is doing a terrible job of growing up. In the middle of her 25th birthday party, she escapes from her barhopping friends and encounters a fortune teller, which leads to her incarceration in a women's correctional facility where she meets The Devil. According to director Tim Habeger, "Butzer's writing is a fun mix of Being John Malkovich and The Simpsons and the play moves quickly to its other-worldly conclusion in roughly 70 minutes." Scored with original music by Eric Balint, the castoff The Artificial Island includes Amanda Goldstein Marks, Freddy Boyd, London Balbosa, Zoey Laird, and Laurie Sanii. Tue., May 13 and Wed., May 14 are preview performances at a reduced ticket price. The play's official run spans three consecutive Fridays, Saturdays and Mondays beginning May 20 through June 4, pay what you can: $10-$25.00
Preview performances $5. 8 p.m. PushPush Theater Annex, 3726 E Main Street, College Park, 30337.
Sun., May 15
Jeff Crompton, Viceroy Cyprian at No Tomorrow —Two solo sets by Jeff Crompton and Viceroy Cyprian, respectively, comprise a special matinee program at the No Tomorrow performance space in Underground Atlanta. Saxophonist/composer Crompton leads and participates in a number of groups around Atlanta including the Edgewood Saxophone Trio, Standard Practice and the Sataraš Quartet. At No Tomorrow he will be performing original pieces and obscure classics from the jazz repertoire. For his set, Viceroy Cyprian (the nom du guerre of Atlanta multi-instrumentalist George Kotler-Wallace) will employ steel guitar, banjo and electronics to create hypnotic ambient soundscapes infused by Southern chill.
Donations accepted. 4 p.m. 84 Lower Alabama St. SW Underground Atlanta. No Tomorrow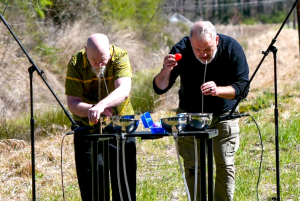 Waterphonics on the Atlanta BeltLine — As part of the Art on the Atlanta BeltLine project, Waterphonics, a duet with Klimchak and Stuart Gerber, will perform a program of percussion music using wildly creative homemade instruments conceived around the theme of "water" in a matinee concert on Sun., May 15. The instruments include a bass marimba constructed from water cooler jugs, dueling interconnected water-filled bowls and – wait for it — a kitchen sink on wheels. The unusual location of Lebeato Loungue: Water Wonderland, the McDonough Tunnel on the Southside Beltline, promises to impart its own special acoustic vibe to the proceedings.
Free. 3 p.m. 95 Milton Ave SE, Atlanta GA 30315. Art on the Beltline.
Tue., May 17
Ravish Momin, Majid Araim, Kenito Murray at No Tomorrow — Working under the moniker Sunken Cages, Indian-born drummer, electronic music producer and educator Ravish (Rah-VEESH) Momin studied with Andrew Cyrille while working as an engineer in New York City in the late 1990s. Since becoming a full-time musician, Momin has worked as a sideman with musicians ranging from Kalaparusha Maurice McIntyre (of the AACM) to pop-star Shakira. Sharing the bill are two avant-improv groups, one led by Majid Araim and the other by Kenito Murray.
Donations accepted. 8 p.m. doors, 8:30 music. 84 Lower Alabama St. SW, Underground Atlanta. No Tomorrow
Thu., May 19
Standard Practice, Joyce Brookshire Amphitheater —This mid-May installment of the Cabbagetown Concert Series features saxophonist-composer Jeff Crompton's latest project, Standard Practice, in performance at the coolest little amphitheater ITP. As a trio, bassist Chris Riggenbach and drummer/percussionist Kenito Murray accompany Crompton on an edgy and adventurous journey through the jazz standards catalog.
Free. Donations accepted. 8 p.m. Cabbagetown Concert Series, 701 Kirkwood Ave, SE, 30316.
Thu., May 19 and Fri., May 20
Voices of Verdi with the Atlanta Symphony Orchestra, Symphony Hall, Woodruff Arts Center — The Atlanta Symphony Orchestra supports a cast of world-class singers in a program of excerpts from two signature works by opera legend Giuseppe Verdi. First up is Act III from Rigoletto, a wrenching tale of a hunchback father's curse, which bears a brutally unintended consequence. The second part of the ASO program is Act III from Aida, a timeless story of love and betrayal set against the backdrop of war, which was originally composed to commemorate the opening of the Suez Canal. Voices of Verdi features Denyce Graves, Michelle Bradley, Jasmine Habersham, Clay Hilley, Santiago Ballerini, Burak Bilgili, and Reginald Smith, Jr.
Ticket prices vary; check the ASO box office. Thu., May 19, 8 p.m., Fri., May 20, 8 p.m. Atlanta Symphony Hall, 1280 Peachtree St. N.E., 404-733-4900.
Fri., May 20-Sat., May 21, and Mon., May 23
The Artificial Island, PushPush Theater — See entry above.
Thu., May 26 and Sat., May 28
Elizabeth Koch Tiscione with the Atlanta Symphony Orchestra, Symphony Hall, Woodruff Arts Center — This program puts Atlanta Symphony Orchestra Principal Oboe Elizabeth Koch Tiscione in the spotlight playing an 18th-century concerto by Alessandro Marcello followed by Brahms' magnificently dramatic Fourth Symphony. The program opens with contemporary composer Elisabetta Brusa's powerfully brooding Adagio for Strings.
Ticket prices vary; check the ASO box office. Thu., May 19, 8 p.m., Fri., May 20, 8 p.m. Atlanta Symphony Hall, 1280 Peachtree St. N.E., 404-733-4900.
Fri., May 27-Sat., May 28, and Mon., May 30

The Artificial Island, PushPush Theater — See entry above.
Tue., May 31
Mike Baggetta/Jeff Crompton, No Tomorrow — New York-based guitar wizard Mike Beggetta can swing, groove, boogie, punk-thrash, math-rock and free improvise with the very best of them. Whatever he and saxophonist Jeff Crompton cook up at No Tomorrow on Tuesday is going to be worth tasting. Same goes for opener Helton/Bragg, also known as Blake Helton (keyboards, slider controls, knobs) and Colin Bragg (guitar, mystery pedals, black boxes), as they strive for post-psychedelic harmony in an aurally dissonant world.
$10 suggested donation. 8 p.m. No Tomorrow, 84 Lower Alabama Street, 30303, Underground Atlanta.
Fri., June 3-Sat., June 4, and Mon., June 6
The Artificial Island, PushPush Theater — See entry above.