>>

CL 50th

>>

The new Pullman Yards celebrates culture and heritage
The new Pullman Yards celebrates culture and heritage
Once in disrepair, the complex's civil rights ties have also been neglected
In just the last couple of years, the long-dormant Pratt-Pullman Yards flanking Rogers Street in Kirkwood has turned into a thriving mega-development encompassing myriad attractions designed to appeal to the masses. But it was a different story not too long ago.
The 27-acre industrial yard had fallen into ruin over the years, decaying into a graffiti-ridden ghost town with a dozen old buildings that lured trespassers and criminals and caused casualties. In 2014, an Army reservist was killed during a robbery. In May of 2016, Atlanta Police began cracking down on social media users who would sneak through holes in the chain-link fence to take photos, in violation of several laws. That same year, a teenager from Dunwoody died after falling through a broken skylight. "Public awareness of the dangers associated with trespassing in this area is critical," the Georgia Bureau of Investigation stated after the accident.
It seems nobody knew what to do with the place until 2017 when a couple from Los Angeles snapped it up for around $7 million and began a major rehabilitation of the entire area. Adam Rosenfelt and his wife Maureen Meulen, owners of film production company Atomic Entertainment, had been scouring the country for a large plot of land that could give new meaning to the term "mixed-use." Then they came across the decrepit rail yard on Atlanta's east side.
"We laid eyes on it and said, 'This is it; it's stunning; it's spectacular.' The place was completely dilapidated." They are reportedly spending $200 million to turn it into a nucleus for the arts, fine cuisine, sports, and live entertainment, all of which are already underway in various forms. "We came here that year with the absolute intention of doing an art and cultural entertainment complex," Rosenfelt says during a tour of the grounds. "So instead of turning it into a Target, we use it for that."
A number of organizations have tried to revive Pullman Yards in recent years, all with little success. The nonprofit Atlanta Contact Point attempted an acquisition that would have created a multipurpose community center for sports, art, offices, and nutrition, with play areas for children. The proposal even gained approval from local councils and residents — but Rosenfelt and Meulen beat them to it.
Atomic's first high-profile exhibition last year was "Van Gogh: The Immersive Experience," seen by 450,000 visitors, according to Rosenfelt. The work of Pablo Picasso is currently on view in the same format. The Fan Controlled Football league is using the venue for its second season and the Atlanta Opera is presenting several productions over the summer. There is even an in-house orchestra — the Pullman Pops — playing a variety of live shows. Emory University's Science Gallery has set up shop as well.
The mix of attractions is not as incongruous as it seems, says Rosenfelt.  "It's all very much in keeping with the progressiveness that we encourage here. The Atlanta Opera can coexist with a digital football production. We try to balance things and understand that not everything is for everyone."
The digital football enterprise is the only league of its kind, he says, with fans worldwide playing together on a Twitch streaming device. "We had 3.7 million viewers last week."
The entire area now has official clout — it's been designated as the Pratt-Pullman Landmark District by the City of Atlanta. The lofty status conferred on the once neglected acreage is testament to its architectural, historical and cultural relevance, according to a 2017 report by the city's Urban Design Commission, which adds, "The Kirkwood neighborhood is significant because it reflects the changes experienced by a middle-class Atlanta neighborhood that was impacted by economic and political forces such as transportation improvements, urban consolidation, and the civil rights movement."
Additionally, the District is "associated with extremely important historical trends of local significance" and with "the broad patterns of development and industrialization that have had a significant impact on the City of Atlanta from 1900 through the 1950s," the study continues. "These include the increasing prominence of Atlanta as a transportation center and the increased industrialization of Atlanta during the early-to-mid-twentieth century." According to the report, the opening of the foundry transformed Kirkwood into a proper urban neighborhood from what had been an agricultural suburb accessed by trolleys.
The active trajectory of the site that was once farmland begins with the opening of a laboratory in 1904 by chemist and engineer Nathaniel Palmer Pratt, holder of patents for the manufacture and processing of various substances including sulfuric acid, a component in phosphate fertilizers. Pratt had followed in the footsteps of his father, Dr. Nathaniel Alpheus Pratt. The elder Dr. Pratt established fertilizer plants and mapped mineral deposits in the South while holding patents on several chemical processes. Ironically, he was run over and killed by a train in Decatur in 1906.
The younger Pratt's laboratory pioneered the production of liquid carbon dioxide which was used at the time by the nascent Coca-Cola Company.
Pratt's arrival in town precipitated a construction boom of Craftsman bungalows where employees could live. Prior to that, Kirkwood consisted of little more than a fire station, a post office, and a couple of general stores.
A subsidiary named Pratt Engineering & Machine Company was founded the same decade to make parts for sugar and fertilizer plants. Pratt Engineering also constructed entire factories in places like Cuba, Puerto Rico, and Brazil. Additionally, the plant produced munitions for First World War weaponry, but it ended in bankruptcy. A portion of N.P. Laboratory was sold to former employees who formed Brogdon-Dumas Laboratories while the remainder of the business was bought by The Coca-Cola Company.
The Chicago-based Pullman Company, maker of luxury railroad carriages for overnight travel, took over the Pratt enterprise and its facility in 1926 and converted it to build, repair and restore locomotives and railroad cars. Management spent approximately $1.25 million to renovate the so-called 'Atlanta Shops' including adding two large, distinctive saw-toothed buildings which remain standing today. An innovative transfer table was installed to move train cars laterally down the production line, saving time while allowing several wagons to be worked on simultaneously.
In order to handle its fleet of 9,800 railway cars, the company brought in 28,000 conductors and 12,000 porters — known thereafter as the Pullman Porters — thus making Pullman the second largest employer of Black Americans in the country.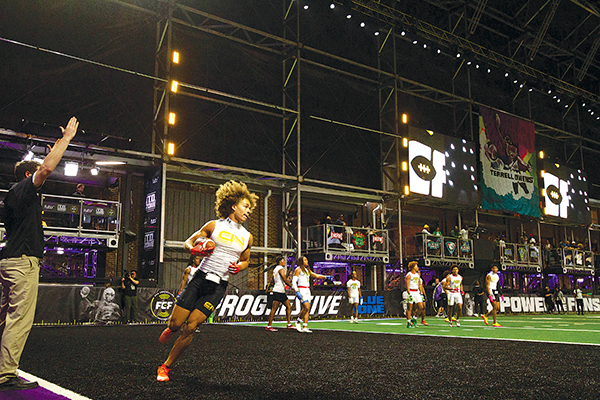 This is where A. Philip Randolph comes into the picture. The trade unionist was a founder, with Milton Webster, of the Brotherhood of Sleeping Car Porters, created to represent Pullman's railcar employees nationwide, and served as the organization's first president. BSCP became the first such union in existence, focused purely on protecting and promoting the labor rights of Black rail workers. Randolph thus became a prominent spokesperson for Black working-class interests and went on to lead the 1963 March on Washington that featured Dr. Martin Luther King's 'I Have a Dream' speech.
"We have a mural (of Randolph) in the pickleball area," Rosenfelt says. "We had it painted on the site so we're taking him very seriously." Randolph was elected a vice president of the newly merged AFL-CIO in 1955 and pushed for desegregation and acknowledgment of civil rights within the labor movement and beyond. He co-founded the Negro American Labor Council in 1960 and served as its president until 1966, during which he was awarded the Presidential Medal of Freedom by President Lyndon Johnson. "He shouldn't be as lost to history as he is," Rosenfelt added.
"Almost all were ex-slaves," Rosenfelt says of the hired porters. "(Pullman) was not a particularly good boss but did provide a wage and a movement towards a Black middle class — it was a respected job. And it allowed African Americans to travel around the country and foment the civil rights movement by distributing pamphlets and newspapers."
The decline of the Pullman Company began with the Great Depression in the 1930s and was followed in the mid-1940s by adverse rulings from the United States Supreme Court related to antitrust matters. The government ordered Pullman Inc. to divest itself of either its passenger car operations or its manufacturing activities, resulting in a damaging split in 1944. The post-World War II surge in popularity of cars and airplanes added to the woes of the company, which ultimately declared bankruptcy in 1969. The rail yard ceased to operate as an industrial site in the 1970s and was abandoned; the State of Georgia acquired the property in 1990. In 2001 it was listed on the Atlanta Preservation Center's endangered places list; Georgia offered the site for sale in 2008.

Various entities such as the Second American Iron & Metal Company, Southern Iron & Equipment, and even Georgia Power used the premises for various purposes over the decades; a Georgia Railroad dinner train ran scenic trips around Atlanta and over to Stone Mountain between 1986 and 1993; the Hollywood film industry has produced dozens of movies and television shows on the site: The Hunger Games, Baby Driver, The Fast and the Furious, MacGyver, Constantine, Sleepy Hollow and The Originals were among many shot on location there.
In keeping with the film theme, the couple are opening a restaurant called Dailies & Sides — a reference to filmmaking as well as train terminology. A second eatery known as Homage will take up residence in a restored 1920s building. An adjacent apartment building named Broadstone Pullman will be replete with movie lore. Sound stages will continue to accommodate film productions.
"I don't know that there's anywhere quite like it in the whole country," Rosenfelt offers. "My wife and I are here every single day working and planning and funding. It's not a big corporation — people always presume that we are. It's a mom-and-pop in the truest sense; we have two little girls and they're here all the time. Truly, it's an absolute heart and soul project." —CL—