GRAZING: You no longer have to fly to enjoy One Flew South
But, if you do, don't fly east and don't fly west
THE TRIO OF STARTERS: A cold noodle salad, garnish-them-yourself deviled eggs, and shishito peppers.
If you've been to the Atlanta airport in the last 13 years and not eaten at One Flew South, you are a pathetic excuse for a traveler, according to my frequent-flyer friends. I'm sorry to say I haven't been on a plane since 9/11. I was in Madrid then and when I headed home two weeks later, I was first pulled aside in the airport check-in line and soon afterward I was led off my plane, for scary interrogations. In the first case it was because I made a joke in Spanish that didn't translate well. The second case was because I had a bunch of books with Arabic titles in my luggage. When I got back to Atlanta, I was pulled aside again. So, I am among the pathetic souls who have not eaten at One Flew South.
Happily, despite the aerophobia I contracted in Spain, I am no longer deprived of One Flew South's cuisine. A second location has opened on the Eastside Beltline near the Krog Street Tunnel. I was anxious to try it because of my long admiration of Chef Todd Richards. In all honesty, I cannot fully untangle the twists and turns of his career. I was introduced to his food at the Shed at Glenwood, where I ate weekly for two years.
Following other gigs, Richards was hired as the chef at the original One Flew South, then became culinary director of Jackmont Hospitality, which owns the restaurant and its new offspring. He oversees things at the new restaurant, but the chef is Cedric McCrorey, who also heads the airport kitchen. (Confusing, right?) Richards has written a definitive cookbook, "Soul: A Chef's Culinary Evolution in 150 Recipes." He's opened two other places including Lake & Oak BBQ in East Lake and Soul Food and Culture at Krog Street Market. He is a man whose life is festooned with that phrase "award winning," including the principal ornament of a James Beard nomination.
The new restaurant, replacing Hazel Jane's wine bar, is next to the Shake Shack. The interior, whose walls depict forests, is sleek with the kinds of tables and chairs that provide minimalist stages for food that looks concise but turns into a complicate word problem in your mouth. There's also a lengthy, curvy white marble bar for dining and drinking. Keep in mind that the original restaurant is also well known — we're talking internationally —- for its evocative trans-cultural cocktails and sushi creations by Allen Suh of 8ARM and Gato fame. The lengthy beverage menu includes multiple sakes.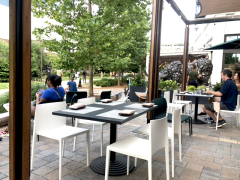 The best seating, of course, is on the patio. On a weirdly cool early evening in July, we watched walkers strangling many small dogs along Atlanta's bucolic border that separates the haves from the have-nots. It reminded me of something between Seurat's island scene and a clip from "Fellini's Satyricon." Such is life in the Old Fourth Ward, even when your life is free of psilocybin. We tried three starters, two entrees, and a dessert. First up was the "Deviled Egg Experience," which I've often heard people rhapsodize. It's an "experience" because you fill the halved, empty eggs yourself, first with the mashed yolks and then garnishes like smoked salt, cracked black pepper, radishes, and crispy shallots. Those are free, but three extras — caviar, bacon jam, and tuna poke — are also available for an added fee. Here's the problem: These weren't made by my mother. They weren't overfilled with yolks crushed with mayo and a touch of mustard, stirred with some relish, and scattered with paprika or cayenne. I had to do the tweezer thing here and try to keep some of the bacon jam balanced on the egg. I couldn't cup it in my hand and feel a chill while sitting at a picnic table with my brothers, looking across the Catawba River while my parents laughed and swilled cocktails. Let me put it this way: the deviled eggs were delicious, but any Southerner knows certain iconic foods prepared by restaurants are never going to taste as good as your mama's.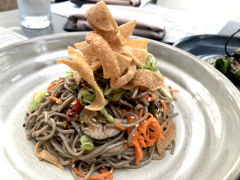 My favorite starter was actually the simplest: a plate of green blistered shishito peppers in a light Georgia ginger glaze moistened with a soy sauce the menu describes as "Takuyo." The shishito is rarely hot, even when turned red and ripe. This is the best treatment I've ever tasted. Continuing with the Japanese theme, my tablemate, Wayne, also ordered a chilled noodle salad. He loved this but it was a bit prosaic for me. A heap of brown noodles was tossed with roasted red peppers, soy-pickled cucumbers, carrots, scallions, sesame seeds, and crispy wontons. In order to keep him from devouring my shishitos, I only took a few tastes of the noodles. In a restaurant with so many interesting dishes, I don't understand ordering cold noodles here. Get the poke tacos or the golden beet soup!
Speaking of noodles and soup, Wayne chose collard-green ramen for his entrée. It was absolutely breathtaking. Its classic, deeply flavored dashi broth was afloat with ramen, peppered pork belly, collards, nori, kimchi, a hardboiled egg, scallions, and maybe a bit of pot liquor. I have never tasted anything like it. I selected my own entrée before I sat down: the lamb ribs. I know it's an enormously popular choice, but if I were sitting in a prison cell and asked what ingredients I wanted before my execution, this dish would be perfect. Lamb is my favorite meat. I love coffee, with which the ribs are rubbed (I wanna be alert during my execution). I am addicted to figs, so the plate's pool of fig puree is key. Then there's under-appreciated fennel — pickled here. Magical blueberries, my favorite summer fruit, show up in the red wine sauce (I want to be suffused with antioxidants when I settle into the electric chair.)
All of the entrees are arranged under headings of pork, poultry, red meat, and seafood. There's a version of the wanpaku sando, a Japanese sandwich that's become a global obsession. It has more layers than the earth's crust, offering multiple tastes of savory vegetables and pork or chicken that lead you to one taste after another. It's also dramatic and actually easy enough to eat without having the gaping mouth of an anaconda.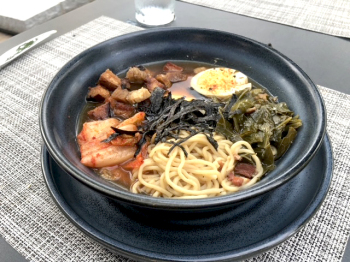 There are scallops with a cauliflower puree, pea tendrils, and candied bacon. There are steaks, burgers, shrimp and grits, duck flatbread, chicken and waffles, and much more. Many of these dishes sound ordinary. That's only because I don't have the space to enumerate the kinky ingredients with modifying adjectives.
It's time for dessert! We chose the "forbidden rice pudding." Forbidden rice is black rice whose texture is perfect for a creamy pudding. The huge serving was garnished with "whiskey poached peaches and toasted coconut flakes."
The deal here, to my mind, is recovery of foods with African heritage that Black Americans adapted to their enslaved, then disenfranchised lives. Richards' cuisine takes it beyond what we call "soul food" — it is the Black soul that America tried to starve and destroy — to the status of fine dining without turning it white. I'm a little uncomfortable making these assessments with my lily-white lips, but you really cannot taste Richards' cuisine without falling into realization of food's capacity to nourish the soul when you've survived generations of hate and deprivation.
I wish I'd gotten to the airport at least once to taste Richards' cuisine after being treated like a terrorist in Madrid and Atlanta 21 years ago. —CL—
One Flew South, 670 DeKalb Ave, Suite 102, Atlanta, 470-225-7119. The restaurant is still juggling hours; at this writing, they are 5-10 p.m Wednesday and Thursday; 5-11 p.m. Friday; 3-11 p.m. Saturday; and 3-10 p.m. Sunday. The new restaurant, at this writing, has no website apart from the original, oneflewsouthatl.com. You are best off checking their combined Facebook page, @oneflewsouth, or generally employing the hashtag #oneflewsouthatl. For reservations: resy.com. The restaurant's PR rep assured me that all will soon be untangled.
---
GRAZING SIDE DISH: 'Mix' it up, you Shake Shack elitist

I know you think you're a big deal because you abandoned McDonald's in favor of Shake Shack. You love to stick your miniature chihuahua in your fanny pack and power-walk to the nearest Shake Shack patio. Fine, but I think Shake Shack's failure to acknowledge Elvis' inspiration for their "secret menu" burger with bacon and peanut butter is worrisome. While Elvis normally just ate a straight-up white-bread sandwich (grape jelly and bananas often added), Priscilla often made smash burgers for the King that included the same ingredients (according to Google scholars). It just hurts to see Ol' Snake Hips' culinary experimentation ignored.
There are more charmingly bizarre burger specials now and then at Mix'd Up Burgers, which operates three venues. I live in Grant Park, so I usually head to the drive-through-only at 313 Boulevard (404-963-2381).

This is a bacon-cheese burger made with two glazed donuts. A ton of salty, garlicky fries scattered with parmesan dust are a perfect foil for the donuts' melting sugar of equal tonnage. After this, I did not…I could not eat until 24 hours later. (Feel free to drench this with Nutella before consuming.)

Here is a Mix'd Up special burger featuring kimchi, the spicy and fermented Korean cabbage that has invaded far more homes than "Squid Game." It's never far in the fridge from kale, which is now more widespread than the latest Covid sub-variant. Given a choice, I'm going with the kimchi.
Another good thing about Mix'd Up is its lamb burger aka "The Rockin Hero Bite." The skyrocketing cost of my favorite red meat led them to drop it from the menu for a while. But it's back, even if it's compromised by a skinny patty. You should also check out the Cajun burger, which I avoided for more than a year because it sounded so over-the-top. But the huge mountain of crawfish atop a burger patty, anointed with a hot aioli, works! — Cliff Bostock
Check out mixdupfoods.com for addresses, hours, and menus of all three locations.
---