THE VINYL WARHOL:The joys of laying in a hammock and listening to music
The COVID-19 pandemic caused the US healthcare system to crumble under its own failures, destroyed the world's economy, and killed 6.5 million people. It also made me purchase a hammock to use as a form of therapy.
I was one of the lucky ones. Thanks to expanded unemployment, I had more money coming in each week than ever before. Coincidentally, pandemic unemployment was also a strong factor responsible for the lowering of child poverty to 8.2%, a 42% decrease from 2019. Maybe we should have kept it.
Anyway, I was able to splurge on a $37 pink Gold Armour Camping Hammock to hang in the cluster of trees behind my apartment. While I spent so much of that time locked away in my apartment, wiping down groceries with Clorox Bleach Wipes (remember those?), I found solace in my hammock, looking up at the trees, headphones in, completely zen-ing out. It was my form of mediation. I felt one at one with everything curled up in the safe womb of my all-enveloping pink hammock, listening to my little tunes.
Since our time of isolation, I have maintained this activity, now in public parks, my friend's backyard, honest wherever. Almost every time I hang my hammock in a heavily trafficked area, I get people stopping me to say what a great idea it is, smiling while they ride by, or approving of my music, now playing through a bluetooth speaker, with an acknowledging head nod. And often people ask where they can get one. So here's the link. And I wrote this entire rigamarole of an introduction to tell you—yes YOU reader—to get yourself a hammock. Do this activity. It will make your life better. You simply cannot be unhappy in a hammock. And you can listen to music while you stare up at the trees if you want. Maybe listen to the bands listed below. And if you like it, you can go to their show and thank your hammock. And me. Isn't this a lovely life we live?
Wed., Sept. 7
Stereolab, The Eastern — Stereolab is unfortunately a band I didn't get into until recent. I'd always heard their name lauded in the hipster blogs, but sort of lumped them in with Radiohead as a band critics loved, but I wouldn't like. However, in 2022, the year of lord, they have become my most listened to band—so i'm making up for lost time. The combination of classic and experimental sounds make them sound familiar and futuristic at the same time. Albums like Dots And Loops and Emperor Tomato Ketchup are such expansive pieces of art, chocked-full of everything there is to like about music: sweet hooks, smart lyrics, a kaleidoscope of genres, and, of course, songs sung in French. Bright pop songs that sound straight out of a Sears commercial contain lyrics about the connection between war and capitalism. Soundscapes like "The Flower Called Nowhere" put you in a trance-like state with their psychedelic piano and haunting vocal melodies reminiscent of The Velvet Underground & Nico. And then you have the songs in French. I eat it all up.
$35-$57. Wed., Sep. 7, 8:00 p.m. The Eastern, 777 Memorial Dr. S.E. easternatl.com @easternatl
Fri., Sept. 16
SeptemberFriday Jazz Night, High Museum of Art — Hands down, jazz nights are the best way to experience the High Museum. I love museums. But, my biggest complaint about them is that visiting a museum is too similar to going to the library. On jazz night, however, The High is alive. People are drinking and laughing and clapping. Everyone gets dressed up. The main corridor is buzzing from the energy produced by world-class musicians giving their all. And you're free to walk through the exhibits as usual, but even that feels electrified. Somehow, Atlanta's biggest arts institution gets even more creative.
$25. Fri. Sept. 16, 6:00 p.m. High Museum of Art, 1280 Peachtree St. N.E. high.org @ highmuseumofart
Mon., Sept. 19
TONSTARTSSBANDHT, The Earl — Orlando stand up! This is the shit that reminds me of home. TONSTARTSSBANDHT moved into my swamp city in 2017 or so, and quickly became adopted as a pillar of the community, alongside Sales and XXYYXX. Their first draw was the years of playing with the forever-chill Mac DeMarco. But once we Orlandians witnessed the two-piece on their own, it was wrap. They were family. Singer/guitarist Andy White stomps around barefoot on stage like a shaved Sasquatch, belting into his wireless headset microphone while pummeling his guitar. His brother Edwin the glue that holds the madness together with tight, yet energetic drumming. Live, TONSTARTSSBANDHT's recorded songs are merely a jumping-off point for jovial, psychedelic jams. Think Marc Rebillet with more acid. I consider myself privileged to have been so close to such dynamic performers, and now I'm preaching their gospel.
$15. Mon. Sept. 19, 8:00p.m., The Earl, 488 Flat Shoals Ave. S.E. badearl.com @badearl
Wed., Sept. 21
Amyl And The Sniffers, Variety Playhouse — The brutality of Amyl And The Sniffers is hard to match in current music. Don't get me wrong, other punk acts bring the aggression, but front person Amy lives it. One glimpse at a music video will convince you. Amy's bulging eyes, erratic movements, and strained screams put her on a different level. You do not want to fuck with this woman. T influence are broad, citing everyone from Minor Threat and AC/DC, to Dolly Parton and Cardi B. The first two are obvious to hear in the band's banging riffs and pounding distortion, but the the latter ring true as you experience Amy's confidence and swagger.
$30. Wed., Sept. 21, 8:00 p.m. Variety Playhouse, 099 Euclid Ave N.E. variety-playhouse.com @varietyplayhouse
Mild High Club, Terminal West — The latest Mild High Club album is a welcomed departure from their earlier work that was steeped in Beatles-like psychedelia and Mac DeMarco slacker rock. On $22-$25. Tue., Sept. 21, 8:00 p.m., Terminal West, 887 West Marietta St. N.W. C. terminalwestatl.com @terminalwest
Tue., Sept. 27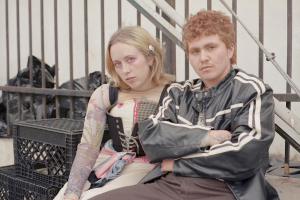 Girlpool, Terminal West — Girlpool has been one of the most interesting bands to watch evolve over the past decade. I was on board from the time I heard 2014's "Jane," off their self-titled, debut EP. That project was so simple, two people, two instrumental parts, two voices belting out the trials of early 20s life. They explored this sound to its farthest point on their debut album, Before The World Was Big, and filled the out their sound with drums and multiple guitar parts on 2017's Powerplant. Shortly before the release of that project, one-half of Girlpool, Avery Tucker, came out as a trans man. His new identity helped shaped Girlpool's third album, What Chaos Is Imaginary. The guitars were loud and distorted, taking inspiration from midwest emo, and Avery's lower voice morphed the band's sound in a way fans really hear. Girlpool's most recent album, however, was a departure I could have never imagined when listening to their first project. Forgiveness is more akin to Charli XCX than indie rock. Shimmery synths take precedent over guitars, and voice effects shower the two's singing. There are electronic beats and bass warbles. One could say, on this album at least, that Girlpool is miles away from the band they once were. But the line connecting all of their many sounds has always been the songwriting. No matter where they go, intimate, personal, and emotional lyrics will ground them.$18. Tue., Sep. 27, 7:00 p.m., Terminal West, 887 West Marietta St. N.W. C. terminalwestatl.com @terminalwest
Sun., Oct. 2
Ninja Sex Party, Center Stage — As much as I dislike the thought of listening to music as something to be embarrassed by, Ninja Sex Party are my guilty pleasure. But at almost 30 years old, actively enjoying a duo comprised of a ninja and a Jewish superhero singing goofy songs about sex, may be something I should keep to myself. Yet here I am, writing about my love for them. Having been introduced to NSP through the lets-play YouTube channel Game Grumps—of which the jewish superhero, Danny Sexbang, is a member—I quickly racked up views on their hilariously-thought out, well-crafted music videos that easily surpass the "comedy" of recent SNL musical sketches. Ninja Sex Party is, first and foremost, a funny meme, but I keep coming back to them because their songs are actually well-written. Sexbang's voice is objectively great as he sours into comedic hooks on songs like "Three Minutes Of Ecstasy," "Orgy For One," and, the eight-and-a-half minute epic, "6969," making the jokes that much funnier. Their love of 80s music and spandex further the tongue-in-cheek, childlike nature of their songs and videos, pushing things into absolute lunacy. Ninja Sex Party isn't just dumb sex jokes. It's high camp.
$40. Sun., Oct. 2, 8:00 p.m., Center Stage, 1374 W Peachtree St. N.W. centerstage-atlanta.com @centerstageattl
Tue., Oct. 4
Channel Tres, Variety Playhouse — This is the shit that makes you get down. Channel Tres is a rapper/producer powerhouse with the gift of commanding the dance floor. Mixing house and hip hop, his tracks fuse the best of both genres, the simple, undeniable catchiness of the former, with the bolstering swagger of the latter. His first single, "Controller," perfectly incapsulates his strengths. His deep voice sinks up with the low bass hits, leaving you with the infectious, "Your body is a game fuck lames fuck the fame. I am the controller." His debut album is set for release later this year, and fans first taste from it, "Just Can't Get Enough," is classic Channel on a higher budget. He takes a Teddy Pendergrass hit from 1977 and twists it into a modern groove, while maintaining the effortless cool of those '70s soul legends. Channel is one not to miss.
$25-$40. Wed., Oct. 4, 8:30 p.m. Variety Playhouse, 099 Euclid Ave N.E. variety-playhouse.com @varietyplayhouse