Esports semifinals come to Atlanta
Are you ready to watch gamers play at State Farm Arena?
"Imagine if your first baseball game was the World Series or your first hockey game was the Stanley Cup. There's something about being able to come in on that highest level that I think is really appealing." This was the gravity with which Chris Greeley, Global Head of Strategy (LoL Esports, Riot Games), spoke when describing the upcoming League of Legends Worlds Championship Semifinals, happening October 29 and 30 at State Farm Arena. Esports players are no longer a fringe community pushed into the corner of some hotel convention room. Non-championship League of Legends events have sold out across the country, from New York's Madison Square Garden to Crypto.com Arena (formerly Staples Center) in Los Angeles. Last year's Worlds Championship Finals were watched live by a peak 73 million viewers worldwide. These e-athletes are being paid tens of millions of dollars to perform at the highest levels. Maybe you think that anyone can play a video game. But just because you can swim, doesn't make you Michael Phelps.
Trey Feazell, executive vice president of arena programming for State Farm Arena, understands the opportunity afforded the arena and the city of Atlanta as a whole by hosting the League of Legends Worlds Championship Semifinals, noting that it increases "attraction to come to the city,' known for hosting other sports championships." This kind of event, the first of its scale in Atlanta, is something the State Farm Arena has been hoping to host for some time, going so far as to add an esports division to its sports council. "To tell you that we would open our [first esports event] with the League of Legends Worlds Championship is probably not what I thought would have happened."
League of Legends (often referred to as League), now in its second decade, is currently the most popular esport in the world. A match consists of two teams of five players, each controlling a different "champion" who take on different roles in different areas of the map. Champions differ in health and abilities, some are most effective at damaging the opposing team, while others offer support by healing damaged teammates, and so on. The ultimate goal is to weaken your opponents enough to destroy their base, and thereby winning the game. There are 161 champions in total, each with their own quirks and play-style. But, according to Greeley, knowing the details isn't necessary when it comes to enjoying the live spectacle:"You've had another experience in your life, no matter how old you are, where you've walked into a crowded place, where everyone is excited. You've felt that energy and you've ridden along with it. Whether it's music, or the end of a really good movie when everyone stands up and cheers… I've walked in 65-year-old sponsors who are like, 'I don't know if this is for us' And then [they] hear everyone cheering and go, 'Oh, I get it.'… You feel the anticipation moments that are coming… and you get that moment where something happens and the whole place erupts."
Greeley says that the decision to host the semifinals in Atlanta has to do largely with the area's League player base, State Farm's continuing sponsorship of the game (they started in 2018), and the city's history of hosting national and international sporting events. An esports event of this immensity has never been held in the Southeast, and it may be years before one of such magnitude returns.
For State Farm Arena, Feazell sees this as an opportunity to reach a new audience. "This is a demographic that may not have been in the building before… we are expecting people to come from all over the world… how do we get to know these people?" he asks. This is a major concern for arenas.

As Greeley points out, "From a business perspective, the people watching our events online and showing up in person are the ones that advertisers and business can't reach anymore, the 18-35 demo who's not watching television anymore. They're watching streaming services, and they're watching stuff online."
From a production standpoint, fans and newcomers attending the event can expect quality on par with that of the biggest touring musicians as well as that of major sporting events. League athletes will perform in the center of the arena on a custom built stage. Each team will be positioned at an LED-lit, custom "sled," what they call their fancy desks, and the audience will be able to watch gameplay on the arena's jumbotrons. To date, Riot Games has won three sports Emmys for its productions of their world championships. Outside the event area, attendees will be able to take pictures with League IP, or influence points, as well as enjoy League-based activities.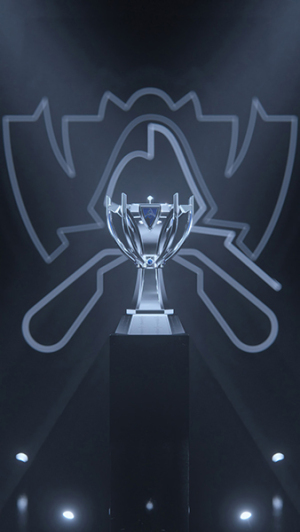 As a video game fan, but not a player or watcher of League, I am fascinated at the opportunity to engage with this subset of culture that has risen from outsider status to a fan base matching that of IRL sports like baseball or basketball. Whether you're game for such an event or not, this is a sport that will continue to trend upward for the foreseeable future. Colleges are giving young e-athletes scholarships to play on their teams. The US military uses esports to boost recruitment. And now the best teams from North America, South Korea, China, Europe, Australia, Japan, Brazil, Latin America, and Turkey are all dreaming of making it to Atlanta and coming one step closer to achieving the highest victory in their sport.
Greeley puts it perfectly, "I grew up as a big conventional sports fan, and I didn't follow tennis. But if the US Open is in town, who doesn't want to go and sit and watch the best at what they do show their mastery?"
Sold out. Sat. & Sun., Oct. 29 & 30, 5:00 p.m. State Farm Arena, 1 State Farm Dr. statefarmarena.com @statefarmarena