GRAZING: Jerk egg rolls, biscuits, beignets, and banh mi
From Summerhill to Duluth covers a lot of territory, indeed
GETTING REAL IN SUMMERHILL: JD'S Summerhill Variety Deli is a comparatively inexpensive takeout alternative to the neighborhood's many restaurants on Georgia Avenue.
This month I'm catching up with some quick takes on restaurants I've recently visited. I do this while admitting that, like many critics and diners alike, I've become tired of looking at menus whose prices eat customers alive in exchange for an experience of lower quality. According to friends, I've been unbearably, annoyingly supportive of radically improving restaurant staffs' salaries, benefits, and tips. No apologies, for that. I've also humbly without research repeated that the Mysterious Supply Chain continues to suffer from long-term COVID infection and inconvenient politics. Never mind that economist Paul Krugman estimated last year that blaming those boats sitting offshore with undeliverable wagyu, cat food, and wrinkle cream explain about 1 percent of our inflationary misery. The point is that no matter the causes and positive responses, frantic servers often present expensive, mediocre restaurant meals.
One option is takeout, which I usually detest, but I recently discovered a mainly Jamaican gem, JD's Summerhill Variety Deli. It's comparatively inexpensive, which is unusual, given its location. Probably 90 percent of tenants on Georgia Avenue, Summerhill's main drag, are restaurants and they are all on the pricey side (like D Boca N Boca, the Mexican spot I reviewed last month). Apart from inflation, you can blame Summerhill's priciness on the historically Black neighborhood's rather sudden appearance in privileged white face. In other words, you don't see many Black people going in and out of the restaurants, but if you turn down the (original) side streets you'll be back to Black.
JD's, on Martin Street, is mainly a convenience market where you can buy produce, bee pollen, Listerine, canned beans, and a thousand varieties of candies and snacks whose screaming colors vibe like a carnival runway. You order food at the counter. If you don't want to head home with it, you might score one of the two outdoor tables or you can pretend it's 1965 and eat in the same place you lost your virginity — your car.

While I call JD's Jamaican, the menu is predominantly generic breakfast dishes, wings, and sandwiches. You should direct your attention to the "dinner menu" that includes jerk chicken and fish plates. At the top of the list are "jerk chicken egg rolls." When I first visited JD's, the person taking my order urged me to try them. I pictured them as some kind of reheated frozen novelty and went for the jerk chicken with rice and peas, adding plantains and steamed cabbage. The chicken is hacked up, yielding plenty of bones to lick after picking off meat spiced from every angle. Steamed cabbage is the perfect foil for jerk seasonings. The rice and peas were a little bland for me. This meal, with its additions, was under $15. Unfortunately, between my first and second visits, prices were increased, but remain below that of the restaurants a couple blocks away.
During my second visit, I was again urged to try the egg rolls. I hemmed and hawed and another customer intervened, telling me they were too spicy for her but that her husband couldn't get enough of them. Somehow, she and I got into a long conversation about politics, economics, and race in the city. Meanwhile the egg roll lobbying increased and I finally said yes, let's do this. In the interim I snacked on a beef patty that was absolutely the best I've ever had. They're not made in house, but they are perfectly crisp and buttery, generously loaded with spicy chopped beef. Then the eggrolls came out. As was predicted, they defied all my expectations. They are huge and the kitchen cuts them in half, so you end up with four pieces that are more than enough for a meal on their own. I bit into one and was stunned. Besides the jerk seasoning, I swear I tasted fennel, but interrogation of the kitchen did not support my conclusion. Drawn directly from the fryer, these were hot and crispy but far denser and flavorful than the usual wacky riff on egg rolls.
Heading to JD's for my third visit, I planned to sample more of the menu, but my inner pig refused anything other than the egg rolls and beef patties. Go!

Vietnamese has long been my favorite cuisine and I have been anxious to try Alex Kinjo's new Mai Kitchen in Virginia Highland. Some background: Until the early 2000s, it was difficult to find Vietnam's mainly healthy blend of French and Southeast Asian cooking anywhere besides Buford Highway. That changed in 2003 when designer Alex Kinjo opened Nam in Midtown Promenade. Kinjo and his brother Chris had already opened MF Sushi, which turned sushi into high-priced theater featuring chefs with MFs — "Magic Fingers." Nam's decor was otherworldly, toying with cultural images and serving classic dishes. Although quite expensive compared to Bien Thuy, every foodie's favorite on Buford Highway back then, Nam provided nervous Atlantans an alternative. I loved the place, but the food was toned down a good bit, muting strong flavors. Nam closed during the Great Recession that began in 2007. Since then, Kinjo has opened and closed numerous restaurants, Mai being the most recent.
Mai is located in the center of Virginia-Highland in the space long ago occupied by Everybody's Pizza. I visited with my friend Ms. Rose for lunch during the week that the weather started to cool and dining outside became comfortable. I wasn't really impressed with the restaurant's interior. Its narrow corridor of booths was dim and empty, woody and yellow (an apparent allusion to the mai, Vietnam's yellow national flower). I have no doubt it looks different at night. Dining on the sidewalk gave us good weather amid power-walking pedestrians shopping like crazy. We chatted with a visiting New Zealand couple who said their son had been drawn to America by rap music 10 years earlier. "No, he's not coming home."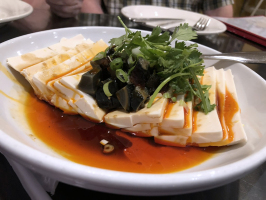 We both ordered banh mi, the sandwiches that, along with pho, mainstreamed Vietnamese cuisine in the last 10 years. We also shared a plate of mango and green papaya salad with shrimp. The latter was a superlative version of this addictive sweet and slightly sour salad. The fruit was super-fresh and the shrimp actually tasted like they once lived in the sea. I'm serious when I say the salad glowed on the table, lapping up the sunlight despite our feverish consumption. The bahn mi were less impressive. The baguettes themselves, crispy and crunchy, were perfect. We both ordered pork barbecue (xa xiu) with the usual pickled daikon and carrots, along with cucumbers, jalapenos and cilantro. Mine cost a dollar more because it also included a slice of pork pate. Flavors were good, but not intense.
You'll also find pho, spring rolls, egg rolls, bun (rice noodles), and entrée-size portions of meat and seafood, including the shaking beef (filet mignon) that put the original Nam on the map for many people. What I could not find here were bottles of fish sauce and sriracha. I want my Vietnamese food doused heavily with hot sauce because sweaty misery increases life span, according to probably bogus science. I learned long ago from Chef Paul Luna that when a chef studiously composes a meal, it's an insult when a diner demands extraneous ingredients to change the flavor palate. It is clear that Mai, like Kinjo's other restaurants, operates with clarity of purpose, so, fine, ignore my wish for jalapeno slices topped with sriracha.

Service at the restaurant was excellent. My only serious complaint is the absence of parking — anywhere, everywhere, always in Atlanta. It took me nearly 15 minutes to find a spot. It seems that all those secret parking places I used when I lived in Virginia-Highland 40 years ago have been swallowed up by rabid gentrification. Imagine that. Can we please just turn the Beltline into a parking lot?
I've written constantly — here and on my Facebook page — about my fierce consumption at Bomb Biscuits. I am there at least two of the four days they are open every week. The café, 90-percent takeout, will be moving from Irwin Street Market to a building on North Highland in November. The market itself is scheduled to be razed to erect yet another Beltline-hugging beehive.
Most of the time I go to Bomb these days, I fetch coffee from another, fairly new market tenant, Yay Beignet. The deal here is coffee brewed with Ethiopian beans. As you probably know, Ethiopia is regarded as the birthplace of coffee. The fruity acidity is perfect with the imperfect sugar-powdered beignets, which are a bit dense for me. They are also huge and you get three for $5, so stop complaining.
Yay is attached to Jake's Ice Cream, so you eat your beignets there or on the front patio or in the Bomb Biscuit space.
Speaking of biscuits, another café, Howdy ATL, has opened across from Zoo Atlanta on Cherokee Avenue. This is the space that was formerly occupied by Grant Park Coffeehouse, which moved downtown a few years ago but is coming back with a second location a few blocks away.
It's impossible these days for me not to compare other biscuits to those at Bomb Biscuits. Howdy's, baked by owner Boyd Baker, look very white. I want that browned, almost crispy top and fluffy interior. My favorite so far has been the gluten-free cheddar drop biscuits. I've also enjoyed their scones, an orzo salad, and cauliflower tabbouleh.
The café is owned by Boyd Baker and staffed at times by his children. I cannot imagine being employed by a parent, but they seem happy.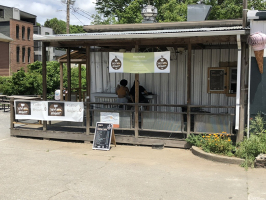 Speaking of biscuits, another café, Howdy ATL, has opened across from Zoo Atlanta on Cherokee Avenue. This is the space that was formerly occupied by Grant Park Coffeehouse, which moved downtown a few years ago but is coming back with a second location a few blocks away.
It's impossible these days for me not to compare other biscuits to those at Bomb Biscuits. Howdy's, baked by owner Boyd Baker, look very white. Generally, I want that browned, almost crispy top and fluffy interior, but lots of people feel differently. My favorite at Howdy so far has been the gluten-free cheddar drop biscuits. I've also enjoyed their scones, an orzo salad, and cauliflower tabbouleh.
Howdy's vibe lives up to its name. You have to be ultra-howdy to continually welcome children who have just been released from the zoo and are happy to share their long stories of looking an elephant in the eye. Baker's own son and daughter work at the café. Any teen who can work for a parent has a good parent. I mean, I would have stoned my father to death with stale biscuits.

Speaking of stones impersonating biscuits, I've given up on Popeyes. I have no idea why, but their biscuits have become rock-hard. Recently, I applied my newly patented Biscuit Tensility Test: I dropped one on the floor and it remained completely unscathed — no crumbling, no shattering, just sitting there like a white hockey puck.
Alright, the worst news I have this month is about Masterpiece, the Duluth restaurant specializing in Sichuan and Hunan cooking. It has made every list of best restaurants in the Atlanta area for years. Thanks to COVID, I hadn't been there in two years when three of us recently undertook the pilgrimage from downtown. To my shock, most of the food we ordered was mediocre. Take, for example the famous fried eggplant sticks. Instead of chunks fried crispy while leaving the interior creamy, ours were tough and mainly hollow. As it happens, I got to try them a second time when Mr. Johnson picked up an order. They had the same weird texture and too little of the Sichuan powder that is absolutely perfect for eggplant. The kung pao chicken was super-sweet and the cucumber with mashed garlic was saltier than garlicky. A bowl of sliced beef and tripe was pretty but bland. Happily the popular dong po pork was up to par. It is fat cubes of pork belly turned black by a sauce that reminds me of mole. My favorite dish on the table was one I'd never had before — "tofu and preserved egg mixed with chili sauce." It's served as slabs of soft white tofu topped with dark chunks of the preserved eggs, some cilantro, and a big pool of chili oil.
The only explanation I have for the lower quality is the opening of a second much larger Masterpiece in Johns Creek. Perhaps chef/owner Rui Liu is working there now. Understand that Mr. Johnson brought home three or four more dishes and none of them were particularly savory to me. So, let's go to Johns Creek and see what's up. —CL—
JD's Summerhill Variety Deli, 559 Martin Street, 678-973-2531, jdssummerhillvarietydelillc.business.site/ @jdsummerhillvarietydeli
Mai Kitchen, 1040 North Highland Avenue, 404-907-4405, @maikitchenatl
Yay Beignet, 600 Irwin Street, 470-289-1613, yaybeignet.com @yaybeignet
Howdy ATL, 753 Cherokee Avenue, howdyatl.com, @howdyatl
Masterpiece, 3940 Buford Highway, Duluth, 770-622-1191, masterpieceduluth.com
---